Sponsored Products
Featured Reviews of Sofas and Sectionals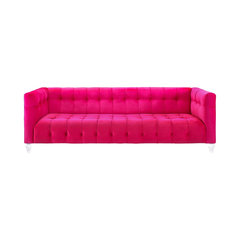 Sofas and Sectionals
Beautiful Sofa: This sofa is absolutely stunning. Though gray color is not as dark but it's definitely better. We bought two of these and paired it up with modern gold and white chairs. The combination is gorgeous.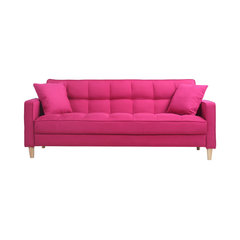 Modern Linen Fabric Tufted Small Space Living Room Sofa, Pink
Sofas and Sectionals
I love this couch!: I downsized and moved to another state. I needed a narrow couch as space is limited. This couch fit the bill and it is so attractive. My sister loves it (And she is very hard to please). The price clinched it for me. Excellent buy. Thanks so much.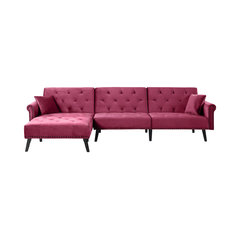 Velvet L Shape Sectional Sleeper Sofa With Reclining Backrest, Rose Red
Sofas and Sectionals
Great value for the money!: Instructions are very poor, besides trained as an architect, I assemble things all the time. I had no problem but I realize that someone not in the field might get crazy! but Do not despair, just get help and enjoy it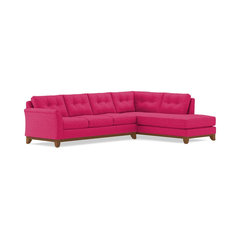 Marco 2-Piece Sectional Sofa, Pink Lemonade, Chaise on Left
Sofas and Sectionals
Samples arrived quickly and are extremely helpful in making a choice. It is worth waiting a few extra days to get the samples!: I have had this couch for approximately a year. We do not have a living room and a family room. We have a great room so this couch is used!!!! It is a great couch, very attractive and sturdy. I would rate it on the firm side, but that is exactly what we wanted. I am short and I can't stand when the seat is so deep and soft that my feet don't touch the ground. Yet, my son and husband are over 6' and they are also comfortable. The product arrived on time and the young men who delivered it were so polite and helpful. They ran late, but called several times to update us. The last call was around 10 p.m. They said they would gladly put us on the list for first delivery the next day if it was too late for us , but we told them it was ok to come that night which they did. They made sure the couch was exactly where we wanted it before they left. We are very pleased. So pleased that I am thinking of buying it again in a different color for a condo my husband and I just purchased in Florida!!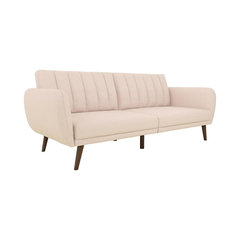 Modern Sofa Futon, Premium Linen Upholstery and Wooden Legs, Pink
Sofas and Sectionals
Works perfectly: Impressive for the price. I have a small den, and needed extra nedding, but not too comfortable (no ideas about staying). Thos fit the need perfectly. It was a bit tricky putting together, but I was doing it with a glass of wine. No, the wine didn't help out at all.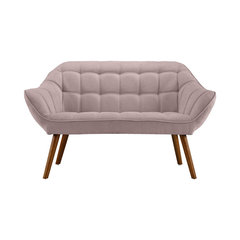 Mid Century Tufted Linen Love Seat Sofa for Small Space Living Room, Pink
Sofas and Sectionals
comfy little couch: just right for two, especially if you're a 5'6" person--fits the leg length really well. I was worried it might be wobbly or the cushion too stiff, but neither of those worries came to be. I wouldn't jump up and down on it, but for a nice calm gal like me....perfect.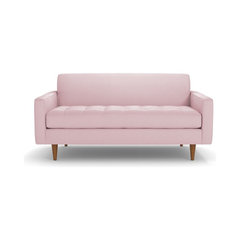 Monroe Apartment Size Sofa, Blush Velvet, 68"x34"x31"
Sofas and Sectionals
Love it! It's perfect!: We live our sofa, it was just like the pictures. The legs were a little tall about 2" but it is great. Ordering the swatches really helped us to pick a color. I would just like to say from the order to tie delivery, everyone at Houzz, Apt2B and Metropolitan Warehouse delivery was professional, helpful and very nice. I have already recommended them to all of my friends and we will order again. Thank you, we couldn't be happier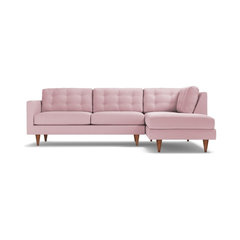 Logan 2-Piece Sectional Sofa, Blush Velvet, Chaise on Left
Sofas and Sectionals
Worth ordering a sofa unseen? Yes!: I'm going to sum up my review before getting into the details. It's only been 3 days but it's beautiful! It's cozy yet firm, fabric is amazing, no regrets. Almost a year ago we came across apt2b within that same week they had a 20% off for Martin Luther day. We were surprised by such a great sale but had not gotten their free fabric sample, so we were scared to order. We really liked the Logan sectional, I sent them a email asking if other colors could be an option. Alex got back to me right away and said no worries, they would be happy to use any color we liked from their samples. I think I let him know that we would wait for another sale. He let me know that no other sales like the 20% would be anytime soon. And offered to extend the sale to us!!! I'm sorry but this is beyond great costumer service! And guess what we passed on it because we still didnt have the samples and to tell the truth we were still hoping we could find something at stores in town.We never did and so after deciding on color we waited for another sale. And waited... November... Thanksgiving friday they had 15% and we ordered. I think we got an email on 29 (?) to confirm our order, by December 10 it was ready to be shipped! we figured we would have it by Christmas. .. nope... I was surprised by how long but I guess with thanksgiving, Christmas, and new years I should not have been that surprised. I even emailed them which again they got back to me right away that there wasn't much they could do. To deliver from CA to Wisconsin during the hoildays. .. so we waited. Our schedule day was January 10th. We got a call the day before saying they could deliver that friday. January 9th we got our sofa. The delivery guys were great! fast with set-up. So happy we waited! This doesn't compare to anything we looked at store. We would have paid about the same for S/H even if we had found something near by. Every time I walk in the living room I can't help but smile. It's beautiful!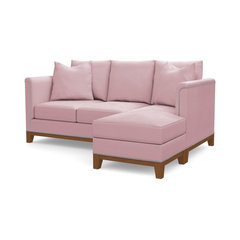 La Brea Reversible Chaise Sofa, Blush Velvet
Sofas and Sectionals
Glad I ordered these: Based on the pictures I would have made a purchase in a color that my son called Dr.s office beige, after seeing the samples a much darker fabric would be my choice. Don't order without looking at these!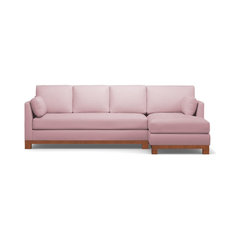 Avalon 2-Piece Sectional Sofa, Blush Velvet, Chaise on Left
Sofas and Sectionals
Great style: It is soooo very hard to find a nice sectional with one long seat cushion instead of several. I hate having to always organize and re-fluff. I found this sectional and not only is it beautiful and the size is perfect for my large media room but it also has the long seat cushion. Looks alot more expensive than it actually was.