Sponsored Products
Featured Reviews of Southwestern Bath Products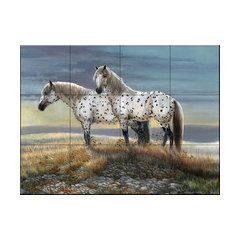 Tile Mural, Appaloosa Sundown by Carolyn Mock
Southwestern Bath Products
Absolutely BEAUTIFUL!: These murals - I bought two of them - literally elevated our kitchen from galley-sized efficiency to Ritz-elegance. One "friend" even whipped out her Smartphone and snapped a photo when she thought I didn't see her. No doubt the same murals will be showing up in her own kitchen before long....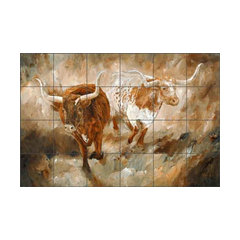 Ceramic Tile Mural Backsplash "Freedom" by Kathy Winkler, 36"x24"
Southwestern Bath Products
Beautiful!: Added "Freedom" to the tile work in the shower at my ranch house I am renovating in the Big Bend country of far West Texas. Beautiful is the word that comes to mind when you see it. I am very pleased with the quality of the artwork, b/c that is what it is.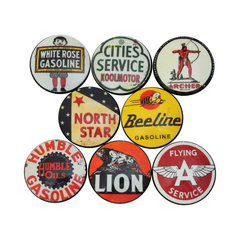 Oil and Gas Label Oversized Cabinet Knobs, 8-Piece Set, Set B
Southwestern Bath Products
so perfectly masculine; upcycled twice, before and afters: The life of an up-cycled dresser; when I was creating a nursery for our son, I went on Craigslist and bought a dresser for $25 that had a frame on top to double as a changing table since we had a smaller city condo. I chose neutral beautiful new knobs with a gold accent for it because we didn't know if our baby would be a boy or girl. Once he was born and then potty trained, the top frame came off, I painted it gray and covered it with protective clear vinyl because....boy. Now that he's enjoying cars and baseball, I changed out the knobs to these vintage oil & gas labels. Fun to see how much life one dresser can have. Upcycle and upcycle again. The knobs could not be more perfect. The order arrived promptly and the hardware fit the dresser perfectly without protruding into the drawer space (unlike the Anthropology knobs I had on it previously.) Thank you!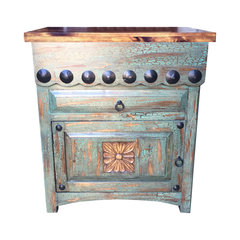 Salamanca 30" Vanity With "Clavos" Vintage Turquoise
Southwestern Bath Products
Incredibly beautiful: The craftsmanship of this vanity is fantastic. It is more beautiful in person than the picture can show. The wood is gorgeous and the carvings and distressed painting is beyond gorgeous. You will love this piece. I plan to buy more pieces from this seller.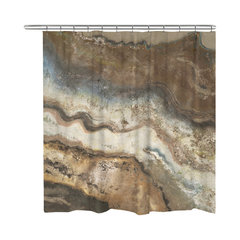 Laural Home Lava Flow Shower Curtain
Southwestern Bath Products
Awesome!: Never thought I'd find the perfect curtain after viewing hundreds, but this one is perfect. The material is so soft and the earthy tones bring the wood in my bathroom to life. The order came sooner than expected which is always a good sign and the product is just beautiful to look at. The picture here is a good representation of the product but in all actuality, it looks even better than the ad in my opinion. I would definitely purchase another and would highly recommend it!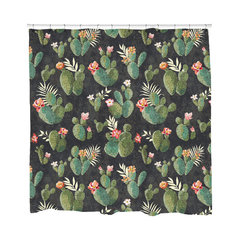 Prickly Pattern Shower Curtain, 71"x74", Standard
Southwestern Bath Products
such a unique look!: I was so thrilled when I got this shower curtain. I actually hadn't looked at the picture online closely enough to realize that the background color is not solid black. It's like a grey and black marble look. Either way, the curtain is gorgeous and offers many options for color pairing in the bathroom. It comes with some cheapy plastic curtain hooks that you can use in a pinch but I'd def recommend getting metal ones to polish your look off. Overall, great price for a great curtain. Enjoy it!