Sponsored Products
Featured Reviews of Southwestern Outdoor Products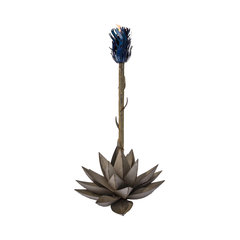 Desert Steel Blue Agave With Torch, Small
Southwestern Outdoor Products
Love this by the pool!: I was having trouble with live plants looking good and staying healthy by the pool. I have bought 3 of the desert steel artwork (all different) I absolutely love it. So many compliments and no work!!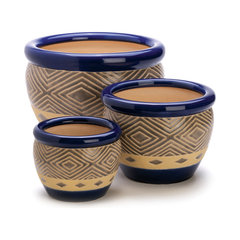 Santa Fe 3-Piece Planter Set, Cobalt
Southwestern Outdoor Products
Spectacular: Didn't think these could be as fine as they are at this very low price and expected a misprint in the size. I could not believe how lovely, large, heavy and classic they are. Incredible value! Color and design better than pix. Try to find anything like these under $150.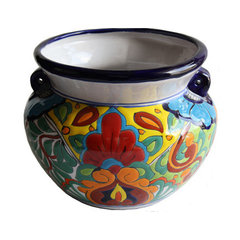 Big Rainbow Ceramic Mexican Pot
Southwestern Outdoor Products
Great pot: This pot is beautiful. Large, with drain hole, and it surprising light. East to move around, before dirt/plant is planted. Bright fun colors. Arrived well packaged and quickly.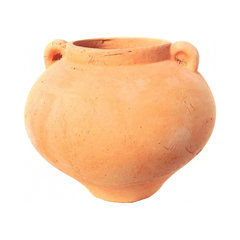 Hand Pressed Ancient Stressed Terra Cotta Water Jug Flower Pot With Loop Handles
Southwestern Outdoor Products
Terra cotta water jug planter: Bought for my bathroom southwestern decor. Love the rustic texture and appearance. Does not need any florals in it as it loos great all by itself. I plan to buy another! Diane Gorenflo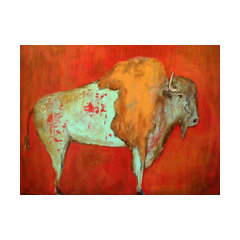 "Red Buffalo" Outdoor Art
Southwestern Outdoor Products
Stunning piece of artwork: I spent weeks looking at this rendering of an American Buffalo. We have been doing some remolding and my purpose was to hang it out on the brick entrance to my home. Now that I have the picture and temporarily put it above my brick fireplace I am not sure that I can take it down. It is just stunning to look at and makes the entire fireplace come alive and the bricks just pop out with their own color. This picture was absolutely true to the example used by Houzz to show the picture in a cabin setting. Colors are vibrant. I am beyond pleased and now must find a replacement for my outside area and also a new place for my Carol Grigg print that had occupied the space before. Lastly I am from the Southwest and have a real good eye for the art from the area. B.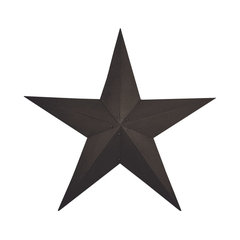 Southwestern Outdoor Products
Black Barn Star: Did not understand that I would be assembling the item, but it was not terribly difficult. It looks nice. Only issue was with the screws that came as part of the assembly. Some were rusted.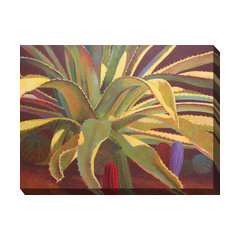 Southwestern Outdoor Products
AWESOME!: I'd been looking for over a year for just the right weatherproofed art piece to liven up my monochromatic patio, then I came across this one. It's perfect and just as vibrant & beautiful as it shows online. It's hanging unprotected on the back wall of my house. It's been raining here for the past two days & It appears to be completely unaffected by the weather.