1 - 36 of 30,661 products
Featured Reviews of Southwestern Rugs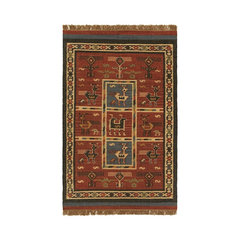 Southwestern/Lodge Hacienda Area Rug, Rectangle, Brick, 5'x8'
Southwestern Rugs
Great rug for the money: We are very pleased with this wool rug, and its colors and pattern fit well in our house. Though it is quite rough, most of it is under the dining room table, so texture is not so much of an issue.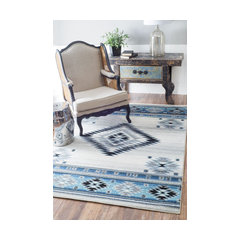 Machine Made Bosphorus Bd09 Rug, Aqua, 7'10"x10'10"
Southwestern Rugs
Great rug: We love this rug! The only thing to note is that the areas that appear dark blue in the image are really closer to black, so there's more gray/black than expected, but it still looks great in our living room.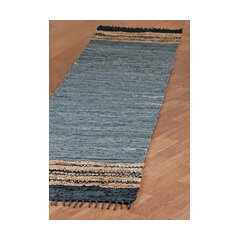 Gray Matador Leather Chindi Rug, 2.5'x12' Runner
Southwestern Rugs
Nice in a long hallway.: Although it is called grey, it looked blue in the photo so I bought it, and indeed it mostly reads blue, sometimes grey in artificial light. Cannot speak to durability, but it is very attractive and matches the description. I have ordered another pattern for a different location. Arrived quickly as advertised.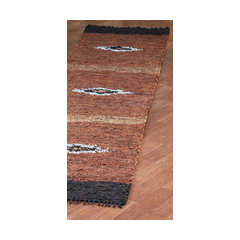 Brown Matador Diamonds Leather Chindi Rug, 5'x8'
Southwestern Rugs
Matador Diamond Leather Rug: Very nice. Design is attractive. Looks nice against our wood floor. Bit rough on bare feet. Had to air out for several days as it had an odd smell....definitely not the "smell of leather" as described in the overview.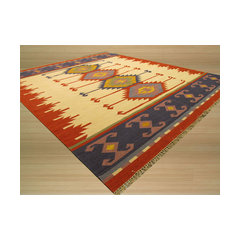 Handmade Wool Keysari Kilim Rug, Ivory, 8'4"x10'
Southwestern Rugs
I am thrilled...: Firstly, I don't think its wool. I have a big Kilim rug that is wool, and my entire house is wool carpeting, so I believe this is sisal or something more coarse....That said, the rug is still beautiful and at the sale price I bought it at, it was a fantastic deal. It looks perfect in my house. I just love it. However, I have to give it 4 stars because its not wool as promoted. If someone can prove me wrong I would joyfully rate it 5 stars, I think it is that beautiful. It also mailed very quickly, and the free shipping is always a treat.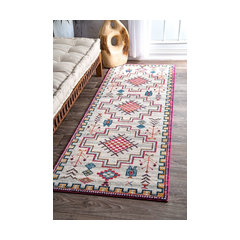 Tribal Crosshatch Medallion Area Rug, Silver, 2'8"x8'
Southwestern Rugs
Good deal that adds color to my kitchen: I purchased this runner to add some contrasting color to my blue kitchen. The colors aren't as saturated or solid looking as in the photo but it's still a good deal which brightens my kitchen. The rug feels nice under my feet and is easy to keep clean with a vaccuum.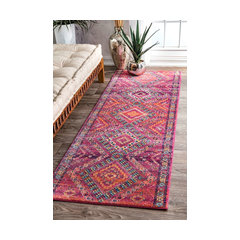 Tribal Mosaic Diamonds Area Rug, Fuchsia, 2'8"x8'
Southwestern Rugs
Really pretty colors.....: This is a pretty nice rug. I wish it was more woven than tufted pile type. It has a super low profile and looks kind of mottled up close. I don't care for that, but the overall look I was going for is there and its under dining room table so can't really tell it's not really a woven type cotton throw rug. It's colors are vibrant and beautiful, and true to pic.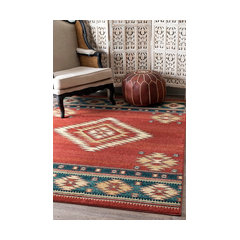 Southwestern Flamestitch Tribal Diamond Area Rug, Red, 4'x6'
Southwestern Rugs
Beautiful Rug: Rug looks just like the picture. I am very very happy with it. It is thick and does not move around. I did put a pad under it but even before that it did not move around. Would recommend to others.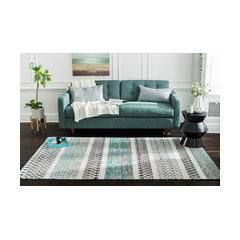 Durga Hand-Loomed Flat-Woven Area Rug, 8'x10'
Southwestern Rugs
SO HAPPY: This rug exceeded expectations. It is beautiful in person, as well as it came quickly! We don't have our couch in place just yet, but are so excited for the room to be finished!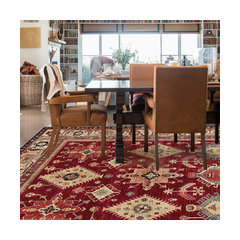 Ruggable Washable Indoor/Outdoor Noor Ruby Rug Set, 8'x10'
Southwestern Rugs
Great idea!: I love the idea and how it works. The color and texture is a little shinier than I would have liked. However, the concept is so great I will keep it forever. I hope they come out with new styles