Sponsored Products
Featured Reviews of Tile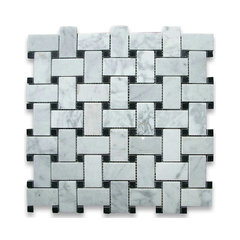 12"x12" Carrara White Basketweave Mosaic, Black Dots Polished, Chip Size: 1"x2"
Tile
Beautiful product: We bought this tile to replace our bathroom flooring which used to be a white porcelain hexagonal tile. I liked it but the grout lines drove me crazy. The tile is gorgeous and looks great in our bathroom. We have a white vanity with a black granite counter top and it looks great. My husband installed the tile which seemed to be a bit of a headache for him but he got it done. We used a dark gray grout. Price was great for this tile and looks so elegant and sophisticated.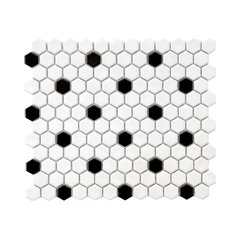 10.25"x11.75" Victorian Hex White and Black Dot Mosaic Tiles, Set of 10
Tile
Flower is NOT in center, but looks good: Our tile installer had installed multiple pieces before discovering the flower is not actually centered in the tile. He had to take it back out and reposition it so that the flowers were in straight rows. They look great when in.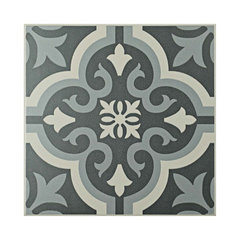 7.75"x7.75" Acanthus Wall/Floor Tiles, Set of 25, Black
Tile
Cavado Blue Tile: Product arrived promptly and no broken tiles. Good communication on the time of delivery. It is beautiful and can't wait to install it. The design looks like a screen print vs. hand painted, but for the price it is perfect for my budget. I would highly recommend if you want a high end look but for a very reasonable price.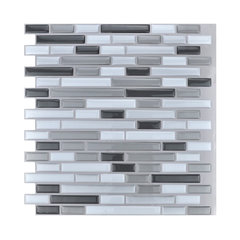 Cecina Peel-and-Stick Wall Tiles, Single Tile, 12"x12"
Tile
Beautiful!!: I absolutely love this.... it added so much texture to my kitchen and now I'm about to do my bathroom in this tile.... If you live in a rental try it! Upon reading the reviews I was a little leary but I'm glad to go with my own instincts.... Love it!!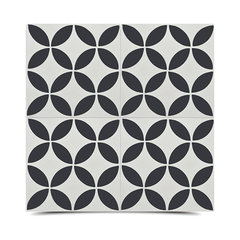 8"x8" Amlo Handmade Cement Tile, Black and White, Set of 12
Tile
We were so impressed with these cement tiles.: We were so impressed with these cement tiles. They are very natural looking (not glossy), with slight variations on each tile. They tiles arrived quickly and we can't wait to install our floor.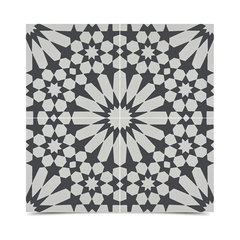 8"x8" Windcroft Handmade Tiles, Set of 12, Black and White
Tile
Floor looks amazing!: I love my new floor. It is extremely important to follow the directions to a T! Also take into consideration when you are ordering that you are working with a pattern floor, so you may need a few extra tiles.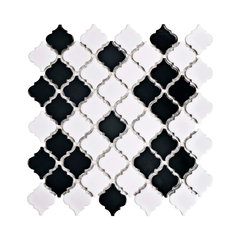 12.38"x12.5" Mykonos Porcelain Mosaic Floor/Wall Tile, Black and White
Tile
Beautiful Tile: I was trying to find suitable tile for my shower floor. I ordered two samples. This one was gorgeous, and matched the difficult to coordinate Diva blue design of my shower niche perfectly. The sample arrived three days before I'd expected it to, well packed and in good condition. My only problem with it was that I decided it was too beautiful and a little slick for our floor; however it would be perfect for other uses.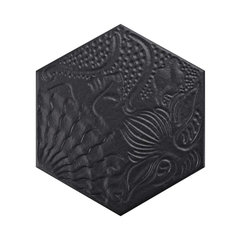 8.63"x9.88" Agusto Hex Tile, Set of 25, Black
Tile
Docked a star because it's pale gray, not white.: The pattern is awesome and I did my bathroom floor in the black version. I absolutely love it, but I really wanted a true white as pictured on my monitor. The white sample is more gray than clean white, so if you want gray get a sample and see if it's gray enough. The texture and pattern are perfection.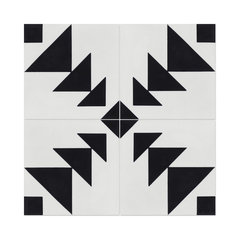 8"x8" Code Talker, Handcrafted Cement Tiles, Set of 12
Tile
Perfect!: Fantastic accent tile I was looking for. Not quite a true white, but close enough to match the subway I used everywhere else. Try not to use a dark or black grout. It will stain the tile.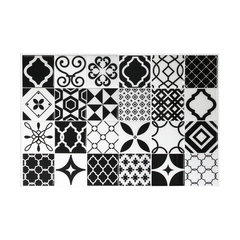 9"x9" Vintage Bilbao Peel and Stick 3D Gel-O Wall Tiles Mosaik, Set of 4
Tile
Excellent choice for covering wallpaper border!: instead of taking weeks of scraping a 15 yo wall paper border, I purchased these tiles as a cover. They go on super easy, are simple to cut to size if necessary and are a nice thick material, not flimsy. Well worth the price!