Sponsored Products
Featured Reviews of Traditional Cabinet and Drawer Pulls
Hafele 120.62.110 Antique Drawer Pulls
Traditional Cabinet and Drawer Pulls
These are beautiful and perfect ... but not right size: I wasn't paying attention when I purchased these. I had searched on 3" bail drawer pulls and these showed up. Fell in love and ordered immediately only to realize later that these are actually 4" center to center and too big for my project. I want to keep them for future use though!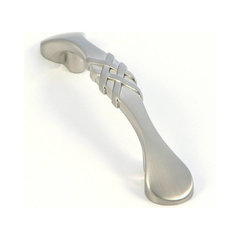 Stone Mill Hardware Satin Nickel Weave Cabinet Pull
Traditional Cabinet and Drawer Pulls
Great pulls for wet bar!: I wanted the pulls in the great room wet bar to be different from the pulls on the kitchen cabinets, and the design on these pulls is perfect. Elegant, timeless and classic and works with our transitional style home.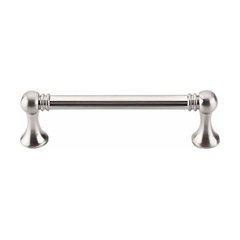 Top Knobs: Grace Pull 3 3/4 Inch (C-C) - Brushed Satin Nickel, Brushed Satin Nic
Traditional Cabinet and Drawer Pulls
Beautiful & Classy: This is a beautiful and classic handle. This is what I chose for my kitchen. It took my months to narrow down my choice and I love the look these will give, both modern and classic. Brilliant and it is less than half off when I priced it elsewhere. I don't know how they do it or why other stores charge so much, but thank you Houzz, I have a beautiful kitchen #grateful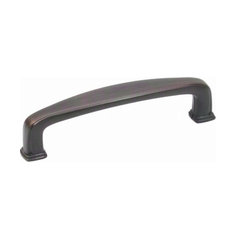 Jamison Pull 96Mm oil Brushed Bronze J2 Pull
Traditional Cabinet and Drawer Pulls
Perfect: I love the color, it is just what we wanted. I like how they feel sturdy. We are remodeling our kitchen with new cabinets and these will look beautiful on the cream color cabinets.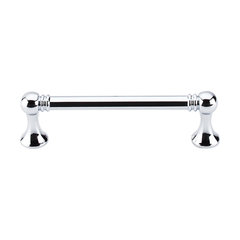 Top Knobs - Grace Pull 3 3/4" (c-c) - Polished Chrome
Traditional Cabinet and Drawer Pulls
Excellent!: These pulls came individually wrapped and had both long screws and short screws. They are a solid and well made pull that has given our cabinets a real nice updated look. The stainless steel material is beautiful and the lines on the pull add that little bit of extra touch of class.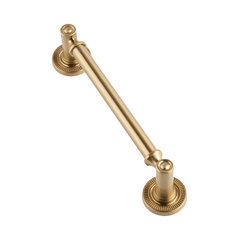 Sumner Street Home Hardware Minted Pull, Medium, Satin Brass
Traditional Cabinet and Drawer Pulls
Exactly as pictured-great quality: I just received these and I can't wait to install them on my new cabinets when they arrive next week! They are nice, heavy, good quality pulls...and of course they are beautiful!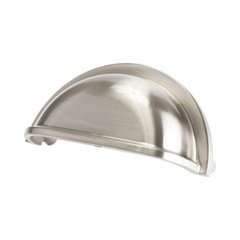 Advantage Plus 5 3 Inch Center to Center Brushed Nickel Cabinet Cup Pull
Traditional Cabinet and Drawer Pulls
Highly Recommend: Beautiful cabinet pulls, very well made. We had to drill out screw holes to make them large enough for the extended holder to fit in the drawer but otherwise they were very easy to install. I wanted to turn my outdated oak kitchen desk into something more modern and fresh so I painted the desk gray to match my new kitchen cabinets and added these pulls. It looks fabulous, like it was custom made. Don't hesitate to purchase these!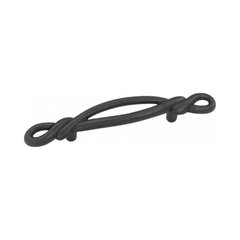 Hickory Hardware Pull, Black Iron
Traditional Cabinet and Drawer Pulls
Belwith Hickory French Twist: I always find it difficult to buy something online without seeing it in person, but these were as beautiful in person as they were online. They are very sturdy and while they are black, they aren't dark or painted, so they look wonderful in our Mediterranean-style kitchen.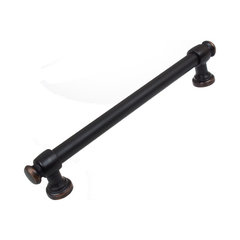 6-1/4" Center Modern Steel Euro Bar Pull, Oil Rubbed Bronze
Traditional Cabinet and Drawer Pulls
Industrial meets casual elegance: LOVE the look and feel of these pulls. Nothing flimsy about the solid feel you get when opening a drawer heavy with cookware. We selected the satin nickel for the light gray stained cabinets and the oil rubbed bronze for the contrasting deep dark brown island. Stunning!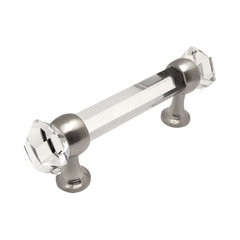 Cosmas 6393SN-C Satin Nickel With Clear Glass Cabinet Pull, Single
Traditional Cabinet and Drawer Pulls
Love'em: I ordered them and they were delivered within 4 days. I was very pleased with the ease of the ordering process. Pulls arrived and to my delight, they were everything I was hoping for; high quality, sturdy, beautiful!