Featured Reviews of Traditional Dining Room Tables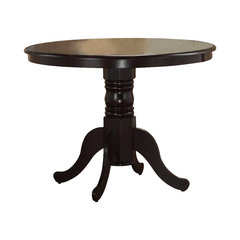 Coaster Brannan Dining Table, Cappuccino
Traditional Dining Room Tables
Round Coaster Brennan Pedestal table: This table is so well made. We are pleased that it is finished as well as any expensive piece of furniture. To put it together was, to say the least, so easy that I put it together myself. Every hole met every screw., and directions were well identified. Thank you. We shall not hesitate when buying from this company again.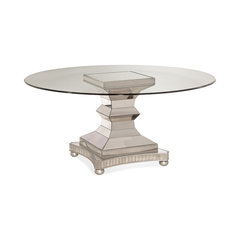 Moiselle Dining Table, Genuine Silver Leaf, 70" Round
Traditional Dining Room Tables
Beautiful table!!: I purchased this to replace our dining table. It is absolutely beautiful. I purchased the 60 inch. The glass is beautiful and the base is stunning. I still hope to find new chairs but I still have other furniture in our room so I'm using what I have. Delivery was great it came sooner then expected. Delivery was great. I had it delivered at the door. We unpacked it ourselves. I'm very please with our purchased and my questions were answered when I placed my order on the phone. It's perfect!!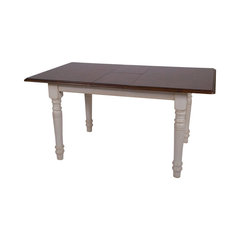 Butterfly Table, Antique White With Chestnut Top
Traditional Dining Room Tables
Solid table well designed and finished: The Bordeaux Butterfly Table is well crafted with solid workmanship. The center "leaves" easily fold in and out from their own compartment and need not be removed or stored separately. It is just the right size for a constrained space.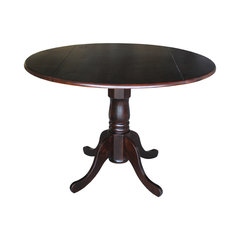 42" Round Dual Drop Leaf Pedestal Table, Rich Mocha
Traditional Dining Room Tables
Excellent table for small space: Easy to order. Fast delivery. Easy to put together... I am a senior lady and it was quite straightforward. Set up the nuts, bolts and screws in separate piles for the separate tasks and it was a perfect fit all the way through. You might want a little extra muscle around for the final tightening. Our table came out quite study and, with both leaves down, perfect for our space. Very happy with it. Good value for the price. Would definitely recommend it.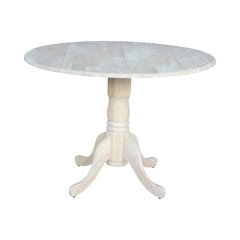 42" Dual Drop Leaf Table, Unfinished
Traditional Dining Room Tables
Great little table :): Love this table .. the size is perfect for my needs and is very well made .. I received it quickly, assembly was easy, stained it to match my chairs and set it up. Very happy with this purchase :)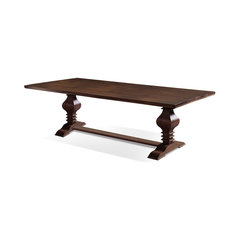 Traditional Dining Room Tables
Beautiful Table, Very nice warm brown color...: Very Nice table. Took an hour to assemble and was not too bad. Top is not solid, but planks and you can see the ridges on some of the planks. It is my only complaint. I expected a solid piece of wood as it appears online.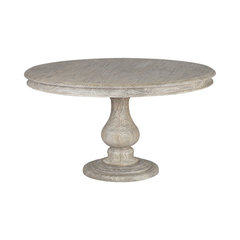 Kosas Rustic Westminster Warm Gray Round Dining Table, 54"
Traditional Dining Room Tables
A beautiful table with character!: The table is well built and sturdy. We expected the wood grain to be more subtle and primarily grey, but it makes a beautiful statement and has a lot of character. The color is still grey, but has also has some light golden brown coloring. The color changes depending on the light. The photos were taken at night with not so great light. The pic of the full table is a better representation of the color. The table top pic shows the grain and is lighter in person. The delivery was as promised and the packaging was impeccable. The table had a tiny scratch on the base, but it is unnoticeable with the grain pattern. I would recommend this product.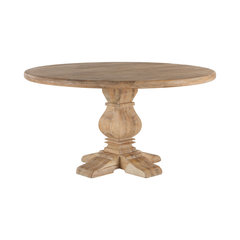 Mango Wood 60" Round Dining Table, Antique Oak
Traditional Dining Room Tables
Elegant Vintage: I was a little uncertain what color this table was going to be. Mango and oak typically mean a bit orange-ish. I was relieved that it is quite tan with a light white wash. Deeper in the veins you can see the darker (traditional) oak color, but it is very subtle. The shipment delivery was easy to schedule and track. The table came in two boxes. It was very well packed; there was no damage. It is heavy and took two people to assemble and move given the weight. The only thing I would say about the online description is that the tabletop surface is not smooth as stated. It has a heavy finish but you would not be able to write on it. The veins of the wood's texture are shallow, but there are a few small knots (little holes). I would call it semi-smooth. Still, it is a beautiful table. It is elegant with a touch of rustic.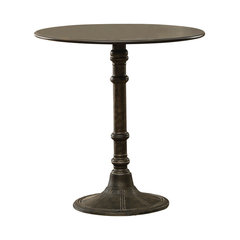 Coaster Oswego Round Industrial Bistro Table
Traditional Dining Room Tables
Love this heavy weighted, sturdy table.: Love this heavy weighted, sturdy table. It has a simple yet elegant design and a european feel to it. It's also the perfect size for a small breakfast nook- which is difficult to find!!!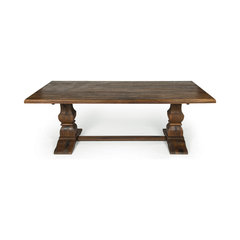 Wainscott Wooden Pedestal Dining Table
Traditional Dining Room Tables
Good table for the price: This table has beautiful lines and is quite stunning when you first see it. I have mixed feelings about the top of the table. It is a rough cut and they do mean a rough cut. This table will not give you splinters, but it does tug on my sweaters if I brush up against it. The table has a coating which sometimes reminds me of plastic and can make the wood look fake. However, I have seen similar coatings on tables in trendy home living stores. The underside of the table is quite smooth and beautiful and I think seeing that caused my disappointment in the top when we turned it over. However, I wanted a table without grooves and one which I would not have to be overly protective of in terms of scratching and water marks. I have only had the table a short time but I feel as though the coating on the top makes it very durable to scratching and water. We have had several people over to the house since we purchased the table and we have gotten many compliments. All things said, I am happy with the table. From afar it truly is stunning. If the top were a bit smoother I could say I loved it. Regarding delivery....it arrived about 10 days later than the delivery window. I was not aware that delivery was curbside. The table was left on a palate on my driveway. There was a light intermittent rain. It is extremely heavy. It took my husband and I a considerable amount of time to get it in the house. If you have a good dolly and no stairs it won't be that bad. We had to navigate 5 steps without the dolly and that is what took a vey long time. If you have steps, plan on having 1-2 more adults around to help, or ask if you can pay for a better delivery service. The actual assembly of the legs onto the base is not difficult. Turning the table over was doable with two people, but difficult. Bottom line: the price is fantastic for the style and overall quality of the table; you need to be ok with a rough finish; curbside delivery is not really appropriate for a table of this weight (it should be treated like an appliance —standard delivery at least gets the item deposited inside your climate controlled house).