1 - 36 of 32,112 products
Sponsored Products
Featured Reviews of Traditional Outdoor Products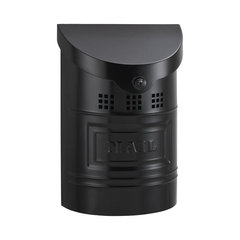 Traditional Outdoor Products
So great: I couldn't be more pleased with this purchase!! The mailbox looks the same as is pictures but is also of a very excellent quality/solid construction. The pod opens and closes so smoothly and quietly. Love it!!!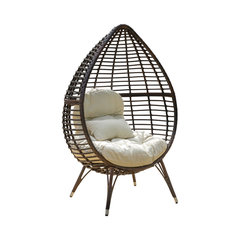 Dermot Multibrown Wicker Lounge Teardrop Chair With Cushion
Traditional Outdoor Products
This Wicker lounger is wonderful: I was surprised that this lounger is as comfortable as it is. Well made it comes with a thick seat cushion with a detachable head rest. There is ample space at the base to relax . It was easy to assemble within a half an hour.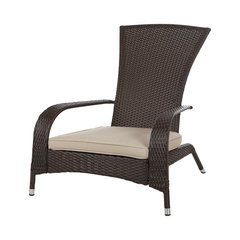 Traditional Outdoor Products
Michelle A.: I love these chairs because they are not too heavy and are comfortable. They required assembly which was not difficult. They have an interesting look . The cushions will be easy to store when you want them out of the weather because they are not too large and bulky. Great find.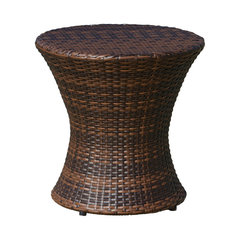 Townsgate Outdoor Brown Wicker Hourglass Accent Table
Traditional Outdoor Products
Good quality: I was pleased with the quality of the side table. Just a little disappointed that the color was a lot darker than the pictured showed. There was not that much Rust color in the piece. Mostly dark espresso.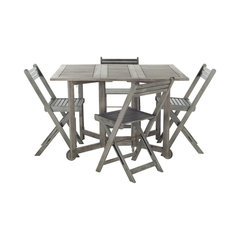 Marquette 5-Piece Outdoor Dining Set, Gray
Traditional Outdoor Products
All around a very nice piece, a view minor imperfections: Review after 3 days, folded and unfolded, has not been subjected to regular use yet. ***Pro's***: 1. Very nice material 2. good quality construction 3. performs as advertised 4. excellent design, very space economical for storage. ***Cons***: 1. Some of the sockets used to secure the legs in the open position when the table is deployed are a little crooked so I have to work to get the locking bolt screwed in 2. the sockets that the locking bars go in to hold the legs together when the table is folded and the ones that hold the bars vertical and out of the way when the table is deployed don't hold the bars in very securely. ***Overall***: The imperfections are minor and the quality is very nice as far as I can tell. I would recommend this product.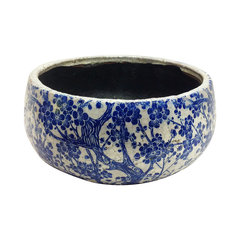 Old World Ceramic Garden Pot, Blue and White, Small
Traditional Outdoor Products
Beautiful Pot!: This vintage style pot looks like it came from an antique store in China, or perhaps from an old English estate sale. It is solid, true to size and to the picture. Best of all, it is graceful and elegant without being delicate.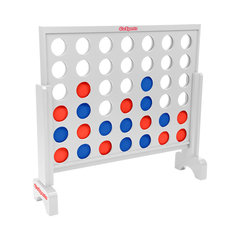 Extra Large 4-In-A-Row Game With Carrying Case
Traditional Outdoor Products
Great for camping!: The product is well made and great for camping trips, which is what I got mine for. the carrying case is great for transport and it's pretty light weight. Great for the family!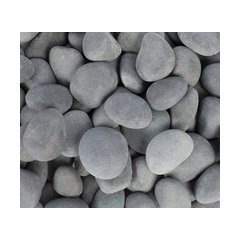 Oasis Landscape Pebbles, Medium, 30 lbs.
Traditional Outdoor Products
Fabulous Pebbles: I was in need of beach pebbles, and could not find them. so i started to search on line. found them but not the right size and i did not want them polished. i was looking for pebbles raw right from the beach. then i saw houzz and they had them! perfect for my needs. they arrived quickly and in perfect condition. exactly what i wanted!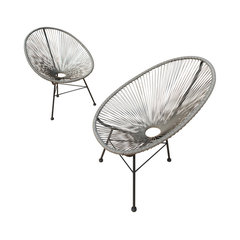 Agius Acapulco Chairs, Set of 2, Gray
Traditional Outdoor Products
Great Looking Chairs: The chairs were easy to put together. They seem sturdy and well made. I've only had them a week but them are comfortable and great looking. My only complaint is the screws that attach the seat to the base are bright silver in color. You can see them through the seat banding. The review would have been 5 stars if the screws were dark or black in color.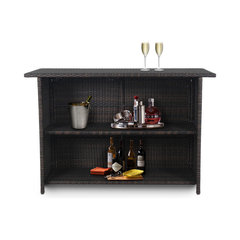 Monaco Traditional Outdoor Bar
Traditional Outdoor Products
NIce portable bar for the price: The item is exactly as pictured. It has a plastic backing to the rattan surface, this may be good or bad. If you spill food it might get trapped. but it provides additional support to the surfaces. It is light enough to move , which also means it needs tied down in windy locations. ASSEMBLY: well... there are 3 different screw sizes that are very minimally different, if you make a mistake, you will be doing the disassemble/reassemble process. We wound up missing 1 screw, but the unit is still stable. All said, good item for the price. Looks like it cost more than it did.