Shop All Traditional Paint
Sponsored Products
Featured Reviews of Traditional Paint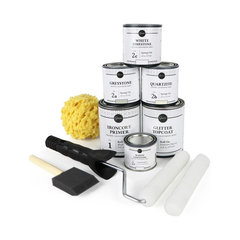 Giani Countertop Paint Kit, White Diamond
Traditional Paint
As Advertised!: I'm in my mid 60's, so projects like this take more time now (and effort) but I must say that when I pulled the tape off and got a good look at my project, it was worth all the effort and time!!!!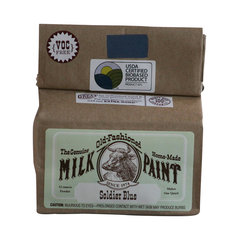 Milk Paint, Soldier Blue, Pint
Traditional Paint
Success with milk paint: I chose milk paint so as to cover, but highlight the grain of, bare red oak picture frame. I got exactly the effect I desired. The cover is uniform, with grain texture. As a "primitive" finish, milk paint seemed exactly appropriate for the application, which is a frame for a 150-year-old grave stone rubbing. The instructions are extremely thorough, which must be understood and followed. The characteristics of milk paint change change as it is being used and the changes must be attended to as needed. The paint should definitely be strained, and must be continuously stirred, and I found it thickening slowly during use over days and so I needed to add water to maintain the thin consistency I wanted. After the first coat, it looked like a disaster, but the second coat cured everything. In the picture, the grain of the oak, and its texture, is visible.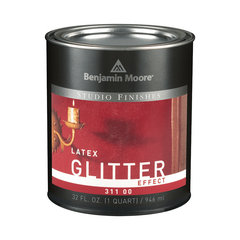 Benjamin Moore Studio Finishes Glitter Effect (311)
Traditional Paint
WOW!!: This made our bathroom look like the sun was shining on the water. All sparkles and beautiful. I am going to use it in the other bedrooms. Dries in about 30 minutes and no ucky smell. Benjamin Moore makes the most innovative paint in my opinion. Jan