1 - 36 of 13,850 products
Sponsored Products
Featured Reviews of Transitional Outdoor Products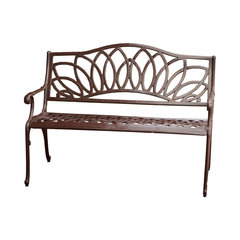 Brockway Cast Aluminum Garden Bench
Transitional Outdoor Products
Best price among several websites: When we first found this bench on line we found it under several names, by at least two manufacturers, and being offered in at least one case for over $350. Houzz had by far the best price. Delivery was fast and efficient (FedEx). Assembly was very easy, although the brown coating on the bench has also been applied to the bolts, and that can make it hard to get the nuts started on the threads. A very modest amount of wire-brushing on the threads takes care of the problem quickly. When assembled the bench is sturdy and solid, and the manufacturing quality is actually surprisingly good. The coating appears to be paint rather than powder coating, but since we are using ours in a sheltered area (under a porch overhang) it should be adequate. The feet have large plastic tips added to them, so they won't scratch any painted floors. All in all a satisfying purchase.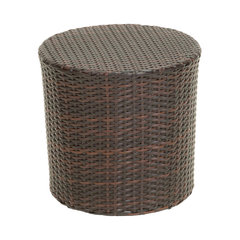 Overton Outdoor Wicker Barrel Side Table, Brown
Transitional Outdoor Products
Affordable little table: This is good looking and pretty sturdy and was a great value. Since I just received it I don't know how durable in the weather it will be but at this price and can replace every couple of years.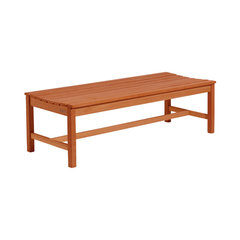 Transitional Outdoor Products
New Garden Bench: Our bench package arrived UPS on Thursday. It is very well made and went together perfectly. We are already enjoying it, sitting out in the evening in our garden. Great product! The Taylors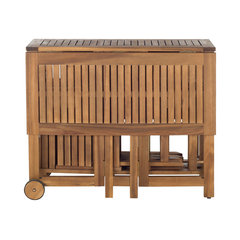 Marquette 5-Piece Outdoor Dining Set, Teak
Transitional Outdoor Products
All around a very nice piece, a view minor imperfections: Review after 3 days, folded and unfolded, has not been subjected to regular use yet. ***Pro's***: 1. Very nice material 2. good quality construction 3. performs as advertised 4. excellent design, very space economical for storage. ***Cons***: 1. Some of the sockets used to secure the legs in the open position when the table is deployed are a little crooked so I have to work to get the locking bolt screwed in 2. the sockets that the locking bars go in to hold the legs together when the table is folded and the ones that hold the bars vertical and out of the way when the table is deployed don't hold the bars in very securely. ***Overall***: The imperfections are minor and the quality is very nice as far as I can tell. I would recommend this product.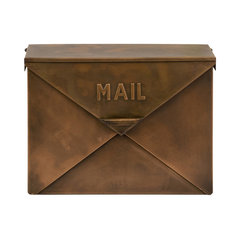 Exclusive Tauba Copper Finish Mail Box
Transitional Outdoor Products
NICE PRODUCT: This is a VERY nice product & we are looking forward to getting it put in our tack room & having our boarders who keep their horses with us, put their payment in their & it will get used for other things. LOVE the color & it will look fantastic next to one of our western art work.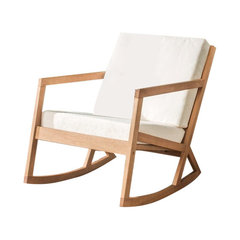 Safavieh Vernon Rocking Chair, Teak Brown/Beige
Transitional Outdoor Products
decent chairs at a good price: Assembling was not fun, but it was fairly easy. An hour tops for two chairs. The frame is a decent solid wood. The cushions are firm, and the fabric is "plastic like" but it's a stylish little chair priced well.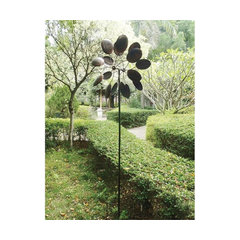 Transitional Outdoor Products
This windmill makes me happy!: Arrived well-packaged, well-made. Easy to put together, took about 10 minutes with no tools except the wrench provided. It is so pleasant watching this sculpture spin and turn. I've had it about a month in central NC not especially windy place, but it seems to move all the time. I saw one in Asheville at a rental house and searched for it online. The wheels turn in opposite directions often, which makes the stems form flowers like a kaleidoscope. Delightful.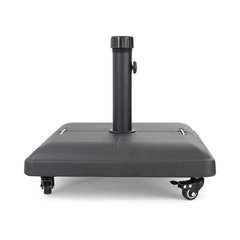 Hercules 80lbs Black Concrete Square Umbrella Base With Wheels
Transitional Outdoor Products
Solid Umbrella Stand: The stand arrived well packaged and undamaged. It is an impressive stand at any price but especially so at the current sale price. The fact that I can roll my umbrella with ease to any spot on my patio makes this product an absolute winner.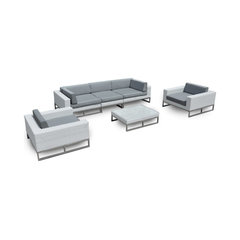 Outdoor Patio Furniture 6 Piece Weather-Wicker Sofa Sectional Set
Transitional Outdoor Products
Lovely: Comfortable, nice gray fabric. Do not agree with other post comments that fabric is beige ... it is a warm gray color. The wicker is a lighter gray. Back of sofa/chairs lower than I thought so I need to mention that.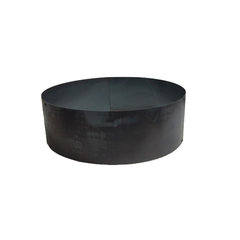 Transitional Outdoor Products
Nice fire ring.: Fire ring is very nice. The metal is heavy duty and should last for years. I would have given 5 stars if holes lined up a little better. When bolted together the alignment of the holes causes the 4 segments of the ring to be off about 1/4 - 1/2" from segment to segment. I will probably lay out the ring on a flat surface and weld it together for a more permanent construction.