Shop All Transitional Sectional Sofas
Featured Reviews of Transitional Sectional Sofas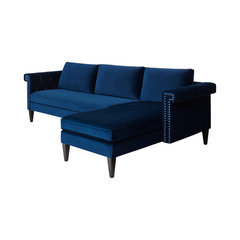 Nathaniel Reversible Chaise Sectional, Navy Blue
Transitional Sectional Sofas
Looks great!: Just moved into my new apartment and decided to start fresh. My first piece of furniture had to be something nice, that would bring color to the apartment so I chose this couch. It's perfect, and the best part of it is the chaise is reversible if I ever get tired of the chaise on the right hand side or if I move to a new apartment I can just change the chaise to the left hand side!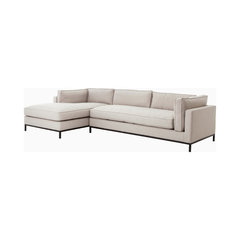 Atelier Grammercy 2-Piece Sectional With Left Arm Chaise
Transitional Sectional Sofas
Atelier 2 piece sectional: Nice piece, Fabric is rough and sort of stiff. It's not a sofa that you cozy necessarily. Nicely made, substantial in size. The color is light gray...sold as "sand" which I had hoped to be light beige. We will make it work because it's a hassle to send it back.. we bought two so that makes it double hard to bundle this up and return.... It is a nice sofa.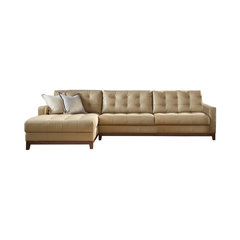 Lazzaro Leather Clayton Taupe Sectional Sofa, RAF
Transitional Sectional Sofas
Classic look with great lines! Very comfortable.: Thouroughly pleased with this purchase which is always risky with a couch! Well made, nice quality leather and a fresh color to brighten up my home. Very comfortable, nice high back and not super deep seats so it isn't too bulky in the space. For the price I'm very pleased, hope the leather holds up well over time with two kids.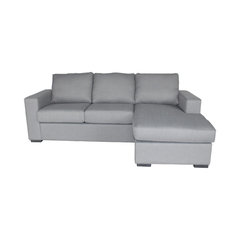 Colton Linen 2-Piece Sectional Sofa, Gray
Transitional Sectional Sofas
2-Piece sectional linen sofa review: The sofa is of good quality. It arrived in great conditions. Also, the cushions covers are removable, if gets a stain you can wash it, goes well with any decor. You can use the long seat on the left or right side. The shipping was free and fast. They called me to arrange the date and time to delivery the sofa. When the sofa arrived, I was at work and my husband received. We lived on the second floor. The delivery man said he could not bring the sofa to our apartment, because some kind of rule. So my husband was left with a large package that he could not bring upstairs by himself. He was lucky that our neighbor was passing by and offered help. If this happen because is free shipping, maybe the seller should start charging for shipping, so the furniture can be delivered right. Overall I would recommend the product to others.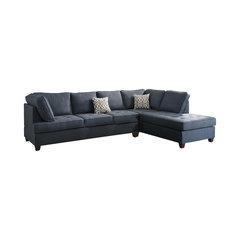 Modern Contemporary Sectional Sofa with Reversible Chaise, Navy Blue
Transitional Sectional Sofas
Surprisingly happy!: I have never ordered a sectional on line before, but after looking at every store in our area, I thought I would give this one the benefit of the doubt and go for it. I'm glad I did! It's far nicer than I expected. The fabric is a nice woven almost linen look fabric. The cushions are firm, but for our family with 5 kids, I need something that won't sag. I love that the chaise is reversible. Delivery was sooner than I expected and it was easy to put together. My husband did have to make a run to the hardware store for some missing screws. That's my only complaint, and despite that, I'm still giving it 5 stars.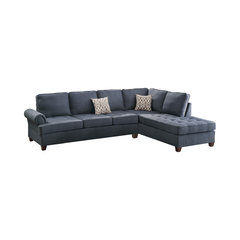 Sectional Sofa with Reversible Chaise, Navy Blue
Transitional Sectional Sofas
Great Couch: This couch is exactly what my living room needed. The blue really pops against my silver/gray walls. There is assembly required, but with two people it goes by really quick. What I love about the cushions is that they Velcro to the back, so when the dog jumps on the couch the cushions don't go flying everywhere.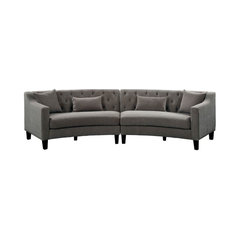 Furniture of America Stenson Contemporary Sectional, Warm Gray
Transitional Sectional Sofas
Sofa: This is a nice sofa. Delivery options were curb side but they did leave it in the house- However, the packing was extremely tedious to get the parts out and left quite a bit of boxes to dispose of. Looks good and color is nice.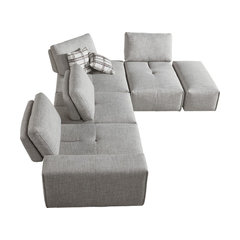 Divani Casa Platte Modern Gray Fabric Modular Sectional Sofa
Transitional Sectional Sofas
Great Product: Great for small spaces. Very comfortable and easy to put together. The color is slightly brighter than the picture which worked out perfectly with the scheme in my apartment. I love how versatile it is, you can connect it or separate it.