1 - 36 of 16,003 products
Sponsored Products
Featured Reviews of Tropical Outdoor Products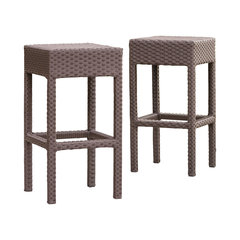 Rudolfo 2-Piece Outdoor Backless Bar Stools
Tropical Outdoor Products
Great outdoor bar stools: I received the shipment timely and well packaged. The bar stools were just as described and pictured on the website. They feel sturdy and safe for sitting and relaxing. The paperwork with the stools recommended keeping them out of the sun and rain as much as possible in order to preserve their performance.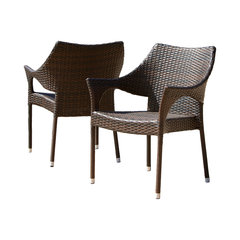 Del Mar Outdoor Brown Wicker Chairs, Set of 2
Tropical Outdoor Products
Just what I was looking for...: I really like the look and comfort of these chairs. Very comfortable without cushions..New Mexico wind would blow cushions out into the desert. I'm hoping the plastic rattan will hold up well to the hot sun and winter freezes. I like the curved feature in the arms. I recommend these chairs.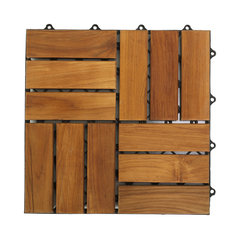 12"x12" Tahiti Teak Floor Tiles, Set of 10
Tropical Outdoor Products
Pretty simply.: Pretty simply. I found what I wanted and shared a link with family members to buy and send to me as a house warming gift. I'm still in need of more tiles and look forward to buying them as I can afford them.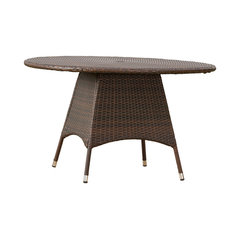 Kanza Outdoor Brown Wicker Round Dining Table
Tropical Outdoor Products
Nice but tough to place drink on uneven surface: It's good enough quality but woven surface makes it a poor tabletop to put a drink on. Also, the dark color makes it get hot here in FL, so don't try to lean on it with bare arms.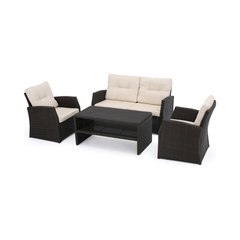 Del Norte Outdoor Dark Brown Wicker Chat, Beige Water Resistant 4-Piece Set
Tropical Outdoor Products
Great set for the price!: I ordered set for my mom. The girls that took my order are wonderful to talk to. They are very helpful and patient. My order arrived within a week . And was delivered right to my door. The set looks beautiful on my moms deck. Doing business with Houzz is a pleasure and rare to find in today's retail stores thank you Sandra Primavera.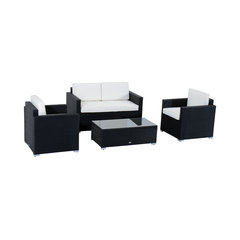 Norlina 4-Piece Outdoor Rattan Sofa Set
Tropical Outdoor Products
Very cute!: This is exactly what I expected! No surprises. It is a little on yhe smaller side, but I read the dimensions prior to ordering and it is exactly what I expected. The fabric is a little unusual, butnit's growing on me. I am very pleased with the set!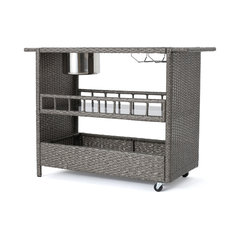 Waikiki Outdoor Fine Crafted Mixed Black Wicker Bar Serving Cart
Tropical Outdoor Products
Cool cart!: This arrived quickly, was easy to put together (we've put these kinds of things together before, so just have to read directions and be patient). Haven't even had a chance to use it yet but excited to do so next time we entertain outside. Would give it 5 stars but doesn't come with an outdoor cover, so had to TRY and find one online (not easy at all) and have one on order for $50, and still won't fit perfectly, greatly increasing total price of this for us.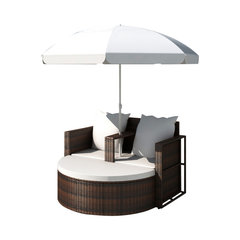 Brown Garden Poly Rattan Lounge Set With Parasol Outdoor
Tropical Outdoor Products
All good but directions and Umbrella: Umbrella is not the best quality. Umbrella is very light so if you have no wind it's ok. Directions are hard to follow but once you figure it out it's a nice piece at a decent price.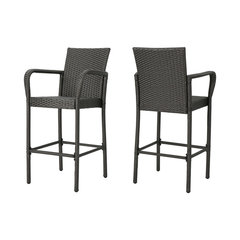 Dunedin Outdoor Gray Wicker Barstools, Set of 2
Tropical Outdoor Products
Large Chairs: These chairs are tall-30" at the seat. They are large appearing, but note that they only hold up to 250 pounds, so big people, beware. They are a dark grey, nice looking, and seem sturdy but I am concerned about the strength of support under the seat bottoms. We will be using them with an outdoor pub table on our patio. The price definitely made them worth trying. It's nice to have 2 people putting them together also.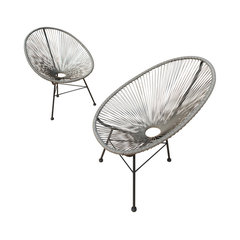 Agius Acapulco Chairs, Set of 2, Gray
Tropical Outdoor Products
Great Looking Chairs: The chairs were easy to put together. They seem sturdy and well made. I've only had them a week but them are comfortable and great looking. My only complaint is the screws that attach the seat to the base are bright silver in color. You can see them through the seat banding. The review would have been 5 stars if the screws were dark or black in color.