Sponsored Products
Featured Reviews of Victorian Kitchen and Dining Products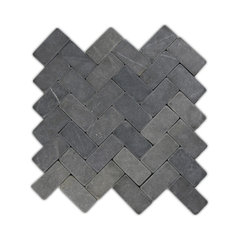 11"x12" Gray Herringbone Stone Mosaic Tile
Victorian Kitchen and Dining Products
Solid, sturdy, well made: This is made of heavy, thick pieces of real stone, not a ceramic impostor. The mesh is very strong - it needs to be! This is a non-grout tile and the pieces are virtually touching with small spaces where the corners meet. It could be grouted though if desired. We are using as a back splash with a sealer. The sealer enriches the color and natural variation of the stones - as well as making it easier to clean. Looks good too!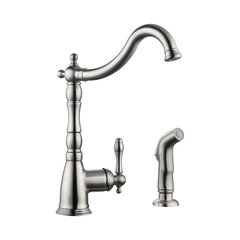 Oakmont 1 Handle Kitchen Faucet With Sprayer Satin Nickel
Victorian Kitchen and Dining Products
Classic beauty: The faucet operates as fabulous as it looks. The finish always looks clean. I have hard water and I never see spots on this great finish. This classic piece is admired every day.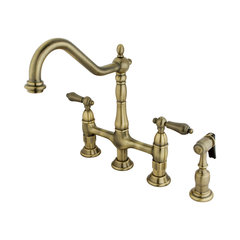 Heritage Kitchen Faucet With Side Sprayer, Vintage Brass
Victorian Kitchen and Dining Products
Love, Love, Love the look: We haven't had the chance to install it just yet, but I love the look of this faucet and can't wait to pair it with my white farmhouse sink and gray cabinets. I was surprised by the weight and solid feel of this faucet. Perfect so far!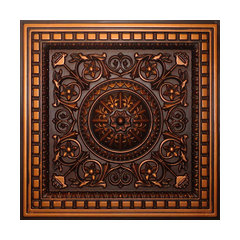 24"x24" D215 PVC Decorative Coffered Ceiling Tiles
Victorian Kitchen and Dining Products
Beautiful: They came early looked exactly like they were advertised. Only problem was I ordered the wrong ones. Refund was easy enough contact Houzz it was taken care of fast. Got the new tiles installed. They look beautiful also. Euro decor gets five stars from me thanks... owe and the price was the best out of five sellers.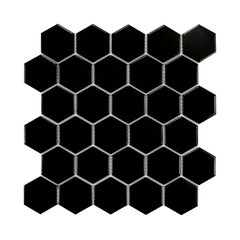 10.5"x11" Victorian Hex Mosaic Floor/Wall Tiles, Set of 10, Glossy Black
Victorian Kitchen and Dining Products
Great tiles that work with any decor style: Like subway tiles, these hexagon tiles can work with traditional, transition or modern decor. I purchased them for the shower floors in my new home build. Each bathroom has different tile, but these tiles work with them all. Great solution.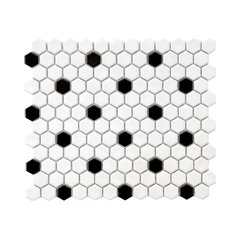 10.25"x11.75" Victorian Hex White and Black Dot Mosaic Tiles, Set of 10
Victorian Kitchen and Dining Products
Flower is NOT in center, but looks good: Our tile installer had installed multiple pieces before discovering the flower is not actually centered in the tile. He had to take it back out and reposition it so that the flowers were in straight rows. They look great when in.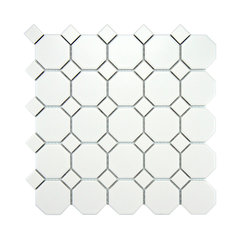 11.5"x11.5" Victorian Octagon Matte White With White Dot Mosaic Tiles, Set of 10
Victorian Kitchen and Dining Products
Repeat purchase: I bought this tile for a home we built in another state and loved it so much that when we moved this summer and decided on renovating this new home, I knew I wanted the same flooring. We love it and get compliments from everyone who sees it.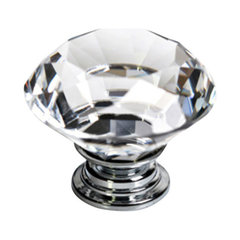 Audrey Drawer Pulls, Set of 8
Victorian Kitchen and Dining Products
Beautiful hardware for our master bathroom.: Got more than we expected! This knob is beautiful, heavy and worth every penny. Price was right! Be sure to note that the knob is sold in quantities of 8! Much prettier than the acrylic look a-likes!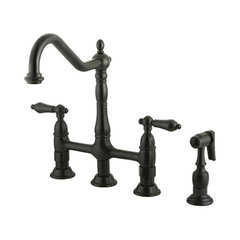 McKinley 8" Center Faucet and Side Sprayer, Oil Rubbed Bronze
Victorian Kitchen and Dining Products
Beautiful on a farm sink in bronze.: This is a lovely faucet. I could not be happier. I wanted a real french country look in my kitchen remodel. I didn't want to pay the high price, but wanted the high end look. This is a quality made faucet! It's a dark, almost black color, but that's what I wanted. Matches my other dark bronze items perfectly. Heavy duty sprayer too. You will love this look!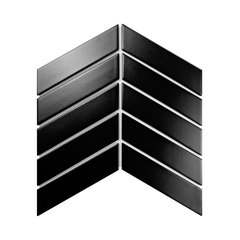 1.75"x7" Victorian Soho Chevron Porcelain Tile, Matte, Black
Victorian Kitchen and Dining Products
Perfect Tile: These tiles are stunning and I am thrilled with how they look on my fireplace. Beautiful! I had to order another box because of the intricate cuts but that was my mistake in not ordering enough.