Sponsored Products
Featured Reviews of Wall Lights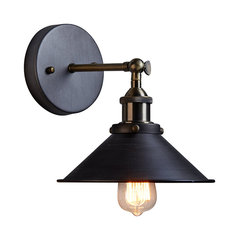 Metal Filament Sconce Wall Lamp
Wall Lights
Best Wall Lamp I've Purchased: This is a beautiful wall lamp!! I bought two for the sides of our bed for reading. They are very well made and look just like the picture online. I was very impressed with these lamps and would buy them again and recommend them to friends.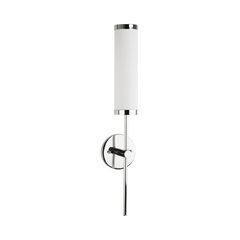 Presto Polished Chrome 1-Light Sconce With Frosted Shade
Wall Lights
Very pretty: We haven't installed these yet but they are very pretty. I didn't realize the type of bulb it requires is different from regular bulbs. No big deal just had to go find them at the store. I think these are going to look really nice! The frosted shade is plastic and very lightweight but the metal part is heavier. Good quality in my opinion.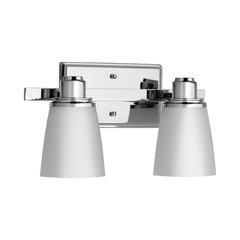 Terracina Vanity Sconce, 2-Light
Wall Lights
Beautiful Fixtures: These lights are beautiful, and fit our bathroom perfectly. They seem a little less wide than many of the other three light fixtures out there, and we are very happy about that.
1-Light Bath Vanity Elina Wall Sconce With Frosted Glass Shade, Brushed Nickel
Wall Lights
high quality fixture: The sconces have a sturdy, high quality weight and finish that one might associate with a more expensive item. One of the glass shades unfortunately arrived damaged, but the supplier quickly arranged for a replacement to be sent. Good experience overall.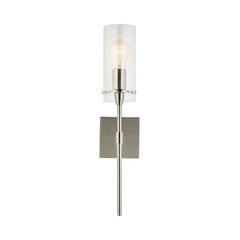 Effimero 1-Light Wall Vanity Corridor Sconce With Clear Glass, Brushed Nickel
Wall Lights
Great for the value: This lamp is great for its value, it looks elegant when installed. I wish the brass color was a bit more vibrant but other than that it's beautiful, simple, it makes a statement.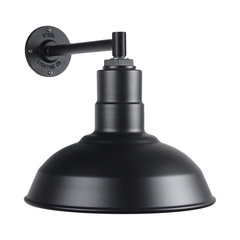 The Westchester Industrial Barn Light - Short and Compact, Matte Black
Wall Lights
Very very happy: After looking around high n low, this is the one. It has the simple look go with the style of the building. It got color sure added design element. All steel construction with the flexibility using all types light blubs. Now it has a led light. Looking beautiful at day, the lamp shape covered wide range of the parking lot at night. I am planning to buy more and will visiting HOUZZ from now on.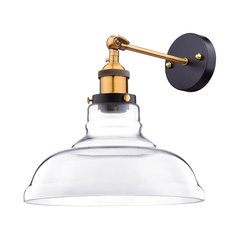 Vintage-Style Industrial 11" Flashlight Glass Wall Sconce, Amber, Clear
Wall Lights
unique: We just installed the light and really like it. It was not as dark of glass as we expected but we are getting used to it. It hung too low facing down so we turned it facing up and it's perfect. Is mounted on an interior brick wall and fits perfectly.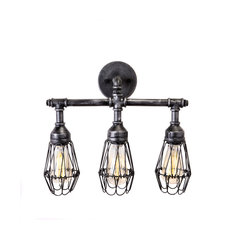 Admiral Industrial Bathroom Vanity Light Fixture, 3 Bulbs
Wall Lights
Awesome Light: Quick arrival time on this wonderful galvanized black/gray distressed lighting. I really love it. We had a good buying experience with houzz and will be back to purchase more. Fixture is very sturdy and well put together. I would highly recommend it. We have rec'd lots of compliments on it!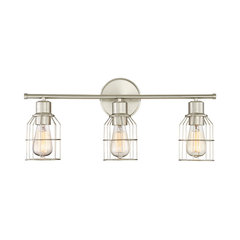 3-Light Bath Bar Light, Brushed Nickel
Wall Lights
Unique!: Very pleased with the unique appearance. A dimmer on the switch was added by my electrician so I can select the appropriate amount of light (I have two of these fixtures above a large vanity). Clear bulbs make the fixtures look 'vintage'--just what I wanted.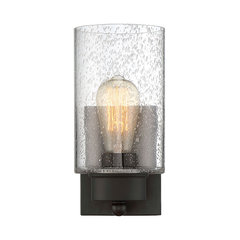 1-Light Sconce, Oil Rubbed Bronze
Wall Lights
Beautiful fixture: I was looking for a fixture to put over a short bookcase. Turns out I ordered the wrong fixture and boy, was I unhappy about that. The quality, color of the fixture and the bubble glass made it easy on the eyes to look at. I have to return it, sadly, but I would recommend this product in a heartbeat, especially if you're looking for great style.