Sponsored Products
Featured Reviews of Wall Lights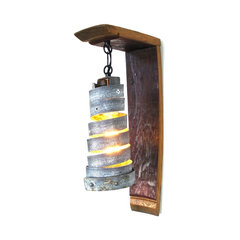 Tuscan, "Classic", Wall Sconce With Corba Pendant
Wall Lights
Awesome: This is quit the unusual wall sconce. I put in my she shed next to a rustic hickory cabinet and the two are awesome together. However one drawback. When hanging the sconce because the back actually is bowed because it is made from a wine barrell. You must modify the sconce. The company sent two extra pieces of wine barrell and we used this along the sides because if you let the sconce open you can see inside the wall. this idea fixed the problem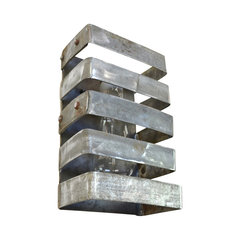 Loft V11, "Scala", Wine Barrel Ring Wall Sconce, 100% Recycled
Wall Lights
awesome find: these sconces are fantastic and as soon as you pick them up, you can feel how sturdy they are. I handed one to my boyfriend to hold- and needless to say we were both impressed with the weight and the sturdiness of these lights. They are a great addition to our home especially since the tv show fixer upper has demonstrated how wonderful rustic can look. These definitely fit the bill of that rustic look is what you are going for and the customer service was fantastic.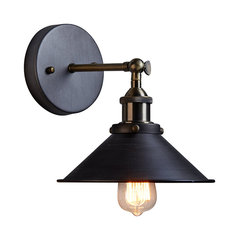 Metal Filament Sconce Wall Lamp
Wall Lights
Best Wall Lamp I've Purchased: This is a beautiful wall lamp!! I bought two for the sides of our bed for reading. They are very well made and look just like the picture online. I was very impressed with these lamps and would buy them again and recommend them to friends.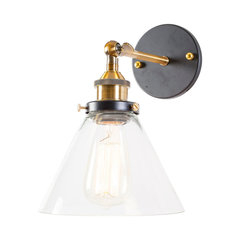 Wall Lights
Looks great!: Haven't installed them yet, but I love the fact they are adjustable. Love the look of them. The order arrived quickly and with no damage. Just from an appearance standpoint I would recommend this fixture.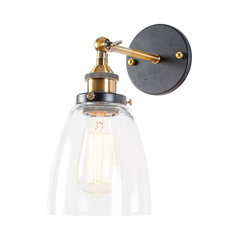 Wall Lights
Super Interesting: I've not yet installed them so I can't speak to the ease of installation, but the overall quality seems great. They feel sturdy and will blend in well, with my black, white and gold bathroom. They arrived on time, all in perfect condition.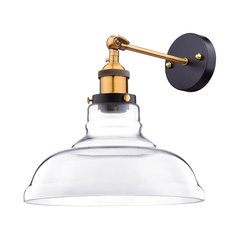 Vintage-Style Industrial 11" Flashlight Glass Wall Sconce, Amber, Clear
Wall Lights
unique: We just installed the light and really like it. It was not as dark of glass as we expected but we are getting used to it. It hung too low facing down so we turned it facing up and it's perfect. Is mounted on an interior brick wall and fits perfectly.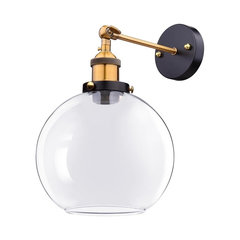 Vintage-Style 7.9" Bell-Shape Glass Light Wall Sconce, Amber, Clear
Wall Lights
Excellent glow, perfect size: Was looking for a sconce that was modern, but also fit with a 100 year old house. The amber glow on these are an added bonus.... the bulbs we replaced, but really any bulb will do. They are not so bright like the globe ones we used to have that blind you, these you can actually have them on all the time!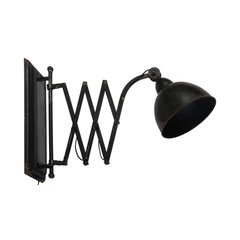 Arris Extension Wall Lamp, Black
Wall Lights
Chrisb: This light is awesome! I love the rustic aged look. I did replace the cord with a longer cloth cord to add to the vintage look and to reach all outlets if I move it which is very easy to do. It was also a bit larger then expected but fits my home office perfectly.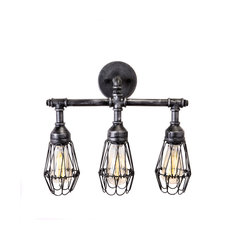 Admiral 3-Bulb Bathroom Fixture
Wall Lights
Awesome Light: Quick arrival time on this wonderful galvanized black/gray distressed lighting. I really love it. We had a good buying experience with houzz and will be back to purchase more. Fixture is very sturdy and well put together. I would highly recommend it. We have rec'd lots of compliments on it!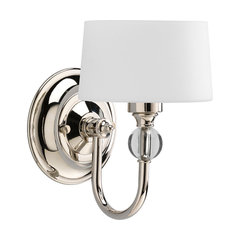 Progress Lighting P7049-WB Fortune Single-Light Wall Sconce
Wall Lights
I love the sconces.: I love the sconces. However, I was not kept informed of the order status and was unable to check at the seller's website. From the time of the order until I received the items, the order status was still showing pending. I emailed the seller regarding the status and shipping date but did not receive a reply. The sconces are installed and are beautiful but the krypton bulbs get very hot very quickly.