About Us
East Bay Full Service Award Winning Architect and Design Firm
John Barton Architect is a leading residential design studio serving generations of Bay Area Families. We help clients explore the possibilities for their lifestyle to develop the appropriate solution for their home. John Barton is personally in charge of all projects within the studio. Your project will never be "handed off" to a junior designer. Our design philosophy is that houses have gotten bigger than we really need. We prefer to collaborate with clients who appreciate that a well-designed, more appropriately sized home is preferable to a "bigger is better" approach. We strive to incorporate sustainable design into all of our projects and have found that starts with size. Quite frankly, we believe that a smaller well designed home is more sustainable than oversized homes...
Services Provided
3D Rendering, Architectural Design, Architectural Drawings, Bathroom Design, Building Design, Custom Homes, Energy-Efficient Homes, Floor Plans, Green Building, Home Additions, Home Extensions, Home Remodeling, Home Restoration, House Plans, Kitchen Design, Kitchen Remodeling, Laundry Room Design, Mudroom Design, Multigenerational Homes, New Home Construction, Pool House Design & Construction, Site Preparation, Space Planning, Structural Engineering, Sustainable Design, Universal Design, Construction Drawings, Represent Clients at Design Review, Represent Clients at Planning Commission Review, Permitting
Areas Served
East Foothills, Fremont, Hayward, Milpitas, Mountain View, San Jose, Santa Clara, Sunnyvale, Sunol, Union City, Livermore, Pleasanton, Los Altos, Palo Alto, San Ramon, Dublin, Menlo Park, Redwood City, Campbell, Lake Tahoe
Awards
Former Chairman of the City of Fremont Site Planning and Architectural Review Board. Lake Tahoe Mountain Home Award Winner
Back to Navigation
Our Stories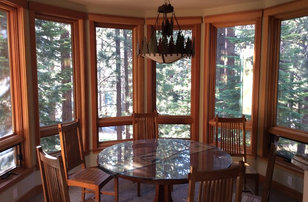 Sponsored story
For a greener lifestyle, make more efficient use of the space you have, this Fremont architect says
Item 1 of 1
Back to Navigation
Back to Navigation
Back to Navigation
Featured Review
John has done a Fantastic job, Very Professional. Everthing was done on a timely manor. I heard allot of stories about home projects,( be careful who you hire..just negitive)Not John, always a Professional approach!
Read Full Review
Write a Review
41 Reviews for John Barton Architect
John has done a Fantastic job, Very Professional. Everthing was done on a timely manor. I heard allot of stories about home projects,( be careful who you hire..just negitive)Not John, always a Professional approach!
We wanted to add a guest suite and remodel/rework some of the interiors in our house in Fremont, CA. We approached John with our requirements. He visited our house and talked to us at length and really understood what we were looking for. He also educated us on the permit process with the city and explained the cost and time of the different addition sizes. Once we decided what we wanted, he set to design and very quickly presented us with a few different options. His design made the extension seemlessy integrate into the existing structure, appears like it was always meant to be. He reworked the interior to work better for our needs and took care of the permit process with the city and had a working approved plan within 3 months. After construction started, when we needed an evaluation from him for a foundation issue, he was able to quickly evaluate the issue, find a resolution and get that approved by the city. John has a good reputation and standing with the city planning commission and he is highly respected. He is open to our suggestions, input and constraints and factors that effectively into the design that he comes up with. It was a pleasure working with John and would highly recommend him.
Hired John for a complete rebuild project in Albany, CA. John is very good at what he does and very professional. Before hiring John, I had another professional to design they house and had lots of issues with the cities regarding the design. John took over the project, his experience really showed. He was able to redesign the house that addressed all city and neighbors concerns and quickly got approval. Project was all smooth sailing after John took over. John can also do structural engineering as well. This saves both time and money. The house turned out great as we could see from the pictures. I would love to work with John in my future projects.




John Barton is an exceptional architect. We contracted with him on the renovation of our 2-bedroom, 1-bath house in Alameda, CA. He invested time to connect with us early on to understand our vision for our forever home and was attentive to our needs throughout the planning process. John has a wealth of knowledge and experience and made valuable recommendations and suggestions that enhanced our plans. We were incredibly impressed with his collaborative spirit in partnership with us, our contractor and the city of Alameda. Throughout our renovation project, John proved to be timely and responsive. With gratitude and confidence, we strongly recommend John Barton as a highly-qualified architect for whatever architectural design needs you might have.
We are fortunate enough to be working on our second! John Barton home. John designed our home just over 20 years ago in the Bay Area. His ability to create our vision was spectacular and we had a home that we loved. Four years ago we moved to the Sierra Foothills into a family home that was in much need of revitalizing and even more so, in need of light (it was such a dark house!). We hesitantly called John (hesitant only because we are now about 125 miles away from him) and he was more than willing to make the long trip and again design a spectacular home for us. When he suggested taking down a rock wall we said, "we can do that?" and he knowingly said yes. We are just over half way through this project. The builder calls John for confirmations or clarifications and within minutes work continues. John has worked with our county building department to secure the necessary permits and has provided engineering expertise to replace three load bearing beams/posts with steel beams that are now unseen. John is so very easy to work with and we are so wonderfully lucky to now be working on our second John Barton home.
We wanted a first-floor master suite added to our home and a complete renovation of the ground floor, including an open-concept kitchen-dining-great room. We are absolutely thrilled with John's design. He also incorporated a covered patio off the kitchen that is spectacular. The neighbors all agree that the house has been transformed from cookie-cutter to completely custom, one-of-a-kind.
This is a long overdue review of John Barton. We hired him as our architect for a master bedroom addition and partial home remodel. John was courteous and professional, and patiently answered all of our questions. This was our first major project on the old house, so we required a lot of education. John was a helpful guide throughout the process. He was prompt with his deliverables at each stage, and if we caught an error, he would fix it quickly. While our project wasn't the most complicated (nor very big), John contributed some interesting ideas that made our small addition unique and allowed us to maximize utility of limited space. We were pleased with our final design and configuration, and our friends think the house looks great. John also provided us with a list of contractors with whom he had worked in the past and trusted. We ended up taking bids from three of them and hired one. When we needed John's input during construction, he made himself available and gave valuable feedback. Finally, I should mention that John's rates were reasonable for the services he provided, as compared to the market. He offered us a flat rate structure for the designing and planning stage, and charges hourly for additional services during construction. I highly recommend John Barton Architect to anyone interested in doing new construction or a remodel.
We did a major remodel, addition, and refurbishing of our home about 10 years ago. John did an excellent job of translating our goals and desires onto paper. After listening to us he came up with 3 rough sketches for us to consider. He then miraculously blended them together into a perfect plan for our lifestyle. I think designing a remodel is more difficult than starting from scratch because you have to work with an existing structure and make it blend with the new additions. John made that happen for us. You'd never know it wasn't all built at the same time. We are eternally grateful and will happily stay in our home for many more years.
Our project is a medium-sized remodel. We are adding 150sq feet to the front of our house, adding a new roof (for vaulted ceilings), and giving the rest of the house a general facelift. We found John on houzz, and originally chose him because of his stellar reviews. We are very happy that we chose him! From the onset, John was extremely knowledgeable, taking time to educate me on the processes involved in our remodel. He has made a stressful process much more bearable by be responsive to questions, thorough in his designs and answers to our inquiries, and he's handled the communication with the city for us. John's work is high quality and punctual. We highly recommend him.
John completed the plans for a re-model including a small addition and some structural changes - he was very easy to work with and created a great set of plans. We have not gone through construction yet, but I expect it will go smoothly with the clear plans. Starting from a napkin sketch of mine, John brought his ideas to the table and helped guide the project in a direction that we are very excited about. We would not have thought of the way he approached it, and we look forward to working with him during construction a bit more.
I contacted John about a small renovation project at our house in Fremont last summer. He was very professional and personable. John quickly understood what we were trying to achieve, and was able to assist us with the project in a timely manner.
I was referred to John by a friend, and I am completely satisfied. Knowledgeable, articulate, and on time with plans for our addition. His understanding of the ins and out of working with the City and on its processes really helped make the process smooth, and the design he provided in the end worked out really nicely. He was willing to work on changes to the plans as our understanding of space and requirements evolved and impacted the design, and we were always met with a smile.
I wanted to remodel my house in Fremont, CA and searched online for an architect. John was the first and only architectural service I contacted. He helped me not only with the drawings but the design as well and provided me with design suggestions that I hadn't thought about before. John is very professional, extremely knowledgeable and easy to communicate with by phone and email. He referred me to a construction company that has worked out very well. The construction work is almost complete now and I'm absolutely thrilled with the results of the entire process from drawings and onwards. Thank you John for all your help with the drawings! I love my new and improved home. I now have a 2nd floor brand new and gorgeous master suite with a bigger bedroom, dreamy new bathroom, and beautiful walk-in closet.
Loved working with John! We were that client that was really lost about what our vision was and John gave us many options to fall in love with. John is the kind of person you want to do business with--kind, honest, straight-shooter, high integrity,
I have worked with John on three separate occasions: a 3,800 sq. ft. total renovation/remodel project; a five lot subdivision; and a 1,800 sq. ft. window/door replacement project. John was professional, timely and easy to communicate with for all three projects. I recommend him to you and will use him again if another project comes up for me.
John helped us with engineering and design for a support beam in the ceiling and supporting pillars and footings to allow removal of a load bearing wall. Work included drawings and calculations, electrical drawings, project drawings and submittal to city for building permit. Work was performed promptly and accurately. John came highly recommended and was great to work with.
John helped us designed the addition and remodeling of our dream home in the Weibel area of Fremont, CA. Throughout the process, he was respectful to our specific needs as a family with children and seniors, and provided practical advice and guidance on all levels of the project including designs, construction, and costs. I found John to be a very effective communicator and a talented designer. John is knowledgeable in flow of floor plans and home designs, and came up with great solutions to achieve our goals given the limitations of existing constraints. John listened carefully to our concerns and then communicated his solutions very competently and professionally. When the plans are completed, John was able to get them approved quickly through the City with his professional preparation and experience which potentially saved us weeks of valuable time. The project will be underway soon, and we believe that John will continue to be helpful whenever necessary through the construction process. I will hire John again for any future projects and recommend him to my family and friends.
John has prepared the plans for an expansion to our daughter's house. We are moving in with her and need additional space, especially a bathroom that provides the amenities older people need. We also need additional storage space. John has been very good at making the changes that we requested. We look forward to building this addition in the near future. We believe he will be trustworthy and competent in the construction phase.
We found John through a construction contractor's referral. We asked him to handle the design and city permit process for attached room additions in the first floor, extending from the main house structure into the backyard for the in-laws. The initial project involved the expansion of the existing dining room, the addition of a second master bedroom and a second living room (or small sit-in room). The design and construction permit were obtained. However, in the end at our request, we scaled down the project size to about a third, with only the addition of a master bedroom but in a totally different lay-out, essentially a different project. John again handled the re-design and obtained the permit for the modified project. We selected John for his intimate knowledge of the city building code where we live. We also live in a special seismic-studies zone that requires special consideration to the existing and the additional foundation. John understood those very well and was able to get the permit without much delay. He paid attention to our needs and came up with design proposals that often met or exceed our expectation. He communicated well, explained every design and construction details to us. His schedules were flexible to meet for our needs. In particular, during the construction, we decided to add a bathroom at the request from the in-laws. The construction stopped and waited for a design modification and new permit. John came to the rescue and responded swiftly for both the design and the modified city permit. He also laid out his design process and the corresponding charges in a very transparent manner. His fees were not the lowest to say the least but we felt the quality of his service and the assurance from his experience warranted the asked price. He also offered over-sight service to the construction for a fee but he never charged us for a few times he visited the work site. We were very happy with his service. We would use John again any time. Highly recommend.

I have worked with John Barton for more than 20 years on a multitude of projects here in the Silicon Valley. When it comes to residential design he is esthetically impeccable! He understands the true value of "workable" living spaces. His floor plans flow with meaning and simplicity. Having the distinct pleasure to experience his talent with many of my high valued clients made John Barton the obvious choice when it came to my own home renovation. With little effort he came up with a smart design which balanced both my wife's concern of having enough space for a growing family of six, with our neighbor's concern that it fit the other ranch style homes in our area. John Barton and his wife have a family of three kids, which helps his understanding of how design can accommodate a growing family's needs in harmony with the surrounding community. JPW -President of J P Whitney Construction
John very patiently worked with us over a period of 18 months throughout a project which initially started with brainstorming on the complete remodel of a 1926 California Bungalow and culminated in a bathroom remodeling project. John offers that rare combination of creativity, excellence in design, integrity, common sense and extensive practical experience which culminated in a complete success. When he presented the plan to Palo Alto's ridiculous planning department he obtained approval in 10 minutes! We used a contractor of John's recommendation who was as exceptional as John and who had no difficulty executing John's design, with little guidance from us since we were 2600 miles away. We definitely intend to use John next time and highly recommend him.
I have hired John Barton on two occasions. Once in 1997 for a second floor room addition and bathroom remodel and a kitchen remodel in 2012. Both times John was very open to our requirements and needs and incorporated them into our desired design. He came back with several design options which included most of our desires. He easily added any new ideas as we thought of them. During the project if any issues occurred he was very accommodating and worked with us. On the second project, he did not meet our timing requirements as promptly as agreed upon, which was a concern. However, things got completed.
John Barton worked collaboratively with the contractor and interior designer on a very successful project completed in Menlo Park in 2009. He was quick to grasp the scope of the project and to elevate the overall design and functionally of the plan. John is experienced and adept in getting plans through the permitting process as well as resolving any snags. He was responsive throughout the construction stage and made several changes that would have otherwise been overlooked ( extra footing, modification of roofline etc). Having used other architects on past projects, I give John highest marks for experience, thoughtful insight and overall value rendered to an extensive remodel.
John is a thorough, fiscally responsible, competent architect it has been my pleasure working with on this project. John provided the guidance between homeowner, city planning dept and the general contractor to make this project successful. As the homeowner; John's communication skills is excellant; he provided timely updates / status; provided the pros and cons to a given approach with respect to budget restrictions, set the appropiate expectations as to milestones for the project. I would recommend John's services on any project requiring an architect.
We worked with John Barton on our home remodel. Our project included a foundation to roof addition of 700 sq.ft. The design changes included our kitchen, and 2.5 bathrooms within the home. He worked well with our design ideas and added a lot of expertise towards traffic flow, lighting, city easements and roof truss options to our plan.
John has 30+ yrs. of experience as an architect, and I found him very easy to work with. I hired John right after 4th of July, and we are all ready to submit plans to the city this coming Monday (9/15). The project is a major interior remodel which includes remodeled kitchen, master bath, 2nd bath, and laundry room. Also includes adding a powder bath, and an office. Within 2 weeks after hiring John I had preliminary 1st and 2nd floor plans. He came to my house and we met for almost 2 hrs. to discuss changes; he had revised plans for me to review the following week. We repeated this process 2-3 more times. I found John's insight and experience very helpful in our revision meetings. When I hired John I told him I wanted to be able to start my project in October, and I believe we will hit that goal. I told him what my budget was for the project and we ended up pretty close to budget. I did go over budget, but that was because I expanded the scope of the project, once John and I talked about it in more detail. I thought John was very good at meeting my deadlines. I found his rates very reasonable, and what he charged me, for what he provided me, was very fair. Overall I found the whole experience very enjoyable. I am very excited to start my project. I would highly recommend John based on my experience on this project. John G.
Butler Armsden Architects
John and I joint ventured on the design of a project in Sharon Heights in Menlo Park. He was extremely knowledgeable, and had a very good command of the issues and challenges that the project faced.
John did a great job for our home addition project. He was very easy to work with and met our every request. He even thought of the little things like adding a bench by the bathtub so it is easier with little children. We had no problems getting the permits through the city. He addressed every question from the city in a prompt and timely manner. When we were surprised by the overage due to reinforcement of the foundation, he explained clearly why it was needed and how we were going to be better off with it. Our house came out looking really nice and we enjoy it everyday. Many a neighbor has stopped to ask us who the architect was and we have no hesitation referring John to them.
We hired John Barton for an addition/renovation to our 1957 Los Altos ranch house. John incorporated the addition seamlessly. No one can tell when the old house ends and the new part of the house begins. The house is both beautiful and functional. John is easy to work with and responsive. We are considering remodeling our second home and have hired John again to draw plans.
My wife and I were referred to Mr. Barton by a fellow employee. Mr. Barton outlined his plan for us during our first visit together. He would--and did--create three sets of preliminary drawings that he referred to as 'shell drawings.' These enabled us to select from alternative plans and also to obtain a broad outline of what the project costs would be. Not being familiar with architectural plans or remodeling, we asked many questions and received answers which were helpful. Among the things we didn't "know about" was how to select and engage a contractor. Mr. Barton provided us a list of thirty contractors in three separate tiers. This greatly facilitated our task in finding a contractor suitable for us. Mr. Barton followed up with us four times during the building process to ensure the project was proceeding well and to answer any questions that we might have. Two of these contacts were on-site visits to see the work himself. Mr. Barton communicated with the contractor as appropriate to assist us. He also directed us to a designer to help with appliance and appointment selection. Upon completion, the remodeling work, taking place over a five month period, was to our satisfaction. This is in considerable part due to the good start and planning that Mr. Barton provided us.
John Barton was our architect on the designing of our vacation home in South Lake Tahoe in 2010/11. We have been very pleased with the aesthetic appeal of the house but have also appreciated the functionality of the design. We were on a very tight budget and John made sure we got the most bang for our buck. We asked John this last year to design a garage to match the house that did not appear like an after thought. No one would know that the garage was added 3 years after the completion of the house. Besides John designing a wonderful house for us, he followed the project from start to finish and was always available to our contractor. We would highly recommend John Barton as an architect.

John Barton has worked for my clients for over 20 years. He brings a good sense of creativity to the projects. He is particularly good with remodel projects, integrating the new design into the old so that the project is "seamless". He works well with local cities and municipalities. He is very sensitive to timelines and budgets. I have no reservations in referring John to my clients.
He got the plans in a reasonable time frame and got the revisions done quickly. He is up to date with the current codes.

John's architectural work is exemplary. Hand drawn architecture is rare these days. It is a work of art as well as a functional. John did what he was asked of us and it was a pleasure to work with him. He also had many contacts at the government and made it easy to get approvals

John Barton designed our house in a historical location of Fremont and helped us with the strict review process with the city. We wanted to completely remodel our existing house and also add around 800 square footage. From the beginning he was very attentive to the needs of our family and our budget. In our first meeting itself he explained to us the process and the different steps we would be undergoing. He clearly listed all the services that he would provide for our contracted price. He continued to answer questions or doubts during the construction process. Since we did not have a head contractor this was very helpful for us. Our house is beautifully designed and complements our neighborhood. Our family is very grateful to Mr. Barton and we would recommend him to all.
John was the design architect for a significant addition and remodel we did on our two story 4 bedroom 2 bath home. We basically took down 1/3 of the house to the ground and re-built it and also added a wide variety of interior upgrades. John created 3 initial schematics for various design ideas using our inputs describing what we wanted and after the final design was determined he produced the architectural drawings for permit approval and actual construction. John worked with the general contractor we selected, our interior designer and with City officials to help complete a wonderful outcome with which we were very pleased. He truly made our "dream home" come true!!! John is creative and thoughtful, willing to listen to the clients' ideas and help implement them yet also to provide sound and respectful advice. He is honest, trustworthy and a pleasure to work with. I would highly recommend him and would absolutely hire him again in the event I have a future project. I am happy to provide a verbal reference to anyone who obtains my contact information from John.
John Barton provided excellent service and artistic direction. He has a keen eye for maximizing the potential of a space, is very knowledgeable in his field and was easily accessible for any questions that arose. In addition, he is a kind man and was very easy to work with on our project. We would highly recommend his architectural skills.
Relationship
We are realtors who have recommended John to several clients as well as to our HOA to build a Clubhouse.
My husband and I have worked with John Barton, Architect for many years. We have worked with him on large projects such as our HOA Clubhouse as well as other projects of varying sizes such as designing a large up-scale 10,00sf home from the ground up, remodeling older homes to add rooms and size, and modifying existing homes to upgrade and change rooms to vary use. John is one of the most pleasant men to work with we have ever encountered. In addition, he is extremely knowledgeable about City Planning/Design Commissions which proves to save a great deal of time in the process of building or making changes to a home. He is willing to continue to revise plans until the customer is satisfied with the project in order to move ahead. John does not try to "push" his ideas onto the client, but takes what the client tries to describe that he or she wants and develop a drawing that will please that client. He has many ideas and will use them when the client has no clue which direction to turn but knows he/she wants to do something! John has a fantastic knowledge of what the Cities allow and do not allow so that when he goes into a home that is partially constructed and left incomplete for whatever reason, he can point out what is done properly and what is not done according to codes. We would not hesitate to recommend John Barton for ANY and ALL Architectural/Design projects large or small. He seems ready, willing and able to take on any project with knowledge and a friendly attitude. Sincerely, Betsy and Gene Yamasaki
John Barton has worked with our company for many years on a large number of projects ranging from small remodels and additions all the way up to large commercial buildings. John is not only a highly professional individual and extremely skilled in his craft, but his prompt responses to questions and concerns is outstanding. I would recommend John as an architect to anybody in the business looking for reliability and skill.
I've worked with John over the last 18 years on at least three remodeling projects. He's been a pleasure to work with on every occasion. I worked with John on a second story addition, a kitchen remodel/room addition and a bedroom remodel. Each of these turned out beautifully, with some great features that were a result of John's creative thinking. One of the things I really appreciate about John is that he approaches these projects without the ego that many architects are known for. He's a very good listener, makes great suggestions about how to best use space and is respectful about the client's opinion and preferences. I highly recommend him!

We recommend John without reservation. He was the architect for our remodel several years ago. Many remodels feel very tacked-on. Every one of his remodeling projects felt very organic--they felt like the house was meant to be that way. He not only achieved that with ours but also solved some tough drainage problems on our lot. Years after the project was completed, we still marvel at how well the house works and how well it has handled our changing needs. He is also very professional. He set our expectations regarding cost and timing and met those expectations. Finally he provided great references to a contractor and a designer. We were so impressed, we just hired him again to work on our vacation house.
Back to Navigation
Contact John Barton Architect
| | |
| --- | --- |
| | John Barton Architect |
Typical Job Cost $50,000 - $1,000,000,00


Typically a fixed fee however open to other arrangements