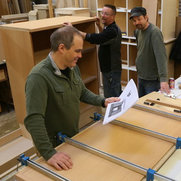 | | |
| --- | --- |
| | Jed Dinger Design |
4 Houzz Awards
4 Houzz Badges
Contact Info:
Jed Dinger
14650 Southlawn Lane
Ste 17
Rockville, MD 20850
Typical Job Costs:
$5,000 - 50,000

License Number:
MHIC100120
https://www.houzz.com/pro/jeddinger1 copied to clipboard
Montgomery County's Elite Cabinetry Specialists
page_type: prop_plus_profile
Jed Dinger Design is a full-service, custom cabinet shop, serving residential clients in the DC Metro region. Our clients come to us with a wide range of projects. From a simple side table to a home office with floor-to-ceiling millwork. We're ready to help you realize a solution to your design challenge in a way that you feel valued as a client, and included in the process. Your custom cabinetry is produced completely in-house by Jed Dinger Design, from design through finishing. Your project is rendered in 3D CAD software before fabrication which allows us to edit and modify the designs quickly and efficiently. It also provides you with a clear idea of what to expect, before the project is delivered. We install all of the work we produce, maintaining quality control from our first meeting through to the end product.
Services Provided
Cabinet Sales, Closet Design, Custom Bathroom Vanities, Custom Bookcases, Custom Built-ins, Custom Cabinets, Custom Entertainment Centers, Custom Home Bars, Custom Kitchen Cabinets, Custom Pantries, Custom Shelving, Custom Storage, Custom Walk-in Closets, Garage Storage, Pantry Design
Areas Served
Bethesda, Chevy Chase, Chevy Chase Section Five, Chevy Chase Section Three, Chevy Chase View, Chevy Chase Village, DC (Washington), Derwood, Forest Glen, Four Corners, Germantown, Glen Echo, Glenmont, Great Falls, Kemp Mill, Kensington, Leisure World, Martins Additions, Montgomery Village, Aspen Hill, Colesville, North
Featured Review
The kitchen is the best kitchen I've cooked in, and the quality of the cabinets speaks for itself
Read Full Review
Write a Review
37 Reviews for Jed Dinger Design

Jed and his team do amazing work. Jed has designed, created and installed custom built-ins at the two different homes we've owned in DC. In the first house, he built amazing storage under the stairs and an entertainment center. In the second house, he built a series of cabinets and a bench in our living room. Both projects came out better than we could have hoped. Jed and his team are real professionals. They do the vast majority of their work offsite and are efficient at getting projects completed on time. I have recommended Jed to several friends, all of whom have been very pleased with his work.

Jed and his team were absolutely phenomenal from the moment I reached out about our built-in entertainment/bookshelves project to final installation. On our first initial call, Jed was extremely thorough asking about each detail of the project, and within 24 hours provided an itemized proposal which allowed me to feel confident about moving forward with him and his team. Throughout the design and construction process, Jed was great at communicating, making sure each detail was exactly what I wanted, and provided photo updates on the progress. On installation day, Jed's team was prompt, professional, and meticulous. The craftsmanship and attention to detail is extraordinary and I could not be happier with the final result. I cannot recommend Jed Dinger Design enough and will definitely be contacting him again for future projects!


Working with Jed and his team was an absolute pleasure. He is highly communicative and great at asking the right questions to help us design-deficient people be able to describe what we are looking for. I was very impressed Jed's responsiveness and timeliness in responding to questions/inquiries. Our project was custom built-in cabinet/bookcases in an old (read: uneven floors and walls!) DC row-house. This included a partial wall of floor-to-ceiling cabinets/bookcases (closed storage bottoms and open bookcase tops) that wrapped around a corner and included a mid-wall height TV/entertainment console drawers. Cost was exceedingly fair and well worth it, at just under $10,000. Every step of the process - from the initial consultation and drawings to the installation - was handled professionally and I always felt we were in good hands. The installation team was professional, friendly, and courteous. The end result is gorgeous and even better than I could have hoped. I am so happy with our built-ins and am already trying to figure out what else I can have this team build for me!
Jed and his team really exceeded our expectations for our office remodel project! Our office had been languishing as an empty half-finished room for the longest time before we called Jed's design firm. We had a lot of items on our "wish list" and our expectations were exceeded on all fronts. We needed an office space for two people with custom shelving and cabinetry. Our top wish list item was to have a live edge desk top. Unfortunately there was no slab large enough to accommodate the desk size we needed. Jed designed and installed a cherry desktop cut to simulate a live edge. It looks amazing. Throughout the whole process Jed and his team were very professional and courteous. They took their time to understand our vision and they did exceptional work. We highly recommend this firm.
Jed Dinger is a superb designer and craftsman. He made himself accessible on a weekend to discuss options for our project, and promptly presented us with a design that met all of our needs. He and his team completed the job ahead of schedule, and found a convenient time to assemble everything in our home. They even moved a couple of pieces of our furniture to complete the project. We are delighted with the quality of his work, his attention to detail, and his accommodating demeanor. I recommend him enthusiastically and without reservation.
Jed Dinger is a master craftsman, and designer, and just what we needed to do our custom radiator covers. He also fitted out small bath with bookshelves and a pop out cover for a radiator that was in a difficult space. We had a roof access panel that needed to be insulated and 123, it was done and it blends in with the ceiling. It's better than I expected. These days it's hard to find good design and detail. Highly recommended is he.

Best in the business! Easy to work with. Projects come in on time and on budget. Great attention to details and clients are thrilled with results. He's my go-to guy for custom furniture and built-ins. As a designer with more than 25 years in business, I can highly recommend Jed Dinger.
We hired Jed and his fantastic team for two projects in our home, a built in entertainment center in our family room and a storage system in our mudroom. Jed was always quick to respond, was patient with us as we worked through our vision, and delivered earlier than expected! The installation process was done over two days for both projects and was done with as minimal disruption as possible. I cannot speak highly enough about Jed Dinger Design and would highly recommend them if you are considering built-ins in your home.






October 16, 2020
Last modified:

October 16, 2020

Jed delivered a well-designed, well-built cabinet that elevated my dining room into a space that was elegant and dramatic. He was a pleasure to work with and was an expert on the design and the process. While his company was one of the pricier options that I considered, I was swayed to hire him for this project based on the reviews and photos on Houzz of his prior work. I am glad that I did, because the end result is amazing.

Almost since we moved into our house 5 years ago, we've wanted to have two custom pieces of furniture built: a long, built-in shoe bench by the front door and a custom bed to optimize the space in an upstairs bedroom.Jed did both absolutely beautifully. Each piece looks like it was originally part of the house, works exactly like we wanted and more than a year later still looks just as gorgeous and has held up flawlessly. At each step of the way, Jed was meticulously detail-focused and worked with us to get everything exactly the way we wanted. He also brought his own aesthetic sense to the projects. The molding he put along the bottom of the shoe bench took it from being a very-nice-looking shoe bench to something that I can't imagine having been done better that perfectly matches it's surroundings. The feet on the bed, the inset detail on the side of the bench and drawers on the bed also come from his vision. We could not be happier with the work and will definitely hire him again!


Jed and his team did a phenomenal job designing and installing basement entertainment center. He was very helpful in fine-tuning my initial design idea and bringing great new ideas. The end result is gorgeous and will last for many years.
My wife and I had an outstanding experience with Jed Dinger Design. They designed and installed cabinets/bookshelves in our basement and were professional throughout the engagement, keeping us apprised of all aspects from design to install to completion. They thoroughly reviewed the work with us once completed and made sure were were completely satisfied before departing. They also provided detailed instructions for how to effectively care for the cabinets to maximize their life. I have no doubt that if we were to discover any issues with their work (which we have not), Jed and his team would be quick to address them.
My wife and I had an outstanding experience with Jed Dinger Design. They designed and installed cabinets/bookshelves in our basement and were professional throughout the engagement, keeping us apprised of all aspects from design to install to completion. They thoroughly reviewed the work with us once completed and made sure were were completely satisfied before departing. They also provided detailed instructions for how to effectively care for the cabinets to maximize their life. I have no doubt that if we were to discover any issues with their work (which we have not), Jed and his team would be quick to address them.
Jed built a full wine bar in our dining room and it looks AMAZING. They took a plain wall and made it a beautiful architectural focal point. Him and his team were very professional and clearly care about the work that they do. They went above and beyond to make sure that what we envisaged came to life. Jed and his team were always on time, very responsive, and friendly. I would hire them again in a heartbeat.

We had an idea for custom beds, but needed a designer/builder to make it a reality. Fortunately a friend recommended Jed Dinger Design and we couldn't be happier with the outcome! Jed made great design suggestions and the craftsmanship is excellent. Everyone we worked with at Jed Dinger Design was extremely professional and reliable.



Staggeringly beautiful cabinet-bookcases for basement: the Dinger Design team crafted some of the most excellent custom-made cabinetry I have seen. The precision of all cuts and the superior grade of finishing is without equal. Even the installation was a significant work of excellence. There simply aren't words to describe the satisfaction these new built-ins have brought to the living space in which they are installed.


Working with Jed and his team was truly a delightful experience. Jed is a true professional, a beautiful and thoughtful designer, and a clear communicator. We asked him to design built-in bookcases and a custom mantle and fireplace for our new contemporary townhouse that would blend with our traditional taste and furniture. We love the finished product and would not change a thing.
TL;DR: Jed is smart, meticulous, diligent, fair, and highly skilled. If you are doing custom millwork in your home, you should hire him. Jed's team built the cabinets for a custom kitchen in our new home. We had prepared detailed drawings of what we wanted, and we shopped them around to three different custom cabinet vendors. Jed's bid was the lowest of the three, his reviews on this site and Angie's List were the strongest, and when we met him in person he had a great handle on the project, even at an early stage. So we felt very confident hiring him. Throughout the process, Jed was excellent. We gave him our vision of how the kitchen should work and he brought that vision to life, remaining faithful to our core ideas while suggesting thoughtful improvements to our design, and then executing that design with impeccable craftsmanship. When issues arose (as they inevitably do), Jed worked with us to arrive at outcomes that were reasonable and fair. And as the house has settled, Jed has been back to continue supporting his work with additional tweaks to the cabinets. The kitchen is the best kitchen I've cooked in, and the quality of the cabinets speaks for itself.
Jed and his staff were an absolute pleasure to work with, from the design phase through the very quick, two day installation. He designed, built, and installed a floor-to-ceiling built-in entertainment center and a dining room buffet (including a desk area) for our house built in 1900. We couldn't be happier with the finished products. The whole process took about 5 months (from initial meeting to installation). Jed was upfront about the timeframes and stuck to them. I believe he charged a fair price for the excellent customer service and quality workmanship.
I can't say enough good things about this company and I can't wait to work with them again. I am so pleased with the media and storage cabinetry they built (see photos), and the nifty little entry hall console they created for an unusual space (not pictured). I was particularly impressed with Jed's collaborative design process--he really generated everything that's good about my design, helped me articulate my goals, and provided multiple, iterative, drawings to ensure that we were on the same page. And the craftsmen who built and installed the product were highly professional, including performing a last minute modification that was due entirely to an oversight on my part with good cheer and precision. I had built in cabinets installed in a prior residence by one of those mass-production cabinet companies and the difference between working with Jed and that other company is truly night and day. This product was worth every penny and more; I'm so glad I found this company.


Not sure what to say, either I had unrealistic expectations because of all the raving reviews I saw here or I am just unlucky. My project is over-budget, over-time and unfinished at this time.

Comment from Jed Dinger Design:
I share your frustration over the lighting component of the project. LED lights are difficult to pin down in terms of color. Photos on the internet can be inaccurate. The best way to evaluate them is to order them and then see them in context. Please keep your faith in us, as we've been in touch to schedule an additional visit to you home with new options for you to evaluate. Once again, at no additional cost to you.
Jed and his team designed and built bookshelves around our fireplace. They were the utmost professionals throughout the job - held true to their deadlines, flexibility in schedule, and high levels of responsiveness. The design and build that they did was superb. The bookshelves look like they were built along with the house. Would recommend without reservation.
We wanted a custom shelving unit constructed in our town home. The space was between two chimneys original to the house. We wanted a split unit with a cabinet below and bookshelves above, with space for a mounted television in the middle. The space had a few complications: the house is old (1890) so the angles are a bit off, there were outlets in the floorboard that needed to be tied into the unit somehow, we wanted all cables and wires hidden but accessible if needed, and there were high velocity HVAC vents in the ceiling that needed to be tied into the design. We also wanted a style that would look classic but still fit with the modern renovations that had been done to the home. It was an excellent project from start to finish. Jed visited our home, examined the space, discussed our goals, provided some useful suggestions (especially regarding style), and then drew - on the spot - a detailed scale pencil drawing of what we could expect. It was exactly what we had in mind. He addressed the architectural and technical challenges in detail, and generally put us at ease. The consultation came with a small cost that we could credit to the project if we were to proceed. He sent a proposal with detailed drawings, itemized costs, and a project plan with a timeline for completion. We signed the proposal and submitted a deposit. He returned for detailed measurements and to walk us through some final design choices. A few weeks later his crew spent an entire day at our home for the installation. They were friendly and efficient. The finished product exceeds our expectations. It is simply beautiful and looks original to the home. It has increased the utility of our living area and improves the elegance of our home while managing to not look out of place. The design challenges were all overcome: the electrical, cable, and air vent considerations were all addressed thoughtfully. This is one of the most expensive projects we've undertaken in our home, but craftsmanship like this is worth the investment. We will undoubtedly call upon Jed and his team again. One final note: we have an enthusiastic dog that really likes playing with visitors. Jed and his crew were the best dog people I've ever met among all the crew and vendors that we've ever invited into our home. It's a minor thing but it sets this team apart in yet another way that any pet owner would appreciate.
Jed and his team designed and installed a large solid maple built-in system for a home office, including two desk areas, file cabinets, and bookshelves. I couldn't be happier with how the process went and how it looks. Would use them again in a heartbeat.
Jed and his team did a really impressive job on our mudroom cabinets! Jed was great to work with in planning out the project. And Andrus and Chris executed the install flawlessly. The quality and finish of the built-in cabinets was great. It was clearly evident during the install the expertise that Andrus has and his attention to detail was what really made the project. There's no questioning the quality you're ensured to get with this company.

Our project included floating shelves and built in cabinets in the living area, as well as custom cabinets in the laundry room and bathroom. An excellent start-to-end process, reasonably priced, quick turn-around--even faster than originally promised--and great quality design and finished product. Jed kept us informed throughout the process and made sure we were satisfied with the final product. We would highly recommend him.
I can't say enough good things about Jed. He was responsive, on time and does BEAUTIFUL work. I needed custom panels for a sub-zero fridge and Jed talked with me, took the specs. and created the panels perfectly. They slid right in with no effort. He has my highest recommendation.

The project went very well. From the design process, on-site demolition, in-shop building, and custom installation of the wardrobe, the quality of the workmanship was excellent! The craftsman who worked in my home worked diligently and with great precision and care.

Jed delivered our family room TV wall unit exactly on time and at the exact estimate of cost. His work is precise and flawless, and we relied on his sense of aesthetic to help us redesign a concept that we had found on Pinterest. Would recommend without hesitation or caveat.

Jed and his team have completed several projects for us over the years all in mahogany: Crown molding, baseboards, several different custom passage doors, a wet bar and a large front Entry door. We have gone back to Jed time after time because of his design creativity, craftsmanship of his products and he and his team's passion for woodworking. All our projects were done timely and Jed worked well with other contractors we had hired . The cost of Jed's work is not the least expensive, but is worth it. You could pay a lot more for less with others we have met with.
Jed Dinger Design is excellent. Have used for two projects. Extremely satisfied with both. Beautiful and thoughtful design and execution. Very good communication, good updates on project progress. Installation is perfect.
They designed and custom built a built-in credenza and bookcase for our living room. The bookcases uses cubes that are all identically sized with thin wood. They were extremely professional and did excellent work, on time.
Working with Jed Dinger was a terrific experience. He arrived at our home promptly for our first discussions about our office needs. During that meeting, he took measurements and worked up preliminary drawings on his lap top using a CAD program. After a few hours the drawings were complete. After fine tuning the drawings back in his office, he sent final copies for us to approve. The installation went just as smooth as our initial meeting, and his installers were efficient and quite skilled, and the attention to detail was perfect. The final product is beautiful and we are completely satisfied. We plan on using Jed for future projects, and we highly recommend him to others.
Jed built a bookcase for our office in our home in DC. Jed worked with us to create a design that met our needs, and was always pleasant to work with. The finished product was wonderful and the installation was painless. I recommend him very highly.
My wife and I hired Jed Dinger to build custom cabinetry to create a utility room for laundry facilities and storage for a strangely angled essentially useless room in our home. After having Jed come over to see the space and discussing some of our ideas he was able to come up with a professional, detailed, and creative solution to meet all of our needs and more. My wife and I had never undertaken a home renovation project before and Jed made us feel comfortable with the entire process from start to finish with impeccable customer service and attention to our needs as clients. We were so pleased with the job that Jed and his company did for us that we would recommend his company to anyone looking to have work done on their home.
Jed and his team designed, built and installed bookshelves and a fireplace surround/media cabinet for our home. From our initial meeting through design, development, and installation Jed and his team were amazing to work with. Both our projects required a bit of creative design to incorporate both function (eg, hidden TV behind mirror) and style into our existing home and woodwork. Jed and his team came up with solutions that fit perfectly into the home as if the end product has always been here. We would happily work with Jed and his team in the future and provide them our highest recommendation.


I had book case/cabinet designed and built by Jed Dinger Company. The cabinet was built from solid wood and plywood arch that had faux finished to make it look like rust steel. The cabinet has thick glass shelves holding by steel cables. His work is an art piece that compliments the arch roof line. Jed is a designer and also cabinet builders so he understand how wood can be made. Above all he is a perfectionist so this says it all about his project!
Find Cabinetry and Cabinet Makers to Help Get the Job Done
Tired of reading all the DIY tutorials? We are here to help. With over 1 million home professionals on Houzz, you'll easily find the trusted Cabinet Professional for your next project in Rockville, MD.
Read Reviews from Rockville Homeowners Like You
Read homeowners reviews before hiring the Cabinet Professional to help with your project in Rockville. If you have questions, read other homeowners' reviews or our discussion forum for a second opinion.
Easily Contact Trusted Cabinetry and Cabinet Makers
If you're browsing Houzz and have a contractor in mind, then you'll quickly find that requesting a quote is easier than ever. From one simple dashboard, you can manage all the Cabinet Professional quotes you got.
Cabinets & Cabinetry near Rockville
Professional Categories in Rockville