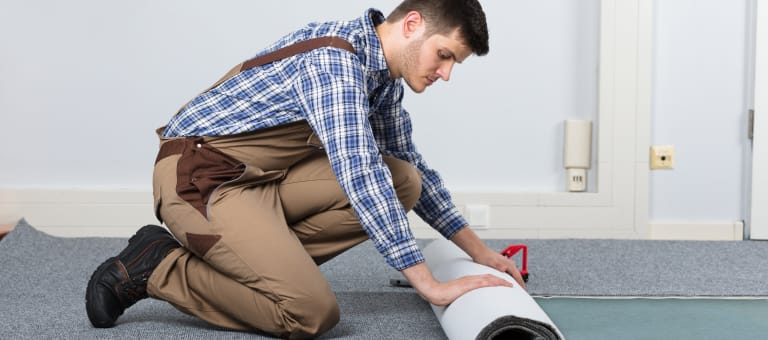 Carpet Dealers
Who they are
Retailers and installers who specialize in all types of carpeting.
Why you should hire
Not all carpet is created equal. An expert can find the best product for you based on your style, durability and pricing needs.
Need help?

Get instant recommendations

Select your project type, answer a few questions, and let Houzz connect you to pros right away
Carpeting is subject to a significant amount of wear and tear, so it's crucial to make sure a new carpet installation is done correctly, or that an existing rug is maintained properly. Enter Juneau carpet contractors. From carpet repair to custom carpet design, these professionals specialize in anything and everything that is carpeting, and can help ensure that your Juneau, AK home's new rug starts off — and stays! — in great shape.
What are carpet contractors?
Carpet dealers in Juneau, AK help homeowners choose the correct carpet covering for their floors, and also assist with carpet maintenance. This includes determining factors like material, carpet pile, durability, color and size, as well as helping with any custom carpet design. After completing the initial installation (which includes removal of the old flooring, if applicable, and surface prep), they may also handle follow-up maintenance requests such as carpet cleaning, carpet repair and carpet stretching.
Carpet dealers might work closely with Alaska contractors, interior designers and others in the home building and home improvement industry. Here are some related professionals and vendors to complement the work of carpet dealers:
Interior Designers & Decorators
,
Design-Build Firms
,
Specialty Contractors
,
General Contractors
,
Home Builders
.
Questions to ask a prospective carpet contractor:
How long have you been in the business?

How many projects like mine have you completed?

May I see examples of previous projects?

Do you complete in-home evaluations first?

Who will be working on the project? Are the workers employees or subcontractors?

Can you provide me with references?

How much do you charge, and what does that include?

Do you offer financing options?

Will I be responsible for providing materials?

Can you give me a written estimate?

Do you offer a warranty?

When can this job be completed?

What happens when the cost exceeds the budget? What about changes to materials or labor pricing?

Are there any important considerations or concerns you foresee with this project?

Find a carpet contractor on Houzz.
Narrow your search in the Professionals section of the website to carpet dealers in Juneau, AK, and read reviews and ratings for pros in your area.
Find carpet contractors near me on Houzz
Before you hire a carpet contractor in Juneau, Alaska, shop through our network of over 2 local carpet contractors. Read through customer reviews, check out their past projects and then request a quote from the best carpet contractors near you. Finding carpet contractors in my area is easy on Houzz.
Nearby Locations