Lincolnton, NC

Deck, Patio and Outdoor Enclosure Professionals

When the temperature heats up in Lincolnton, there's nothing like having a deck or patio to kick back on and enjoy the warm weather. A functional deck design and patio layout is dependent on meeting your specific needs, so it's a space that needs to be created carefully. Luckily, there are professionals to handle your deck installation or patio design — hiring a Lincolnton, NC deck and patio builder is your surefire ticket to creating an outdoor oasis!

More
With well over 1100 porch spaces and 19 years of service in the Charlotte area we have the desire, knowledge, and...
Read More
We create beautiful outdoor living spaces for clients in the Charlotte area. Our clients are looking for an...
Read More
In the last 24 years, we have completed over 20,000 projects right here in the Charlotte market. With Archadeck,...
Read More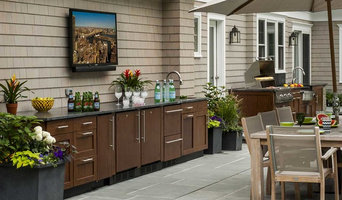 If you demand the best in quality, design, construction and products - Let Queen City Outdoor Living create your...
Read More
Whether you need to build your house from the ground up, remodel a portion, add on, or create for yourself a...
Read More
Porch-Life has been building Porches, Sunrooms, Decks, Garages, Room Additions and more in the Greater Charlotte,...
Read More
A division of Premier Building & Renovations, Inc. Outdoor living company in Lake Norman. We specialize in porch...
Read More
Locally owned and operated for over 22 years in the Charlotte region, Deckscapes combines a well-respected...
Read More
We are a locally owned, full service, third generation general contractor with over 50 years of combined...
Read More
Welcome to Hillcrest Carpentry - a locally owned construction business in the Lake Norman, Huntersville, Denver...
Read More
Featured Reviews for Deck, Patio and Outdoor Enclosure Professionals in Lincolnton, NC

Exterior Additions LLC
Deck, Patio and Outdoor Enclosure Professionals in Lincolnton, NC
"I was referred by a friend whose porch is amazing! He will be starting a EZ Breeze porch for us in the next couple weeks and rehabbing the other part of our deck! He is so easy to work with and incredibly honest! He actually talked me out of something! Impressive! I will do another review when complete!"
- erica227

The Stone Man
Deck, Patio and Outdoor Enclosure Professionals in Lincolnton, NC
"If you are ready for an outdoor space to REALLY live in, you can't go wrong with George Krump and his crew at The Stone Man. I recently had the pleasure of working together on an outdoor space for a long time client of mine. George was always available and great to work with. The design was exactly what I imagined and incorporating all the furnishings I wanted to include came together perfectly. His visual presentation was so helpful when imagining is tough... We both were thrilled with the work of the other - and together the design, build and install created a space this family can spend many an afternoon or late night entertaining and spending time together. I highly recommend George and his crew!"
- Lucy and Company

Archadeck of Charlotte
Deck, Patio and Outdoor Enclosure Professionals in Lincolnton, NC
"Not being sure exactly what we wanted in our new backyard, we contacted Archadeck. The end result is a beautiful screened porch that doubles as an outdoor living room.Their attention to detail is quite good, and the construction team was very respectful. They kept noise to a minimum and cleaned up after themselves every day, which I really appreciated as I work from home. I would definitely recommend them."
- larryspada

Queen City Fireplace & Outdoor Living
Deck, Patio and Outdoor Enclosure Professionals in Lincolnton, NC
"In 2000 our family built a 20' X 25' river rock / blue stone patio. Eighteen years later, the area required attention to restore it to its original beauty. Queen City Fireplace & Outdoor Living was one of three contractors to review the task and explain our options. We were pleased with their approach and selected them to perform the work. They meticulously cleaned and removed the blue stone, regraded the bedding material, and reset, grouted and sealed the stone in a timely manner. This required a lot of physical work in the summer heat and humidity. Their attention to detail was outstanding and the project was completed on schedule. They cleaned the area each night and maintained a safe work environment. Queen City employees are consummate professionals. We are pleased with their work and would not hesitate to use the again for our patio needs. Expectations were exceeded."
- Bruce Myers

Lake Vision Develpment
Deck, Patio and Outdoor Enclosure Professionals in Lincolnton, NC
"We have used Lake Vision for multiple projects around our house. The work has always exceeded our expectations. The level of professionalism is unsurpassed. We have never felt pressured to do more than we planned and the price quoted for the work performed was very fair, and always on or below what was quoted. Phil at LakeVision is very talented and we cannot say enough great things about our experiences with him. If we could give 10 stars instead of the maximum 5, we would."
- Peter Eisenberg

Porch-Life
Deck, Patio and Outdoor Enclosure Professionals in Lincolnton, NC
"I selected Porch-Life to build a 200 square foot porch with WeatherLite windows on the first floor and a 225 square foot deck off the second floor of my Ballantyne Country Club home. Porch-Life was selected from a list of 6 local porch and deck builders because they provided the most creative design at a competitive price. Porch-Life started and completed construction on time, for the quoted price. I wanted to use the porch and deck for a while before writing a letter of recommendation to see if any quality issues would surface. During the past 2 ½ months my family and I have enjoyed using the porch and deck without any quality concerns. Brian Vick and Mike Schulz along with the other Porch-Life contractors are professional, easy to contact and quality craftsmen who constructed a sturdy and attractive porch and deck. Based on my experience I recommend Porch-Life to anyone desiring to build a porch or deck. Denis Tontodonato 7-15-14"
- max3toby2

Premier Porch & Patio
Deck, Patio and Outdoor Enclosure Professionals in Lincolnton, NC
"Let me first begin by admitting that our previous deck was a failure. Nothing was built to code and there was a miniature sinkhole beneath a few of the footings leaving us with a deck we hadn't been able to use since we moved in 5 years ago. After 2 years of research, quotes, blueprints etc., we excitedly hired Premier Porch & Patio for the job. Our key deciding factors were how highly recommended they are within our neighborhood, communication, and of course pictures of their work. I admire how Justin is actively involved in continuing education and it benefited us greatly with the choice of materials he exclusively uses. Looking back, what really cemented the relationship with Premier Porch & Patio wasn't just the gorgeous result but how smoothly the unknown hurdles were handled. We even changed our minds towards the end with some finishing details and they were kind enough to allow us time to think things over. We have had many contractors in our home over the years and I cannot remember getting Monday morning weekly updates from any company other than Premier Porch and Patio. It was a pleasure working with Premier Porch and Patio and thanks for pouring your heart and soul into your work."
- Joya & Andrew Lyons

Deckscapes Inc
Deck, Patio and Outdoor Enclosure Professionals in Lincolnton, NC
"WeI had a deck replaced with a larger screened porch. This required removing the old structure and constructing the new with modifications to the house. A fireplace was removed from the living room and replaced with French doors for an eye-catching entry to the new porch. The screen sections are very wide and the new roofline is very high, which gives a dramatic effect and brings the outdoors in. A gas grill and exhaust fan were installed so the porch feels like a complete outdoor living area even in the rain. Deckscapes was outstanding. The sales and design process was superior to every other company we interviewed. The on-site contractor was personable, attentive and responsive to our requests. The crew was skilled and respectful of our home. To top it off, we have never met a contractor who cleaned up so thoroughly each and every night.!"
- powellb

Southern Porch & Patio Co
Deck, Patio and Outdoor Enclosure Professionals in Lincolnton, NC
"Southern Porch and Patio is a great company to work with. They are professional, easy to deal with and have great ideas. They are knowledgeable in their field and always put the customer first."
- ARC Electric Company of Indian Trail

Hillcrest Carpentry
Deck, Patio and Outdoor Enclosure Professionals in Lincolnton, NC
"Exceeded expectations! In most cases after hiring a professional I've been left feeling I could have done a better job on my own. Thankfully that wasn't the case with Hillcrest. I decided to contract my kitchen and powder room renovation out due to a lack of time & proper tools. Mike is as good as it gets and has an attention to detail that matches mine. From taking down existing walls and demo, to installing custom cabinets and backsplash, he took my entire project from start to finish. He is knowledgable, punctual, trustworthy, and in my opinion very reasonably priced when taking into consideration the quality he delivers. I've got a few other projects planned and Hillcrest will without a doubt be the company for the job."
- Kel Anglin