About Us
Austin Award-Winning Design-Build Firm
Specialty in New Construction
Follow us on instagram: @forsitestudio Forsite Studio is an integrated design/build practice dedicated to modern sustainable design solutions. The firm's practice encompasses architectural design, building construction and renovation, project management and consulting, and custom furniture and cabinetry. The firm also specializes in franchise development and standardization for commercial enterprises. As a design/build firm, Forsite Studio is involved in all aspects of our projects, allowing us to deliver products and design solutions that are both innovative and cost-effective. The work of Forsite Studio reflects a clean, modern sensibility infused with handcrafted custom details and a sensitivity to local vernacular. We are particularly interested in promoting sustainable design and construction, which starts with educating our clients on the positive impact to both the environment and the health of the end user. We believe that good design, sustainability, and economy are intrinsically linked. We salvage and reuse materials and structures wherever possible, incorporating and celebrating them in our designs, resulting in buildings of character and personality. Our varied backgrounds in architecture and sculpture inform our designs and shape our approach to each project. With completed work in the United States and abroad, we produce distinctive projects uniquely adapted to their local climate, culture, and context.
Services Provided
Architectural Design, Architectural Drawings, Custom Home, Home Additions, Home Extensions, Home Remodeling, New Home Construction, Custom Homes
Areas Served
Austin, Rollingwood, West Lake Hills
Back to Navigation
Our Stories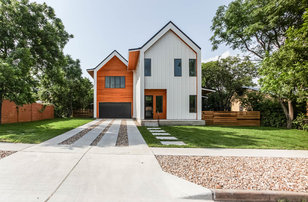 Sponsored story
Create a home that respects nature and your need for more room using these tips from an Austin design-build expert
Item 1 of 1
Back to Navigation
Back to Navigation
Credentials
7 Houzz Awards
4 Houzz Badges
Back to Navigation
Write a Review
10 Reviews for Forsite Studio
Average rating: 4.8 out of 5 stars
4.8
|
10 reviews
Well designed home and quality construction. I would suggest this company to anyone looking for a unique home in the Austin area.
We worked with Forsite Studio to design and build a garage apartment. From initial conception to final product, they were a pleasure to work with. Firm principal AJ Smith was very helpful in helping to distill our ideas into a more cogent vision that, very importantly, could be realized within our budget constraints. Our project lead Eduardo Ponce then translated that vision into a thoughtful, clever design that exceeded our expectations in every way. Eduardo also oversaw the project's construction and kept us fully informed and engaged throughout the process. Our garage apartment was ultimately delivered on budget and as reasonably close to time as you can expect for a construction project. Suffice it to say, we are very happy with the results and would welcome any future opportunities to work with Forsite Studio again.

Foresite did a design/build job for a back house in East Austin for us. We spoke to a few firms and ended up commissioning designs from two. We liked the design for Foresite the best, and their price was way better than the other firm. It was win/win for us. One of the things I most liked about working with this firm is that I could vary the level of involvement required from my wife and I. We were very interested and involved in the early design. Foresite took our (crude) drawings and after meeting with us about what we hoped to get out of the project made a full 3D rendered model of the project. They gave us several variations on the design to choose from. We picked the one we liked the best and then iterated until it was just perfect. For the actual building, we were very hands off. The few changes we requested were implemented quickly and with no hassle. We had them design the entire interiors and it turned out great. We have guests stay over and all the time they make comments like "i never want to leave, this place is so nice". They did an amazing job of balancing finding high quality materials that look great but don't break the bank. I've worked with a lot of contractors and GCs. One thing I usually hate is having to constantly followup and "pester" them for small things. I never had this problem with foresite. The project was very well organized. All in all I really enjoyed working with Foresite. If I had another property to build on, I would call them first.

An architect/realtor friend of mine gave me a list of five architects. Of the five I found Forsite Studio to be the best for what i needed. They also were the builders, so any hiccups in the project were handled immediately. There was no pointing fingers between architect and builder. Any problems that came up (of all the houses i'v had built, something always comes up) it was handled almost always in the same day, even into the night to keep on track. But the best thing about Forsite Studio is that they came in under budget.
My wife and I met AJ, the owner of Forsite Studio, after viewing his work on the 2014 Austin Modern Home Tour. We initially wanted to work with Forsite on a design build project, but we had trouble locating a suitable lot. Eventually we found a fixer upper in Travis Heights. AJ was kind enough to come along with us to view the house, prior to purchase, to help guide our vision for the remodel and set a realistic budget. We had a tight time frame, and AJ worked fast to meet our deadlines. AJ has an amazing sense of space and a great eye for design. He was able to open our eyes to possibilities I wouldn't have thought possible. I was also pleased to find that AJ knew where to cut costs but also knew where to splurge a little. He helped guide us through the process and allowed us to make the decisions but was also a great adviser on all things design/construction related. After listening to the horror stories of friends who have taken on other similar projects, I can't imagine hiring anyone else besides Forsite. The bumps we encountered along the way were minor and AJ helped cushion any blows by coming up with creative and cost conscious solutions. 5 stars all the way.

Complete remodel using FHA loan. A very aggressive schedule. Forsite came in on time and budget. We are extremely happy with the work. Some unexpected surprises were dealt with calmly and efficiently. The process was collaborative and our vision was brought to life. All problems were resolved. This was our first remodel so a considerable learning process but AJ helped get us there and we couldn't be happier.


I had an excellent experience. Great mix of creativity and professionalism. Honest and budget conscious throughout. Highly recommend. I'll use them again.
AJ with Forsite Studio understands the balance of design and business. I have used Forsite Studio for 5 projects because of his attention to detail, his professionalism, and his ability to work within a budget. As a small business owner, I rely on the hard work of other people, and Forsite Studio is the only design/architectural group I plan on working with.
I hired Forsite Studio to design and build a custom off-grid house for me in the country. From the beginning brain-storming sessions they proved to be creative, innovative, and very responsive to my ideas. They were clear about costs and worked hard to keep within budget. We were all on the same page about wanting to do the project with the least impact on the environment as possible. They cheerfully dealt with the complications of the distance from Austin that the job site presented. I found them to be knowledgeable about the latest technologies and also were willing to work with salvaged materials. The finished house is all I had hoped it would be, an idiosyncratic expression of my esthetic and conscientious values. (And other people think it's pretty cool, too!)
Forsite Studio handled the design/construction of a detached carport and accessory dwelling unit, plus additions to main house. A professional, creative and conscientious team, they were easy to work with and it was a fun project. The apartment was featured on the city's annual "cool house" tour for energy-efficient homes. It is beautifully designed and is currently rented for top dollar. I highly recommend Forsite Studio.
Back to Navigation
Back to Navigation
| | |
| --- | --- |
| | Forsite Studio |
1205 E Cesar Chavez
Austin, TX 78702
Typical Job Cost $300,000 - 2 million