About Us
Exclusive Whole Home Contractor Serving Manhattan & Brooklyn Areas
We are an ultra concierge, interior design and remodeling service. We handle all things interior for your complete apartment, house, kitchen, bath and basement renovation including management company paperwork, DOB permits and filing, home decor, architectural services and anything you need to make your dwelling a clean and functional home. Knockout Renovation specializes in residential interiors. In fact, we don't do exterior, commercial, industrial or government work. We have a long list of fans and are often consulted by various media as an industry expert. We specialize in full home and apartment interior remodels, combining apartments, kitchen design and renovations. We serve Manhattan, New York and Brooklyn, New York. With some of the top designers, tradespeople and project staff, we're more than a New York Renovation Contractor, we're an ultra convenient way to renovate your home or apartment.
Services Provided
Basement Remodeling, Bathroom Design, Bathroom Remodeling, Green Building, Home Extensions, Home Remodeling, House Plans, Kitchen Design, Kitchen Remodeling, Laminate Flooring Installation, Multigenerational Homes, Site Preparation, Space Planning, Universal Design
Areas Served
Inwood, Manhattan, New York, Brooklyn
Awards
Awards •2018 Chrysalis Award •2018 and 2020 remodeling-550 •Top 500 Qualified Remodeling "2016 Remodeling 550" Top Firms-Remodeling Magazine BBB A+, Top 500 Qualified Remodeler, REMODELING 550 Top Firms 05/16/2013 The Big 50 Remodeling Magazine
Back to Navigation
Our Stories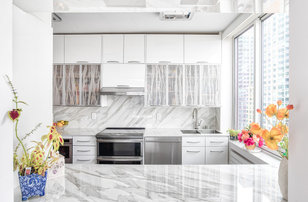 Sponsored story
Put everything in its place with these ideas from a New York City design-build professional
Item 1 of 1
Back to Navigation
Back to Navigation
Back to Navigation
Featured Review

Knockout Renovation delivered on the actual demolition and reconstruction work on time and made sure everything was completed to my satisfaction. I'm extremely happy with the outcome, the bathroom looks and functions great! I
Read Full Review
Write a Review
24 Reviews for Knockout Renovation
Average rating: 4.6 out of 5 stars
4.6
|
24 reviews

Knockout took on our ambitious full home remodel and helped us realize our dream home! We moved into an outdated 3 floor row home, which required a bunch of work. By the end of the project they had remodeled our kitchen beautifully, added a half bath, redone two full bathrooms, refinished our floor, removed bulky built-ins, put in a nice banister for our main stairs and more! They accommodated the fact that we were living in the space the whole time they were doing work. We are thrilled with the design and the space is super sleek and new-looking!!
The worst! Don't hire them. Save yourself much aggravation and many headaches. Poor quality workmanship, poor management of projects, poor time management, poor customer service, and pricey.
Had a great first meeting at Knockout Renovation to discuss the renovation of my coop apartment. Joe and Mark are very professional and they supplied well thought out and detailed plans. They were open to including my ideas on my needs and desires in the renovation. Recommend highly.

good services thank yougood services thank yougood services thank yougood services thank yougood services thank yougood services thank yougood services thank yougood services thank yougood services thank yougood services thank yougood services thank yougood services thank you
Knockout did a truly outstanding job on my bathroom renovation. From my initial meeting, to selecting materials and right through the completion of the project, the Knockout team was highly professional and engaged every step of the way. The work was first rate and I have received many compliments on the renovation.
Knockout Renovation was my original contractor several years ago and recently provided an enhancement with their consistent professional service and their excellent workmanship.

When I became interested in renovating and modernizing my bathroom, I reached out to numerous design and build firms. I got detailed quotes from 4 different firms, while Knockout Renovation didn't provide the cheapest quote, it was very competitive and I felt most comfortable proceeding with them. Both June and Keith have been great to work with and they helped me make the best of my space and proposed designs that fit my needs and aligned with what was important to me. The approval from the co-op board was a struggle and I had to negotiate on some matters with the board. This added significant delays to the work start date and I didn't get approval for everything I wanted. The delays threw some of my plans off. While these delays weren't coming from Knockout, rather from the co-op board, my feedback to Knockout would be to keep track of the average time co-op boards take to approve bathroom renovations and set expectations with clients accordingly. Once the project was finally started, Knockout Renovation delivered on the actual demolition and reconstruction work on time and made sure everything was completed to my satisfaction. I'm extremely happy with the outcome, the bathroom looks and functions great! I would use Knockout Renovation in the future again. Thank you for everything!

I did a bath, bed and kitchen gut renovation with Keith and the Knockout team who did a great job. They helped me with the design; and listened to my ideas and comments and were responsive during the process. It was also nice to have their warranty.

Our one-bedroom apartment in the West Village was in serious need of renovation. Both the plumbing and the electricity had not been updated since the 1950s. We found Knockout Renovation's services excellent. They rewired the entire apartment and replaced all the plumbing. Working with our Account Coordinator was wonderful. Her attention to detail was phenomenal. We received weekly reports on the progress as well as the expenses. These were supplemented with photos. Knockout was on schedule and on budget. They exceeded our expectations.
I renovated my whole apartment in Upper East Side, New York City. The quality of the work was amazing and the project manager made sure all finishes are done perfectly. They come with you to shop materials and guide you to buy things that match your expectations. They are easily reachable and extremely responsive to the calls and any inquiries during the work. They should improve their speed on getting approvals and paper work were needed. They want to make sure you are happy with the work and they are fair and understanding.
Knockout Renovation did a full gut renovation of our apartment in the W. Village. The team is a pleasure to work with. They are professional and pleasant. Their initial estimate was highly detailed so we knew exactly what was included and what was not. Bids from other contractors were very general and left so much to interpretation. Whenever there were surprises during our renovation (as there always are in a gut renovation) Knockout worked through it with us in a fair, trust-worthy and reasonable manner. Their workmanship was top notch. We have not had to use their 7 year warranty yet but have great confidence that if we do, Knockout will be there to take care of any issues.
Knockout did a complete renovation of our prewar apartment, including reconfiguring the layout, new electrical and plumbing in addition to all the finishes. It was great to have one company who could handle everything from permits to co-op alteration approval and scheduling of the various trades. We were extremely happy with the result and the renovation process in general. We would hire them again and everyone who sees the finished result is also equally impressed!
Relationship
Received an estimate
Did not show up to previously confirmed appointment. Very unprofessional. No communication or heads up beforehand ... We will definitely not be using!

Comment from Knockout Renovation:
Hello Ryan, we sincerely apologize for not making it to this scheduled free consultation appointment. This error was due to the assigned designer's critical health issues with his family although he should have given you prior notice. We have spoken to the designer and will continue to support him and his family as we appreciate his dedication to our company as he has shown through the years. We would like to reschedule this free consultation with the same or another designer as soon as possible so that we have the opportunity to explore your project. Please keep in mind that we provide an industry leading 7 year warranty on all products and labor. Please reach out to us and we can have someone at your door within 48 hours. I will also like to invite you and Cory to our Lunch and Learn Seminar on Thursday November 16 at 12:30, with complimentary admission. check here for details.
https://goo.gl/cW7W7a

We've worked on various projects with Knockout over the past few years and have come to respect both their professionalism as a partner and the quality they bring as contractors. In the realm of home renovation the products you buy are only as good as the installation performed by your contractor and in our experience Knockout has always proven that they have the expertise needed to bring exceptional results.
Knockout Renovation gut renovated the kitchen and bathroom in my prewar Manhattan apartment along with all the plumbing that goes along with that. In addition they skim coated my walls and added new moldings and a door. They did a beautiful job and I love coming home to my apartment more than ever before. Their system is set up to take the work out of your hands and they dealt with the coop board, alteration agreements, permits, etc. If any product was off expectation, they addressed it immediately. I had a very positive experience overall and would and have recommended Knockout to friends and neighbors. The owner, Keith, has great experience and he helped come up with good solutions to some challenges in the project.Their 7 year guarantee on their work gives me peace of mind. Their billing was transparent and their accounting department easy to work with. My project foreman was amazing. I would hire them again if I had the need!




My wife and I are very pleased with Knockout's renovation of our kitchen and bathroom. We live in a 2BR 1BA co-op on the UWS. Knockout handled permits, subcontractors, vendors etc. for us. They were professional throughout, and worked with us extensively to develop designs and arrive at good appliance and product selections. The results look like what we had hoped for. Not everything was perfect -- some things had to be re-ordered and minor mistakes corrected -- but Knockout was responsive and very fair about dealing with those snafus.
With Knockout, I got the bathroom and kitchen of my dreams, something that I was putting off doing for 15 years and now am extremely happy. Knockout drew up the designs and helped me make decisions readily and shopped with me, which was a pleasure. They had a vision for what the renovations should look like, and it was fully realized. There's a 7 year warranty on the work as well.

The team at Knockout is top notch. Its always a pleasure working on their projects. They are organized, detail oriented and have great design ideas.
We have known and worked with Knockout Renovation for a number of years. We have the highest regard for its professionalism and craftsmanship. Our original kitchen project came in on-time and on budget. There was a professional project manager on the site every day. Since then, we've called upon Knockout several times; Keith and company have always been responsive and timely. This is a first-class organization!!!!
Knockout Renovation renovated our kitchen, bathroom, living room and hallway, and they did an excellent job. Keith and his team are totally professional. They had to install new tile flooring and tiles on the walls, new countertops, new fixtures, new wallpaper, and help us solve a problem with leaking on our floors, and uneven floors. Also, they helped us select the new tiles, counters, etc. Most importantly, they worked well with us as a family, making it as convenient as possible for us. I strongly recommend Knockout Renovation.
I have hired Knockout twice during the past 10 years, each time to undertake a major renovation of a New York City apartment. In my experience every facet of their service is excellent. This includes the quality of construction work, project management and adherence to budget customer service and communication and respect for neighbors. I am happy to recommend Keith and his team without hesitation.
Knockout Renovation renovated the kitchen and bathroom of my studio apt. located in Murray Hill. Keith and his team were wonderful to work with. Calls were always returned in a timely manner. The renovation was completed in Jan. 2007 and now 8 years later it still looks fantastic.

There is nobody better than Knockout for a high quality full service reno. Our kitchen was completed on time and within budget. The owner Keith was very involved and has tremendous knowledge. Loredana was wonderful to work with and key to our excellent looking design. Jackie in the office was very efficient in managing the small stuff so I didn't have to thankfully, and last but not least the incredible craftsmanship and detail from Robert was beyond expectations. Very high quality work and apt was always clean by the time I got home; the man is ice! It has been just over 6 months since the kitchen was completed and I can say we are very pleased with everything....we have one awesome looking kitchen! A recent follow up visit by Keith to see how everything was working was welcomed, unexpected.
I have used them three separate times - twice for kitchen renovations (at different apartments) and once for a living room and bedroom floor replacement. That was over the course of more than 10 years, so I am clearly very happy with their service. I'm planning to hire them again for a bathroom renovation within the next year. I find them very responsive and easy to work with. Keith, the owner, was very involved in my projects and goes out of his way to ensure that everything is up to his high standards. The subcontractors were professional and trustworthy. They showed up each day, although a few times they were late. In my view, if that is the worst experience in a renovation, you've done well. None of my projects ever exceeded budget due to any omissions on Knockout's part. and deadlines within Knockout's control were always met. I hope that helps.
Back to Navigation
Back to Navigation
Contact Knockout Renovation
| | |
| --- | --- |
| | Knockout Renovation |
810 2nd Ave.
New York, NY 10017
Typical Job Cost $45,000 - 750,000


Please schedule for an individualized estimate. Project scale, board requirements, age of building & finish product selections can play a large part in the cost of your renovation.
License Number available upon request