About Us
San Jose's Expert Design to Build Firm - 5x Best of Houzz Winner!
Silicon Valley's trusted design-to-build firm for the finest residential custom homes and complete home renovations. We've transformed the residential design-to-build process to provide a simple, service-based way of building your ideal home. Our detailed design process will eliminate the guesswork and fears of renovating your home. Our design service experience will leave you feeling informed and in control of your renovation project.
Services Provided
3D Rendering, Accessory Dwelling Units (ADUs), Architectural Design, Architectural Drawings, Barn Design & Construction, Bathroom Design, Bathroom Remodeling, Building Design, Carport Installation, Custom Home, Custom Home Bars, Deck Building, Deck Design, Design Consultation, Earthquake Retrofitting, Foundation Construction, Garage Building, Garage Design, Green Building, Guesthouse Design & Construction, Historic Building Conservation, Home Additions, Home Extensions, Home Gym Design & Construction, Home Remodeling, Home Restoration, Home Theater Design, House Plans, Kitchen Design, Kitchen Remodeling, Landscape Plans, Laundry Room Design, Log Home Construction, Mudroom Design, New Home Construction, Outdoor Kitchen Construction, Outdoor Kitchen Design, Passive Solar Heating & Cooling, Pool House Design & Construction, Porch Design & Construction, Project Management, Site Planning, Space Planning, Structural Engineering, Sunroom Design & Construction, Swimming Pool Construction, Universal Design, Workshop Design & Construction, General Contracting, House Framing
Areas Served
Cambrian Park, Campbell, Cupertino, Fruitdale, Los Altos, Los Altos Hills, Los Gatos, Monte Sereno, Mountain View, New Almaden, Palo Alto, Redwood Estates, San Jose, Santa Clara, Saratoga, Sunnyvale, Morgan Hill, Santa Cruz, Gilroy, Palo Alto, Menlo Park, Atherton, Willow Glen, Silicon Valley
Awards
License #971712
Back to Navigation
Our Stories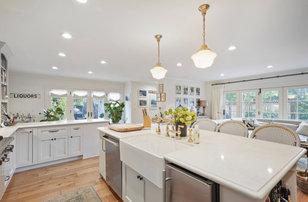 Sponsored story
Learn how you can rework your home's layout and look from a San Jose-area contractor
Item 1 of 1
Back to Navigation
Back to Navigation
Credentials
5 Houzz Awards
5 Houzz Badges
Back to Navigation
Write a Review
26 Reviews for Woodcliff Builders, Inc.
Average rating: 5 out of 5 stars
5.0
|
26 reviews
I have had four different projects at separate times on our home. Some small, some rather large, from re-modeling the master bathroom, to a full add on of square feet and new kitchen. The last project we undertook was for a new remodeled updated laundry room, guest bathroom and family room. We had the great fortune of selecting Woodcliff Builders for this last project and are so very pleased we did. Our initial point of contact was John Fritze. From the outset, he showed us how his company was open, friendly, and very energetic. He stands by his word, coming through on all he promised. A rare thing these days. Starting from our initial idea of the scope of the work to be done, to the design team and office staff, like Nina, they were very approachable and helpful. More than anyone we used in the past. Always professional yet taking a personal approach to our project. The design team with Alex put time into learning what we liked, materials, colors and put together some great options for us to choose from. Making sure we would be satisfied with the end result. Plus saving time by ordering material ahead of time so they were sure to be available and ready to put in when needed. Once we signed the contract it was not a thank you and good luck. Woodcliff kept involved. At each step of the process, Woodcliff would continue to give us input on our ideas, both in ways that would make our home more efficient and modern. Best of all not all the ideas given would cost more or take more time. Some actually saved us a little of both. Our lead person was Tony. I could not ask for anyone better to manage our project. He showed up on site 98% of the time to keep track of progress and make sure things were done properly. His attention to detail was amazing. A lot of things he saw and made perfect were things I would never notice. His energy and bright upbeat personality made the job go by so much faster. The subcontractors they used were on time, efficient, hard workers and very skilled. I credit that to Woodcliff personnel that kept the schedule tight and on course. Best of all was the open communication at all levels if there were any questions or concerns. They would respond timely and be upfront as to any issues that needed to be addressed. Allowing us to make informed decisions. I give Woodcliff an A+ rating and highly recommend them based on our experience. They are our first call with any further projects we have in mind.

Woodcliff is a top-notch company, offering great service from start to finish - highly recommended in terms of quality and price. We came to Woodcliff with full plans and a Permit because another contractor's bid came in higher than originally quoted. When I met with John, he was confident that Woodcliff could complete our project for 15% less, and at the end of the design process, he made a formal offer that was right on target. Jessica is an amazing as a designer! Since our plans were already developed, she listened really well and just helped with what we needed: We were overwhelmed with the selection decisions, so she narrowed our choices to just a few options based on our taste and budget. In just a few weeks, the dreaded materials selection process was over! In addition to her excellent taste, she was a whiz on the 3D imaging software, quickly showing us how different options would look and making changes in real time during our meetings. Every meeting with her was a great experience and sold us on the company. Luis, our project manager, was also top notch. We developed a great communication system, mostly texting a few times a week, and since we were living in our house through the entire process, he always was one step ahead to let us know how each phase would impact our lives. He even texted with me on a rainy Saturday night to help with a broken tarp. Even though some of the sub-contractors were less reliable than others, Luis kept us on schedule and was flexible in his approach to get everything done on time. We especially appreciated Moises, who spent a lot of time at our house in the final stages, and demonstrated a breadth of skills as he finished many of the punch list items. There were only a few aspects of our experience that were less than ideal. First, in our drive to keep costs low, we chose the lowest quality drywall finish which we were told was "match to current" - when it came time to do the drywall, they showed us what it would look like, and it was not a match to current or at all acceptable, so we had to add $5000 to our project budget to upgrade. However, in response to our feedback, Woodcliff now has walls in their showroom to show clients what each finish will look like. (Side note, John was always eager for critical feedback and responded well by fixing each issue or at least acknowledging when they could have done better.) The other disappointment was a COVID-related delay that was somewhat out of their control. Two months from the completion date, we learned the garage door was delayed 18 weeks. I thought Woodcliff could have given us other options at that point, as they mentioned another vendor, so we were frustrated to have to wait. However, John was great in response to my complaints and made it right in the end. In summary, our 500 sq. fit. addition is super high quality, delivered close to on time during COVID, with great communication throughout. We would hire them again!

Comment from Woodcliff Builders, Inc.:
Josh,
Thank you for the candid feedback both good and constructive, we appreciate it. It was an honor getting to know your family and bringing your plans and ideas to life. We love the finish product and hope you all thoroughly enjoy your newly remodeled home!
Cheers!
The Woodcliff Team
Woodcliff has been an excellent company for us to work with! When we initially began the search for contractors, it was a daunting task. Many contractors would not return our calls nor would they have availability to speak with us. Woodcliff answered our call right away and John provided us with an overview of the work to be completed and an initial estimate. From there, we began our design process with Jessica. Working with Woodcliff takes out the guesswork of having to find a designer, architect, or builder as they do everything in house! We found this especially helpful when we had to make revisions as their team is very fast, organized, and efficient. We have begun the construction with Luis as our project manager and can't express how happy we are with the work. Our project site has always been very clean and all the staff of Woodcliff have been incredibly helpful and professional. Take the guesswork out of remodeling your home and hire Woodcliff!

Incredibly professional and helpful throughout the process! Woodcliff goes above and beyond in all aspects of the project! Highly recommend their team!
Woodcliff Builders is a professional all in one stop shop! We are in the process of having our house remodel and they have been nothing but great! Alex and Fritze have been nothing but patience have done their best to accommodate our needs. They are prompt and transparent. They have made the process thus far enjoyable and my wife and I looking forward to the finished product!
It's been so easy to work with John and everyone at Woodcliff. I was so nervous to take on such a big project and love that I can trust everyone there and know that they will handle everything! I haven't had to worry about one thing except getting my husband and I to agree on a few design features. Lol. I don't know what I would've done without Woodcliff! Thank you!
Woodcliff is one of the best companies I've ever worked with, I can't recommend them enough. They bent over backwards to ensure we had a wonderful customer experience. Woodcliff listened really well to our wants and needs and perfectly captured a design that we fell in love with. John, their CRO particularly stands out as he truly gave us a white glove service. He was incredibly transparent and consistently communicated with us outlining each step in the process. I felt really comfortable working with him and the entire Woodcliff team. Thank you Woodcliff for being so wonderful to work with!
We had a very extensive Kitchen remodel that was done by Woodcliff Builders. We were extremely pleased with the outcome. Joey, Nina, John, Luis, Abraham, and the rest of the team did a great job. It was very easy to work with Joey and Nina and they were extremely resilient with us when new ideas came up that generated some changes through the course of the project. I found them to be highly competitive in terms of cost and time to complete the project. We would use them again for future projects.



At Aerial Canvas, we have worked on several projects with Woodcliff Builders - to capture their final product on photo and video. We are always impressed with the quality of their work, their organization, and their level of professional. We especially enjoy working with Nina who's always a pleasure to speak with. As a photography, video and media company, we see many real estate projects on a daily basis. And it is clear Woodcliff Builders is definitely one of the top builders and remodeling company in the SF Bay Area.
Woodcliff Builders exceeded our expectations. We hired them to coordinate design, pull permits and build our dining room addition. The whole process was smooth from estimate through closeout. Woodcliff's self perform crews were professional and accommodating of us living in the house while the project was going on. Their subcontractors were friendly and did a great job. Alfonso went the extra mile to keep the job site tidy and had a great relationship with the San Jose inspectors which helped them to beat the project schedule. We will call Woodcliff Builders next time we have a major project!

Joey and his entire team are amazing. They were so easy to work with from start to finish. Everything we designed came out better than I could have imagined and we were so thankful that they were able to finish early so that we could spend Christmas in our beautiful remodeled home. I highly recommend Woodcliff and will definitely use them again in the future!
I can't begin to explain how happy I am with Woodcliff. Our bathroom remodel turned out better than expected. The crew at Woodcliff are professional, courteous, and take pride in their work. They finished ahead of schedule and right around the original bid price. If that wasn't enough, the guys even worked around my infant's nap schedule to make sure they worn't making too much noise. I have already recommended them to several friends and family!
Back to Navigation
Back to Navigation
Contact Woodcliff Builders, Inc.
| | |
| --- | --- |
| | Woodcliff Builders, Inc. |
355 E. McGlincey Lane
Suite D
Campbell, CA 95008
Typical Job Cost $90,000 - $1,500,000