About Us
Freedom. That feeling when indoors and outdoors connect.
Founded in 1993, LaCantina Doors, the leader in designing and manufacturing products that create large open spaces, offers the most innovative and comprehensive range of folding, sliding and swing doors available to complement any architectural style in all environments. LaCantina Doors utilizes the same signature narrow stile and rail profile across its product line for a complete and perfectly matching door package. Architects, homeowners, and builders are now free to innovate their space with the same quality, performance, value and brand promise. Quote a LaCantina Door for your next project! http://www.lacantinadoors.com/request-a-quote
Services Provided
Bifold Doors, Custom Exterior Doors, Custom Folding Doors, Door Sales, Exterior Door Installation, Sliding Door Installation, Sliding Doors, Multi Slide Doors, Swing Doors
Areas Served
Nationwide
Back to Navigation
Our Stories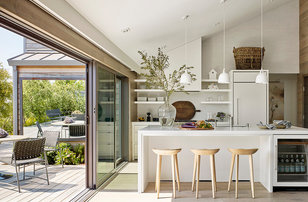 Sponsored story
See how you can create a better connection to a porch, deck or patio for easy indoor-outdoor living
Item 1 of 1
Back to Navigation
Back to Navigation
Back to Navigation
Write a Review
65 Reviews for LaCantina Doors
After hurricane Harvey we Got folding la cantina doors Recommended by our contractors. They look amazing! BUT after only 6 months one of the panel showed water coming between the glass layers. The local supplier did in fact come out and replace it. Then the black seal at the bottom of the doors began coming off and also leave black marks on the door bottom sill .... really ugly... I try to clean it off as best I can.... installer trying to get replacement seal from la cantina but it's been literally almost a year and he still trying.... !!!!!!!!

Comment from LaCantina Doors:
Hi Cindy,
I am so sorry to hear that you're having issues with your LaCantina Doors. Happy to try and help. Can you email me with your dealer/installer information, location and contact information? I'll work on getting you a solution ASAP.

Thanks,
Neely
ncousar@jeldwen.com
We could not be more pleased. Josh with La Cantina took the time to listen to our experience, with Pelletier, did the research, and proposed a more than reasonable solution. The professional factory technicians came to our home and addressed the issues with no disruption to the construction timeline. Everyone concerned, from La Cantina, exhibited care to ensure a quality outcome. After months of excuses from the distributor, Pelletier, as to why I could not have the window as depicted in the La Cantina Factory Showroom, Josh and the La Cantina team stepped in and addressed the matter ensuring that we recieved what had been ordered. Thank you to Josh and the La Cantina Team.
My experience has turned out to be bordering on disastrous. Obviously customer service is non- existent here. My experience w/2 incorrectly ordered windows leads me to ask if La Cantina ensures that the companies who represent them are properly trained in their window and door products. At the moment the dealer is telling me I was misled by the factory. At the very beginning of my process I visited the La Cantina Factory & it was there I was provided with exact factory verbiage to be used to place my order. Was I lied to at the factory to secure a sale? All information was provided to my Pelletier Rep, including the name and contact info for the La Cantina sales rep I spoke with on the day I visited the factory, Steve C. I provided Steve with details regarding where the window was going at my home, the fact that wanted to order exactly what I was viewing in the La Cantina Factory Showroom, all to ensure that what I was ordering was in fact correct/acceptable. Should La Cantina provide lunch & learns or select an appropriate way to educate its dealers? I don't know what their metrics are for selecting quality dealers with integrity but Pelletier doesn't care. We are on the second window (first one was completely mis-ordered & then manufactured backwards). The second window still has down-throw bolts and an ugly/janky rubber weather stripping on the window frame that is scratching the granite counter top & not the "weather resistant sill" (under brush weather stripping) that I requested. At this point I am asking for what I ordered but being told a service call would be at my expense, factory tells me one thing and dealer tells me another. Not it is that I can have painted sweeps - why would I paint rubber for it to flake off and look worse that I already have? Why can I not seem to get what I saw in the factory showroom and provided the verbiage for? The excuses are multiple, yet never the same. I have been told I cannot have it that way as La Cantina does not manufacture that type of servery window (then why is is on display in the factory showroom??!!!??) all the way to I received bad intel from a disgruntled sales person who was on their way out and this was his way of "getting back at La Cantina". Uhhh, sorry that should not be my problem ~ yet it is.

Comment from LaCantina Doors:
Hi Colleen,
I am sorry to hear that you are not 100% satisfied with your LaCantina Doors. It is my understanding that a solution is currently in process. Please feel free to reach out to me directly, ncousar@jeldwen.com if the solution is not to your satisfaction.

Thanks,
Neely

We absolutely love LaCantina Doors! Bennett Glass Company has been in the window and door business since 1962 and we have seen products come and go; none have matched the quality, price, functionality or contemporary beauty and stile of the massive multi-slide and stacking LaCantina Doors. We are proud to feature full size displays in our contractors showroom, centrally located in heart of the San Francisco peninsula in Redwood City, CA. Our sales team are industry veterans and highly recommend LaCantina Door products to our Bay Area customers looking to improve any space with indoor-outdoor living.

this really is an incredible door, we love it and the guys at La Cantina are the best ever. totally transformed our living space !
We hired LaCantina Doors for two major renovation projects. They were fantastic to work with, and their product is SO beautiful and functional! They were incredibly helpful and worked to accommodate our timelines and schedule. Would absolutely work with them again!

I recently had the pleasure of having a LaCantina door installed on one of our projects and I am blown away at the obvious level of care & quality that goes into making this product. The look and feel of the doors contemporary design greatly benefited the design scheme we were going for on this project. We installed the door in a sunroom that is adjacent to a deck and I'm sure this door will be enjoyed by many for years to come.

Sitting on 5 acres of sprawling desert and the location being the main feature of our house, we wanted to bring the outdoors into our fully renovated contemporary pueblo style home. We wanted to carefully curate our house with some of our favorite brands and products. Because we appreciate design and architecture and our approach was to go for something simple, clean, and modern, we selected LaCantina Swing Doors. LaCantina's beautiful, bronze anodized outswing French Doors made a significant improvement by bringing in more natural light into the living room and by framing the spectacular desert landscape.



I am a Sliding Door and Folding Door service provider. my company is Sliding Door Guru and I have been designing, manufacturing, installing and servicing Folding doors and Sliding Doors since 1984 I have customers call weekly for service on their La Cantina folding doors. usually they have already contacted Aaron at La Cantina and or they have called a dealer based on the conversation with Aaron, they always refer the service calls to a dealer. Most La Cantina dealers do not install or service the products they are only a distribution outlet for you to purchase your folding and sliding doors. Most of the time I have recommended to the clients that perhaps the best solution is to replace their La Cantina Folding Doors With Fleetwood Aluminum Sliding or Folding Doors or maybe Weiland Sliding Doors and Folding Doors both of which have a proven track record for service after the products are installed no matter how old they are. I can not recommend La Cantina Folding Doors for the simple reason that so many customers call weekly with un solvable La Cantina service troublesk

Doors are really nice. Locking mechanism is a bit tricky but the LaCantina crew was responsive and customer-service was really good. They came out, checked the lock, adjusted the door and all was good.

We have LaCantina doors in our tiny home. They are absolutely my favorite feature of the home!!! The doors are our connection from the indoors to the outdoors, and truly open the home up. We were super impressed with the customer service and attention to detail during in the installation process. I would highly recommend the bifolding doors. They are worth every penny, and add so much value and happiness to the home!
We worked with LaCANTINA Doors for our new sliding door system in our agency's office expansion here in San Diego. They were super helpful in picking out the materials for us based on our design aesthetic and providing us consulting on the configuration of the doors as well. They came in on time, were installed beautifully and look amazing!

Back to Navigation
Back to Navigation
Request a quote for a free consultation
| | |
| --- | --- |
| | LaCantina Doors |
1875 Ord Way
Oceanside, CA 92056