Hoschton, GA

Door Dealers and Installers

From compromising your homes security to increasing heating and cooling costs, an improperly installed or damaged door can cost you. Exterior doors, such as front doors, need to be tough against the elements but easy on the eyes; interior doors need to blend in with your existing aesthetic, but also function well for each room they are selected for. Needless to say, door decisions can be daunting; luckily, door dealers and installers in Hoschton, GA can help you select, design and install doors that are perfect for your home!

More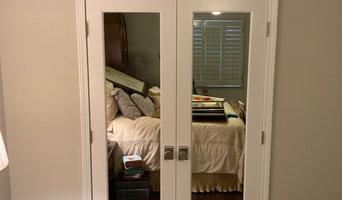 We're proud to be the authorized Atlanta dealer for One Day Doors & Closets. We love working in the home...
Read More
With Window Replacement of Georgia, we listen and educate you on the many options you have to fit your window...
Read More
North Georgia Replacement Windows specializes in the replacement of Windows, Doors, and Shutters. We are the only...
Read More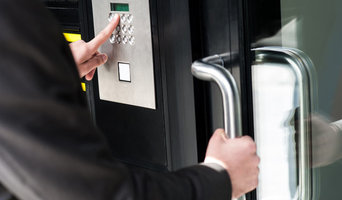 It is always important to consider changing the locks on your home. Especially if you just moved in or bought a...
Read More
At AAA Screen & Window Co. we pride ourselves on every project we do. For over 50 years our philosophy has...
Read More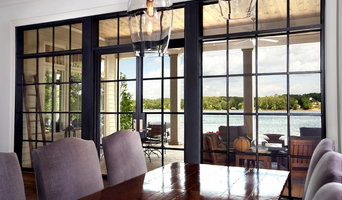 Custom Steel Doors & Windows for Residential and Commercial construction. Areas served for installations:...
Read More
Welcome to Abby Iron Doors where you'll find the finest selection of custom iron doors with features and...
Read More
Masterpiece Doors & Shutters has been in the door business since 1971. During this time we have offered many...
Read More
Jennifer's Glassworks has been designing and building entry systems and stained-glass windows here in the Atlanta...
Read More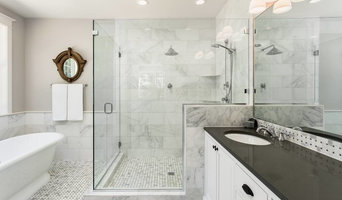 The Glass Guru is a locally owned and operated glass & window replacement/repair company. We can handle all of...
Read More
Featured Reviews for Door Dealers and Installers in Hoschton, GA

Atlanta Doors & Closets
Door Dealers and Installers in Hoschton, GA
"I had been looking at replacing all of my crappy Home Depot interior doors made of cardboard since 1998. It is a huge task.and no matter how many contractors I tried to get quotes from it just never seemed feasible. One night I saw an ad Facebook for "One Day Doors" and read their sales info. No way this would work I thought. Impossible. I met with Daniel and he explained the process, went out to their showroom, saw the product and immediately signed up. I even visited their main office in Torrance, Ca, when I was in the area visiting my Brother. The big day finally arrived and all the doors showed up and I still had serious doubts that all 27 doors would fit and this process was actually going to work. It worked. Like really well. It was amazing. The new doors (that were laser measured) actually fit better than my old crappy Home Depot doors. This is a very serious upgrade for our home and I am super glad this project is behind me. Job well done by Daniel and his Team."
- David Lowell

Window Replacements of Georgia
Door Dealers and Installers in Hoschton, GA
"Hal and his team installed new exterior fiberglass double doors for me recently. The quality of the doors is just as he said they would be......very well insulated, and beautiful! During the installation, they removed the old doors and took the time to precisely install the new doors. Hal is meticulous! There was absolutely no clean up required on my part. I would highly recommend this company.....quality product and quality installation!"
- Paige Rutledge

North Georgia Replacement Windows
Door Dealers and Installers in Hoschton, GA
"These people were very professional and helped us choose an excellent new front entry system. Easy to work with and informative, with good communication skills! I would use them again!"
- matjenn

Mobile Pro Locksmith LLC
Door Dealers and Installers in Hoschton, GA
"Excellent respond time. was very courteous in setting appointment on the phone. The tech kept me informed of every lil detail. Very personable and truly professional. Will recommend MOBILE PRO LOCKSMITH LLC without hesitation to everyone."
- Berry Anderson

AAA Screen & Window Co
Door Dealers and Installers in Hoschton, GA
"AAA Screen and Window installed an oversize sliding patio door about 5 years ago. This last year, I hired them again to replace some old wooden french patio doors with sidelights. I am completely satisfied with the work they did. They use quality products and the install crew was able to handle some of the peculiarities of fitting the french doors into our "unique" framing (I believe the existing framing was someone else's custom modification to the original home, the corners weren't square [few things in our '62 ranch are], the size non-standard, etc.). I believe a less experienced crew might have simply thrown their hands up, but all problems were overcome and we are very happy with the finished work. All in all, I would not hesitate to contact AAA Screen & Window again if I needed another door or window replaced."
- dlwalke

Scardino Doors Llc
Door Dealers and Installers in Hoschton, GA
"We hired SCARDINO DOORS to furnish and install two large custom doors for our home. We received just what we wanted in terms of price, quality and follow up, and would recommend them to our friends."
- Maria De La Guardia

Abby Iron Doors
Door Dealers and Installers in Hoschton, GA
"After seeing and researching Abby Iron Door's work on Houzz, we immediately wanted to include this door to our custom home build project. Working with their staff, sales and design, was easy and reassuring. The double door unit arrived in about 11-12 weeks and our builders carpentry team did the install which took a little more than half the day. The doors are gorgeous and very strong and secure, I love the the feature of being able to open the inside glass panel without having to unlock main doors. Everyone who comes to our home raves about how beautiful and cool our front door is!! We are very happy with Abby Iron Doors and would highly recommend them!!"
- mclee7

Masterpiece Doors
Door Dealers and Installers in Hoschton, GA
"What an amazing experience I had with Masterpiece Doors! I was looking to replace my garage and entry doors, and looking for a unique and beautiful style, as mine were beginning to weather and look old. I found just that and more at Masterpiece Doors. They produced doors that look absolutely stunning in my home and withstand the elements of nature, etc. I really wanted a unique door that was going to stand out from all the rest, and they certainly delivered on that. Deb and the sales team were fabulous to work with, and they answered all of my questions throughout the process. Nothing like you would get with a large corporation. It was truly refreshing. My doors are truly the focal point of my house, and everyone who visits pays me endless compliments on them. Wonderful job, thank you so so much! -Carole Inman"
- caroleinman

Jennifer's Glass Works
Door Dealers and Installers in Hoschton, GA
"I hired Jennifer's glass to create a 59 1/2" wide X 72" high with another 59 1/2 inch wide x 28 inch rise arch leaded stained glass windows in the master bath. It is absolutely beautiful. Jennifer's glass work was on time and the detail in the craftsmanship is incredible. Artistry in the design and in every one of the hundreds of pieces of glass used to create the design has detailed beauty. They truly create art from glass and lead."
- Darrell Busby

The Glass Guru of Atlanta
Door Dealers and Installers in Hoschton, GA
"As an elderly woman I was amazed at the courteous and respectful way I was treated by Matthew, Phoenix, & Sarah. I broke a brand new mirror the day I purchased it. Not only did they replace the mirror with a thicker one, they fixed the frame so I could easily hang it and so the mirror would not continue to crack. Their price was so reasonable I thought they had made a mistake ! My daughter will be calling them for a free estimate on her cracked & foggy windows. Their workmanship is impeccable!"
- jenmat