Exterior House Cleaning Services in Blue Sea, QC
Don't know how to begin? See our

Hiring Guide

for more information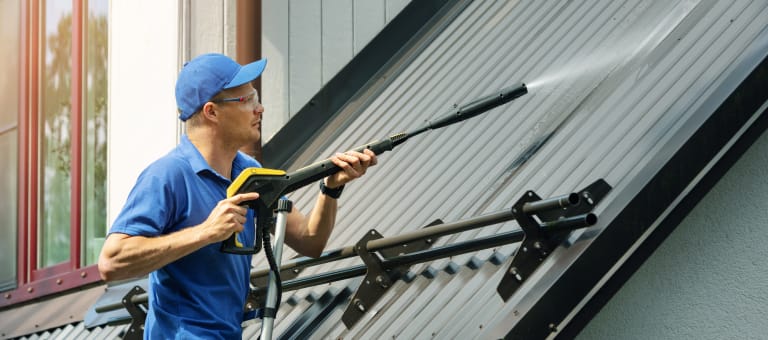 Exterior Cleaners
Who they are
Pros who work on keeping exteriors clean, from hardscape to siding and beyond.
Why you should hire
If your home exterior looks dull, a thorough cleaning by an expert might be all it needs for a fresh new first impression.
We couldn't find any results
Tips for better results:
Try removing a filter to see more results
The power of curb appeal isn't a myth — the exterior of your Blue Sea home is the very first thing visitors, neighbors and prospective buyers see, and people assume that if the outside of your home is not in great shape, neither is the interior. This can drastically affect your property value as well as incur the irritation of your neighbors, so if your house facade is looking like it could use some attention, consider hiring an exterior cleaner in Blue Sea, QC.
What do Blue Sea, QC exterior house cleaners do?
Exterior cleaning is exactly what it sounds like — cleaning a home's outer structure. However, exterior maintenance professionals in Blue Sea, QC do a whole lot more than just wiping down some walls and cleaning a few windows; ultimately, residential exterior cleaners are responsible for restoring a home's exterior back to stellar shape through a variety of services, including:
Window cleaning

Pressure washing

Bronze cleaning and restoration

Architectural preservation

Roof cleaning

Soft-washing

Concrete cleaning

Graffiti removal and protection

Gutter cleaning

Stone conservation and restoration

Exterior cleaning and preservation is such a crucial undertaking that some locations require professionals to have a license to practice.
Questions to ask potential exterior cleaners:
How long have you been in the business?

Can you provide me with references?

How do you charge, and what does that include?

What do your services include?

What kind of licensing do you have?

Do you have any type of warranty or protection guarantee?

When can this job get done?

What happens when the cost exceeds the budget? What about changes to materials or labor pricing?

What will I need to provide?

Are there any important considerations or concerns you foresee with this project?

Will you come to my home for a free onsite consultation?

Find exterior house cleaning services in Blue Sea, QC on Houzz.
Search the Professionals section for Blue Sea, QC exterior cleaners or browse photos of completed projects and look for the exterior maintenance professional's contact information.
Find exterior house cleaning services near me on Houzz
Before you hire an exterior house cleaning service in Blue Sea, Quebec, shop through our network of over 0 local exterior house cleaning services. Read through customer reviews, check out their past projects and then request a quote from the best exterior house cleaning services near you. Finding exterior house cleaning services in my area is easy on Houzz.