Dayton, ME Exterior House Cleaning Services
Not sure where to start? Let Houzz match you with local professionals for these projects: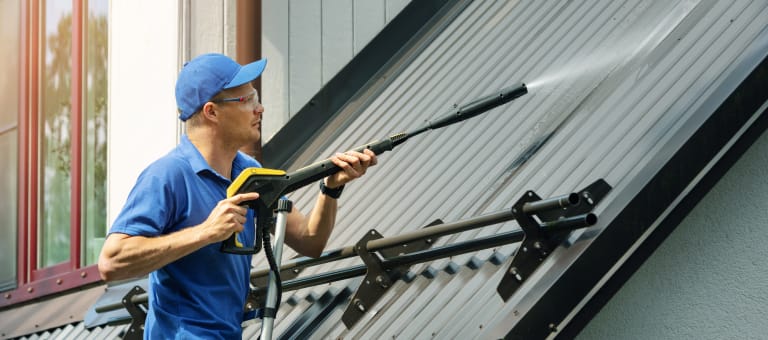 Cleaning Services
Look after your property value and personal well-being (and avoid upsetting your neighbors) by keeping your home neat and tidy. And whether you need a one-time deep clean or recurring services, there's no shame in asking for a little help to do the dirty work. Cleaning professionals can tackle everything from dusting and scrubbing to carpet cleaning and junk removal.
Since 2012, we at Western Maine Pressure Washing have provided residential and commercial pressure washing service...

Read more

80 Stanley Hill Rd., Fryeburg, ME 04037

Saccarappa Exterior Cleaning is a family-owned Portland pressure washing company. We specialize in roof cleaning,...

Read more

We're hard working folks from Maine that believe that a customer deserves quality work…no, that's wrong…great work...

Read more

Click to call

Center Barnstead

,

NH

,

3225

Click to call

East Kingston

,

NH

,

3827

Click to call

Manchester

,

NH

,

3103
The power of curb appeal isn't a myth — the exterior of your Dayton home is the very first thing visitors, neighbors and prospective buyers see, and people assume that if the outside of your home is not in great shape, neither is the interior. This can drastically affect your property value as well as incur the irritation of your neighbors, so if your house facade is looking like it could use some attention, consider hiring an exterior cleaner in Dayton, ME.
What do Dayton, ME exterior house cleaners do?
Exterior cleaning is exactly what it sounds like — cleaning a home's outer structure. However, exterior maintenance professionals in Dayton, ME do a whole lot more than just wiping down some walls and cleaning a few windows; ultimately, residential exterior cleaners are responsible for restoring a home's exterior back to stellar shape through a variety of services, including:
Window cleaning

Pressure washing

Bronze cleaning and restoration

Architectural preservation

Roof cleaning

Soft-washing

Concrete cleaning

Graffiti removal and protection

Gutter cleaning

Stone conservation and restoration

Exterior cleaning and preservation is such a crucial undertaking that some locations require professionals to have a license to practice.
Questions to ask potential exterior cleaners:
How long have you been in the business?

Can you provide me with references?

How do you charge, and what does that include?

What do your services include?

What kind of licensing do you have?

Do you have any type of warranty or protection guarantee?

When can this job get done?

What happens when the cost exceeds the budget? What about changes to materials or labor pricing?

What will I need to provide?

Are there any important considerations or concerns you foresee with this project?

Will you come to my home for a free onsite consultation?

Find exterior house cleaning services in Dayton, ME on Houzz.
Search the Professionals section for Dayton, ME exterior cleaners or browse photos of completed projects and look for the exterior maintenance professional's contact information.
Find exterior house cleaning services near me on Houzz
Before you hire an exterior house cleaning service in Dayton, Maine, shop through our network of over 6 local exterior house cleaning services. Read through customer reviews, check out their past projects and then request a quote from the best exterior house cleaning services near you.