Maykke brings stylish, premium quality furnishings directly to the home at stunning prices.

We hand pick the most elegant products — from the most coveted factories all around the world — to ensure that every product we offer is nothing short of world-class. Our vision is to provide the most seamless factory direct delivery experience on the planet.

All of our furnishings are designed to enrich your home and create the ideal environment for you to relax, recharge and rejuvenate your mind, body and soul.

You choose the items you love most, and we take care of the rest.
Shop Maykke on Houzz
Explore Maykke on Houzz. We have 229 Maykke products for sale on Houzz including Bathtubs, Bathroom Vanities, and Bathroom Mirrors. Here you can browse our top Maykke products, categories, and collections.
My Stories
Sponsored story
Unwind in a relaxing bath and get the decadence you deserve using...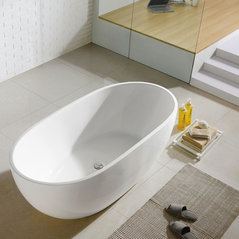 Sponsored story
Craft a beautiful, versatile bathroom that you and your guests will...