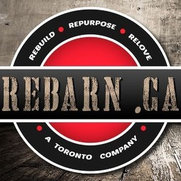 | | |
| --- | --- |
| | REBARN |
3 Houzz Awards
2 Houzz Badges
Typical Job Costs:
CAD $200 - $10,000

https://www.houzz.com/pro/rebarn copied to clipboard
REBARN.CA is a Toronto based artisan studio where salvaged lumber is reborn into one-of-a-kind, hand-crafted feature pieces for your home or work space. Dedicated to quality craftsmanship and custom design…REBARN.CA sources the best materials possible to bring to the work bench for each project. The result is distinctive, character pieces that will be the focal point of any room. Let us help you add a special feature to your home or work space. Whether it's a custom built barn door…a character mantel or a one-of-a-kind piece of furniture, we will help you achieve the look you are after.
Services Provided
Custom Furniture
Awards
Featured on Cityline, Breakfast Television, Colin & Justin's Cabin Pressure, The Property Brothers, Toronto Life, Toronto Star, Toronto Sun, Cottage Life, Inside Toronto, Globe And Mail, Huffington Post, Style At Home, The Guardian, BlogTO
Write a Review
26 Reviews for REBARN
Project Price
less than $1,000
Rebarn built us a record stand for our albums and turntable. They listened carefully and we got exactly what we envisioned: a solid, beautiful, custom piece of art / furniture. Highly recommended.
Project Price
$1,000 - $9,999
I can't stop looking at our beautiful solid oak barn door! We were not exactly sure how the final outcome would look but we are very happy. Mark helped us in our decision to go for a 75% Ebony stain as we thought 100% would be too dark. Quality craftsmanship does take time especially from a non-corporate shop and Mark was able to alleviate our concerns when we (I) got "antsy". The install went smoothly - tight stairs and space but Alex managed to complete the mission with quality care, thought and wee bit of charm!
Project Price
$10,000 - $49,999
I ordered four pieces from Rebarn, a maple coffee table, desk, dining table and a King sized bed with the headboard made from an old barn door. Everything came out perfect and I am more than happy with everything. My favorite is the bed but I get a lot of compliments on the dining table and my gargantuan coffee table. All are heavy AF and I pity the fools that have to lift them if I ever decide to move. Mark and his team were courteous and very responsive and I would order from them again in a hearbeat.
Project Price
$1,000 - $9,999
Terrible experience. Zero accountability on their part. I would avoid at all costs. At no point did they ever acknowledge their mistake, even though I drew out the design with their sales person. Their mistake and in no way did they try to make any sort of amends...not even an apology.

Comment from REBARN:
Hi Adam

Thank you for your review and comments. I have to address your comments however, since this is a public forum and you aren't being truthful.

We built you a beautiful maple and glass door and installed it perfectly. What you are complaining about is the fact that your handle was installed on the wrong side of the door in our workshop.

When you came to our store to place your order you told us the door would roll right to open. We recorded this information on your order and gave you a copy on the day you ordered. The placement of the handle was in accordance to the information you gave us when you placed your order. It was installed for a door that rolls right to open.

When we arrived to install your door, it was, in fact, rolling to the left to open. So, the handle - while being totally functional - was on the wrong side of the door for a left rolling door.

I believe you gave us the wrong information when you ordered your door. . I BELIEVE THAT YOU MUST HAVE EITHER MISUNDERSTOOD OR HAD YOUR FACTS WRONG. We wrote the information down in front of you during our discussion with you. We do this with all of our customers when they are giving us details for an order. And again, this information was CLEARLY written on your order.

You had your order for 2 months Adam. That is ample time for you to look it over again and confirm the information on it. Also, we have a disclaimer on the order which states, "All details are considered to be correct at time of deposit. Any changes to the order must be made in writing bt email, with confirmation of receipt and change to order confirmed by email by Rebarn. This ensures all information is up to date for both parties."

Adam, we are very thorough with our customers when they place orders for doors. We are very careful during the interview process to lead our customers through all aspects providing us with the correct and accurate information we need to arrive at the right sized door for their project,,,as well as knowing which direction it will open. Believe me, we have built hundreds of doors and we have been doing this a long time.

We also encourage ALL of our customers to look over their written order to verify details. You have your order for 2 months and we never heard a thing from you.

In your comments in your review you state that I didn't acknowledge my mistake. You are right. But I have acknowledged YOUR mistake. And you also wrote I didn't try to make amends. That is a bold faced lie Adam. I offered to come and install a handle on the other side of your door for free. And you know that! Even though you made this blunder, I offered to take it on the chin and give you the handle plus install in an effort to satisfy you. BELOW IS A COPY OF MY EMAIL.

i AM ALSO ATTACHING A COPY OF YOUR ORDER WHERE EVERYTHING IS CLEARLY WRITTEN. AND...A PICTURE OF YOUR DOOR!

Thanks Adam!!


Mark Livingston
Jul 16, 2018, 6:38 PM (3 days ago)
to Adam

The door opens left. The order stated it opens right. I dont believe anyone is being dismissive.

The only option we have is to put a handle on the right side as well. If thats an acceptible solution...let me know.


Project Price
$1,000 - $9,999
I've always envisioned a barn door for my basement and once we were in the final stages of a full underpin and began to think about finishing the space, I went to Mark to discuss the door. Mark provided great advise on mounting the door, given a number of structural beams in the basement, and the staff at the store were very helpful in selecting the door, reviewing handle options and setting a timeline for installation. Mark allowed me to come to his workshop and help with a custom stain for the door that coordinated beautifully with our flooring. The installation guys were fantastic, in and out in about an hour and a half, and cleaned up the space thoroughly. Overall, an excellent experience from start to finish and a company I would highly recommend. I LUV my new barn door - thank you Mark and team!

Project Price
$1,000 - $9,999
We've had the pleasure of working with Mark at Rebarn on many occasions. As designers looking to add individuality and quality to our various renovation projects, we have installed Rebarn's incredible barn doors and custom furniture in multiple C&J renovations. Not only have we found quality to be exact, we have enjoyed working with Mark who we find to be a welcome team player and a skilled maker who is happy to suggest ideas that will allow your design dreams to come alive. It's fair to say we've worked with Mark on various projects (both on screen and off) and just can't fault his work. It's refreshing, in fact, to work with people who not only deliver, but do so with quality and consistency. Yup, we're fans!


Project Price
$1,000 - $9,999
Thrilled with the service and product we got from Rebarn! We were looking for a large coffee table for our living room but couldn't quite find the right dimensions or style. We thought going custom would be out of our price range however gave it a shot. We couldn't be happier! The price was very reasonable, time to complete the project was only a couple of weeks, and the communication along the way was great. We even went by the workshop to talk about various stains/colours which was so helpful. Alex, one of Mark's guys, had great suggestions for us regarding the style (always trust the artist!), and it turned out beautifully!
Project Price
$1,000 - $9,999
We had Rebarn build us a rolling barn door for our house in Toronto. We are thrilled with the door and the hardware they made for us. The quality is outstanding, and the craftsmanship superb. They installed the door and left the living room spotless when they were done. We also bought a console from their store and it's amazing.
Project Date
November 2016
Project Price
$1,000 - $9,999
Worst company to deal with. We bought a console table from them after seeing it their Toronto store as well as a maple barn door for our home renovation project. The items were delivered over a month later than promised The table was fine, the door was damaged in shipment because it was not wrapped properly.. In addition they only show you one side in their showroom and the door is effectively only finished on one side! Not only that it was warped and badly stained. My contractor basically had to take it apart. He found screw holes with no screws, so no wonder with the weight it was out of alignment. I sent pics and they claimed insurance from UPS, but they never reimbursed my costs to repair the damage and fix their shoddy workmanship . Deal with these people at your peril.

Comment from REBARN:
Hi Steve

Thanks for the review. You have laid out quite a few facts here in your review. Some are correct. But some are skewed and misleading.

You came into the store looking for a door in November or 2016. You gravitated towards a solid black walnut beauty hanging on our door display. It's a 2200.00 door that is a furniture quality, solid walnut, glued up panel that could easily be used for a dining table top.

As I recall, you didn't want to spend that much on a door. You chose to go with a Shaker style door with the upper half in glass. The door you looked at in our store as a sample of this style is a RUSTIC Shaker style door made of pine. You opted for this same style of door, but you wanted it in maple. This style is not a glue up, but a rustic style made of maple rather than pine.

As far as not being able to see the backs of the doors in our showroom, the backs being unfinished etc...you absolutely don't know what you are talking about. All of our doors are finished on both sides. And, yes they are displayed against the wall in the store. But there are several doors in doorways where you can inspect both sides. Also, the door you ordered is a Shaker style door with a full frame on the FRONT and a middle brace. The BACK of the door has no frame nor bracing. The BACK is a panel. This is standard.

Suggesting that the back of your door...or any other door we have ever made is unfinished is ridiculous. And if you assumed that the back of your barn door would be framed and braced like the front...the presentation side...no...you're wrong. Don't assume. If you wanted that we would gladly have charged you for an upgrade and would have done it for you. Total different design, total different build, more money. We built you the door you pointed to and asked for. End of story Steve.

We built your door, and yes, we took three weeks longer than anticipated. We are a very busy shop and we do go overtime from time to time. We don't guarantee timelines because of this, but we do our best to get the work out in a timely fashion.

We shipped your door via UPS to Ottawa as requested. It was wrapped appropriately for shipping and UPS reinforced the edges with thick cardboard as an additional protection for the door. Because you are located in Ottawa, and because the door was a large, heavy package, UPS elected to hire the delivery out to a freight company.

During the transportation process, the freight company dropped the door and damaged it. It is a heavy door, and the damage was not only superficial, but structural. I went to UPS about the damage and they put in a claim to the freight company for the damages.

UPS never resolved the matter with the freight company. I checked back several times and was finally told by UPS that it will take a long time for a decision. I gave up on hearing back from them after several phone calls over a few months.

I did not receive any compensation from UPS at all for the damages. So what you are writing here is not factual, and you may want to consider removing it. That kind of thing can get you into trouble.

I haven't heard from you in 6 months. A week ago you sent an email with an invoice for having the door repaired. Five days ago I emailed you asking you if you wanted it by Etransfer. Today you posted your review. After you posted your review you emailed that you didn't see the email asking about transferring the money for the repair.

Steve...you can have your 160.00 that you paid to have the damaged door repaired. Seriously man, check your emails.


Project Price
$1,000 - $9,999
We are design firm that has used Rebarn for several projects. We find their work top notch and creative. Mark is great to work with and very accommodating. We will continue to use them of interesting reclaimed wood projects. We highly recommend them.
Project Price
$1,000 - $9,999
We recently ordered a set of double barn doors for our master bathroom ensuite for our new home and wanted to buy locally from Ontario. We canvassed a few places and after careful thought and consideration, we landed on Rebarn. Simply for the quality of the work and because they are the only ones who guarantee their products. While admittedly, it didn't go perfectly as planned, I just wanted to point out that the owner, Mark was reasonable and did everything to rectify our issue. When our doors finally arrived, they surpassed our expectations. We were more than happy with our purchase despite a few hiccups along the way. I'd shop here again in a heartbeat. I'm pleased that I gave a break to a small CANADIAN business. Thanks Mark! Robert B
Project Price
less than $1,000
Brutal customer service. I ordered barn door hardware expecting to take it home but was promised it would be ready in two weeks. After two weeks we called and were scolded with attitude "did someone call and tell you it was ready". It took over five weeks and multiple unreturned calls and texts before we finally got a rude text telling me to pick it up at his new store. When I arrived at the time agreed to, my hardware was not there, it was moved to his workshop which caused further delay. We then had to repaint the rail due to poor work. Brutal customer service. Based on your response, I guess you only get good customer service if you don't order ECONOMY items. According to your store employee, my hardware was at the location agreed to and you moved it to your warehouse. Your stellar response demonstrates your attitude.
May 13, 2016
Last modified:

May 16, 2016

Comment from REBARN:
Hi Brian

Thanks for the stellar review. I have to clarify a few facts that you left out, however. I mean, if you are going to complain about the "brutal customer service" then you should add in all of the facts.

How about the fact that you were called several times over a 2-1/2 week period to tell you your hardware was ready. But guess what? Your voice mail wasn't set up so Nicole couldn't leave a message for you. Hmmm...kind of changes things, huh?

When you reached me on the phone and I asked if you had been called telling you it is ready...there is a perfectly good reason for that. We now have 2 locations. When you called me I was out on an install. I asked you if you had been called because (a) I don't have a computer chip for a memory and I deal with about 60 orders at a time, and (b) If you tell me someone called you to come pick up...that tells me that your order has been packaged up and is ready for you.

When you came to the store for pick up and found your order was not there, it was still at our shop location. We had just moved into our new store the week prior and your order was in the shop with some remaining orders and other items that had not yet been moved over to our store yet. But, you neglected to mention that I jumped into our van and brought it right over to the store for you.

As far as being scolded. I don't think so Brian. And a "rude" text? Brian...it was YOU who texted us! You texted me asking if we were still on for pick up at 4pm on April 29th as per our phone conversation. And you asked for the address at the store. I replied, "That's how we left it. 1611 Dupont Street."

If you think that's rude then I must be missing something. The truth is that I work with my hands in this business. I am a hands on guy. Hands on the tools with my crew. In a very noisy environment. If I sound "rude" on the phone...it's because I am yelling over the noise of saws, sanders, compressors etc. And if my text is short and directly to the point...it's because I am working with tools and have to shut down to answer a text. I like to get texting done quickly so I can get back to building.

As far as there being something wrong with the paint on your hardware, that is the first complaint we have ever had Brian. And I never heard this from you at all. You slipped it into your review here. If there is actually a problem...we have a guarantee on all of our hardware...even the ECONOMY set you ordered. If you would like to bring it in I will be happy to look at it and we will repaint it for you.

REVISED RESPONSE:

Brian, I see you removed your original review after I responded. It seems that you twisted the facts on your first review...and when I addressed them...your review didn't look so good. So you deleted the inaccuracies and posted this new review.

It still stands that we tried to contact you for 2-1/2 weeks to come pick up your order. Your voice mail isn't set up. If there actually was an issue with the finish on your track, no problem. It's covered in our warranty. We will fix that for you. But I haven't heard from you about this. Just here on your review.

I have already addressed why your track was at our shop and the rest of the kit was at our store. We moved into a new location and your track had not been moved over yet. But...I did rush it over to the store when you came to pick up.

Lastly, economy is covered by the same warranty as our premium and artisan hardware.

Thank you Brian and all the best! (Set up your Voice Mail!)
Load All 26 Reviews
Find Furniture and Accessory Manufacturers and Showrooms to Help Get the Job Done
Tired of reading all the DIY tutorials? We are here to help. With over 1 million home professionals on Houzz, you'll easily find the trusted Furniture and Accessory Company for your next project in Toronto, ON.
Read Reviews from Toronto Homeowners Like You
Read homeowners reviews before hiring the Furniture and Accessory Company to help with your project in Toronto. If you have questions, read other homeowners' reviews or our discussion forum for a second opinion.
Easily Contact Trusted Furniture and Accessory Manufacturers and Showrooms
If you're browsing Houzz and have a contractor in mind, then you'll quickly find that requesting a quote is easier than ever. From one simple dashboard, you can manage all the Furniture and Accessory Company quotes you got.
Furniture & Accessories in United States
Related Services