Retailer of all things soothing. Water fountains (indoor and outdoor), fireplaces, bean bag chairs, outdoor art, hammocks and much much more.
Shop Soothing Company on Houzz
Explore Soothing Company on Houzz. We have 280 Soothing Company products for sale on Houzz including Outdoor Fountains & Ponds, Indoor Fountains, and Fireplaces. Here you can browse our top Soothing Company products, categories, and collections.
Shop Soothing Company By Category
Soothing Company Best Sellers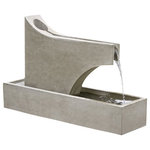 New Arrivals from Soothing Company