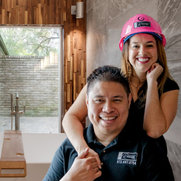 | | |
| --- | --- |
| | Design REMODEL Pros |
7 Houzz Awards
4 Houzz Badges
Contact Info:
Sara Belmonte
Dallas, TX 75248
Typical Job Costs:
Design Remodel Pros will send out an estimator to best assess the cost of each project. We are here to help you with resources, design and to make your remodel project seamless.
Category:
General Contractors
https://www.houzz.com/pro/designremodelpros copied to clipboard
Top Rated Woman-Owned Remodeling Company in Dallas
page_type: prop_plus_profile
We are a full-service, woman-owned Remodeling company with Design in Mind. We specialize in BATHROOMS & KITCHENS. We have been transforming homes since 2002 & continue to -WOW- our clients with our custom work! Call Design REMODEL Pros for a free estimate:972.407.0754 or visit us at www.DesignRemodelPros.com
Services Provided
Bathroom Remodeling, Countertop Installation, Crown Molding Installation, Custom Home Bars, Drywall Installation, Drywall Texturing, Flooring Installation, General Contracting, Home Remodeling, House Framing, Kitchen Remodeling, Lighting Installation, Project Management, Shower Installation, Tile Installation, Wood Floor Installation, Custom Cabinets, LUXURY Bathrooms, Granite, Marble, Tile, Special Needs Bathrooms, Special Needs Kitchens
Areas Served
Addison, Allen, Carrollton, Dallas, Farmers Branch, Highland Park, North Dallas, Plano, Richardson, The Colony, University Park, Frisco, Mckinney
Awards
2018 Top 10 Best Bathroom Remodelers- Dallas Architects 2018, 2017, 2016, 2014 Best of Houzz 2016 Turner School of Construction Management- Commercial Certification 2015, 2014 Readers' Choice, Best Home Remodeling Service Top 5, "Established Construction Firm 2012"
Featured Review
We used Design Remodel Pros for a fairly extensive remodel of our master bath this Spring. From start to finish we were very impressed with the guidance, workmanship and communication that this company offers. We look forward to using them again
Read Full Review
Write a Review
24 Reviews for Design REMODEL Pros

Two thumbs up! We are exceptionally grateful for the transformation that DRP made possible. They updated a 1975 house and made it a dream home for us. Their attention to every detail, continued daily updates along the way, and key design recommendations were truly appreciated. The team was very professional and executed on a seamless timeline to make our home move-in ready on time. We highly recommend the DRP team for renovations and remodeling. They are highly qualified, have meticulous attention to detail, and are easy to work with. We intend to hire them again in the future!
We used Design Remodel Pros for a fairly extensive remodel of our master bath this Spring. From start to finish we were very impressed with the guidance, workmanship and communication that this company offers. We look forward to using them again in the future!
Fantastic company, great workmanship and they go the extra mile. They are very careful with your furnishings and put everything back when the job is done; everything is covered while work is being done. We had two bathrooms, utility room, kitchen, den, dining/living and entry worked on; installed bath fixtures, tiled wall, remove wallpaper, retexture and paint, stain woodwork, new lighting in den and kitchen. You receive a line item bid and updates on change orders. We worked with Bryan, Sara, Javier, Linda, Josh, Sergio, Israel, Eugene, George and Tony; Eugene went the extra mile putting an outside faucet cover on for me when he saw me heading to do it. Then Sara had Eugene and George come back to help me with a table that had a wobbly leg. Javier was the project manager and was on site and/or in contact every day; Sara and Bryan made several visits, Linda helped with paint color choices. You can't go wrong with this group.


DRP group was exactly who and what I needed. My bathtub had been recoated before buying my home. The costing started peeling and I was forced into a redo. I got quotes and interviewed. DRP was affordable, professional and used top notch materials and services. They were honest and for the first time for such a project I was able to relax. Any question I had was answered. Any problem I had was solved. There can't be another group as skilled, honest and nice as Design Remodel Pros. We have formed a lasting bond for future projects and also just caring similar to family.




My husband and I hired Design Remodel Pros to completely remodel our bathroom last year. The job took about 4 weeks from start to finish. We were really impressed with how well scheduled the job was overall. We felt like every day we came home from work and magical elves had completed some additional tasks in our bathroom. It was really exciting. We also really felt that we were in good hands with our project manager, Javier, and felt comfortable being away at work when the team was in our home. Additionally, we took advantage of design help from Emily and it was worth every penny to see her rendering of our bathroom before we got started. We liked her work so much that I searched long and hard to find similar light fixtures to the ones she sketched. Bryan was great to work with as well - he visited our home for the first estimate. He was not pushy and had some great ideas - for instance, we had issues with paint on the ceiling peeling. He was the only person that recommended adding a vent before completing any other portion of the remodel . I added two before and two after pictures to this review so you can see the transformation.





Comment from Design REMODEL Pros:
Thank you for such a wonderful review. It was a pleasure working with you through the entire process. It is definitely a transformation to be enjoyed for years to come. We look forward to helping you with any future remodels.
http://www.designremodelpros.com
Design Remodel Pros repaired and repainted our bedroom ceiling after we had some water damage - not only does it look amazing, but they were so flexible and easy to work with, and willing to go the extra mile to get everything done right! Highly recommend for your remodels and repairs!
September 15, 2018
Last modified:

June 5, 2020
We are so happy with our big remodel from Design REMODEL Pros! They did our kitchen, master bath, hall bath, and dining room. Our project was so easy because they handled everything with ease for us! We never had to wonder if someone was going to show up because the communication and coordination was always perfect! Thank you for our beautiful like new home!

Comment from Design REMODEL Pros:
Kristen, thank you so much for the kind words. It was such a pleasure working with you. We are glad that you are enjoying your remodeled home and are proud to be your life-long remodeling company.
http://www.designremodelpros.com/
Our recent kitchen remodel was the second remodel job Design Remodel Pros has done for us. In 2016 they remodeled our master bath leaving us very satisfied with our beautiful bath. When we decided to remodel our kitchen we went back to them because of their great work ethic. They were always on time and at the end of each day the area was cleaned up. They were not satisfied with job until we were satisfied. Will contact Bryan and Sara when we are ready to tackle living room work.

We engaged Design Remodel Pros in December 2017, for a long overdue renovation of our master bathroom. The project involved an almost total demolition, not quite to the studs everywhere, but the tub, shower, vanities, floor tile, toilet, lights & fixtures, wallpaper, all came out. DRP addressed issues of rot, caused by water seepage from the shower and in the water closet. We knew there was a problem, so the only surprise was precisely what the damage was. Then they rebuilt our bathroom, and it looks fantastic! A large, fully tiled shower and wet area. Old built-in double vanity replaced with twin standalone vanities, that DRP helped us procure. But it gets better! The principles, Sara and Bryan are great to work with. They, their crew and subcontractors, are all professionals. The project scope was carefully agreed upon with us, accurately documented, and delivered with high quality. Every proposed change (and there inevitably will be project changes!) was discussed with us thoroughly, regardless who initiated the idea. Only items that we agreed to, in writing, were added to the project. I hear many horror stories from friends about renovations that spiral out of control, from both a scope and $$$'s perspective. That won't happen with DRP! Their work crews show up at the time/day committed, and they stay on task. I thought the pricing of the project was very fair, relative to the quality of their work and the personal touch you'll get when you engage Bryan & Sara to do your project.

Comment from Design REMODEL Pros:
RJT, Thank you for sharing your experience with Design REMODEL Pros on Houzz. It was a pleasure getting to know you and your family as we executed your master bath. To see your vision come to life & bring smiles to your face means all the world to us. We look to be your life-long remodeling company!
Richard and Diana Hightower
We have used Design Remodel Pros for multiple projects and have had an excellent experience each time. They were very accurate with the estimate they provided to us (other vendors tried to hide some of the costs by not detailing it on the estimate - shame on them!). The Design Remodel Pros team was upfront about estimated costs, time to do the work, and availability on their schedule. Then they nailed every item. They were on time for each project and came in right on budget. No surprises and we liked that. Their work team was professional and courteous. Oh, and they cleaned up after themselves each day! This company has excellent communication, professional work, great pricing. What a delight to deal with them. We are very satisfied customers and highly recommend them to others.
I could not have asked for anything better. DRP did an amazing job. Every step was done with much expertise and precision, outstanding quality, and collaboration. Every person who I worked with was patient and helpful in guiding/ leading the process. Every time we get home, we are overjoyed by the work done. I would highly recommend DRP to everyone.



November 11, 2017
Last modified:

November 11, 2017

Comment from Design REMODEL Pros:
Thank you for taking the time to write us a review. We really hope you are enjoying your new bathroom. We had such a wonderful time shopping and picking out paint and accessories with you! We feel your new space reflects your personality and we enjoyed spending time with you during the remodeling process.

From start to finish, Design Remodel Pros did a wonderful job remodeling our guest bathroom and installing new flooring in our kitchen and laundry room. Coming from someone who also works in the design industry, I was extremely impressed with the quality of work and level of professionalism. I would recommend DRP to anyone looking for a skilled a trustworthy contractor. We love our bathroom and get compliments from EVERYONE who visits our home. Thanks Design Remodel Pros!

Comment from Design REMODEL Pros:
Thank you, Emily, for sharing your experience! It was a pleasure working with you. You have a great eye for detail and we appreciate the wonderful compliments, especially from someone in the design industry. DRP looks forward to being your life-long remodeling company!
Everyone from Design Remodel Pros was extremely professional and did an excellent job remodeling our laundry room. Bryan paid close attention to all the details to make sure everything turned perfectly in the end. I would highly recommend them for any remodeling project.
I contracted Design Remodel Pros to remodel my son's bathroom. It turned out beautiful! The crew was very friendly and professional. I was consulted about all aspects of the job and they answered my questions and concerns and even helped me with some design recommendations. Design Remodel pros was also very affordable. I was told how much each phase would cost before they started. I wish I had used them for my master bath remodel that turned out to be tremendously more expensive than it needed to be. I will definitely call them again!





Comment from Design REMODEL Pros:
Leslie, thank you for taking your time to share your experience. It was such a pleasure working work with you and seeing your son's bathroom transform. We hope you are letting him use it every once in awhile! We are so happy you allowed Design Remodel Pros (DRP) to be a part of it. We look forward to helping your friends, family and neighbors, and we appreciate your trust. We look forward to being your life-long Remodeling Company!

We just finished a big remodel project with DRP and are very happy with the process and the result. We removed two walls to create an open concept living area and kitchen, gave our kitchen a facelift with a new tile floor, painted cabinets, a granite peninsula, new vent over the range, and fresh paint all over. The project was carried out very professionally, communication was superb (Brian called me every day to let me know what was happening that day and what was scheduled to happen soon), and we were able to find a happy medium between going all out and skimping on the budget. We saved money where we could, but splurged when Brian suggested something that we agreed would enhance the project. I am most pleased with the tile work and the painting (especially the cabinet painting). I can tell that his workers in these areas are masters of their trade and take pride in their meticulous work. I am very happy with the result and have already recommended DRP to family and friends.

Comment from Design REMODEL Pros:
Thank you Amy for taking the time to share your experience. It was a pleasure to work with you and see your home transform. I know you will continue to make lasting memories in your home and we are so happy you allowed Design Remodel Pros (DRP) be a part of it. We look forward to helping your friends, family and neighbors on NextDoor and we appreciate your trust. Thank you for choosing DRP to be your life-long Remodeling Company!
We loved working with DRP, it was a pleasant experience from start to finish! They were so nice and always kept us in the loop about timing, and pricing. They were totally fair and transparent and did an excellent job! We would highly recommend working with them on your next project. We can't wait to use their services again, the process was fun and they kept our house clean while they were at it!!! Thanks DRP!
The team was excellent. Worked through a few issues we had with plumbing to make my vision a reality. Very fair on pricing. Completed product is beautiful and to code.
They did a fabulous job on remodeling our old shower. Bryan has gorgeous taste, and his crew did a perfect job. They were on time, worked hard, finished on time. And we couldn't be happier!! They also demolished an old patio bar for us, and they did s fantastic job on that too!!! We'll be using them again for our next project!!
Very professional. I would highly recommend this company to anyone considering any type of remodel work. The quote was accurate, the work was done exactly when promised and my gazebo was built to specifications. Bryan communicated with me at every step of the project.

My wishes were followed attentively during the design and building of my patio. The manager checked on the work each sub-contractor did and quickly followed through if there were any problems. The result was fantastic and even the city inspector said that the patio looked like it was done by the builder and didn't look like an add-on.
having lived through several remodels of the different homes I have owned, I feel very qualified to recommend this company. what a delightful experience working with Design Remodel Pros was. The remodel was handled in a timely fashion, the work was beautiful and a selling point for my house. Great respect was shown to my family members and pets as well when the work was going on. Truly quality construction by ethical people.A+
I remember the first discussion with Brian BelMonte was about the price that he quoted me for our guest bathroom remodeling. It was higher than other contractors. Out of curiosity I asked him why and he was willing to explain and educate me regarding with what he put in his quote. That was totally blew me off. What I saw and imagine was only a tile/ shower installation. I did not know there are also another important thing that should be done prior installing tile/ shower and other little things but crucial. These things are not mentioned in the other quotes from another contractor. I truly appreciate his honesty and patience. At the very end, my boss (aka my wife :) really impressed with the result. Reasonable budget (note: not the cheapest one LOL!), but result is unbelievable. Next thing in the pipeline: Master Bathroom.

I hired Dallas Remodel Pros to remodel the surround on my double stacked living room fireplace. I updated from black granite tile to gray glass subway tiles. DRP was professional, on time, knowledgable and efficient. I was very pleased and have featured their work on my website and on Houzz projects. I highly recommend Sara at Dallas Remodel Pros. Brenda Whitehair

October 7, 2013
Last modified:

October 22, 2013
Project in August 2013: Complete remodel of bathroom. Removed tub and enclosure. Built walk-in shower. Removed corner linen closet to free up more countertop space. Relocated plumbing and vent stack, to increase shower space, requiring trenching in foundation. Result:"I was impressed by the attention to detail and quality of work that was exhibited. I was able to provide timely input on small, but important design decisions that always come up during remodel projects. The crew arrived on time, when scheduled, and maintained a very clean work area. There was a high degree of continuity among crew. As a result, we really love the final result, and will kick off another project next year."




September 19, 2013
Last modified:

January 22, 2014
Find General Contractors to Help Get the Job Done
Tired of reading all the DIY tutorials? We are here to help. With over 1 million home professionals on Houzz, you'll easily find the trusted General Contractor for your next project in Dallas, TX.
Read Reviews from Dallas Homeowners Like You
Read homeowners reviews before hiring the General Contractor to help with your project in Dallas. If you have questions, read other homeowners' reviews or our discussion forum for a second opinion.
Easily Contact Trusted General Contractors
If you're browsing Houzz and have a contractor in mind, then you'll quickly find that requesting a quote is easier than ever. From one simple dashboard, you can manage all the General Contractor quotes you got.
General Contractors near Dallas
Professional Categories in Dallas
Related Services