About Us
Boulder Architect and Custom Home Builder
Best of Houzz 2014-2020!
Awarded Residential Architecture Firm of the Year 2016, Rodwin Architecture is the leading design / build firm located in Boulder, Colorado. We are known for our creative excellence, friendly, responsive service, and expertise in sustainable design. Rodwin Architecture offers complete architectural, interior and landscape design services and has a proven track record in planning, feasibility, construction management and development. We are experienced in both residential and commercial projects of all sizes. Our work is primarily located in Colorado and the Rocky Mountain region, but we have completed projects from coast-to-coast. Every project receives the full attention of our Principal, Scott Rodwin. As you review our diverse portfolio, we hope you will recognize the consistent traits of beauty, simplicity, creativity, sustainability, harmony and integrity that we use to guide every design. We look forward to helping you design and build your dreams.
Services Provided
Energy-Efficient Homes, Green Building, New Home Construction, Sustainable Design, Custom Homes, Site Planning, Architectural Design, Architectural Drawings, Building Design, Architecture, General contracting
Areas Served
Boulder, Broomfield, Eldorado Springs, Gold Hill, Gunbarrel, Longmont, Louisville, Niwot, Pine Brook Hill, Seven Hills, Sugarloaf, Sunshine, Superior, Valmont, Denver
Awards
Residential Architecture Firm of the Year – Boulder, BUILD-News, 2016 Top Mountain Architect: Mountain Living Magazine – 2009, 2015, 2016 Mercury 100 Fastest Growing Companies in the Boulder Valley – Biz West 2016 Boulder Valley 40 Under 40 Kirsten Snobeck: BizWest – February 2016
Back to Navigation
Our Stories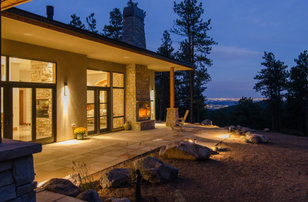 Sponsored story
A Boulder architect shows how to take full advantage of all that the Centennial State has to offer
Item 1 of 1
Back to Navigation
Back to Navigation
Credentials
5 Houzz Awards
6 Houzz Badges
Back to Navigation
Featured Review
The entire team has been extremely creative, knowledgeable, responsive and professional. Our experience has been wonderful. We would wholeheartedly recommend Rodwin Architecture.
Read Full Review
Write a Review
31 Reviews for Rodwin Architecture & Skycastle Homes
As a landscape design/build contractor, I have worked with Rodwin Architecture and Skycastle Homes on a few projects now. Their projects are always beautiful and extremely well thought-out. My experience with the architect, builder and their client is always a pleasant one. They go out of their way to make sure that their client's vision is achieved and they are professional and responsive if there are ever concerns about something. I would highly recommend working with them on a project or hiring them to build your dream-home.
After deciding to scrape an old house and start from scratch we knew we needed an architect. After vetting several companies we chose Rodwin and could not have been more happy! We had a budget and they helped us to stick to it (which can be tough). They were very flexible with meetings (as we have small children) and made house visits when necessary. Their response times to email/calls were always prompt. We had a lot of changes through the process and they walked us through every step professionally and honestly. We would highly recommend Rodwin architecture for your next project!

Kimball Modern Design + Interiors
Working with Scott and the team was a great experience. They were very inclusive and communicated with me clearly and often. This helped create a beautiful and cohesive design for the clients, inside and out.
Relationship
Received an estimate
Scott and his team were super-responsive, extremely knowledgeable and amazingly friendly when I made a simple inquiry regarding the viability of a potential project on a on a lot that came on the market. They do certainly excellent work!!

Associates III Interior Design
We greatly appreciate and respect Rodwin Architecture's work. Their approach is thoughtful of people and always the greatest health of the planet.

Working with the Rodwin team was one of the best experiences I've had thus far as a flooring contractor. What sets them apart is their vision, attention to detail, and professionalism with their subcontractors. Nothing goes unnoticed or unresolved throughout the design/build process. I wish all of our clients were like them!

Daniel O'Connor Photography & Digital Media
I recently photographed a custom design build project for Rodwin Architecture & Skycastle Homes in Boulder, CO. Scott is a master architect and a pleasure to work with. Highly recommended.



Relationship
Received an estimate
Scott Rodwin has gone above and beyond for us many times over the years, offering expert advice when we needed help. Highly recommended!
Rodwin Architecture and Skycastle Homes are great companies. I haved enjoyed working with them over the years. They are very thoughtful, creative and professional.

Scott Rodwin is the consummate professional. While his work speaks for itself, its his preparedness that sets him above the rest. Every time Scott has shown up for a client, he has gone above and beyond to present his research to my clients. There is no stone that is left unturned. After any meeting that my clients have had with Scott, they're more blown away by his everything. I would highly recommend that you reach out to Scott and his team for your next project. You will be thrilled by the results.
BACKGROUND: We are first-time home builders in Boulder County, many-time home remodelers (in California and Colorado). We have been working with Rodwin Architecture since March 2016 on a 3,000+ sq ft custom home in Boulder County. Design is complete, and we are awaiting county review. REVIEW SUMMARY: We have been very pleased with the work that Rodwin Architecture has done for us so far. Scott and Kirsten have been great to work with, and the people we have met from the partner construction company (Skycastle) have been extremely helpful and professional, even though we have not officially committed to using them to build, yet. We would highly recommend talking to Rodwin Architecture if you are considering building a custom home in Boulder County.

We have just begun the build of our new custom home and, so far, our experience working with Rodwin Architecture has been nothing short of amazing. We were impressed with Scott's professionalism and creativity right from the start. Extremely switched-on when it comes to green building, Scott and his team are experts at navigating complex City rules and regulations. We were able to complete the design phase up to permit submission in about 3 months and all via FaceTime and e-mail while we were still living abroad. The Rodwin/Skycastle team are efficient, accommodating, and genuinely a pleasure to work with; and we are very excited to be watching our dream home become reality.
Rodwin Architecture/SkyCastle Homes completed the renovation of our office building in an efficient and timely manner. Rodwin took the time to listen to our needs, developed a plan to meet those needs and then executed beautifully. We are a non-profit organization and they were amazingly attentive to our budget.

Very creative and innovative work. Listen well to clients' needs and flexible to the needs of the moments. Wonderful results.
I greatly appreciated their upgrade to my original design; their willingness to roll with the punches as slight modifications occurred during construction; their ability to overcome and correct Boulder Counties inability to comprehend our needs; and the level of professionalism throughout the working process.
Toured the house a bit. The design seems very thoughtful to me. Didn't have that "tiny boxes" feel. Had and original feel.
Rodwin architecture/skycastle homes designed and constructed our new green built home. They were wonderful to work with through the shole project and we are completely happy with the result. The design is perfect for us and has an amazingly low HERS rating of -8. It was good to work with people we trusted completely and had our best interests at heart. We give five stars with no reservations.
Relationship
I photograph their homes
Incredible people, amazing designs and beautifully construction! The best by far! I would hire them for any project I'm doing!
Over the course of the last year, we interviewed 3 other architect firms to help us repair and revive our medical/dental facility. It wasn't until we met Scott Rodwin and team that we met the firm with a sense of shared vision, experience and 'green' background that was able to help us connect the building with our business and community goals of healing and wellness, Alongside the design of our new pedestrian bridge, building and directional signage and beautification to common areas, they have been indespensible with helping in the construction process and contracts, and supporting necessary updates to building code.
Relationship
Received an estimate
I was taking a look at a piece of property to purchase, and Rodwin Architecture answered my questions in detail, and within an extremely timely manner on what could, and could not, be done with the property, the challenges with what I wanted to do, and the reasons why. I was very impressed with their professionalism, and quick response.
Major remodeling project both interior and exterior. Then, at a later date, outdoor patio, deck, pergola, water feature, landscaping. Great design ability and execution.

Rodwin Architecture is run by a group of thoughtful architects, designers, artists and people who care for the environment. They put detailed thought into their designs and consider sustainability in everything. This shows in their work and in their participation in the building and architecture community.
Rodwin has a gifted eye and a penchant for precision. I deeply trust their competence. but just as importantly, I trust their integrity, intentions, and how they go the distance to get everything right.

Fantastic team of people! The designs are amazing and their responsiveness is outstanding. It's always a pleasure to work with them.
Scott Rodwin's company did some work on our house in 2001. Put in a structural beam in a tricky place and helped with some creative design pieces. Professional and efficient, I was very pleased with all aspects of the completed job.
Scott Rodwin's design for my amazing new Artbox studio and home renovation has been completed far beyond my wildest expectations as a unique living sculpture on a difficult angled set of two elevations, making a dark ugly duckling into a regal original, brilliant contemporary, substantive statement that lives so well, that I am enjoying the life inside out immensely. Scott instinctively knew how to design for views, light, spacious effect, conserving energy and ease of movement throughout, and opened up my ability to see outward while maintaining my privacy. The long 6 month gestation of design phase with himself and professionals in his office at no added cost to me as the client, was a gift that allowed small features and built-ins that make the house extremely functional and aesthetic at the same time. As done in many European older homes, I detected original 1903 cottage framing that he allowed me to feature with an opening between two rooms that serves multiple purposes of light, heat transmission and mystery of the old artifact open to view from two entries, old and new of the house. The Artbox studio provides a spacious, dramatic towering loft with asymmetrical punched-in artistic arrangements of windows and comfortable in-floor radiant heat coils to insure that for the first time I can make handmade paper and set type without getting sick from cold wet feet. I took over the Permaculture design of the surrounding gardens and hand assembled perimeters, as you will read of this unusual collaborative aspect along with his exquisitely lit photos on his website: http://www.rodwinarch.com/art-box/ I recommend Scott Rodwin as a highly effective design/build green architect who loves to make regular site visits during construction and follows up upon completion.
The entire team has been extremely creative, knowledgeable, responsive and professional. Our experience has been wonderful. We would wholeheartedly recommend Rodwin Architecture.
If we were to build a new house, we would choose Rodwin Architecture/Skycastle Homes again for several reasons. First Scott Rodwin is a very creative and talented designer and he worked tirelessly to dial in the design of our house while being mindful of costs and budgets. In addition, he assembled a team that complements his strengths. We saw some of their other projects and their results were uniformly of very high quality. In our case, our finished house actually exceeded our expectations. We found the entire crew to be honest, responsive, hard-working, and a pleasure to work with and we recommend Rodwin Architecture/ Skycastle Homes to others without hesitation.
We love the home that Scott Rodwin and his team designed and built for us. Scott listened to what we wanted, created a design that was unique and that fit our needs perfectly. The house was finished on time, on budget, with no punch list. It was perfect the day we moved in. The house is a joy to live in with views from every room, careful siting, and great craftsmanship. The house is very energy efficient. Our only source of power/fuel is electricity and we have NO electric bills from May to October because of the photovoltaic system and geothermal system. Most of all, the whole experience of working with Rodwin Architecture and Skycastle Homes was a pleasure.
Relationship
Visited the home of friends, who had fallen in love with their new home.
We visited the owners of 7553 Skyway Court in Boulder CO and were blown away by the outstanding design and sustainable construction involved in the home. Their electric bills are slightly less than their costs for newspaper delivery-amazingly low! The design shows a real understanding of the land on which the home was built and its relationship to the home upon it. FIRST RATE! Dr. Helene Morse

Rodwin Architecture designed our SIP/ICF home in the foothills of the Rocky Mountains. Scott and his team were great to work with. He listened to our requirements and was able to create a design that fulfilled those and stayed within our budget. Rodwin Architecture is focused on eco-friendly design, and we enjoy a very efficient, one-of-a-kind home.

Back to Navigation
Back to Navigation
Contact Rodwin Architecture & Skycastle Homes
| | |
| --- | --- |
| | Rodwin Architecture & Skycastle Homes |
1245 Pearl St.
Boulder, CO 80302
Typical Job Cost $750,000 - 5 million