London, UK Custom Mirror & Shower Door Companies
Not sure where to start? Let Houzz match you with local professionals for these projects: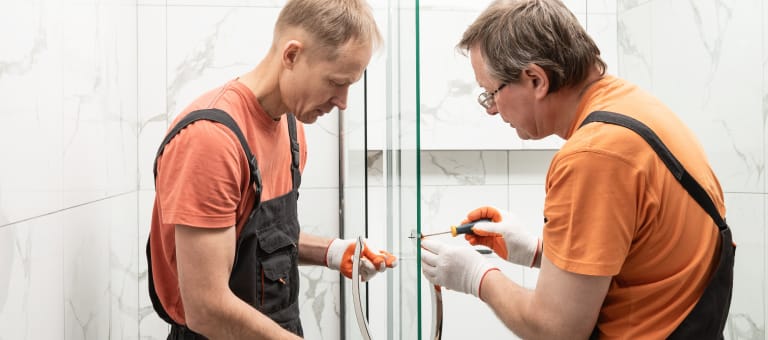 Glass & Shower Door Dealers
Who they are
Experts who handle all things glass, from fabrication to installation and repair.
Why you should hire
Whether you need a custom mirror or shower door, these professionals find the right size and style for your glass install or repair.
Renowned for our high-quality frameless glass shower enclosures, The Shower Lab™ continues to stride ahead in bath...

Read more

West Thurrock, Essex RM20 4DR, United Kingdom

greenford road 325A, GREENFORD ROAD, LONDON, Londonderry UB6 8RE, United Kingdom

We specialises in slim line minimal glazing systems from sliding doors to casement windows. We also design and ins...

Read more

Watford 18 8JU, United Kingdom

Oak Cottage, Berrywood Lane, Bradley, Hampshire SO24 9RY, United Kingdom

Online retailer of prescription glasses and sunglasses.

Read more

Kensington, Greater London, United Kingdom

flat 5 hartington house, london, Greater London sw1v 2hl, United Kingdom
Glass is one of the most useful materials to use in a home, but it takes a skilled glass dealer in London, UK to correctly handle it. You use it all around the house, whether you realize it or not — windows, doors, showers, mirrors and more. While glass can be a very sturdy material, it's also prone to break if not properly maintained. Make sure you hire professional London glass companies to install or repair your products safely so you can live comfortably.
What can a local London glass company help me with?
Whether you need to install, repair or replace glass, mirrors or shower doors, a good mirror and glass company in London, UK will be able to tackle the job. Most residential London glass companies can also create custom pieces to suit your exact needs. The following are some of the most common goods and services that these shops offer:
Shower door glass

Mirrors

Glass stair rail

Cabinet glass

Window and door glass

Stained glass

Glass walls

Back-painted glass

Lighted glass

Glass table tops

If it's a major home glass repair or replacement, the London glass company should work directly with your insurance company to help bring down costs for you, if applicable.
Questions to ask a prospective glass and mirror shop in London, UK:
Can you provide me with references?

Are you licensed and insured? (Check liability insurance and workman's compensation.)

How do you charge, and what does that include?

Can you give me a written estimate?

How long have you been in the glass and mirror business?

What do your services include?

What is your experience with similar projects?

When can this job get done?

Will we need to be out of the house? If so, how long?

Find London glass companies on Houzz.
Narrow your search in the Professionals section of the website to local glass, mirror and shower door services in London, UK and read reviews and ratings to find one that fits your needs.
Find glass, mirror and shower door contractors near me on Houzz
Before you hire a glass, mirror or shower door contractor in London, Greater London, shop through our network of over 6 local glass, mirror and shower door contractors. Read through customer reviews, check out their past projects and then request a quote from the best glass, mirror and shower door contractors near you.