About Us
Grafton County's Custom Crafted Design Build Services
Since 1985, Housewright Construction has built homes for people who care about craftsmanship, integrity, value and quality. Housewright has provided old-world artistry and leading-edge technologies in creative collaboration with all our clients. Housewright provides design-build services or will join with your architect. Thinking of purchasing land? Let us evaluate it for you as a building site. We can save you time, money, and unexpected complications. Your home is just as important to us as it is to you.
Services Provided
Barn Design & Construction, Carport Installation, Custom Home, Demolition, Drafting, Energy-Efficient Homes, Floor Plans, Garage Building, Green Building, Guesthouse Design & Construction, Historic Building Conservation, Home Additions, Home Extensions, Home Remodeling, Home Restoration, House Framing, Insulation Installation, Log Home Construction, Multigenerational Homes, New Home Construction, Pool House Design & Construction, Project Management, Site Planning, Site Preparation, Custom Homes, Custom Cabinets, Remodeling
Areas Served
Bath, Bradford, Corinth, East Corinth, Groton, Haverhill, Mountain Lakes, Newbury, North Haverhill, Piermont, Pike, South Ryegate, Topsham, Vershire, Wells River, West Topsham, Woodsville, Hanover NH, Woodstock VT, Norwich VT, Thetford VT, South Woodstock VT, New London NH, Barnard VT, Fairlee VT, Pomfret VT
Awards
Home Builders & Remodelers Association of Northern Vermont Cohase Regional Chamber of Commerce Member Hanover New Hampshire Chamber of Commerce Member Woodstock, VT Chamber of Commerce
Back to Navigation
Our Stories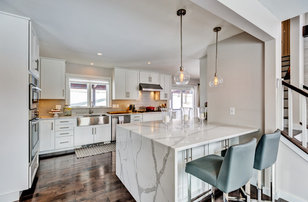 Sponsored story
Create the space you've always wanted using these tips from a Newbury design-build professional
Item 1 of 1
Back to Navigation
Back to Navigation
Back to Navigation
Featured Review
I have been involved in construction projects both personally and professionally across the United States and in Europe. I assess a contractor by their listening skills, cost management skills, client engagement skills
Read Full Review
Write a Review
27 Reviews for Housewright Construction Inc.
Average rating: 5 out of 5 stars
5.0
|
27 reviews
Gunther and Debbie Wernecke
Housewright Construction has redone our kitchen during this time of difficult supply lines. Through it all, they have been as helpful as possible. Their workmen are all meticulous about their work and clean very thoroughly. They have been easy people to have in our home.
We have been dealing with Housewright since they started in Newbury and we have been totally pleased over all the years, hoping for a few more.

We hired Housewright to help us remodel a lake house in Canaan. The helped us to develop a thoughtful and appealing design, and then did very nice work executing on that plan. They were easy to work with, and we are very pleased with the results. Overall, the Housewright team did an excellent job at a reasonable price. I would absolutely use them again.

Great firm -- excellent work, responsive, timely, and a great team. We were very happy with the project and would highly recommend Housewright.
Jeff Page, Norm Fountain, and the crew at Housewright have completed three projects for us to date. The first was a complete kitchen renovation which included installing oak floors throughout our first floor. Then there was an office renovation with cabinets and maple butcher block benches on every wall. The latest project was installation of a new front door with sidelights and sunburst panel and lots of exterior repair jobs. All the work was top notch and was done as close to schedule as was humanly possible. Everyone was attentive and easy to work with. Not a day passes without my wife and me expressing delight in the fabulous upgrades. I'm sure we'll be in touch in the future as other projects emerge.
Housewright began working on our (Cape Cod style) home 25 years ago, and we have been fortunate for all their work since then! They began with a new roof, converted an unfinished basement into an office and television room, built a large glass enclosed side porch, and completely replaced our kitchen (including custom cabinets). Eventually they renovated the entire interior in the traditional vein we were seeking--opening up stairwells, adding crown moulding, chair railing, new fireplace face, and repainting. Over the years they have returned for repairs, stained the exterior, arranged for installation of a generator--whatever we needed they have done. The quality, beauty and artistry of their designs and work are exceptional. Craig, Norm and Tom and crews are professional, responsible, and pleasant in your home--though we often left on vacation while they worked. Housewright has become our standard for judging anyone who might work for us anywhere, as well as our good friends.
Housewright Construction just finished a total first floor renovation of our log home in the White Mtns of NH and it far exceeded our expectations. They worked under not ideal conditions...COVID-19 lockdowns started just as we signed the contract. They worked safely, following strict Covid guidelines. They had to deal with uncertain delivery times, product shortages, product cancellations, etc etc. They handled all situations so flawlessly that we barely felt the frustration they had to deal with to complete our project. The renovation was of a main bath, all new flooring on the first floor, total kitchen gut and remodel, and a sun porch/bar area. It involved new electrical and extensive new plumbing. In our 30+ years of doing home renovations, Housewright by far has been the best company we have ever hired. Jeff Page and Norm Fountain were professional, responsive, and very pleasant to work with. The pricing was transparent and fair. We highly recommend Housewright Construction.


Housewright was nothing but professional during the entire project. Staff were on time and the job was completed as described. Floors look fantastic! Thank You!
This was the best experience with a contractor I have ever had! Housewright staff, from the front desk through the repair, to the billing process, were responsive, personable, and very skilled. I highly recommend contacting Housewright Construction for any construction needs you have.
Norm Fountain and his team were awesome. Frequent almost daily communication sessions. Quality workmanship, good coordination with subs who for the most part showed when promised. Daily clean up. Almost no surprises. Our project was the talk of the town.
We hired Housewright for a full renovation and expansion of a Vermont farmhouse that had been originally built in 1700. We were extremely happy with both the process and the results. Housewright in many cases actually exceeded our expectations. Everyone involved was thoughtful, intelligent, and professional, and ready to meet the many challenges which arose during the project. They are also simply very, very nice people! We recommend Housewright unreservedly to anyone needing construction or renovation work.

Great company and very professional. Answered my questions about project with accuracy and in a timely manner. Crew was also very professional and explained work they doing on site.
Housewright - Jeff Page - Jay Graves - Craig Hervey - has worked with our family on our log home here in North Haverhill, NH twice now and it is two of the best decisions our family has made. What do you want in first-class construction/re-construction/restoring expertise? Detailed precise planning, straightforward informed problem solving, direct and repsonsive communication, top-drawer workmanship? Great after-job clean-up and neatness? Housewright has it all.

We are very pleased with the quality of work done by Housewright Construction. Work on all surfaces of our home received careful attention from cabinetry in the kitchens to hardwood on the staircase. We are proud to support this local business and know that quality work is their goal to their clients
Relationship
Sadly, we sold and moved away.
Jeff was responsive, interested, enthusiastic and very helpful. I felt confident the moment we began to communicate about our project. Posting my ideas on HOUZZ was instantly a way to convey my wishes without having to know the construction vernacular. Before we even started a project, Jeff was there for us when we were in a jam. Got things fixed, again we felt confident. Well done! Highly recommend!
I work with Housewright on a regular basis and I am continuously impressed by their professionalism and attention to detail. Each project we work on is unique, but their process does not change. I know that each project will progress smoothly and that the finished project is exactly what the homeowner wanted. They have a very good core group of employees that can handle just about any type of construction project. I would highly recommend Housewright to any homeowner that is looking to have quality work done on their home, by thoughtful people who truly care about their craft.




Over the last 20 years, Valley Floors has had the pleasure of collaborating with Housewright Construction. In that time we have worked with them on countless projects both large and small, and have been consistently impressed with not only the quality of Housewright's designs and craftsmanship, but of their project management as well. From the project manager, to the site crew, to the office staff, Housewright's talented staff excel at communicating with trades and with clients in order to deliver top notch work and ensure that each project flows as smoothly as possible to meet the client's desires. We are fortunate to have such a wonderful company to collaborate with, and always happily recommend Housewright Construction to our clients.
I could not recommend Housewright Construction more. High quality professionals. It was an absolute pleasure working with foreman Dan Bartlett. He is a credit to this company. Being completely satisfied with the final product was their #1 priority. The project ran a bit later than originally anticipated and Dan and Jeff Paige helped move my mother's furniture from the basement of my house to her apartment over the garage through the snow.

Windows & Doors By Brownell
Rodney Oakes from Windows & Doors By Brownell has worked with Craig and the Housewright crew for over thirty years. Housewright's attention to detail, craftsmanship and communication with clients and suppliers (like us) rank with the best we work with. At Housewright's most recent project (a contemporary renovation in Norwich VT) the before and after product was a truly amazing transformation. We always look forward to the next opportunity to work with Housewright Construction and recommend them to anyone who has them in mind.
We would hire them again in a minute! Professional and dependable, they came when they said they would, did the job to the highest standard and stayed within the budget agreed to. This is a first class company!
In 1995 Housewright built our house, and in 1997 a barn. Their work was amazing. Craig snowshooed to site the house location. He and my wife worked well together on the desigh of the house. Everything went wonderfully.
I have been involved in construction projects both personally and professionally across the United States and in Europe. I assess a contractor by their listening skills, cost management skills, client engagement skills and their success in executing the original vision of the project. In each of these areas I can attest that I have never engaged a firm that achieved each of these attributes so fully and completely. Moreover, their management team and their project team members were a delight to work with. At the outset, Housewright spent an inordinate amount of time listening and dialoguing with us to ensure that they understood our vision. Moreover, they were frank and honest if they saw issues. They addressed those issues with us at the outset to ensure there was alignment from beginning to the end of the project. The cost management process was transparent and exacting. Each element of cost was reviewed with us, affording us the opportunity to cost engineer where necessary or to achieve an objective by approaching the task in an alternative fashion. Progress reporting and cost management reporting was accurate and timely. To this day, client engagement with us is most notable. Now, more than three years after the completion of the project, the Project Manager of our project, continues to stay in touch and stops by to ensure that the project is "living well and as planned". In the final analysis, it is the quality of workmanship that serves as the enduring signature of Housewright Construction. And in this, the enjoyment we receive from our home and the complements we receive from our friends who experience our home serves at authentic testimony to the quality of Housewright Construction.
In 1990-91 Housewright built my house based on a design and timberframe from Benson Woodworking.The quality was impeccable and they were a pleasure to work with. In 2008-09 they built a separate studio over garage for my fiance. They also did extensive remodeling in the original house including two new bathrooms, a new kitchen, and interior repainting and floor refinishing. Again, the work was outstanding, and they were great to work with. To this day we call on them whenever we have smaller projects, and we consider several of them to be good friends.
We can't say enough good about Housewright Construction and their team. We have worked with them off and on for 15 years (an addition, a remodel, building of a separate structure) and find them to be knowledgable, capable and detail-oriented. They are true to their word and work hard.
We hired Housewright for a large remodel that - due to our own idiosyncrasies - was contracted on a time-and-materials basis. Throughout the project, Housewright was meticulous about watching how our dollars were spent. This is a meaningful testament to their integrity - which is necessarily top-down.
Outstanding customer communication, attention to detail, meticulous workmanship and value for labour. Creativity appropriate to the construction challenge at hand is one of their teams most unique attributes.
Housewright Construction did a great job on our kitchen. We had a wall removed, the ceiling had to be patched and painted, and we had new cabinets refinished. They did a great job, we are very happy with the results! You can't tell where the ceiling was redone and our cabinets are beautiful!
Back to Navigation
Back to Navigation
Contact Housewright Construction Inc.
| | |
| --- | --- |
| | Housewright Construction Inc. |
5365 Main Street S.
Newbury, VT 05051