About Us
Arizona's Top 10 for 14 years
Award-Winning Luxury Homes
At Regency Custom Homes, we sincerely believe our team is comprised of the finest craftsmen in Arizona. We pride ourselves on being in the top 10 of Ranking Arizona Custom Home builders for over 15 years in a row. As a custom home builder we are committed to delivering the highest quality custom designed homes on time, and on budget. Our unique approach to the entire process of designing and building your luxury estate is not only streamlined, but also enjoyable! When you entrust your dreams to Regency, you receive our full commitment and personal attention during every phase of the custom home design and building process.
Services Provided
Custom Home, Energy-Efficient Homes, Green Building, Handicap-Accessible Design, Historic Building Conservation, Multigenerational Homes, New Home Construction, Sustainable Design, Universal Design, Custom Homes, Luxury Custom Homes, Estates, build to suit
Areas Served
Fountain Hills, Paradise Valley, Phoenix, Rio Verde, Scottsdale, Arcadia, Gainey Ranch, North Gateway Village, DC Ranch, Desert Mountain, Tonto Verde, Troon North, Silverleaf, Cave creek, Carefree, Estancia, Mirabel, Pinnacle Peak, Whisper Rock, Scottsdale mountain
Awards
Ranking Arizona #1 Custom Home Builder winner Top Ten Ranking Arizona 19 years Top 25 in PBJ Book of Lists 20 years Innovation Award Winner -Custom Home Builder Magazine Sub Zero / Wolfe Award Winner for kitchen design Published in Phoenix Home & Garden, Luxe, Custom Home Builder Magazine
Back to Navigation
Our Stories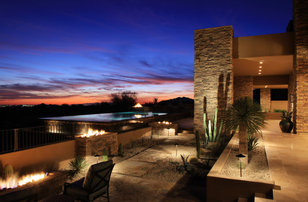 Sponsored story
A Scottsdale custom home builder shares three tips for bringing the feel of a luxurious resort to your home
Item 1 of 1
Back to Navigation
Back to Navigation
Back to Navigation
Featured Review

Absolute Excellence, Quality, and Trust Delivered! Regency Custom Homes will definitely remain one of Metro Phoenix's premier builders and here's why! After interviewing a number of custom home builders, it was Steve Wiggins from Regency Custom Homes
Read Full Review
Write a Review
17 Reviews for Regency Custom Homes

Absolute Excellence, Quality, and Trust Delivered! Regency Custom Homes will definitely remain one of Metro Phoenix's premier builders and here's why! After interviewing a number of custom home builders, it was Steve Wiggins from Regency Custom Homes who completely understood our vision from the onset, he genuinely created a wonderful relationship through trust and expertise, which we experienced throughout all phases of construction. He was transparent, diligent, detailed, as well as honest with budgets, and scheduling. Steve's skilled sub-contractors/suppliers provided top quality workmanship and products that were fresh, innovative, and contemporary. There were some challenges, as there always are in construction, but Steve, a perfectionist, executed with distinction and a crafted excellence that lives up to his esteemed reputation. Steve has built yet another incredible, one-of-a kind, highly valued, and expertly designed home! His teamwork, ethics and positive attitude made Steve a pleasure to collaborate with. We were very appreciative, as the end of construction was met with unique circumstances due to COVID-19; we would have been homeless had Steve not pushed, and completed a safe, clean, and yet still stunning home under pressure. Our home is a work of both art, and heart! It's beautiful, yet functional, with an integrated fluidity of space and most importantly an emotional connection to our family, friends and even those that had opportunity to see it during construction. Perhaps, we are going on too long and raving too much? We don't think so… because the constant procession of people passing by to take pictures, or the community that continues to congratulate us on the home's aesthetic appeal speaks for itself. Every person that encounters the property is amazed by the sophistication of design and unique, functional, heart-grabbing spaces. We highly recommend Regency Custom Homes to anyone looking for high quality home construction and world class design that truly speaks to you and your family!! His portfolio speaks for itself. AZZA

Regency Custom Homes recently completed our new home in North Scottsdale. Our home was to be constructed while we resided in Dallas, so it was important to us that we select a builder with extensive experience, who could operate independently, and most important of all, who we could trust. Steve Wiggins of Regency Custom Homes demonstrated all of those characteristics in building our home, and we couldn't be more delighted with the result. Of special interest to me in selecting Regency was Steve's degree from ASU in Construction Management. Steve operates with a very high level of professionalism that reflects his education, his extensive experience, and his personal values. It is that combination that I would say makes Regency a truly exceptional builder. An added bonus that Steve brings is an ability to offer design ideas and alternatives throughout the construction process that really enhance the beauty and value of the project. And finally, expect the project to be on-time and on-budget. Highest recommendation!
We just finished a large project with Steve and we couldn't be happier. We had issues with the original contractor we hired and Steve stepped in and completed the job on time and within budget which is unheard of in the construction business. Steve was on the job everyday and the communication was excellent. We would not hesitate to use Steve and Regency on our next project.

Regency Customer Homes exceeded our expectations building our Arizona vacation home. Steve was always a step ahead of us making suggestions and we always felt like he was building his own home. His level of concern, creativeness and quality is simply amazing. Since we reside in Minnesota, Steve would provide regular photographs, videos and even installed cameras for us to access when we were curious what was going on. He managed the budget like it was his own money and during our closing with our banker, they said "We wish all of our client's builders were as organized, detailed oriented and flexible to work with". We truly will continue to recommend Steve (Regency Custom Homes) and highly suggest anyone thinking of building a home to simply have a conversation with him and you will see what we are talking about. He is not your ordinary builder, he is way much more than that. Thank you Steve for giving us more than we expected! Dave and Dianne Ruegg


Steve and his company are great to work with and his enthusiasm is addicting. It really shows that he cares and goes above and beyond for his clients.
We chose Regency Custom Homes over other contractors based on referrals from previous clients and seeing the outcome of their projects. We had a very tight window (less than 8 weeks) for the project so that we could be ready for our kids to go back to school and Steve made sure that we stayed on schedule and on time. There are always "Surprises" during a remodel and Steve was prepared to address them as they arose. The finished product is fantastic and we could not be happier. We are DEFINITELY going to use Regency Custom Homes again and HIGHLY recommend this company.
Building a home can be quite daunting and the horror stories from friends can be discouraging. Our experience was quite the opposite. Steve Wiggins was a joy to work with. He never got rattled! And when we came up with a new idea or a change his answer was always the same: " We can do that"! He has a wonderful demeanor, always has a smile and is extremely professional. His subs are top-notch just like him. His work product speaks for itself. Our home is magnificent!
Regency recently converted an upstairs loft into a bedroom for us. This was a small job for Steve and Regency, but we never felt that way. Omar and Lupito were on the job every day on time, were very respectful of our house and our family, and finished the job in 6 days! They were a pleasure to work with and complete professionals. Steve came by every day to check on progress and communicated with us on the progress. I would HIGHLY recommend Regency to anyone looking to remodel or build.
Steve built us an amazing guesthouse. We couldn't any happier with the outcome. Would recommend Regency Homes in a flash.
We had a great experience with Regency Homes. Our remodel was done while we were mostly out of town and Steve was a great communicator with updates and pictures. A couple of small problems occurred and they were dealt with quickly and fairly. The project was finished sooner than expected and everything looked fantastic! I would highly recommend Steve and Regency Custom Homes for a remodel or new housing project.

Steve is an excellent General contractor and great to work with in all aspects of the projects. If you really want to know about a particular general contractor ask for a list of their subcontractors and get the real scoop. Steve is a complete perfectionist, detail oriented and truly cares about the product he stamps his name on. We are proud to be one of his subcontractors and work with an ethical, knowledgable and truly a great guy.

Regency Custom Homes was a real pleasure to work with. Their attention to detail and craftsmanship is of the highest caliber. Every step of construction is well thought out! We design and build custom wine cellars and have many facets of construction that need to be coordinated with the builder. In this case, Regency was always there every step of the way to make this project a success. I highly recommend Regency Custom Homes. Jamie - Heritage Vine Inc www.heritagevine.com info@heritagevine.com


I have worked with Steve on custom home construction since 2003. He is always friendly pleasant to work with, knowledgeable, and attention to detail. Quick to pay which is uncommon in the industry.
Steve and his organization are true professionals. He personally was involved in all aspects of building our home. From design to engineering to build his attention to detail was exceptional. He enhanced our ideas and gave us a home we enjoy everyday. Steve builds a quality home and he is a quality person.
Relationship
We are a preferred subcontractor
We have worked side by side with Regency Homes and Steve for 20+ years. This relationship is as strong as a builder and subcontractor can be. We share the same goals as it pertains to client satisfaction and quality. If I were building a home, I would choose Regency because I know how his team builds homes.
Regency built our home in Tonto Verde, Arizona. It's absolutely stunning. This year it will be featured on the Home tour. He came in on budget and we were able to move in one month earlier than planned. Regency gets our highest recommendation!

I have worked with Steve and his company for 14 years. Over this time, we have collaborated on at least 20 projects ranging from small remodels to multi-million dollar custom homes. No matter the project size or scope, Steve's attention and quality control have not been compromised. He is without question, one of the most organized and attentive builders I work with. I would not hesitate to give Regency Custom Homes a recommendation to any homeowner.
Back to Navigation
Contact Regency Custom Homes
| | |
| --- | --- |
| | Regency Custom Homes |
7377 E. Doubletree Ranch Rd




Suite 170




Scottsdale

,

AZ

85258
Typical Job Cost $1.8 million - 10 million


From $1.8M and above, including everything from the plans and permits to the pool and landscaping. You provide the land, we will take care of the rest!