About Us
Leading Los Angeles Interior Designer
Best of Houzz 2014-2021
Watch Me Help Mila Kunis Surprise Her Parents With a Condo Makeover! https://www.houzz.com/ideabooks/82192712/video/my-houzz-mila-kunis-surprises-her-parents-with-a-condo-makeover BGDB Interior Design (dba Breeze Giannasio Interiors) epitomizes fresh, sophisticated, timeless design. Classic interiors for the modern eye is our abiding pricipal. BGDB was founded by Breeze Giannasio, a former corporate lawyer who redirected her career to embrace her passion for design. She brings the exacting discipline and rigorous standards from her former career to bear in managing the design process, paying attention to every detail and customizing each project to explore and reflect her client's needs. Comfort, livability and function ground every design - from there we aim to elevate our clients' expectations as to what it means to live well. Breeze started her design career at Hickok Cole Architects where she focused on hospitality-inspired multi-family housing projects. Through BGDB Interior Design she has enjoyed a range of work, from sophisticated urban residences to casual seaside retreats. Common to each project is an allegiance to bring out the client's personality in each room. That pursuit inevitably involves an artful integration of architectural elements, a refined color palette, bold silhouettes, a strong sense of scale and proportion, and unerring attention to every detail. Breeze's work has been featured in House & Home, Maison & Demeure, Domino, DC Modern Luxury, The Washingtonian, The Washington Post, Apartment Therapy, Design Sponge and many other design/shelter blogs. Feel free to reach out to us, we would love to hear from you!
Services Provided
Bathroom Design, Bedroom Design, Color Consulting, Custom Furniture, Dining Room Design, Furniture Selection, Home Office Design, Home Staging, House Plans, Interior Design, Kitchen Design, Laundry Room Design, Living Room Design, Nursery Design, Playroom Design, Space Planning, Sunroom Design & Construction, Kitchen Remodeling, Remodeling, Procurement, Decore, Kitchen and Bath Remodels, Interior Decor
Areas Served
Malibu, Thousand Oaks, Topanga, Westlake Village, Venice, West Hollywood, Hawaii
Awards
Featured in House & Home, Domino, Redbook, DC Modern Luxury, The Washingtonian, Apartment Therapy, Design Sponge, MyDomaine, The New Bohemians Handbook, The Washington Post, Lonny, HGTV Magazine, People Magazine, the Honolulu Star Advertiser and many more...
Back to Navigation
Our Stories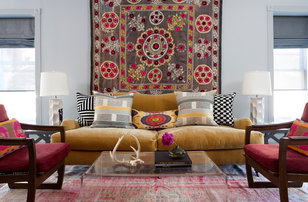 Sponsored story
A Los Angeles interior designer shares a few tips for creating a beautiful, meaningful abode
Item 1 of 1
Back to Navigation
Back to Navigation
Back to Navigation
Featured Review
Write a Review
33 Reviews for Breeze Giannasio Interiors
Breeze is nothing short of an amazing interior designer. Whether it's a complete remodel or updating a room or two, Breeze knows exactly how to transform her client's visions into reality. She makes the process fun, rewarding, and most importantly easy. It's a pleasure to work alongside her and I look forward to doing it again soon!
Breeze is extremely talented and so lovely to work with! We have worked together closely on multiple projects and I have always been so blown away by her creativity, attention to detail and overall ability to complete the most beautiful spaces. And she makes it look easy, too! I highly recommend bringing her on for your next project!
Breeze jumped in to help finalize my new home decor after I moved into a newly renovated row house. From layering rugs to choosing throw pillows, final furniture pieces, artwork and mirrors -- she was able to build dimension and color and and texture on top of my existing items. Breeze also has a wonderful ability to find your own personal treasures and highlight them (with framing or positioning) throughout the home. Her design approach mixes creativity with professionalism, whimsy with precision -- a rarity in the design world!

Relationship
I'm work for Creative Woodworks in Moorpark,CA and have collaborated with her on two high profile projects in the Los Angeles area.
Every once in a while you run into someone who not only has an incredible eye for detail but also has a great personality. That's Breeze. Her unique sense of design sets her apart from the rest putting her in a category you don't want to miss. This is the second job we've had the privilege to work with her on and it's always been a pleasure. I highly recommend her and hope you'll be as pleased with her as we have. She is truly a real gem.
Breeze is amazing. Her taste is impeccable. She is so incredible thoughtfully and intuitive. And patient! She is so skillful and navigating through a couple's different tastes, and coming up with the perfect solution. We absolutely love working with her!!
Breeze did a fantastic job for us start to finish. She has great taste and made wonderful choices while allowing us to be a part of the process in every decision. Every person who comes into our home gushes about the interior design. We would hire her again for any project.
Breeze was my first choice when interviewing designers for my entry/living/dining rooms. She has impeccable style and was somehow able to understand my vision even when I started wavering between aesthetics. She had been juggling a ton of projects, but still took me on and made me a priority. She is friendly, laid-back, approachable and incredibly easy to work with. I'm thrilled with my results and look forward to working with her in the future when we renovate our kitchen and bath.
I was the architect for a project where Breeze was the lead design contact with the owner. I was primarily creating documents for approval and construction, but found that Breeze was great to work with collaboratively on design elements as well. She worked with the owner to make a great project and I always felt like she made room for me to bring my design expertise to the project and was ready to share ideas to keep making a better result.
It was an absolute pleasure working with Breeze. Her expertise and experience helped guide us to make the choices we weren't quite confident enough to make on our own. Her expert advise and fabulous taste has transformed our home.

Breeze has been incredible to work with. Her eye for design is extraordinary right down to the smallest of detail. She is very passionate about all aspects of the project and can envision the end result even through the messiest of construction. I would highly recommend Breeze and will be using her again any chance we get!
Breeze has been helping with design consultation on our home gut and remodel. It's still a work in progress, and she has been with us from close to the start (it's been about a couple of years). We really enjoy working with Breeze - she has strong design opinions and advice, has provided some cost cutting solutions and is just fun to be around. Her advice early on, during space planning, was especially helpful - resulting in a very functional kitchen. She recently sent us an extremely useful list of all the necessary next steps - including links to suggested items - helping us push this project forward. She's a pro, and we know we are going to have her on speed dial/FaceTime until this project is done. If you are looking for a smart, stylish, poised, personable and budget respecting designer - she is the one!

Addition Building & Design, Inc.
My firm just started a renovation in West Hollywood for a celebrity with Breeze. Her creativity, team spirit and responsiveness are just a few of the superlatives I want to mention in this review. I have been so impressed with Breeze through this process, I recently asked her to partner with my firm for another celebrity remodel -- oceanside in Santa Monica! Give her a call for your project--you will be happy with your decision. Mike Ross, CEO Addition Building & Design, Inc
i love working with breeze! she helped us turn our house into a space that really felt like us with her thoughtful suggestions. all of her ideas are actionable and since i love being deeply involved with the process, she would list out, room by room, what she thought needed to be done. i have worked with her on two projects now, and i am already thinking of projects in our near future that we would only ask her to help us with!
I have been working with Breeze on an ongoing project for the past 2 years and am so happy to have found a designer who in not only creative but practical. Breeze has a gift of combing her vision with her clients and the combination is a beautiful union of ideas that represent the individual taste in a tasteful manner. I highly recommend Breeze for a project.
Breeze is creative, intelligent and patient! A winning combination in a designer. Every person who walks through our doors asked how we got every single room to look a certain way or where we bought something. She's simply the best!

We simply loved working with Breeze! We worked with an architect on renovating a classic federal row house but needed an interior designer to really let the interiors sing. She was helpful with the architectural schematic planning and we were happy that she got involved at that early stage. She was able to imagine details that weren't squarely on the architect's radar - builtins, banquettes, lighting details, etc, even capturing unutilized storage. Both practical and aesthetic, she helped make our home truly reflective of our aspirational lifestyle...and now we're living the dream!
Breeze is an exceptional designer and professional! We feel lucky to have found her and felt in such safe hands through the renovation and design process. Our scope included full design services in our dining room, sun room, living room, entry corridor and staircase and we did some additional window treatments and select purchases in other areas of the house. Breeze designed custom window treatments and custom builtins and shelving (with integrated lighting) and brought in a great team of contractors and specialist to complete her vision. Breeze kept us on course and opened our eyes to possibilities we would have never otherwise considered -- she also had a talent for finding unexpected common ground between my husband and my differing tastes. We were left with the kind of home we've always pined for but never thought we'd be able to create.

Breeze is resourceful, patient working with others, budget conscious and has a keen eye for trends as well as timeless classic interior design. She and I have worked on the staging of two custom homes in L.A. within the past year and a half. I am very grateful for her design, staging and budget-related inputs and her dedication to our project success. I hope to do more projects together with her this coming year.



Breeze was both focused and fun to work with. She was able to repurpose items we already owned and completely reinvent them while seamlessly incorporating them along with new art, pieces, etc. Breeze exceeded our expectations and was able to provide us a beautiful and functional living room and bedroom refresh.
Breeze was amazing - she provided a consultation for the dining room and master bedroom, two areas that were just not coming together. She was able to instantly provide a fresh perspective and make suggestions that completely transformed the rooms from awkward choppy spaces to dramatic, inviting, integrated areas. Breeze was able to work with my style and vision and edit and elevate that starting point to something that is, finally, beautiful. She took the design into directions I had not conceived of before, and each of her recommendations was impeccable.
Every single step of the way, BGDB was attentive, savvy, thoughtful and honest. The ideas were always fresh; the manner in which ideas were relayed really made us feel like we were a big part of the design process. BGDB was able to assess my likes and dislikes and those of my wife and the end result was a beautiful blend of who we both are! We are thrilled with the end result...it's better than we could have ever imagined!

People used to walk into our house and ask if we had just moved in. I knew we needed help as we had been in our rowhouse for almost two years at that point! Our good friends had had a great experience working with Breeze on a bathroom renovation so we contacted her to help us in 2013 with a living room. She has worked with our vision while helping us work outside our comfort zone. But more importantly she has gotten to know our growing family and how we live and has made her design recommendations accordingly, She has impeccable taste and seems to innately understand what I like. She is also very patient and has helped steer us towards a palette we were initially not comfortable with. Think black ceilings and trims and purple accent walls. We love the end result! She has helped us create an adult sanctuary in a home with a toddler where we feel like we have stunning pieces that will last a lifetime. Additionally, Breeze has a fantastic eye and has helped us select fabrics and pieces that I would never have found on my own. We have created an ongoing relationship with Breeze and have continued to work with her over the last few years. Her resources are endless. We have relied on her recommendations for contractor recommendations for projects big and small. We are currently working with her on a top floor remodel including 3 new bathrooms- each with a different flair and function. She has provided concrete direction on areas where we are clueless (paint colors, grout color, counter edging, the list goes on and on). We were short on space in the children's bathroom and she came up with a cute and practical way to add storage in the walls. She has helped us as we try to maintain a cohesive design throughout the home despite multiple floors. Even now when she is cross country, she makes herself readily available to answer even the simplest of questions. And she seems to respond night or day! Thank you Breeze!
Breeze of BGDB Interior Design recently completed a total redesign of our townhouse in Washington, DC and we are thrilled with the finished product - a warm and inviting atmosphere that exudes effortless sophistication. Equally importantly, Breeze was a true delight to work with as she is exceptionally patient and incredibly generous with her time. Her passion for design is contagious and she isn't happy until you're happy with every last design detail. She is incredibly talented and we will absolutely work with her again.
Breeze has been easy to work with and has a great eye and aesthetic. She listens to what I want and tries to work with that, but also allows me to see the space/design in a new light (which I truly appreciate). I also had to work within a budget, and she has been really respectful of that and helps me to find things within my price range. Overall, great designer and really fun and easy to work with! Glad I found her!
Innovative, collaborative, refined - these are all words I'd used to describe Breeze's work and approach. It was a pleasure to work with her on the living room and master bedroom of our Malibu home. She was generous with her time, listened closely to our vision and made getting to final selections an easy process. She picked up right away on what we wanted and helped us edit and maximize some of our existing pieces by reupholstering. We had a great experience and would welcome working with her again as we move on to other areas of the house. Amy Turteltaub
So after we did my Logan Circle row house together in DC here's the funny thing - we both ended up moving to LA! So Breeze and I got to work together again. Which I LOVE. I hired her last time because her style is exactly what I want - My Domaine, the old Domino style of pushing the boundaries in a really sophisticated way. Can't wait to show off the final result again!!! Photos to come.
Breeze has simply excellent taste and has been an invaluable resource for us. She seamlessly identified and interfaced with suppliers and contractors for our project. As a result of her hard work, the inevitable "issues" became largely transparent to us. In the end, the project was completed consistent with her vision and within our budget.
I had a fantastic experience working with Breeze and her team. We used Breeze's services initially on the renovation of our Maine summer home's kitchen and bathrooms and were so pleased with the process that when the timing was right, we expanded the scope into remodeling the rest of the house. Breeze has done amazing work through the process and we are extremely pleased with the results. Breeze is very knowledgeable in her field; she has a great vision and excellent attention to details. She is a pleasure to work with; she is very easy to deal with, she is patient and attentive. She is very innovative and creative while being practical and focused on honing in on the client's needs at the same time. I would love to work with Breeze again on our next project!
After a big cross-country move from San Francisco to Washington, DC, Breeze helped me set up my new digs. She not only played a key role in arranging my existing furniture, she also helped me source some amazing new pieces (a rattan "tini table", a lovely weathered dining table, and crystal bedside lamps.) She has a keen ability to assess a client's style and then work with her own instincts to create a beautiful space. In my case, I was prefer classics, neutrals and clean lines, with minimal clutter and eccentric accents. Breeze was invaluable in helping me embrace my style while also helping guide me gently toward sizes and arrangements that made the most design sense. I could not have been happier with her work and demeanor (calm, cool, collected).

Breeze provided very hands on, thoughtful guidance as she helped shape my large living room. She is quite lovely to work with and has an excellent eye. She helped not only create a beautiful space but to also work within our budget, prioritizing areas (and items) where investment would have the most impact. Breeze also was able to regroup mid-project when an unexpected inheritance (a very large concert grand piano) was added to the room. We are extremely pleased with the final result, which was designed with careful attention to our taste and to the functionality we needed from the space.
After recently moving into our home, a historic rowhouse in Washington DC, we hired Breeze to help design the layout and decor for the living space as well as help design & manage some bathroom renovations. She was an absolute pleasure to work with - beginning with the visioning session where she got a sense of my spouse and my visual and decorative styles. She also did a great job of recommending things that provided an updated/stylish look while also respecting the historic character of the house. In the one bathroom in particular she found these amazing floor tiles that took the look of the bathroom in a totally different direction from what we were originally thinking but which we are overjoyed with. More than just picking out finishes and furnishings she does a good job of helping you optimize a given space, considering things like lighting and flow of movement etc. She is adept at gently nudging you to consider different fabrics or materials or looks than you may have originally considered while still staying true to your initial desires. The end result being a product/look that surpassed our initial thoughts but is even better than you could have hoped for. Breeze has a great talent for this, as well as diplomatically balancing when there are differences of opinion among spouses! Her services definitely offer great value and we are very happy with our "return on investment"! In working with our contractor on the bathroom construction/renovations we had some custom requirements and communication issues and she managed to bridge that gap seamlessy - effectively working with them to communicate the end vision such that everything worked out relatively smoothly (there are always some minor hiccups with construction!). She is also extremely responsive responding to emails at all hours of the day and night. We are in the final stages of firming up furniture, carpets, paints, drapes, for our downstairs living space and she has managed to make our "kids room" which is attached to our main entertaining living room both stylish for adults and also kid friendly and seamlessy merged the look and feel of the two. All while working within our budget parameters. We can't wait to continue working with her in the coming years as we move on to updating the decor in our bedrooms. In fact we were so pleased with her work we recommended her to good friends of ours and they have enlisted her services as well.

Irene Kim Coppedge Interiors
I'm reviewing Breeze for her second project for us! We purchased a home last year and re-used almost all of our old furniture. The trick was to make it fit into a house that was very different stylistically than our last home and I found that i was struggling with "pulling it all together". She filled up awkward spaces, warmed up rooms with gorgeous (and affordable) rugs. She recommended many many spacial solutions and added decor items that actually uncluttered a space by activating it (vs. having it lay bare, available to catch clutter). I love the way she communicates, she is absolutely unflappable and flexible. She sees the bigger picture and truly has a magic touch. There is no doubt in my mind that if and when we move again, I will use Breeze.

Breeze Giannasio has an brillant eye. She absorbed our small studio space in an instant and delivered her flawless vision. We had a very short window to move into our new home, and Breeze made this process fun and worry free. Living in Brooklyn with the constant husstle and bustle, it is the best feeling stepping in our calming oasis which she created for us.
Back to Navigation
Back to Navigation
Contact Breeze Giannasio Interiors
| | |
| --- | --- |
| | Breeze Giannasio Interiors |
18820 Pacific Coast Hwy, STE 201
Malibu, CA 90265
Typical Job Cost $50,000 - 3 million


From hourly consultations to complete project management, we'll work with you to find a budget that's right!