About Us
Chicago's Transformative Residential Interior Designers
Dual Concept Design (DCD) is a Chicago-based residential interior design firm, co-founded by Andrea Fripp and Paulina Cervantes. With a combined invaluable experience of over 15 years, we are well versed in creating powerful, elegantly styled spaces, that reflect their clients' unique lifestyles. With Andrea's edgy and bold approach, and Paulina's eclectic style and love of color – this duo has proven that the phrase "opposites attract" is undeniable. Possessing these traits, DCD knows how to create the perfect balance – pushing the boundaries of design, yet delivering a sophisticated outcome. DCD seeks to provide a transparent and fluid design process, exceeding clients' expectations, while bringing joy and excitement to the transformation of your house, into your home.
Services Provided
Basement Design, Bathroom Design, Bedroom Design, Color Consulting, Design Consultation, Dining Room Design, Downsizing, Entry Design, Floor Plans, Furniture Selection, Home Office Design, Interior Design, Kids Bedroom Design, Kitchen Design, Laundry Room Design, Living Room Design, Mudroom Design, Nursery Design, Playroom Design, Project Management, Space Planning, Sunroom Design & Construction
Areas Served
Chicago, Elmwood Park, Evanston, Glencoe, Glenview, Glenview Nas, Harwood Heights, Kenilworth, Lincolnwood, Morton Grove, Niles, Norridge, Northbrook, Northfield, Oak Park, Park Ridge, River Forest, River Grove, Skokie, Wilmette, Winnetka, Riverside, Lake Forest, Barrington, Highland Park
Back to Navigation
Our Stories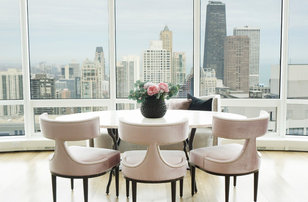 Sponsored story
Maximize your time and budget using these tips from a pair of Chicago designers
Item 1 of 1
Back to Navigation
Back to Navigation
Back to Navigation
Featured Review
Paulina and Andreas have worked with us on both commercial and residential projects and are absolutely fantastic. They are extremely professional and are incredibly skillful in their attention to detail and design.
Read Full Review
Write a Review
14 Reviews for Dual Concept Design
Average rating: 5 out of 5 stars
5.0
|
14 reviews
I can't say enough positive things about this team!!! Design is so personal and I had never hired a team for something so important—virtually and without any personal recommendations. Houzz gave me 4 firms, I interviewed all 4, in some cases more than once and fortunately I felt a connection with Paulina and Andrea. Without them I would not have been able to achieve what we achieved—a beautiful, elegant, but fun and colorful oasis blocks from my new, first grandchild with an outside terrace that is to die for. I was moving into a condo in Chicago, a city that I did not really know, in the middle of a pandemic, with many suppliers closed and I wasn't going to be in town or onsite for most of the planning and execution. I needed hands and a good process in order to make decisions. I wasn't bringing much furniture with me so there was an opportunity to update my style without losing the sense of my aesthetic while also integrating some of my "stuff". Paulina and Andrea are amazing—they are so creative and organized—skills that don't always co-exist—they pushed me but they also listened. They are hands-on, engaged, efficient, professional with a terrific team of contacts and craftsman and so so much fun to work with! My only regret is that the project is coming to a close.
I had such a great experience with Dual Concept. First and foremost, Andrea and Paulina are really great, authentic people. They are so nice, casual, friendly, and truly go out of their way to meet your needs. The other thing is I'm terrible at making decisions. So when they showed up with fabrics etc, I thought there was no way I could decide. But like true professionals, they had such a great process for showing me different color combos, ruling things out, and moving things to a decision quickly yet thoroughly. The final result is so fun and happy, and I appreciate they helped me choose a few out of the box pieces that really make a statement. I absolutely recommend them. While my project was on the smaller side, they made me feel heard and were so responsive throughout.
Andrea and Paulina are hands down the best designers I've even worked with. They did a wonderful job listening and understanding what I was looking for and then delivered and executed a design that I absolutely love. They are extremely thorough, detail oriented and stay on top of every single detail. I never felt I had to follow up with them- they were always keeping me up for date on all aspects of the job. And they worked their magic to stay on budget and eek out everything we could get out of every dollar! I can't wait to work with them again on another project!
I can not say enough about the wonderful experience that I've had working with Paulina and Andrea! After working with designers in the past, they are such a breath of fresh air. Beyond talented, very responsive, detail oriented - all while staying within budget. They just "get it" and knew the style that I wanted immediately. They also do a great job of follow up and that element of customer service is something you don't get with many designers. I would recommend them to anyone looking to design and/or decorate a home. I'll be sad when my projects end!

Working with Paulina and Andrea was a pleasure, and I highly recommend them! They were prompt communicators, thorough in understanding our needs and design desires, and made sure every part of the design and installation process was done perfectly and effortlessly. This was also our first time hiring an interior design service and the ladies of Dual Concept were both patient and flexible with us, as we navigated the project and all of its logistics!



Can't say enough good things about the experience that we had working with Paulina and Andrea. From the outset of the project they did a fantastic job of getting to know us and creating a design that was the perfect balance of style and practicality. Once the initial design was in place, they provided a few options for fixtures and materials which made the entire selection process so much easier. This alone would have taken my wife and I an eternity to do without their guidance. As with any major project, there are always going to be small bumps along the way but any time we ran into issues they responded right away regardless of the day/time and made sure things were resolved quickly. For example, the tile we selected for the back splash in our kitchen had some discoloration that we didn't notice until a large area had already been tiled. Before we even mentioned it to them, they had already engaged the vendor about the issue and because they had a good relationship with the company, they gave us a full refund which included the tile that could not be restocked. That alone saved us time on the project, and a lot of money that the vendor may not have been so quick to give back to us. We could not be happier with the finished project and would absolutely recommend them to anyone interested. This was our first major home renovation project and I cannot imagine how much more stressful it would have been without having them to keep things on track!
Paulina and Andrea are a pleasure to work with. Fabulous ideas and great execution. They made the entire process extremely easy and I have gotten so many compliments on the end result. I highly recommend them.
I have worked with Paulina and Andrea for a few years, they are thoughtful in design, and really listen to what a client needs. If you are looking for a commercial space or a high end residential home, they will give you a beautiful, fresh concept for your space.

It is always a pleasure working with Dual Concept Design. We've worked closely with Paulina on projects ranging from entire homes to special projects. She has a unique ability to creatively see "outside the box" for her clients and is always receptive to hearing their ideas and design goals. As a young design firm, their approach is professional, yet innovative and enthusiastically creative!
I've had the pleasure of working with Andrea and Paulina during course of their careers for over ten years. Although their firm, DCD is new, their experience is vast; and their quest to continually seek out the best and most current home interiors products while always keeping it fun sets them apart. It's clear design is never a chore for them but a curious pursuit later executed with a strong aesthetic and confidence to move a project forward.

Paulina has been helping me with my personal projects and also my client's projects for many years. She helped in many areas, from million dollar houses to much smaller projects and she excelled and managed to stay within budget for every situation. She will always give you a couple of options to choose from, has excellent taste and everything is always done on time. I would highly recommend her to anyone!



Paulina and Andreas have worked with us on both commercial and residential projects and are absolutely fantastic. They are extremely professional and are incredibly skillful in their attention to detail and design. They coordinate projects extraordinarily well and have advanced our projects in every way possible. We would recommend them with high regards.
I have worked with Paulina, and she is a great partner to design space in our home. We have worked with her to redesign our family room, living room, and dining room with furniture pieces, rugs, lamps and art work. Additionally, she helped us select paint colors for our home as well as window treatments and drapes that our guests always notice and compliment. Paulina is personable and present options that truly fit your style.

Dual Concept Design has been a pleasure to work with. We have done number of projects with them and they are very professional team to work with. Our most recent work was with Paulina Cervantes who came to us with a very clear vision as to the design, color and concept she was looking for. Seeing the rugs, they chose, in the completed space was outstanding. Congratulations with your completed design.

Comment from Dual Concept Design:
Thank you so much, Oscar Isberian Rugs Team! We absolutely LOVE working with you! Your rugs are amazing, and customer service is beyond fantastic. You're truly one of the VERY best in the city for rugs. Can't wait to collaborate on many, many more projects in the future.
Back to Navigation
Contact Dual Concept Design
| | |
| --- | --- |
| | Dual Concept Design |
Typical Job Cost $25,000 - 1 million