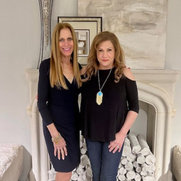 | | |
| --- | --- |
| | RoomAntics Interiors |
https://www.houzz.com/pro/roomanticsinteriors/ copied to clipboard
2 Houzz Badges
Typical Job Costs:
$5,000 - 350,000
These costs represent the avg. cost of a small or kids bedroom, to a renovation project. It may also reflect a home where most or all the rooms have been redesigned with new furniture etc. It is important to note that the $350,000 could be more or less depending on taste, style, and needs. It's helpful to have a budget and to schedule a consult.
DC Area's Award-Winning, Expert Interior Design Firm
page_type: prop_plus_profile
Do You Know What the Best Kept Design Secret Is? Can you imagine purchasing furniture and having a designer help you with your home for free? If you are thinking that couldn't be possible, then you haven't heard of RoomAntics Interiors. RoomAntics Interiors is a full-service, design firm for people who love interior design and great furnishings but need help pulling it all together. We have developed strong relationships with furniture manufacturers and local craftsmen that enable us to meet a wide variety of design tastes and functional needs so we can introduce clients to an array of styles and options that cannot be found in stores or online. We help narrow the vast array of choices, so homeowners don't make the mistake of purchasing the wrong style, size, scale or colors of furniture and accessories. Our Clients end up with practical, magazine-worthy rooms, that showcase a homeowner's special items and reflect their individual style. Our well-designed rooms change the way you feel every time you walk in the door! Design projects that include furniture purchased through RoomAntics Interiors long list of vendors, receive credits for free design hours that are applied to the room for which the furniture is purchased, saving you thousands of dollars in design fees. For those clients who don't want to redesign a whole room but need it refreshed, we work with your existing pieces. Get to Know RoomAntics Interiors, DC Area's Best Kept Design Secret! Owned by award-winning designers Aliza Spindell and Anita Buchheim, RoomAntics is a cutting-edge interior design firm always on top of the trends, but also able to create inviting, classic looks. Based in Fairfax County; VA, our designs are created with the philosophy of not only being beautiful, but smart. We are the go-to design team for several area realtors, to stage their listings. Our staged homes consistently sell in record time and usually at or above asking price. We marry our staging and design experience to make the best suggestions to enhance the beauty, enjoyment, functionality and the value of your home. We work cooperatively with your current contractor, or review plans, to provide you with additional input. Whether your project is a whole-house make-over or the careful tweaking of your current furnishings to update a look, Anita and Aliza have the expertise, and the passion, to meet each new challenge within budget.
Services Provided
Art Selection, Basement Design, Bathroom Design, Bedroom Design, Color Consulting, Custom Bathroom Vanities, Custom Beds, Custom Blinds & Shades, Custom Bookcases, Custom Built-ins, Custom Cabinets, Custom Entertainment Centers, Custom Furniture, Custom Kitchen Cabinets, Custom Pantries, Custom Rugs, Custom Shelving, Custom Table, Dining Room Design, Downsizing, Entry Design, Floor Plans, Furniture Selection, Home Office Design, Home Staging, Interior Design, Kids Bedroom Design, Kitchen Design, Laundry Room Design, Living Room Design, Mudroom Design, Nursery Design, Playroom Design, Project Management, Space Planning, Window Treatments, Free design hours with min. purchase of Furniture
Areas Served
Alexandria, Annandale, Arlington, Burke, Centreville, Chantilly, Clifton, Dunn Loring, Fairfax, Falls Church, Franconia, Herndon, Jefferson, Lorton, Manassas, Mantua, Mount Vernon, Newington, North Springfield, Oak Hill, Oakton, Pimmit Hills, Ravensworth, Reston, Seven Corners, South Riding, Springfield, Tysons Corner, Vienna, West Gate, West Springfield, Wolf Trap, Mc Lean, Occoquan, DC, Maryland, Virginia, NJ, Vacation Homes/ East Coast
Awards
We have been awarded "Best of Interior Design"; for NOVA Magazine in 2014 and VA Living Magazine in 2018.
Write a Review
14 Reviews for RoomAntics Interiors
Project Date
September 2017
Project Price
$10,000 - $49,999
My husband and I had seen and heard about the work of designers, Aliza and Anita of Roomantics Interiors from friends and acquaintances. As we prepared for a screened in porch and deck added to the back of our home, we thought it best to bring on professional designers that would guide us in making the addition blend seamlessly with our existing Kitchen & Family Rm. We also needed new Family Room furniture and to have the rest of our first floor "refreshed." Aliza and Anita explained that by making a minimum furniture of $4500 per specific room, they would then design the room picking the paint, rug, art, drapes and accessories, from soup to nuts without charging an hourly fee. It made us feel comfortable that we could rely on professional designers in making these important design decisions and avoid making costly mistakes. We were thrilled that they would "finish" the rooms with all the details. Starting in the Family Rm, they offered suggestions for 4 different furniture plans and brought many beautiful inspiration fabrics to explore our style and the colors we were drawn to. We loved a small primitive print fabric that had all our favorite colors of teal, orange, green, etc. that they built the room around. They suggested a Sunbrella fabric sofa that would be pet friendly, with beautiful silver studs, glazed parchment legs and colorful pillows pulling from our favorite inspiration fabric. Per Anita and Aliza's recommendation we ordered two swivel chairs in a soft grey geometric fabric, a large burlwood and glass square coffee table, and two small teal shagreen chests for storage on either side of the fireplace. We had a cream wing back chair that we loved sitting in and the designers found the perfect spot for it and picked an ottoman to go with it in an orange tweed performance fabric with contrast piping and grey legs. Next were the drapes and rug and then the accessories and art. As construction began on the outside porch and deck, we requested from the designers furniture and a layout that was conducive to relaxing, reading, entertaining and dining. For the screened in porch they offered a gorgeous upholstered skirted sectional, chair and ottoman. It's furniture that truly looks nice enough to be inside our home, but it has cushions that allow water to drain and stand up to the elements. They added a grey wood dining table, coated wicker chairs and a coffee table. They advised stain & paint colors, selected a beautiful overhead fan & light and made the porch feel like an outdoor living room. When we were on vacation, we even texted Aliza and Anita for their input. We found some gorgeous ceramica and texted pictures; they advised us to go with 2 cream colored handmade lanterns that we love using and are a reminder of a great trip. For us, these are part of all the details that MAKE a room that Aliza and Anita are very skilled at pulling together. Every item is well thought out in scale, function, texture and color. The deck they furnished with 2 loveseats, 2 chairs and a combination coffee table and firepit, called a "fire table". As the rooms with new furniture came together, we also hired them to pick colors for the rest of house and "refresh" the rooms. We had been collecting art for years and they arranged it in eye-catching ways like a gallery in our dining room and ascending the stairs to the second floor hall. We have had a great working relationship with Aliza and Anita. We truly love our home now and never want to move. The outdoor areas are our little oasis and have changed the way we live. Our indoor areas flow beautifully and bring us joy with color and style that is representative of us. They were truly a joy to work with and still bring us joy every day.
Anita & Aliza Our house has been on the market only five days and the part you played in staging it has wowed both our Realtor, the 24 salespeople who attended the Realtor open house, and the 8 potential buyers who have come through. Our Realtor's feedback form asks for overall impression of the home, and we have almost 100 percent 10's (outstanding) with just three 9s. Many Realtors actually commented on the "staging." As you know, I was reluctant to hire a stager; but chose Roomantics Interiors after a friend insisted. (After all, even in down markets we had never had a house on the market more than 45 days.) I can't imagine any designers/ stagers more congenial to work with or more skilled at understanding – not only beautiful, functional design – but the nuances that are so important to selling: the way potential buyers interpret the smallest things, how to make a room look larger or more cozy, how the rooms would come across in photos, and on and on. When you stage, you become the buyer and the photographer while honoring the home owner; and our Realtor particularly appreciated how you both included her in your decision-making and respected her knowledge of the market. As for the cost of staging, we are pleased that our asking price is gauged as being right on the money by everyone who has passed through. That price has increased by an amount that more than covers what we spent for the staging (especially since you both have a talent for finding bargains and making the most of what we already have). You can expect a call from us when we find our next home – before we decide what to keep and what to toss when down-sizing. We've always prided ourselves in our decorating, but now we know the difference between how to decorate wisely and beautifully compared to the attempts of nonprofessionals like ourselves. Had we used Roomantics when we moved into this house, we would have avoided a lot of expensive decorating mistakes and enjoyed a much more lovely and functional home. We already have one buyer who wants to buy the home when his is sold. You'll be the first to know when a deal is done. Thanks again so much. You are gems, and were so patient in working with us. Sincerely, Lynne & Jeff Lapin
Project Price
$1,000 - $9,999
Anita and Alisa are like magicians for your home! They can transform a space from "fine" to "fabulous" with a wave of their creative wands! Anita came to our home one Sunday for an initial consultation to stage our house for sale. As she walked around, she pointed things out—this needs to go there; that needs to be removed; we need to add this and that...we were amazed at how she could make so many terrific recommendations on the spot. When I asked my husband if he wanted to move forward with RoomAntics as our stagers, his response was "she had me at hello." When Alisa later came back with Anita, the magic of their creative minds flowed like water. They are an incredible team together. During the staging process, they brought over carloads of furniture and accessories to transform our house into what would look like a model home. Besides both women being incredibly talented, they are also wonderful people. It was such a pleasure to work with them—and work with them we did! They gave us several tasks to complete—painting and moving furniture, putting things in storage etc. It was all done with the explicit goal of transforming our house into something beautiful that would sell. It was fun to work as a team with them as the coaches. They were both on site as the photographer and videographer came, and we felt like they were directing a movie set. They made sure every room was photographed from the best vantage point and every piece of decor was in its perfect location. When they were finished, the comments from prospective buyers about the decor were glowing. Our house sold very soon after the staging. Anita and Alisa's services were worth every penny. Our only regret was that we did not hire them 4 months before, when we initially put our house on the market. RoomAntics knows how to do what it takes to make your house look it's best and how to get the job done to sell your house. They are both uber-talented in their craft of design. I would highly recommend their design services!
Project Price
more than $100,000
It's a pleasure to give testimony to and praise for the work and talents of Roomantics Interiors. My husband David and I just renovated our kitchen last winter, and having Anita & Aliza's design expertise and guidance was a key decision in the total success and our happiness with this enormous project! It took a bit of convincing Dave that we needed professional design guidance... he thought we could do it on our own, since we have such great taste and judgment! Said Dave, and at first, I was in complete agreement, but the further we progressed into our project, the stronger I felt about seeking the guidance of great design pros. We completely gutted our kitchen tearing out a well and making blueprint changes. Pretty overwhelming changes... Anita & I have been friends for many years, which is both a blessing and a worry when there was talk of hiring her professional services. You know what they say about hiring a friend!... It was collaborative effort between our contractor, cabinet makers, appliance salesman and designers. And as Ross my contractor said at several different times during the project, a great design is the backbone of a successful project. In the end, it has all worked so beautifully! Anita and Aliza are true professionals, and Dave and I truly appreciate the value of consulting with true professionals when dealing with the Big stuff! In our estimation, we have the most gorgeous and amazingly organized and smoothly functioning kitchen on the planet, much to the creative efforts of Anita Buchheim and Aliza Spindell of Roomantics Interiors!
Project Price
$1,000 - $9,999
I highly recommend Anita and Aliza of RoomAntics. I am a Realtor and I originally met them at a networking group and decided to give them a try. Staging is a crucial part of getting the most amount of money in the least amount of time and I wanted to give my clients a great experience. Each time my clients listen to them they end up getting more money than they could have without them. I had one client who had the biggest townhome in the neighborhood. They wanted to price their home higher accordingly but buyers do not always want to pay. They hired Anita and Aliza to stage their house and it was transformed. The before and after pictures said it all. They received four offers in the first weekend and got over list price. They also got top dollar in the neighborhood. This is the trend that I see whenever my clients hire RoomAntics to stage beyond the initial consultation. They are talented ladies who really know how to help stage and or design a home. I highly recommend them to anyone who may be selling their house or want to decorate their new home. They can help you purchase and design your home from top to bottom. Simply the best.
Project Price
less than $1,000
What prompted you to choose RoomAntics Interiors? When I met Anita at a business networking group I had just joined, my Stager had just retired. I feel as a realtor it is very important to have an excellent Stager. This truly does complement my business. I needed someone who was very knowledgeable, personable and not afraid to address objections from my sellers. Staged homes sell much faster and at a higher price point than those that are not staged. What were your concerns, if any before starting the project? As I did my research and checked out RoomAntics Interiors online, I knew they would be worthy to handle any client I sent their way. I never had one concern. It really doesn't mean as much if a recommendation comes from a realtor. When a client hears the same exact recommendation from someone like RoomAntics Interiors they really listen. Anita and Aliza have a way of presenting their ideas gently but firmly at the same time. I call them my Velvet Hammer! What were the results after the room was finished? Did they meet or exceed expectations? RoomAntics Interiors exceeded all expectations. All of my listings have sold much more quickly with their finishing touches. I've even had friends familiar with their work who would come to my Open Houses and knew immediately that RoomAntics Interiors were responsible for the beautiful results. They are really really good at tricking the eye. There was one property that I sold in Northern VA where not one upgrade was done. The kitchen had basic older white appliances (not even an ice maker), formica countertops and vinyl flooring. Other than fresh paint and carpet there were no other upgrades. With their staging materials we had multiple offers the first weekend and sold above list price! Would you use RoomAntics again for future projects or have you used them for additional rooms/homes? I only use RoomAntics Interiors. I always joke with them that they are not allowed to retire from the industry until I do.
I love my home and I have RoomAntics Interiors to thank for that! Shortly after we moved back to Northern Virginia, I was visiting a friend and commented on how lovely her home was and wished I had that skill. She told me a mutual friend had designed it and that I should call her. Our journey began with the RoomAntics team of Aliza Spindell and Anita Buchheim, who we affectionately refer to as A&A, with a getting to know us session and to discuss our goals. We started with the family room and over a three-year period RoomAntics transformed our home. We love to entertain and constantly receive compliments on the decor. We are quick to recommend RoomAntics Interiors and at least 3 of our friends have hired them and all are so glad they did. We never thought we would have a home like this! RoomAntics' unique business model is great, with a minimum furniture purchase you are given a complete design package which includes free design hours, fine tuning and personal touches that make a home exclusive and special for their clients. We absolutely recommend RoomAntics Interiors!




Project Price
$1,000 - $9,999
I Hired Anita and Aliza to assist my painting company with a client whose exterior had many different types of substrates from brick, brown/white trimmings, decks, wood siding, shutters, and a front door that all needed painting. The synchronized a color pallet that turned out amazing and my client was extremely pleased. They are now working with my client on interior furnishings. I continue to use their color consulting services with all of my customers.


Project Price
$50,000 - $100,000
I have had the great fortune of working with Anita and Aliza. I found them via their website and was impressed from the onset. I have gotten to know them as two warm creative professionals and they literally have made my dream basement come true. Together, Aliza and Anita form a strong creative team at RoomAntics Interiors. Their personalities, their eye for detail, their flawless way of putting themselves in the place of the client and helping the client create a dream vision of what they want in their home makes them a great complimentary force in interior design. Starting with my basement, the ladies and I are now tackling and have almost finished my kitchen and who knows one day I can convince my husband to give way and redesign his man cave of an office. This long-term relationship has been a true enrichment of my home and well-being. I no longer hate working from my lousy dull basement but enjoy going to work.
Project Price
$50,000 - $100,000
I first started working with Aliza and Anita of Roomantics Interiors a few years ago when it came time to prepare to sell my parents' home. Although, I was apprehensive about hiring them to oversee a long list of items in the house that needed attending to and staging the house, my realtor highly recommended them. Aliza and Anita picked everything from paint colors to light fixtures and had a wide range of trade connections for painters, flooring specialists, electricians and handymen to get the project going. My parents had wonderful travels in Europe and had created to capture that flavor in their own home, many rooms with dark rust colored faux finishes, thick stenciling, heavy swaged formal draperies and ornate brass and crystal light fixtures. The designers explained that we needed to create a calm, relaxed but updated feel that would appeal to a broad range of styles that would draw in potential buyers. At the time our family was in the middle of some major transitions in job, health, and losing family members, so it was very beneficial to have a strong capable and supportive realtor that worked well with 2 interior designers/ stagers and a team of trades people. I trusted that Aliza and Anita would get the job done and watched in amazement how the house was transformed. When you looked at the "Before" pictures, no one believed it was the same house. In the end a young family who had been looking for a home for 3 years fell in love with house the minute they walked in the door and the house sold for well over its original appraisal. As they removed their inventory to prepare for the new owners, I mentioned to Aliza and Anita that in a few years, I would be ready to tackle making our own house, our Dream Home and would contact them for design consultation and to purchase furnishings to complement the renovation. The time came and we found an architect and contractor that we trusted for our renovation and we met with Aliza and Anita. We started in the kitchen where they pushed us a bit out of our comfort zone with picking an unusual quartz counter top and unique larger scale cabinet hardware. After years of entertaining where everyone ended up in the Kitchen and Family Rm, we bumped our kitchen out 20 feet to accommodate a 10 ft long dining table, added a deck, screened in porch and patio below with a circular fire pit. Along with the wall and trim colors for all rooms, the metal finish for the new railings, and light fixtures Aliza and Anita picked comfortable upholstered stools for our big island and backless leather stools for the peninsula overlooking the Family Rm as well as the rustic kitchen table with a beautiful scrolled base and matching chairs. Whether it was figuring out door sizes for the pantry or selecting drapes that would enhance rather than compete with view beyond the windows, it was a great comfort to have 2 professionals to make these decisions with us and listen to our desires and needs. In the Family Room, they encouraged us not to go with only beige and brown that we had often chosen in the past, but beautiful greys, blues and creams. They suggested Sunbrella fabric for upholstered pieces that could stand up to kids, dogs and red wine and distressed accent pieces that would gain character with wear and tear, so that we could relax and enjoy all rooms of our house. As they approached the design of the former formal Living Room and Dining Room, Aliza and Anita enthusiastically adopted our kids' idea to make it a dual space of Music Room with the grand piano we inherited from parents and a Game Room. When the Dining Room was too small to house a pool table, the my husband chose a nine foot Shuffleboard table instead. To our delight, Aliza and Anita had custom made by one of their special vendors an absolutely gorgeous 3 pedestal, transitional design rich Maple shuffleboard table in a Driftwood stain with grey leather bumpers that rivals any dining table in beauty and presence in a room. So that Shuffleboard spectators could be comfortable, the designers added a handsome tufted bench in caramel colored Sunbrella, barstools with a pub table, 2 side chairs and an antique table that belonged to my grandmother. The rich grey walls and white, steel and khaki airy drapes make the room comfortable and cozy. In the adjoining Music Room, the designers repositioned the grand piano at an angle that opened up the room and made the piano more sculptural. They chose whale blue leather swivel chairs, a rich colorful caramel hand hooked rug topped with a big round grey ottoman that is perfect for additional seating or a tray for beverages. My parents carved sideboard was re-purposed as a bar/ liquor cabinet adding elegance to the room. Aliza and Anita enjoyed using our guitars, sheet music and bottles of our homemade wine as part of the décor. In the past, I had struggled with art pieces to put on the walls of our home…everything felt so impersonal, uninspiring or too formal. But with a lot of care and patience, the designers really captured our family with the art they selected with us. In the foyer they provided us with pen and ink drawings of Notre Dame, The Sorbonne and Port of St. Denis all places we had visited. For the Game Room, an over- sized vintage rendering of the Periodic Table of Elements and two five foot tall black and white photographs of Edison bulbs are the perfect pieces depicting our kids' love of science. I created my own wall art as well, a large wooden hand painted plague honoring our home that the designers used in an interesting arrangement with small mirrors and a clock. We wanted to emphasize our floor to ceiling fieldstone fireplace in the Family Room, but felt like any piece of art competed with the stone. Aliza and Anita came up with the perfect solution; a large distressed cream colored mirror that resembled the arch-top windows in the room. I am not a lover of silk flowers but the blossoms and greenery they selected looked very natural like they were hand-picked from a meadow to my delight. They hand painted frames of our family pictures so they blended perfectly with our décor and added stacked metal suitcases, magnifying glasses, and interesting lamps to complete the room to the finest detail. With a project this size there are bound to be times when problems arise. When this happened, Aliza and Anita were diligent about getting it taken care of and made it right in the end without question. The success of this project is evident in that we truly love our house and it's worked so well for us in many celebrations the past year… graduation, holidays, birthdays, sports team parties and church events. And just the day to day living, if someone wants to decompress after school or work with a fun game of shuffleboard or a good book in a comfortable chair by the fireplace, our house can definitely oblige! Recently we had a party where friends and family were in every room of our house, and on the deck, porch and around the fireplace. No space is unused which is exactly what we wanted. Roomantics helped make our home our Dream Home and we would use them again for they are true professionals.
Project Price
$10,000 - $49,999
As a fairly newly divorced woman, I purchased a townhouse in July of 2016. I knew Anita and Aliza as friends for many years and I knew they had great taste as I have visited their own homes. That is what prompted me to use them for decorating my own home. It was very important for me to decorate my own place in the style and colors I love. I wanted this new home to be a treasured sanctuary for me as well as my now 23-year-old daughter who lives with me. I found out that besides having beautiful taste and creative ideas, Anita and Aliza were so much fun and very easy to work with. Not only did I use them for my living room, kitchen and dining room, but I also went on to use them for color and style consultations for my master bedroom, my daughter's bedroom, our bathrooms, and my downstairs den, as well as my powder room. I had a concern about painting one wall in split bright colors, but I took the leap with Anita and Aliza and it looks so good. I truly feel like my home is really lovely and unusual. It is not a "cookie-cutter: palette or arrangement. The personal touches from the designers are also so invaluable. They recently put all my stuff from an old breakfront back into the gorgeous new breakfront they ordered for me. They will be there for furniture delivery and to give the place a little extra oomph and pizazz when they know you are having company coming. We work very collaboratively together. I have never been made to feel that my "lay" opinions don't count or have value. I have used these designers for nearly every single room in my house and I am so pleased with the results. It has made me truly love entertaining.
Project Price
$1,000 - $9,999
My husband and I were new to townhouse living and struggled with making our new home enjoyable as we love to host dinner parties and have friends over. We contacted RoomAntics and explained that we needed help with using our space and furniture for entertainment and that we wanted to lighten up our house. What happened next was a total surprise! RoomAntics very first update was to change the way we arranged furniture in our family room. Prior to that, my husband and I never sat in that room. That evening after dinner, we sat in that room and marveled at how welcoming and inviting our 'new' space was! It got even better from there. RoomAntics created a living and entertainment area on the main floor in our townhouse. Now we can't wait to invite friends over! The settee area they created off of our kitchen invites friends to sit and enjoy a glass of wine while I finish dinner preparations. Our family room is the perfect place for pre-dinner conversation. Our new dining room seats everyone comfortably and is decorated beautifully. And they created an exquisite map wall where my husband and I pin our travels to places all over the world. After dinner, we invite our friends into the living room to our map wall for after-dinner cocktails and conversation. The furniture is unique and beautiful. The accessories make all the spaces pop! The room arrangements are exactly what we were after when we envisioned using our home for entertainment. We will definitely use them again when we move to our retirement home and we highly recommended RoomAntics to all!
Load All 14 Reviews
Find Interior Designers & Decorators to Help Get the Job Done
Tired of reading all the DIY tutorials? We are here to help. With over 1 million home professionals on Houzz, you'll easily find the trusted Interior Designer or Decorator for your next project in Fairfax Station, VA.
Read Reviews from Fairfax Station Homeowners Like You
Read homeowners reviews before hiring the Interior Designer or Decorator to help with your project in Fairfax Station. If you have questions, read other homeowners' reviews or our discussion forum for a second opinion.
Easily Contact Trusted Interior Designers & Decorators
If you're browsing Houzz and have a contractor in mind, then you'll quickly find that requesting a quote is easier than ever. From one simple dashboard, you can manage all the Interior Designer or Decorator quotes you got.
Interior Designers & Decorators near Fairfax Station
Professional Categories in Fairfax Station
Related Services