About Us
For nearly 60 years, Steamist has been an innovative manufacturer of steam shower and sauna systems for residential and commercial applications. Today, as the popularity of in-home steam showers continues to grow, Steamist leads the industry in applying sophisticated technology to take the luxury of the steam experience to new levels. Steam alone has the transcendent power to relax, restore and renew, releasing the tensions of the day and replenishing with hydrating warmth. Adding any or all of Steamist's Total Sense Spa Options—ShowerSense™, AromaSense™, ChromaSense™ and AudioSense™—elevates that experience to the extraordinary to create the ultimate, customized escape. And with advanced touchscreen controls that allow for programmed user profiles, the ideal spa retreat is at your fingertips. For more information on how Steamist can transform your master bath into a luxury spa retreat, visit www.steamist.com.
Services Provided
Shower Sales, Steam Shower, Spa Shower, Luxury Shower, Digital Shower, Spa bath, Steam Bath, Luxury bath
Awards
Steamist is an ASME Authorized Certificate Holder Steamist's Digital Shower System won Platinum in the 2018 Awards for Design Excellence (ADEX)
Back to Navigation
Our Stories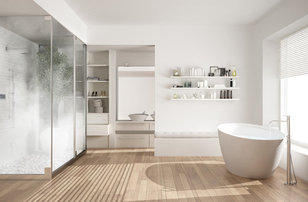 Sponsored story
Discover its benefits and see how to add this luxurious option to your space
Item 1 of 1
Back to Navigation
Back to Navigation
Back to Navigation
Write a Review
1 Review for Steamist
I love this product. I have had several steam shower appliances before but this is by far the best and easiest to use. It is also the lowest profile and very attractive. I would recommend this to anyone!!!
Back to Navigation
25 E Union Ave
E Rutherford, NJ 07073