About Us
Award Winning Leaders of the Remodeling Industry in Seattle
Welcome to Armada Design & Build, Inc. Our dedicated team has decades of deep knowledge and hands-on experience in all aspects of remodeling and construction and we stand behind our brand with integrity, unmatched professionalism and service. With a focus on client satisfaction, our numerous awards and 5-star reviews are a testament to our ongoing commitment to extraordinarily high-quality construction in the Greater Seattle area. We value craftsmanship, communication, details and the relationship with our clients. Our showroom in Bellevue is the perfect resource to start specifying and designing the project of your dreams. Your project is our priority and your peace of mind is our goal. Let's make your concept a reality!
Services Provided
Basement Remodeling, Bathroom Remodeling, Cabinet Painting, Cabinet Refinishing, Custom Bathroom Vanities, Custom Cabinets, Custom Countertops, Custom Kitchen Cabinets, Custom Pantries, Custom Walk-in Closets, Green Building, Home Additions, Home Extensions, Home Remodeling, Kitchen Remodeling, Outdoor Kitchen Construction, Vinyl Flooring Installation, Basement Design, Bathroom Design, Kitchen Design, Lighting Design
Areas Served
Ames Lake, Ballard, Beacon Hill, Bellevue, Bothell, Boulevard Park, Burien, Clyde Hill, Cottage Lake, Duvall, East Renton Highlands, Eastgate, Hobart, Hunts Point, Inglewood-Finn Hill, Issaquah, Kenmore, Kingsgate, Kirkland, Lake Forest Park, Medina, Mercer Island, Mill Creek, Newcastle, North Beacon Hill, Redmond, Renton, Sammamish, Seattle, Shoreline, Tukwila, Union Hill-Novelty Hill, West Lake Sammamish, Woodinville, Yarrow Point
Awards
MBA REX Awards 2020 Bath Excellence $35,000 to $55,000 Design Excellence Architecture 2019 Bath Excellence $35,000 to $60,000 Bath Excellence $60,000 to $80,000 Residential Remodel Excellence Major Remodel $200,000 to $500,000 Residential Remodel Excellence Major Remodel $500,000 to $750,000
Back to Navigation
Our Stories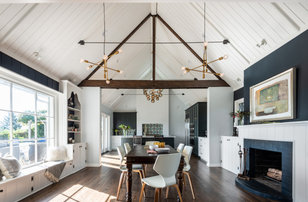 Sponsored story
A Bellevue design-build expert offers ideas for highlighting features your home already has
Item 1 of 1
Back to Navigation
Back to Navigation
Credentials
3 Houzz Awards
3 Houzz Badges
Back to Navigation
Featured Review
We hired Armada to remodel our kitchen and some minor house refresh items such as new carpet and floor refinishing. Their attention to construction detail was very good and they were easy to work with.
Read Full Review
Write a Review
18 Reviews for Armada Design & Build
Average rating: 4.7 out of 5 stars
4.7
|
18 reviews
Our experience with Armada was outstanding. We give our highest recommendation to the company. We suffered major water damage to our home that resulted in the gutting of our entire kitchen, powder room, living, room etc. Worked with Armada's designer, Briana, who did a fantastic job of selecting flooring, counter tops, cabinets, etc. We had to live out of state while the re-construction was completed (five months) and could not inspect the site very often. We didn't have to. The Armada construction team paid impeccable attention to detail, results far exceeded our expectations, and we had very few punch list items. Would without question use Armada again.

We have done a $200K remodeling project with Armada and are very happy. The staff was very helpful early in the project with helping us nail down our design and picking materials. The execution was on-time and with quality. Almost three years later, we've yet to find some major problem. They were very resourceful when our cabinets were delayed by the supplier due to some issues on the supplier end. In fact, they quickly redirected to another Armada partner cabinet maker to get comparable cabinets with only a minor delay. They were also very creative when it came to our requirement to preserve one of the house's large original windows while re-doing the kitchen layout that was running up against that window. They moved the window to a different location without any damage to it.

We hired Armada to remodel our main floor, with most of the work focused on kitchen and family room. This was a full remodel of the kitchen, tearing it down to the studs and moving/adding a window, and the end result was a beautiful luxury kitchen. Other work included redoing the cabinetry in the family room, taking down a dividing arch and columns from living/dining rooms, replacing carpet with hardwood in the living/dining/office, lighting changes, & more. The end result is phenomenal and we cannot be more pleased: - The quality of the work is outstanding - attention to detail, design, pride in the craftsmanship throughout; Armada's crew were all clearly experts in their own areas of specialty; - In addition to our own happiness, we have gotten excellent feedback from folks within the trade — e.g. the City inspector who came to sign off on the work/permit, and others; - The design work was excellent, addressing our specific requests related to sunlight while maintaining privacy in an innovative way that other vendors could not provide; - The project management was great — we were kept fully informed, things completed when committed, and all concerns/questions were promptly responded to; despite the inevitable challenges with a project this large, Armada delivered within a week of the original estimate. While Armada is not going to be the cheapest quote you get, I'm confident they will be the best at a reasonable price. We are now looking to do another project with them.




Alex and his Armada team did an awesome job with our Kitchen and Great Room project. There were some delays due to a bad order of tile (no fault of theirs) that delayed completion several weeks, but in the end, they delivered exactly what we envisioned...and on budget! The Project Manager, also Alex, had a critical eye on the quality of our project and held his Subs accountable to his high standard. For example, the countertop installation was shoddy Alex insisted that the owner/manager of the company come see the issue and redo the install that same day. Briana was also awesome helping us bring the details of our project together. We chose to shop and purchase the hardware, lighting and sink/faucet combo ourselves and she was always available to provide us her insight and guidance. Overall we are very satisfied with Armada and definitely recommend their services to others!



We hired Armada to remodel our kitchen and some minor house refresh items such as new carpet and floor refinishing. Their attention to construction detail was very good and they were easy to work with. All their contractors and project manager were very good at their specific trade, hardworking, and honest which is hard to find. We had a few communication issues within their team which led to scheduling delays, but overall I would still recommend them and would work with then again.
Armada Design and Build did a wonderful job completely renovating my galley kitchen in a month. They installed all new appliances, shaker cupboards, ultra vinyl flooring, countertops, instant hot water heater, painted the kitchen, dining and living room. I'm very happy with the results and enjoying my new kitchen.
We've had great experience working with Armada's team! Being attentive to details myself I especially appreciated their holistic approach and attention to details, all the way from initial greet&meet, to design (kudos to Briana Benton) & specifications, eventually execution and final move-in readiness. Great quality while meeting the deadlines & budgets, being flexible during the process! Thank you, Armada Design & Build Inc. - it's pleasure working with you!

Considered pro's- professionalism, knowledge, work quality and ability to meet deadlines and budgets in the rating. I would highly recommend the design professional at this firm.
I wanted a simple update for my ugly 80s bathrooms. Armada has a bath package deal that is well priced. They do a lot of new construction in the area and use materials bought in bulk for that purpose in their package deals, so the savings are passed on to consumers like me who just have a small job - and you get what new construction buyers are looking for in a bath. Owner Alexander says he does remodel work at wholesale prices. I did not have a ton of choices for finishes within the package price, but that was good in my opinion. From first contact to finished project just one month! Elena was wonderful designer and so efficient with scheduling. It was the most pain free remodel ever. Everything done to the very highest quality workmanship.

Comment from Armada Design & Build:
Thank you, Ellen for taking your time to write us a review! The feeling is mutual, as we feel your easy going attitude was an important factor in the whole process. We appreciate you choosing us for your remodeling project and we hope to work with you in the future if such need would arise. Cheers!

Great job! Not only they were on schedule, but also the result is wonderful. The remodeling went smooth and it is precisely how we picture it! I am giving the highest recommendation for Armada's team.
We bought our 2,000+ sq. feet house in December 2016. It was a compromise between an outdated floor plan and a convenient location. We also wanted to do some design updates. Armada's team did an amazing whole house makeover within a phenomenal timeframe (only 2 months!). Armada helped us to open the floor in the living room area by removing a wall in our kitchen and converted one of 4 bedrooms into a spa like master bathroom and walk-in closet, allowing us to have a more modern and convenient layout on the main floor. They also framed a new bedroom by splitting a large recreational room downstairs so that we can still have 4 bedrooms in our house and use that new one as an office and an additional guest bedroom. As to updates Armada helped us to design and built a chef's kitchen with an island inside and convenient layout to optimize our cooking experience (e.g., "storage triangle" near our dishwasher, various pullout mechanisms, electric wiring in the island for a microwave and hand held appliances, etc.). They also updated our ceilings with recess lights, turned our red cherry hardwood floors with 7 coats of polish into stylish modern dark floors and replaced carpet in bedrooms. Finally, Armada did a great job with painting the entire main floor. I can highlight several things why we liked working with Armada: 1) GREAT PLANNING: We got great help with making decisions about our new floor plans and design. Alex and our project manager Yuri initially spent ~4 hours in our house discussing multiple options as it was not an easy solution. They proposed the best solution that we decided to go with. 2) CONVENIENCE: It was convenient for us to visit Armada office and pick all materials at once. We spent almost 5 hours picking up tiles, kitchen cabinets etc. It was all in one place and all materials are high quality unlike many options that we looked at Lowe's and HomeDepot. The only challenging part was that there was no CAD preview or sketches with our written approval how the final outcome would look like. But in any case, everything turned out great. 3) RESPONSIVENESS: Yuri did an amazing job promptly replying to our questions and making changes. It's also impressive how he could manage such a big project under a very tight timeline and still finish it on time.
Elisabeth and Regis Bridon
In 2016, we have selected Armada to replace our existing wood floor and carpet with new wood floor on the main floor and upstairs. They also took down a wall and remodeled our staircase. We were very happy with their work. We hired Armanda this year (2017) to redo our master bathroom. We are extremely happy with the end result and how the entire remodeling went. Alex provided each proposal quickly. It took several days or even weeks to obtain an estimate with other companies. Alex is very knowledgeable and had great suggestions that we did not think of (e.g. moving the door of the bathroom's entrance to accommodate a larger shower, additional vents, add a closet). Everything was done to meet all the construction codes. The process of selecting the materials was done in one visit to their store. Ariana, their interior designer was available to us and helped us select all the material. She was able to put together a selection of tiles, cabinets, quartz to match our taste. We agreed on a 6 weeks schedule for the master bathroom renovation and Armada completed the job within 5 weeks, the last week was the walk through and small fixes . Because of our new floors and new stairs, we were concerned about the remodeling, but the Armada crew covered all the floors, the stairs, the walls and the ramps with heavy protection. They also protected quite well the master bedroom by installing a tent to separate the work area from the bedroom. We had little dust. Demolition went without any problem at all. Michael was awesome! He coordinated all the work and was very helpful when their plumber find out that we had a defective shower mixer. He called the vendor and got a replacement within 24 hours. We were very happy with Alex recommendation to move the bathroom entrance door by about 3 feet to allow for a spacious shower. You cannot tell that the door has been moved. The new bathtub, tiles, new showers glass door, new cabinets, new lights, etc. were installed and delivered exactly as promised. I should add that I could always reach out Michael if I had questions. He is amazing to work with. We are very happy with Armada and love our new master bathroom. We appreciate the quality of their work and would definitively hire them again for our next project. By the way, the crew was home alone during the master bathroom renovation. We never had to come over during the day and trusted them to do the work as scheduled. We had no damage to our house. A cleaning crew came on the last day. We highly recommend them for your flooring or renovation.

Comment from Armada Design & Build:
Elisabeth and Regis,
Thank you for bringing to us your business once again. We love returning clients! Also, we appreciate such a detailed review. The collaboration with both of you made it smooth on our end as well. It was pleasure working with you both and we are looking forward to work on more projects with you in the future.
We had previewed Alex and the Armada Team beginning in late 2014 and thru 2015. We saw examples of their remodels and their full home construction projects. Their fit and finish work stood above others and the type of improvements we were looking for on our project were all areas they had previously demonstrated competency in working with their other clients. Our project was extensive and Alex's cost estimates were fairly priced in comparison to the other bids we reviewed. We also took advantage and appreciated their knowledge of products and expertise in cabinets, tile work, overall construction, painting and lighting. Extremely pleased with the overall results – beginning in Spring of last year, our project was complicated (involving steel fabrication and beam erection) and it was done on the timeline that had been projected by Armada. We were able to begin enjoying our beautiful new kitchen and surrounding living spaces during the past 2016 Thanksgiving and Holiday Season!

I initially contacted Armada Design & Build on the recommendation of of my friends. I had a big remodel of my unfinished basement in mind, and a reasonably tight timeline, and I was nervous about finding a company that could fit me into their busy schedule. From the outset, I was very impressed with Armada -- they showed up promptly for their initial appointment, looked around the space, and made lots of measurements and sketches, and Alex talked through a lot of the work that needed to be done. They had lots of great ideas and suggestions, and Alex gave me a concrete initial estimate. Once I agreed to the initial estimate, they had me go to their showroom, where a very helpful woman named Irina (I think, it was awhile ago) helped me make a bunch of decisions. The final estimate was drawn up, and it was very close to the initial estimate. (I had a lot of questions about it, and all were answered promptly.) When I signed the paperwork, Alex printed out a basic schedule (with the caveat that it might be off a couple of weeks) and I'm happy to report that, despite a couple of issues, they stuck very closely to the schedule, and I had a great sense of what things were happening in my basement when. Yuriy, the site supervisor, kept in great touch whenever there was a problem. Communication in general was very good. I can't rate Armada highly enough, I would definitely use them again for another project.





Alex and his team at Armada Design & Build are easy to work with. They are responsive to questions and changes. We love our new kitchen. We've had so many compliments on how beautiful the kitchen turned out.
We had the pleasure of working with Alex, Michael, Irina and the rest of the crew on our kitchen remodel and addition to our mid century home. The crew were curteous and the craftsmanship was excellent. They were able to work with us and address any concerns that we had. We highly recommend and would use them again for future projects.
Armada did our kitchen remodeling this October. We are quite happy with both the result and how the company handled the process. First, the quality. Everything is done neatly. I really appreciate that they paid extra efforts to fit all pipes, the dispenser and the RO filter with tank in tight space under the sink in such way that it also fits a full-size garbage can. I personally like how neatly tile is laid, because I have some experience laying tile in past. All spaces between tiles are straight and nicely adjusted and tiles lay flat and evenly. Cabinets are installed accurately, all the spacings/distances are precisely leveled. All kitchen appliances are installed properly and handled with great care. Painting is done very well, with no runs/paint spots or uneven tint. The process. Armada started on-time, with no delays and finished the same day they promised. Work area was closed by plastic curtains to keep dust away from other rooms, floors covered to prevent any damage (and no damage was done to anything). Work crew always appeared on-time. Everyone was polite, friendly, and all options were negotiated with us before the work is done. Really, nothing to complaint. We had great help from Armada with choosing tile, cabinets, countertop, etc., so all looks in same style, which was a plus for us. My personal takeaway from the project is that since Armada does everything on time and fast, we need to act fast as well with selecting materials/colors and providing new appliances. Would I hire them again if I need? - absolutely! I am actually planning to delegate another improvement in my house to Armada in the next few months.
Armada Design & Build handled the remodel of our office space. They were punctual, professional and extremely proficient. They have a quality work ethic and execute contracts and deadlines in a timely fashion. We had a small window from the time we relocated until our doors opened. They, not only, completed the job with an exceptional level of charisma, tenacity and zeal but with excellent customer service. They set a good standard for construction companies regarding attention to detail and communication. Would recommend and will be contacting them again soon.
Back to Navigation
Back to Navigation
Contact Armada Design & Build
| | |
| --- | --- |
| | Armada Design & Build |
12727 Northup Way #6
Bellevue, WA 98005
Typical Job Cost $25,000 - 1,000.000


Depends on the size and type of project.
License Number armaddb898r3