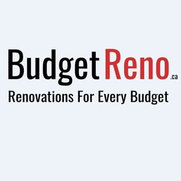 | | |
| --- | --- |
| | BudgetReno |
3 Houzz Awards
3 Houzz Badges
Contact Info:
432 – 720 King Street West
Toronto, Ontario M5V 3S5
Canada
Typical Job Costs:
CAD 40,000 - CAD 900,000

https://www.houzz.com/pro/budgetreno copied to clipboard
Greater Toronto's Complete Home Renovation Experts | Best of Houzz '18
page_type: prop_plus_profile
At BudgetReno, we specialize in creating complete customized home renovation solutions. Whether it's your investment project or it's your family home, after a free initial consultation and space analysis, our designer swill present you with a set of options customized to fit your needs and budget. We cover everything from design to installation, and every single phase of the project is supervised to ensure it stays on schedule and meets our standard of excellence. If you're looking for a complete home remodel or just partial renovation, count on us for professional services.
Services Provided
Basement Remodeling, Bathroom Remodeling, Concrete Flooring, Custom Cabinets, Custom Countertops, Custom Kitchen Cabinets, Floor Plans, Handicap-Accessible Design, Home Additions, Home Extensions, Home Remodeling, Home Restoration, Kitchen Remodeling, Multigenerational Homes, Outdoor Kitchen Construction, Outdoor Kitchen Design, Sustainable Design, Universal Design
Areas Served
Toronto, Mississauga, Oakville, North York, Richmond Hill, Brampton, Arura
Featured Review

Its taken some time to write down this review. As I wanted to be in the kitchen couple of weeks. We started the initial contact with Hamid from Budget Reno last year in September. We got quotes and other companies to come and see the space. I knew fr
Read Full Review
Write a Review
15 Reviews for BudgetReno
We hired Hamid and team for a reno in our house, it was an referral from our friend. Hamid and team did a good job, they were professional and courteous. They completed the job on time and within budget. I would refer Hamid to anyone who is looking to get renovations done.

Hamid and his team were professional, courteous and efficient. They do quality work and Hamid made it very easy with his low pressure approach to the project. The sub contractors he hired delivered on time and we stayed on budget. We had to stop work due to the pandemic but Hamid always stayed in touch. Once work resumed, he made it priority to finish our renovation quickly. The results were great and we are very satisfied with our new kitchen. Highly recommend BudgetReno. We will hire them again.
July 8, 2020
Last modified:

July 11, 2020
Beware! We hired Hamid of Budget Reno / Crown Constructions to be the GC for our whole house renovation and addition. He proceeded with some of the work without review by the building inspector which lead to delays and added costs. Some of the work done did not meet code and had to be fixed at additional cost. He demonstrated limited knowledge of proper building envelope construction and how to build from the ground up. Trades were often left unsupervised. We have engaged another company to complete the work properly and have commenced legal action against Budget Reno. When we hired Hamid in June of 2019 he told us that he was launching a new company called Crown Constructions and that our project would be the first executed by Crown Constructions. The Crown Constructions website says "Over 10 years custom home, renovation, investment" Budget Reno has been in operation since 2016. Beware!
April 23, 2020
Last modified:

April 23, 2020

Comment from BudgetReno:
Response for readers:
Firstly, we started the project for the above client in August. He was in charge of providing all the construction permits. 2 Months in project, he decided to do a underpinning at the basement which he didnt have the permit for it. He had to get the permit from the City and the consent from neighbor, this caused a delay on his project.
Secondly, he had forgotten to get the plumbing permit form the City ( he was in charge of all permits ), plumbing permit got issued 3 months after the start date. We have the permit file showing the issuance date. Its an evidence. This caused delayed for his project.
Thirdly, contrary to our contract , he hired a framing crew directly and paid them himself. This is a violation from the contract we had. As we weren't in charge of paying his framing crew, we had no control over them, and they made mistakes at his project. His own framing crew not ours.
Lastly, he terminated working with us, then he hired our concrete trade directly and continued working with our trade directly to cut our management fee, not an ethical move.

Its taken some time to write down this review. As I wanted to be in the kitchen couple of weeks. We started the initial contact with Hamid from Budget Reno last year in September. We got quotes and other companies to come and see the space. I knew from the beginning of meeting Hamid that he was honest and very respectful of time and budget. Things got too close to the holidays and nobody was really going to take our project. We even got some rude, very arrogant people coming to see the project and basically told us "good luck with that budget". We called Hamid in the new year (Jan 2, 2020) and told him we were ready to go forward with the project. After back and forth with cabinet design, we finally started demo. We could not believe how quick the demo was done, in one day. And at the speed that things were getting done. Hamid and the crew were always on time, very clean, and very polite. Day after day we could see real progress and we were getting closer to what we had envisioned. Hamid was very compliant to what I wanted and the look I was going for. Needless to say, yes there were some tensions as with every renovation. But, the entire team worked together with us to stay in budget and in the time frame given. From choosing where we wanted all the lights, to choosing countertops, everyone who Hamid had working on this project was very nice and very helpful and very knowledgeable. I am happy to finally have the kitchen of my dreams and I love it even more, now that I have gotten the flow of it, after cooking in it everyday for the past 4 weeks. It looks incredible, I just LOVE it. We are so pleased with the quality of work, the quality of materials used and the patience and dedication given to us. I am so thankful for Hamid and his team. We would have literally never been able to have done it, with any other contractor. Thank you again Hamid and all your crew, we love our new kitchen so much.




April 8, 2020
Last modified:

April 8, 2020
Hamid and his team are great! We had been looking for a good contractor to completely flip our existing condo layout - demolish our existing room and build a bigger room with an inbuilt closet, also build a den. We found Hamid online and were apprehensive initially but he did a wonderful job and stuck to our budget! He went out of his way to accommodate small and big requests and changes to the original plan during the renovation. We highly recommend him.
We hired Hamid and team to do a full house reno. That was a big project including 2.5 bathrooms, 2 kitchens, creating drywall instead of existing wood plates on the walls, creating new ceilings instead of existing pop-corn ones, laying new hardwood floors and new carpets, upgrading the electrical panel, upgrading multiple pot lights and installing dimmers, and painting and re-tiling. Hamid and team were responsive to our needs and questions and were flexible in changing/ dropping/adding some of the jobs as we went through the project. Hamid stayed on the agreed budget. We were able to order beautiful high quality materials (tiles, hardwood floors) at lower-than-regular prices. The work continued for about 3.5 months, and we moved into a beautiful modernized house at the beginning of October, 2019.
I engaged Hamid and his team at budgetReno for a pretty comprehensive renovation including 3 bathrooms, new kitchen, new hardwood floors, some structural work, etc. I was very happy with the work. I can confidently say that on all dimensions - timeliness, quality and transparency of work, Hamid and team were top class and very helpful. I would have no hesitation in engaging his team again as the need arises.
My husband and I thank you Hamid, Mike and your team for the outstanding job that everyone did in renovating our basement. We had a vision in what our basement would look like and it came to reality. We are very satisfied with their service and professional work. They took the time to answer all our questions and were able to accommodate our needs. Definitely very personable, efficient, prompt and knowledgeable. We have had so many compliments from friends and family that really liked how our basement turned out. I would most certainly refer BudgetReno to anyone. Keep up the Great work!!
I hired Reliant Remodeling for a full re-do of the main floor of my small semi-detached house. It required tearing the house down to the brick. That meant new framing, insulation as well as some duct work and electrical, on top of the cosmetic work of new flooring, cabinets, lighting, etc. The job was to take 6 weeks, but as we couldn't know the final measurements of the kitchen until the framing was done, it took 8 weeks, as we had to wait for the cabinets to be manufactured later in the process. Short review: My wife and I are very happy with the end result, we receive lots of compliments in our space (this is nice considering it was so unwelcoming before). In addition, we feel warmer and we use the space much much more. Longer review: My initial thoughts of Reliant were good. They showed up to our consultation on time. Their contract was thorough, and well thought out. I can tell they put in some good work up front. The pricing was fair, and comparable to other large contracting firms. The payment terms were also good as I didn't have to make large payments until significant milestones were completed. Once work started, the workers always showed up on time. 9AM on the dot, and left at 5PM. They were incredibly hard working and rarely took time for breaks. It was obvious they were there to get things done. Mehdi was my go-to guy, and the rest of the team were all just as outstanding. They were a pleasure to have around and I enjoyed their company. That's a bonus, when you see them everyday for several weeks! Now, not everything was all gravy. There were some issues in the beginning. For example, I had to get some of the insulation re-done, as it wasn't applied as well as it could have been. It was obvious that structural things (eg: insulation and framing) was not their strong suit. This was also obvious with the window sills. After getting new blinds, you could tell they weren't perfectly level. Same with the new steps, they weren't perfectly level, either. However, it became obvious at this time that they were committed to making me happy, and would re-do something if I was not completely satisfied. All the materials Reliant used were good quality. I get a lot of compliments on my cabinets, for example. I notice this even more now, after visiting some friends' houses who recently had renovations. Hamid uses good quality stuff - and I'm thankful for this. That includes the cabinets, countertops, and even the trim around the windows. I think one issue, and this is more global to contractors, not just Reliant, is the resistance to change. I understand why: they have tight schedules to conform to. However, construction is an iterative process. It's only when the walls are torn down that new ideas can arise, or you find additional items that need work. It'd be nice if the contractors took this into consideration for their time estimates, and welcomed new work (it is a money making opportunity after all!). All in all, I'm very happy with Reliant's service. I will use them again (I'm currently planning my upstairs and basement renovations), because I'm confident they'll get the job done, and they'll stay true to their word. They'll always be at your side if you need them. There were a few small issues, but the important part was that they were willing to fix them (and they did). I know I can text Mehdi today and the team would be at the house tomorrow. You're in good hands! Btw, I know other people who started renovations of similar size before me, who aren't yet complete. Some of them are not nearly as nice, either. I'm grateful that this didn't happen to me. Thanks Reliant! ** Edit, 1.5 years later: I'd give this a 3/5. Since living with the renovations, I've discovered some big errors that were made that negatively affected the house. When these contractors built new walls on my main floor, they built them out 3-4" away from the exterior brick wall. They failed to insulate the ceiling above and the floor below behind the wall. This created a cold front, where outside air would rush upstairs and down through this 3-4" gap. I've been able to insulate from below via the basement, but my 2nd floor washroom gets very cold. The only way I'm going to be able to fix this is to open the ceiling on my main floor, or to rip up my floor on the 2nd level. This is very very frustrating! Oh and this caused my pipes to freeze several times. In summary: this team is great for cosmetic work. They'll do an awesome job there, no doubt. Anything behind the walls, though - avoid them.
February 25, 2018
Last modified:

April 9, 2019
We chose to use Hamid and his company to complete 3 bathroom renovations. Hamid was co-operative, respectful, flexible and always was great with communication (listening to our needs, returning calls quickly, making alternative suggestions regarding wants/needs/price). We felt he was the best person for the job and the price was great for what we wanted done. The only concerns we had were...the project took longer than anticipated, there were a few extra charges (we were unaware of), and there were several different workers hired to complete different jobs. However, we were able to resolve any concerns with Hamid and were overall happy with the final results. We would recommend Hamid to complete any renovation project and would definitely use him again.

Comment from BudgetReno:
Hi, I do appreciate your positive review and thanks for expressing your concern as well, the project took longer than anticipated due to the different issues we faced, some out of our control. But I am glad that you are happy with the achieved result and the way concerns are addressed. I am attaching a picture of the beautiful stand shower created, I hope you enjoy it.

I had my two bathrooms in my condo renovated. Reliant Remodelling did an amazing job by not only providing an excellent service and reasonable price, they also quickly adapted and resolved any other additional requests i made to the original project. Project was done on time and on budget.
Reliant Remodeling did a complete finishing basement with 1 washroom and 1 bedroom (aprox 1400 sq ft.). Amazing attention to detail and incredibly responsive.they far exceeded all of our expectations and would immediately turn to them if we were to have any additional renovation needs. These guys are full service -- from creating the design to following through in making it exactly as it was planned. Everyone at this company, from the person answering the phone to the owners care and work hard to make one's renovations go smoothly.



December 10, 2017
Last modified:

December 10, 2017
is an excellent company that strives to fully satisfy. This was the only company that truly listened to my desires and made sure to explain all possible options and limitations that could lie ahead. They have a trustworthy, courteous and hardworking group of craftsman. The end was everything and more than I was hoping for. While they were not the cheapest pricewise, the cost is worth it in the end. You made my family very happy and proud of our new kitchen and washrooms. Thank you!
Hamid and his Team were awesome . On time on budget and the best renovation I have ever experienced . Quality workmanship and product . 4 new bathrooms and they are all beautiful and elegant .Exactly what I dreamed of and more than I expected .These guys were hard working and happy while working hard everyday. A pleasure to be around .. Thank you Reliant Remodeling ,Hamid , the whole team . So Grateful. Yvonne
After interviewing a lot of companies we went with Reliant Remodeling and we had a great experience with them. Their team is professional and knowledgeable with a great taste and attention to details. They exceeded our expectation for sure. They finished the project within the budget and time period that we wanted. Thanks to them we love our home and we added lots of value to it.
Find Kitchen and Bathroom Remodelers to Help Get the Job Done
Tired of reading all the DIY tutorials? We are here to help. With over 1 million home professionals on Houzz, you'll easily find the trusted Kitchen and Bathroom Remodeler for your next project in Toronto, ON.
Read Reviews from Toronto Homeowners Like You
Read homeowners reviews before hiring the Kitchen and Bathroom Remodeler to help with your project in Toronto. If you have questions, read other homeowners' reviews or our discussion forum for a second opinion.
Easily Contact Trusted Kitchen and Bathroom Remodelers
If you're browsing Houzz and have a contractor in mind, then you'll quickly find that requesting a quote is easier than ever. From one simple dashboard, you can manage all the Kitchen and Bathroom Remodeler quotes you got.
Kitchen & Bath Remodelers in United States