About Us
Sustainable + High Efficiency Portland Metro Builder
Right Arm Construction is a Portland Metro area builder specializing in Home Remodeling, Kitchens, Bathrooms, Additions and Attic/Basement Conversions to living space. Right Arm Construction is committed to working with our clients through all phases of their remodel from planning and budgeting to the final inspection. Taking special care to manage budget/time expectations and communicate openly about the project so homeowners know the status at all times. With over 50 years of combined construction experience, owner Arent Wortel and his employees are the ultimate resource to have for any project, small or large.
Services Provided
Basement Remodeling, Bathroom Remodeling, Green Building, Historic Building Conservation, Home Additions, Home Extensions, Home Remodeling, Kitchen Remodeling, Outdoor Kitchen Construction, Custom Homes, General Contracting, New Home Construction, Consultation
Areas Served
Portland
Awards
Energy Trust Ally with the Energy Trust of Oregon
Back to Navigation
Our Stories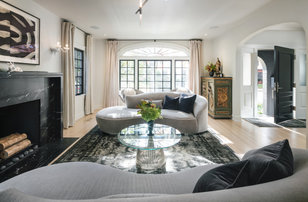 Sponsored story
Update your spaces for a modern lifestyle and look using these tips from Portland contractors
Item 1 of 1
Back to Navigation
Back to Navigation
Credentials
12 Houzz Awards
6 Houzz Badges
Back to Navigation
Featured Review
Right Arm and its entire crew more than exceeded our expectations. They provided timely, professional feedback, amazingly detailed workmanship, fair pricing, and were a pleasure to work with. We are extremely happy with the results
Read Full Review
Write a Review
45 Reviews for Right Arm Construction
Right Arm has done several projects for us: a new set of French doors to the outside, a new butler's pantry, a new driveway and a new half bath that was a big challenge because we had to cut through part of the foundation. Altogether they brought in eleven different trades working on these projects. Without exception everyone did the highest quality work and we have been very pleased with the final product.




When we chose Right Arm Construction as our contractor, we did so with cautious optimism. We were building this home while living in another state and wanted a contractor that was both personable and professional in order to manage the complexities of long-distance communication while managing a timetable and budget. In the end, Right Arm and its entire crew more than exceeded our expectations. They provided timely, professional feedback, amazingly detailed workmanship, fair pricing, and were a pleasure to work with. We are extremely happy with the results and would offer them other jobs in the future.




Arent, his crew and subcontractors were easy to work with, professional, and did an excellent job. The project stayed quite close to budget, though it did take about two months longer than expected -- mostly due to factors outside of RightArm's control.
Right Arm Construction turned our vision into reality- making our dated, yet solid, historical home into a fresh new space, honoring its vintage and period. They spent time with us upfront to make sure that we understood the scope of work and the many decision points along the way. They provided a project summary and timeline, and kept us promptly informed with progress along the way, including whenever the schedule needed to change, which occurred minimally. They accommodated our need to stay in the house during the 24-week project. They made the permitting process smooth, and they had responsive and on-schedule subcontractors working with them. They gave great advice at various decision points about construction and design options, and provided insight on fixtures, finishes, materials, and functionality. They were prompt, clear, and helpful. The pictures of the end product speak to the high quality of the work- terrific craft and excellent function. https://www.houzz.com/projects/5509291/ne-irvington-remodel
Wow! We had a vision and Right Arm Construction made it happen. Never have I experienced a large construction/remodel project so I have no baseline except for the high bar that Right Arm set. The amazing crew at Right Arm Construction made the magic happen. Communication was open and our project stayed on task throughout the addition. The finished product is better than we could have imagined. Would highly recommend especially if modern and stylish are in your project requirements.




Arent and Cassie coordinated the completion of our basement ADU in 2017. We worked with an architect they knew and we wanted to be hands-on in the process. We greatly appreciate their willingness to let us learn while the project moved forward. They answered our questions and were patient with us. There team was professional and their subs did great work. We've had only compliments on the space.




Right Arm Construction (RAC) is awesome to work with. From the owners to the workers on-site, everyone is friendly, conscientious, and experts in what they do. Our team was receptive to our questions and ideas/changes after the project started and worked hard to make our project a success. We have an old home built in 1912 and wanted to give the woodwork a refresh and add a fireplace with a more modern flair while keeping with the look and feel of the house. It turned out even better than we expected! Matching the original woodwork was no easy task, but it looks seamless. We've used RAC for several projects, and every experience has been a great one.


We used Right Arm Construction to repair some siding on our home and also install a new rooftop deck. They did excellent work and even moved up their scheduled start date so that the deck would be completed before our house went on the market. Would definitely recommend them!

I recently hired Right Arm Construction to build a detached garage/studio to match a mid-century modern styled home in SW Portland and they did a very thorough job. They were responsive, friendly to work with, punctual and brought alternative ideas to the table when challenges were encountered along the way. I would certainly hire them again in the future.




Right Arm did it again! Two years ago, we hired Right Arm to completely gut and remodel our 1970's kitchen, and they did not disappoint. This year there was no question who we were going to hire to remodel our two bathrooms, and put on a deck; Right Arm Construction. This is a company that is wonderful to work with, professional with friendly staff that does quality craftsmanship. Where once we had old, worn-out, and dated, we now have bathrooms that are spa inspiring. The deck adds a space that is great for coffee in the morning or dinner in the evening. And with a unique cover – thank you, Arent; we will be able to use it year-round. While our immediate remodeling plans are at an end, should we decide to start another project, Right Arm will be the only contractor we call.

S Baird Design has highly recommended Right Arm Construction for the last few years to all of our clients, commercially and residentially, whether building new, remodeling or a major renovation. They are always professional and timely in their response to our clients. Arent and his team exceed our expectations with problem solving, honesty and classically executed craftsmanship. We are always happy to work with them on any project large or small.
We entrusted the complete remodel of our 1970s Portland, OR ranch-style home with Right Arm Construction and we would do it again in a heartbeat. Before the project really even started Right Arm worked with us through a very time-consuming and frustrating bank loan process. Cassie and Arent were patient and understanding as we worked through a few bumps as we secured funding. They knew this was important to us as it was the difference between doing 70% of our project and 100% of the project and we very helpful in squaring away all the documentation. Once the project got underway, we were so pleased with the amount of attention Arent paid to our home despite having several projects going on simultaneously. Right Arm used great subcontractors and monitored their work closely. Right Arm clearly has a great reputation in the home building industry in and around Portland. They referred us to suppliers that were easy to work with and had products that were fairly priced. The pride Right Arm and their subcontractors took in their work on our home was exceptional. We liked that there was a constant open line of communication and when we had questions or concerns we got answers and resolutions right away. Above all, the communication, care and professionalism Right Arm demonstrated was top-notch. Right Arm also stayed on budget and reasonably within their initial time estimate. We would wholeheartedly recommend Right Arm Construction to anyone considering a remodel of their home!
Arent and Jason were exceptional throughout our kitchen remodel. It was an extensive renovation involving the removal of a wall and modification of three other walls, so it required some vision and creativity, and it turned out more amazing than we could've imagined. Our project included new cabinets, new windows and doors, new floors, new appliances (including a switch to gas stove), new counters, new sink, new casing work, and new light fixtures. The project lasted 10 weeks, and it remained on schedule to be completed for Thanksgiving. Right Arm has tons of experience with all kinds of remodels and they are knowledgeable about every step in the process. They don't take short cuts, and the quality of craftsmanship was impressive at every level. We were also impressed that the worksite was kept so clean throughout the remodel.



Right Arm completed a huge addition/remodel to our 1920s Craftsman bungalow. The existing garage was removed and a two story addition was built in it's place. We can't speak highly enough of Arent and his crew. He was recommended to us by our architect (Sean Barnett, Polymath Studios) and they worked really well together. This remodel touched almost every room in the house but everyone was so easy to get along with that the process was actually quite pleasant. We welcomed a new baby into our family mid-project and Arent was super flexible about taking some time off from the project while we all got settled in. He and his employees and subs are all very conscientious, clean, organized, respectful, everything you would hope for in a contractor. Our project came in VERY close to budget and on schedule, which is definitely saying something with a project this size. Every cost change was discussed with us well in advance and we came up with solutions that worked for everyone involved. In a project of this size and scope issues will come up and Arent dealt with everyone in a very professional, efficient and satisfactory way. We honestly can't speak highly enough of Right Arm Construction. When we called Arent's references before the project began, people EAGERLY called us back to talk about how great he was, and now we can see why! Highly recommended without any reservations!
We used these guys for an extensive kitchen/dining room remodel. They were on the job very promptly and were very punctual and consistent on a day-to-day basis. It was clear that they took a lot of pride in their work; the quality of the work, from demo to to finishing, was really top notch. They were quick to respond to questions and were happy to work closely with our designer. Their subs were solid; their entire workforce was always very respectful of our space, a bonus considering that the job was 3+ months long. They took special consideration for our kids and made sure the job site was clean and safe when they packed up each day. Highly recommend.
Large project that involved a nearly complete interior remodel with newly designed stair location. Project took 3.5 months, which in retrospect, was not that long after seeing everything that was done. I was impressed with how quick and efficient they worked. Sub contractors were scheduled without any time gaps and all subs worked together regularly which helped with efficiency. Friendly, family run company added a comfort level and personal touch. They were very helpful and accomodating with our impulse decisions and had great suggestions. Would refer them to everyone.
My wife and I have worked with Arent and the gang at Right Arm on three projects to our 1912 Portland craftsman home over the past 10 years and we have been pleased with the results each time. As many know, any time you work on an older home, there is a degree of uncertainty as to what you'll find once the "skin" of the home starts to peel away, which can make planning and budgeting a challenge. Arent's knowledge of older area homes and building practices and his experience in remodeling them help to manage such challenges. Of course, things are bound to crop up, but the entire team at Right Arm is very creative in adjusting to the unfolding realities as the project progresses. Where applicable, Arent provides alternatives on how to proceed when, say, your dormer roof is sagging with age and that is impacting the framing of the new casement windows being installed. Another area in which Arent and the Right Arm crew shines is in working with subcontractors. Managing the work flow of a variety of service providers can be like herding cats, but Right Arm has the appropriate relationships in place, such that we have experienced little to no down time on our projects. In those rare instances in which we have questioned the work of a sub, Arent has been an excellent advocate for us and the issue has been addressed. We've only worked with a couple of other contractors before we met Arent, but the difference in the experience is remarkable. The entire crew at Right Arm is excellent at listening to your needs, providing solutions, and accomplishing the task on time and on budget. We recommend them.

We had a great experience with Arent at Right Arm Construction. We recently completed complex basement remodel that involved an addition on an extreme hillside. From the start, it was clear that Arent is a very busy guy, but he definitely made us a priority. I would consider myself to be a pretty demanding client in many areas from design to finish details but most importantly, budget monitoring. Arent and his team were up to the task, he kept me apprised of all costs and labor throughout the 5 month project. He took a very pragmatic view toward any cost questions/concerns that I had. In addition, Arent was very flexible with changes throughout the project and his tolerance of "on the fly" decision making was extremely appreciated. Overall, the quality of work was top notch and our finished product is outstanding! We love our new space! I would definitely recommend Arent to anyone looking at a remodel project. He will take great care of you!
We hired Right Arm to construct an addition of just under 800 square feet on our 1948 ranch. Both Arent and Cassie were fantastic! Their approach was collaborative in nature and they spent the time to get to know our project and make sure that as changes occurred in the field (as they always will with a remodel) that we were informed of the conditions and given the necessary time and options to redirect our finances to handle changes or use additional resources to make upgrades to our remodel. The end product of our home is beautiful and has helped us meet our primary goals of individual bedrooms for all our kids and improved energy efficiency.
Excellent Company to work with. I met Arent through a friend of mine who had a remodel on his kitchen. We got together with Scott Furow designer and worked on the plans. After engineering and structural approval Arent and his crew at Right Arm Construction showed up with permits in hand and went to work. Our project was a complete remodel of our master bedroom with a full demo and rebuild of our 2nd floor adding a dormer and remodel of a 2nd bath and guest room. I chose to be hands on and help with demo and insulating along with some finish work on floors and painting. All the subs were great to work with. Special thanks to Kenny "The Tile Master " and his creativity. Very Professional Service and it was a pleasure to have Right Arm Construction do our remodel. Tom & Wendy




My wife and I hired Arent and Right Arm Construction to help us with our 1954 daylight ranch house. We expanded a single car garage, added an interior stair case, raised our 8' ceilings to vaulted ceilings which opened up the living area. Arent and his crew were the best. Given the complexity of an existing 1954 structure and to integrate the desired changes properly we had to have someone that was unflappable, extremely knowledgeable, and is very detail oriented. The project was completed in a timely fashion and handled professionally. These guys fit the bill and we ended up with a project we are very pleased and proud of. If we have another project down the road, we would work with Arent in a heartbeat. Thanks Arent.
We have and will continue to recommend Right Arm to friends and family for all of their design/build needs. We hired Right Arm to finish an unfinished basement, including the addition of bathroom, utility room, reconfiguration of utility services to entire house and re-engineering structural supports for 1904 craftsman style home. Arent and his team at Right Arm turned our vision for a functional family and entertaining space into reality, and were instrumental in developing a design that respected our budget, sensibilities and existing form and finishes of our home. We had a previously developed relationship with an HVAC provider; Arent and his team at Right Arm respected our desire to use the same provider and worked seamlessly with that provider. Right Arm was up front about scheduling work and flexible with respect to accommodating our needs regarding noise/disruption of utilities during the project; this was especially appreciated given that we operate a small business from a home office. If, in the course of the project, we had questions about project work, schedule and/or billing, the team at Right Arm was responsive and resolved all matters to our satisfaction. We absolutely love the finished product and will use Right Arm again for future projects. Thanks to the whole team at Right Arm!
Right Arm Construction would be our contractor of choice should we choose to do more remodeling. The result of their workmanship is outstanding. The project was completed on time and within budget. Even though we lived in this house during the four months of construction with this team in and out of our house every day, the disruption to our lives was minimized because: •They cleaned up every night; •The communication lines were always open; •Problems were addressed head on and resolved quickly with respectful interaction of all parties; •Everyone kept their sense of humor. Right Arm Construction completed the following as contracted in our 1920's Portland bungalow: •Built a gabled dormer for a new bathroom upstairs; •Deconstructed an existing staircase and constructed a new one; •Combined two small bedrooms downstairs into one that included A bay window bump out; French doors to the back deck; and Walk-in closet; •Deconstructed an old deck and constructed a new one; and •Sub contracted and managed the completion of associated painting, plumbing, electrical, insulation, flooring and heating.
We hired Right Arm Construction for a master bedroom/bathroom addition. The finished project is beautiful and exactly what we wanted. His workmen, Josh and Joris were fantastic, respectful and clean. Kenny did wonderful trimwork and was helpful in his expert opinion. The subcontractors Arent hired also were easy to work with and did thorough jobs. Arent himself was patient and listened well to our concerns. He responded quickly when a small problem arose with a subcontractor and fixed the issue immediately. I would recommend Right Arm construction again.
We hired Right Arm Construction to: - Expand our current driveway with new concrete - Repave our current backyard area to support a new shed - Dig/install pavers for a new patio area - Build new steps into the patio area - Inspect/replace roofing soffit fascia As we used them previously, we were really comfortable with the level of professionalism and trust to make sure this job was done with confidence, security and within our budget. We were also very pleased with the honesty of not needing to replace our roofing facia as the wood was still in great condition and only needed a new coat of paint. We are extremely happy with the results and are looking forward to work with them again soon. Thanks again RAC!
Our project was to build a new bathroom in the unused attic space of our second floor. The space was outlined by complex roof lines and multi-level flooring. It was filled with blown-in insulation and the air duct needed to be rerouted. Arent Wortel and his team at Right Arm Construction took on this challenging project with a can-do attitude from day one. They are talented and responsible professionals who do quality work from start to finish. Arent, above all, is responsive, resourceful, patient and super attentive to our wishes/requests. Our finished bathroom looks amazing. Like most projects, changes were inevitable but Arent and Cassie worked hard to keep our cost very close to the original budget. We would love to work with Right Arm Construction again and highly recommend them to anyone who is considering remodeling

I would highly recommend this company, thats why I hire them to do work for my clients. They do a fantastic job of communicating with my and my clients, they're clean, reliable, and are great problem solvers. They also know the difference between being a designer and a contractor.


I hired Arent Wortel and his crew of Right Arm Construction on the referral from my designer, Allison Smith Design. They concepted & remodeled a relatively useless raw basement space into a beautiful home office. They offered time/space/cost saving solutions throughout the project. They were patient to answer my near-daily questions during the demolition/construction process. The crew is outstanding, they're just good guys and all know their work extremely well. I enjoyed seeing the process very much, and appreciated and took all their suggestions of improvements as the job progressed. Things like, 'raise the header' once explained, made all the sense in the world. The work was on-time, on-target, and on-budget. Arent and his crew were just great, and I'd hire them again in a heartbeat. And continue to recommend them to all my friends who are looking for a top construction crew.


To prepare our home to go on the market, I had quite a long list of various projects. Arent and Kenny were willing and so helpful to accomplish them all. Installing a vent hood over our cooktop created quite a challenge and they did an excellent job of figuring out how best to do it and their attention to detail was extraordinary. Arent also provided consultation and guidance of how to evaluate a water problem and helped formulate the solution. I will definitely hire them again.

Right Arm was easy to work with and did a wonderful job. They did a total bathroom remodel on my 1920 bungalow. The price seemed competitive. They use workers with which they are familiar and I felt comfortable leaving the house when they were working. They made an effort to understand my vision and to create this.
This was a partial remodel of a 1964 owner-built ranch. It was a long, involved, and constantly evolving project, but Arent and the crew showed up every day and didn't let it lag. One of the best aspects of having Right Arm do a project is how easy it is to get along with Arent and the crew, and how they are able to adjust on the fly to the inevitable surprises in a remodel and to changes to the plan as the project developed. Also, there were parts of the job that I wanted to handle myself, and Arent was very willing to work with me and facilitate the integration of my pieces with what he and the subs were doing. The other great thing about Right Arm is that all of the subs they work with are also great people who do quality work at fair prices. We were pleasantly surprised at the quality and value for money delivered by all of them. If you are looking for a contractor that is hands-on, quality oriented, and flexible enough to let you tweak your project as you go so that you get a result you will be happy with, go with Right Arm. They are good people.
Arent and Right Arm Construction worked with me on my bathroom renovation, featured on this site. The project was successful in many ways. As the client, I was thrilled. The room and all its details are perfect. Furthermore, the collaboration between myself, architect and Right Arm Construction was inspired and the end result is proof. I will always go to Arent and Right Arm Construction for my home renovation projects. He is straight forward, friendly and helpful. Going the extra mile is one thing, but arriving with creative solutions makes Right Arm Construction the best in the business. Done deal!
Arent & Cassie Are great to work with. They are quality professionals, and it shows in the projects they build. They are a family run business that is a pleasure to work with. Dave- Sellwood Plumbing
We hired Arent for several small jobs and then for our kitchen backsplash and guest bathroom. He and his team did a great job on all the projects, but specifically on the tile work. We chose very large 35 x 12 tiles for both projects. The finished work is excellent and is very clean looking. We will be using Arent for the next several projects we have lined up for our home.
This stellar company is comprised of hands-on professionals, who take quiet pride in meeting deadlines and budget estimates. They took my 1950s kitchen, gutted it completely, and made it a dream space in about 8 weeks. They showed particular savvy in maintaining knowledgeable decision-making in the face of unexpected events and creative, realistic problem-solving, leaving behind a clean working environment each day. Every associated subcontractor was equally an excellent craftsman and kind human being. The team-oriented attitude allowed for fast turn-around and high quality workmanship, engaging equally with client, architect, and craftsmen. A superb experience all around!

I highly recommend hiring Right Arm Construction for your remodel. We recently had them completely redo the entire upstairs of our 1970's split level. They turned our kitchen, dining room, and living room into one large, beautiful, open space. Arent worked with us and gave us as much as he could while staying within our budget. He gave us very good advise as to where we should and shouldn't cut corners budget-wise. We were kept up to date on the schedule and they let us know when things were changing. When issues came up (there weren't many), they were communicated to us so that we could give our input. Arent and Kenny (and all of the subcontractors they use) are very friendly and easy to work with. We have young children in our home and the crew always made sure the house was as safe as possible before they left each night by sweeping up the floor and unplugging and putting away any dangerous tools. We could not be more happy with our new upstairs area. Right Arm has done an amazing job and our family loves living in our new space. The job was done on time and within our budget. I was expecting this project to be a major inconvenience for us, but it really went very smoothly and was fairly painless. If you are looking for a fantastic, local, family owned business to work on your home, hire Right Arm!
We hired Right Arm to do a full back-end tear-off of our house, then they built a new kitchen and upstairs master bedroom. They did a fantastic job! They came in with a very reasonable bid, which they stuck to, and they finished on time. The crew was always friendly and hard-working and Arent was great about sticking to our budget, letting us pitch in where we could to save money, and generally doing whatever was needed to make the project work for us. We are SO happy with our new kitchen and bedroom. Not only on-budget and on time, but gorgeous! Great company to work with.
We hired Right Arm Construction after the supply hose to our washing machine in the main floor kitchen split open and caused extensive water damage to our 1919 home. Right Arm was a breath of fresh air after dealing with the cleanup contractors and our insurance company. What a treat it was to have people in our home who love what they do and want what is best for us and our house. The project included a complete kitchen remodel and a new main floor bathroom. The staircase to the basement was relocated to accommodate the bathroom. A nook was added on to the back of the kitchen, and a small deck was added on to match the nook. Structural upgrades included replacing the main support beam and earthquake strapping. A new fireplace mantel and hearth were added in the living room. The doorway between the dining room and kitchen was widened and converted into matching reed glass pocket doors. The soffits and dropped ceiling in the kitchen were removed. A laundry chute from the upper and main floors into the basement was added. All of the water lines and most of the wiring was updated. The siding on the addition was matched to the rest of the house, and the siding on the front of the house was changed to match the rest. The front porch railing was rebuilt. The panels under the carport & porch roof were removed. The main floor, hallways and exterior of the house were painted. A few weeks before the water damage we had painted the kitchen and decided NOT to remodel. So we were uninformed, reluctant remodelers that had very few ideas about what we really wanted, but we were still very opinionated. Arent was patient and gave us excellent advice. People who had seen the house prior to the water damage are stunned and very impressed by the remodel. We are very happy with the results and highly recommend Right Arm Construction.




Remodel of attic space and master bedroom. Converting the attic to mater closet and archived storage area, without adding a dormer. Old master closet was added to the master bedroom. New 6'x4" window, skylights, doors, Lumicore back lit panel were included in the scope of the remodel. A project Architect was involved through out the construction.This project was highly complicated because it involved a stalled remodel with a previous contractor after discovery of non spec material usage. Right Arm Construction picked up the stalled project, removed the non spec material and corrected the project deficiencies and completed the remodel on schedule.The project included many highly customized components like storage steps,19'x18" led back lit pane, aromatic cedar paneling, Baltic Birch Plywood flooring, scaffolding access to the construction site, etc. When Arent took over, work at the remodel had been suspended for over eight months. Arent' corrected the project deficiencies, executed the architectural details, taking full ownership, completing the project in reasonable time and with no budgetary surprises. An incident best describes Arent work ethics, perfectionism of craft and professionalism. Arent and his co-worker were installing a featured back-lit Lumicore panel. He was installing the 20"X18" panel on to 2" blocks painted white "in case they showed through the the white Lumicore panel" and insisted on placing the holding tabs for the LED light strip at equal intervals, again, "in case they showed through the panel". When his helper remarked all this detail did not matter as they would be covered by the Panel, Arent insisted that they mattered to him and held his ground.This candid observation tells all about the attention to detail and professionalism I have come to expect of Arent and Right Arm Construction.
I contracted with Right Arm Construction to convert an under-utilized basement area into a beautiful bedroom, master bathroom, and laundry room. Arent and his crew had to do a lot of problem-solving to address critical structural and aesthetic issues. Right Arm offerred the patience, flexibility, and professionalism that ensured the project was a successs. We now have effectively doubled our home's living space.
I have used right arm construction for several projects and have never been disappointed. They provide high quality craftsmanship and have been flexible with my budget needs. The crew has grown through the years and they are able to handle large jobs in a timely manner. I highly recommend Arent and Right arm construction.

13 years ago we bought our 1914 bungalow in the NE Beaumont neighborhood . Last year we had a decision to make, do we sell or remodel? Needless to say, we remodeled !! We needed a contractor who was familiar with transforming historical homes and bridging the gap between period character and modern functionality. We found this expertise in the great team at RightArm Construction. We worked with Arent Wortel and his team at RightArm Construction to take the design by Scott Furrow from dream to reality. The entire back portion of the house was removed and a completely new addition was added. We went "all in" when it came to selecting materials, with custom cabinets, Brazilian granite and Blanco sink. They even added a new covered deck in the backyard with a custom designed cover. RightArm came across some challenges along the way, including very uneven floors, but provided guidance and options and kept us updated on costs so that there were no surprises at the end of the project. Arent and his team are great people and were such a pleasure to work with on such a large-scale project. We highly recommend RightArm Construction for any remodeling needs. The quality of workmanship and attention to detail is amazing.
Arent Wortel with Right Arm Construction did a complete kitchen and entry remodel for me. The kitchen was completely gutted to the studs and a wall was removed between the kitchen and dining room creating a lovely open space in my vintage home. Arent was extremely easy to work with, having excellent communication skills, a grounded and gentle demeanor, and a strong work ethic. He was never more than a phone call away and was very responsive to my anxieties. He had good suggestions and was able to problem solve with myself and his employees. The project was completed within the time frame and budget. Prior to the remodel I was ready to move but now I love my home and will stay put. I will not only hire Arent for future projects but I can highly reccommend Right Arm Construction for your next project.
We have hired Right Arm Construction for several renovation projects. The first was a partial renovation of our basement which consisted of creating a bathroom/laundry space for our family. A year or so later we had Arent's company renovate our kitchen with fantastic results. We love being in the new space. I have always valued Arent's communication with us regarding timeline and expectations and the many ways he has accomadated our familys needs given that we had 2 young children at home. The members of Arent's staff were professional and friendly. Both projects were completed in a timely fashion.
Right Arm Construction just finished remodeling two bathrooms in my home: one fairly utilitarian and one designer-level. The work completed is highly satisfactory. I am particularly grateful for the advice Arent gave me as to materials, finishing details and styling. I benefited from his excellent knowledge and experience. The contractor, his associates and sub-contractors were all helpful and agreeable to work with.
Back to Navigation
Back to Navigation
Contact Right Arm Construction
| | |
| --- | --- |
| | Right Arm Construction |
PO Box 301249




Portland

,

OR

97294
Typical Job Cost $100,000 - 2 million


Prices vary based on scope of project and finishes.
License Number CCB 159380