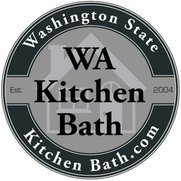 Washington State Kitchen & Bath
| | |
| --- | --- |
| | Washington State Kitchen & Bath |
2 Houzz Awards
3 Houzz Badges
Typical Job Costs:
$15,000 - 500,000
Typical Job Costs: $7,000- $650,000 Bathroom Remodels: $20,000 - $60,000 Kitchen Remodels: $18,000 - $90,000 Home Renovations: $120,000 - $650,000 Additions : $50,000 - $300,000 Doors and Trim: $7,000 - $45,000 Estimates based on experience. Your actual costs may vary depending on the scope of your project. Please contact us to discuss your project and schedule a free consultation. WSKB is a supply and install company. We do not install any material that is not supplied by our suppliers.
https://www.houzz.com/pro/washingtonstatekitchenbath copied to clipboard
Washington State Kitchen and Bath is a fully licensed and bonded company that provides quality construction services for remodels, additions, and restorations. Turn your dreams into a reality. Schedule a free consultation with us today. Our elegant, yet affordable, bathroom remodel and kitchen upgrade services allow you to enjoy a no-hassle final product. Typical Job Costs: $7,000- $650,000. Bathroom Remodels: $20,000 - $60,000. Kitchen Remodels: $18,000 - $90,000. Home Renovations: $120,000 - $650,000. Additions : $50,000 - $300,000. Doors and Trim: $7,000 - $45,000. Estimates based on experience. Your actual costs may vary depending on the scope of your project. Please contact us to discuss your project and schedule a free consultation. Washington State Kitchen and Bath prides itself on good, old-fashioned values — honesty, integrity and transparency in our interactions. Our process is the backbone to our business and to client satisfaction. WSKB is a supply and install company. We do not install any material that is not supplied by our suppliers.
Services Provided
Backsplash Installation, Bathroom Remodeling, Bathtub Installation, Cabinet Installation, Countertop Installation, Custom Cabinets, Custom Countertops, Custom Kitchen Cabinets, Flooring Installation, Kitchen Remodeling, Shower Installation, Tile Installation, Wood Floor Installation, Whole Home Remodel
Areas Served
Alderwood Manor, Ames Lake, Bothell, Brier, Carnation, Cathcart, Clearview, Clyde Hill, Cottage Lake, Duvall, Echo Lake, Edmonds, Everett, Hunts Point, Inglewood-Finn Hill, Kenmore, Kingsgate, Kirkland, Lake Forest Park, Lynnwood, Maltby, Martha Lake, Meadowdale, Medina, Mill Creek, Monroe, Mountlake Terrace, North Creek, Redmond, Sammamish, Seattle, Shoreline, Silver Firs, Snohomish, Union Hill-Novelty Hill, Woodinville, Yarrow Point, King County, Pierce County, Snohomish County
Awards
Licensed, Insured, and Bonded General Contractor NAHB Member BBB Accredited Professional A+ Rating VA Approved Contractor NAMRI Member Certified Residential Mold Inspector through PMII AAA Discount Partner
Write a Review
11 Reviews for Washington State Kitchen & Bath
Project Price
$10,000 - $49,999
WSK&B turned an outdated, dark master bathroom into one that is bright, modern and a pleasure to use. The remodel included new tile floor, a custom-made glass shower, shower tile, bathtub tile surround, and a two-sink vanity with quartz countertop. All new plumbing fixtures and vanity lights were also installed. Suggestions made by Erin, the owner, were excellent. From demolition to installation, all employees and subcontractors were polite, respectful, and hard working. I have already recommended WSK&B to others!

Project Price
$10,000 - $49,999
Washington State Kitchen & Bath remodeled our bathroom which had extensive dry rot damage. The contractors involved were very professional, and respectful of our home. We are very pleased with the results as they really went above and beyond to address any concerns and the result is a beautiful bathroom. This is a very customer centric organization-I would highly recommend them.
Project Date
December 2017
Project Price
$10,000 - $49,999
I hired Washington State Kitchen & Bath for a complete, to-the studs renovation of a very small bathroom (Tub removal, drains moved, all new fixtures, new drywall, electrical work, shower install, floor and shower tile install). I found them communicative which was a big plus for me. When the demolition was completed several "gotchas" were found which increased the scope of the project. They were able to explain to me in very clear terms what the issues were and what the fixes would require in both cost and time. We only have the one bathroom and so it was VERY important that we were informed ahead of time when we would be without the throne. :) Their communication on this issue was very helpful. I really love the end result and can finally enjoy a spa like shower experience in my own home. The pricing was totally fair, not bargain basement but not extravagant either. The caliber of professionalism and work is worth every penny.
Project Price
$50,000 - $100,000
My kitchen and bath are beautiful! I found WSKB to be very responsive to any issues, and could not be more pleased. It was a team effort throughout, and the project came together so well, despite some delays due to the full schedules of some of the local contractors. I fully recommend this company.


Project Price
$10,000 - $49,999
Washington State Kitchen & Bath were responsive from the initial contact. My husband and I talked with the representative at the Tacoma Home and Garden Show in March of this year. The team sent out to give us an estimate for the master bath project. The cost was projected and agreed upon. All of the vendors we ordered the materials were very helpful. When we wanted something above the budget for the counter top Lindsay from WSKB set it up for us to see other samples. The project took longer than I expected - this was not due to any date that was given- Frank the main project manager was wonderful. He would say each project is different. All of the work was excellent- well done. All of the craftsmen that came to do the project were professional and skilled. I did miss some details and it would have been helpful to perhaps a telephone conference to go over the final list of product choices.
Project Price
$10,000 - $49,999
Washington State Kitchen and Bath remodeled our master bath last year. We were a little apprehensive about having this type of major remodeling done but were pleasantly surprised at how well it all went. We found WSKB to be well organized, very thorough, very careful and efficient. We were regularly informed about the schedule and when the different crafts people would be here. The bathroom has a lot of tile and the tile installers did a great job matching and installing the tile. WSKB was very responsive when small issues needed attention. We are very pleased with how well the bathroom turned out.
Project Price
$50,000 - $100,000
In the last 3 years we have had WSKB remodel 2 bathrooms and a laundry room. They are very professional and do a beautiful job.. They take pride in the finished product and followed up through out the project to insure they met our expectations. They provided a reasonable estimate up front, and stayed within the parameters of the cost without cutting corners. They do top of the line work, and we would highly recommend them. They would be our first choice on any future projects.
Project Date
February 2016
Project Price
$10,000 - $49,999
We started with a broken tile in the master shower. We ended up with a new larger curbless shower, stand alone tub, new vanity and heated porcelain tile flooring. Yes we had bumps in the road, slight modification to wall between the shower and tub, a decorative bump out removed, change of mirrors. What I would have done differently, I would have added a tankless water heater for the master bath, we waste too much water waiting for the hot water from the front of the house. Best Sub - the tile guy - did a great job on cutting and fitting all of the tile. Favorite addition - heated flooring, especially here in the NW at 5:30 in the morning.


Project Price
$10,000 - $49,999
At the age of 73, my sense of balance was kaput, and I fell a couple of times. So I decided to get a new shower complete with hand bars. WA K&B got good reviews on Yelp, so I hired them to pull out my old bathtub and install a new shower. They send you to specialty stores to select the tiles you like for the shower and the plumbing fixtures. The installation went smoothly and I show off my shower to all my friends.
Project Price
$10,000 - $49,999
Over the past year, we have worked with WSK to complete our Master Bath, and Kids/hall Bath. We were very pleased with the outcome, and the price, and the entire WSK staff. Both bathrooms were full gut rehabs. We replaced all the tile, brand new tub and showers, all new cabinets and sinks, and plumbing and painting. The cost for our Master was ~$35K and about ~$30K for our hall bath. Nanette and Lindsey at the office, were very communicative and would usually call me every day during the remodel to let me know what was next. Frank was kind of the foreman so he was there consistently throughout both projects and he is the absolute nicest man, very respectful, and very thorough. Erin came out in the beginning and gave us a fair estimate, which was for the most part adhered to except for a repair we needed and when we selected some higher priced items. Other than the initial meeting with Erin, the owner, we did not interact with him much during the project itself. But if I felt like I needed to talk with him directly just for a higher level of expertise, I could text or call and he would always get back to me quickly. The work did take a few weeks longer in both cases than what was originally estimated. But to be fair, there are always little detours and things that happen that extend the timing of completing the project, some of which were caused by our personal travel or schedules. That was the only thing I sometimes got frustrated with, but even when I was stressed or grumpy because I have people in my house all the time working, the staff was always kind and patient with me. I was impressed with how Erin and the team helped out with some extras that were not necessarily included in the estimate. A couple examples include painting another wall adjacent to our hall bath because we had a flaw in the wall not related to the remodel that needed repair, fixing our tile and grout that was discolored, and changing our door frame around our master bath after the project was completed. Luciano is a wonderful painter and really pays attention to detail, does not rush - I think he must be a perfectionist. Our hall bath had some additional challenges including an outcome of our shower that did not turn out the way we expected. It took awhile to figure out what we wanted to do, but WSK presented me with all the options, and were very fair in working out a compromise on the additional cost to help me stay within budget. I've already recommended them to others in our neighborhood. And we have a very large Kitchen remodel planned for 2018/19 and we plan to use them again. We know and trust everyone there, and more importantly, then now know me and how I work and what we like which helps them better customize the designs to our needs and desires for something functional and stylish for the best cost possible. They have already provided helpful schematics of our kitchen so we have a good idea what we want, but taking a break from remodels for a little while. We will definitely be back in touch when we move forward on the kitchen. Thanks!
Project Date
September 2015
Project Price
$10,000 - $49,999
Work planning. When you notified me that the project was actually scheduled to begin, Erin as the owner of WSK and the person we interacted with should have made a point to review the planned work. Among a number of issues, this would have alleviated those with the first bath (improper installation of tub) and certainly on the master bath (plumbing placement). It would have taken 30 or 40 minutes of time to walk thru the project and gain clarity. On five separate occasions when I was home, WSK work crews came onsite and proclaimed they did not know what to do. Calls were placed by the work crews at that time in an attempt to work on tasks. This of course did not always work, for example the install of the glass, the workers were unable to gain access to the house, since they had no codes for the lockbox to get the keys. The city inspector showing and no one here. There are other items we could cover, such as the materials being ordered so that all items were available for the work crews (e.g. the pocket door, cabinets etc). Plumbing work being completed prior to the tiling team arriving. Compressing the timelines etc. Process started in September 2015, baths were completed March 31st 2016. Customer service. You fail to recognize that we too (me specifically) have a job which means at times we cannot respond, yet you feel compelled to always note (as you did today) that you try, and we the customer are not responsive to you. My interactions with you specifically were adversarial, I expected a collaborative approach to the job. You on the other hand have a habit of telling us to read the contract as your standing reply to my questions. Workmanship. This is the area where the craftsmen (and women) you employ did very good work. Vlad and his partner did a great job on the tiling and were very conscientious with keeping things orderly and clean. Both in the house and outdoors where the tiles were cut. Luciano is a magician with the wallboard repairs, texture work and painting. Frank, is great at the overall work, cabinets, doors and demolition. Overall. I am planning a kitchen remodel and will not use this firm. The craftspeople employed (as subs) did great work, but the overall project management and experience with the firm left me sour.

Comment from Washington State Kitchen & Bath:
Would like to start this response off by thanking this customer for taking the time to post this review. Although it is not the most positive review, we do like to hear feedback from any and all customers that we have worked with. WSKB's management and staff will take this as constructive criticism for all future projects as we do strive to ensure that every customer is pleased with their experience with us.

WSKB does feel a lot of the confusion as to what was and wasn't inclusive in the original project cost was from Mrs. Stothers signing the contract when Mr. Manoni was not present. WSKB does feel that this is the reason that there were often conversations leading Mr. Manoni to review the Contractual Agreement. Contracts are signed so each party understands the agreed upon scope of work.

The homeowner is correct that the contract was signed on September 14th 2015. There was indeed a slight delay on the homeowners end as WSKB did not receive the homeowner's selections for the project until November 4th 2015. At this point WSKB then set an appointment with the homeowner to have Critical Measurements taken. This is a time where the homeowner is able to review the project, on site, with the installers to ensure everyone is on the same page. WSKB received these measurements on November 10th 2015 and the allowance spreadsheet process was started. After a few revisions the allowance spreadsheet, which simply reflects the homeowner's selected material, was approved on December 2nd 2015. WSKB then ordered materials for this job.

The Hall Bathroom Demolition took place on January 15th 2016. The Master Bathroom Demolition took place on February 3rd 2016. The final completion date for the project was indeed March 31st. WSKB does apologize for any oversights or delays on our end that prolonged this project. Construction projects do consist of a lot of moving parts so of course any delayed selections and/or revisions to the project do affect the schedule.

Placement clarifications and revisions do often need to be made on site with the homeowner and each specific trade. This is why we exercise the Critical Measurement process and also why the communication breakdown with Mr. Manoni was so crucial to WSKB.

The positive feedback on Workmanship will be passed on to each individual. Thank you for the opportunity to assist you in your home remodel
Find Kitchen and Bathroom Remodelers to Help Get the Job Done
Tired of reading all the DIY tutorials? We are here to help. With over 1 million home professionals on Houzz, you'll easily find the trusted Kitchen and Bathroom Remodeler for your next project in Woodinville, WA.
Read Reviews from Woodinville Homeowners Like You
Read homeowners reviews before hiring the Kitchen and Bathroom Remodeler to help with your project in Woodinville. If you have questions, read other homeowners' reviews or our discussion forum for a second opinion.
Easily Contact Trusted Kitchen and Bathroom Remodelers
If you're browsing Houzz and have a contractor in mind, then you'll quickly find that requesting a quote is easier than ever. From one simple dashboard, you can manage all the Kitchen and Bathroom Remodeler quotes you got.
Kitchen & Bath Remodelers near Cottage Lake
Professional Categories in Cottage Lake