Welby, CO

Kitchen and Bathroom Designers

Achieving flawlessly functional and attractive kitchen and bath design in Welby, CO requires a professional who specializes in these spaces. Not only do these rooms see the most action of the house, but they require the most planning and attention to detail. When designing them, a bath and kitchen designer must keep a strong focus on the homeowner's wants and needs while also considering things like potential resale value. Read the tips below to learn how to choose the perfect Welby kitchen and bathroom design professional for your home project.

More
Best of Houzz 2015, 2016, 2017 & 2018!!! - Certified Living in Place Professional - Associate Kitchen & Bath...
Read More
RED PEPPER Design was founded in 2003 on the belief that good service is as important as good design. We provide...
Read More
Denver Design Group believes that everyone deserves to love their home. No matter how big or small we strive to...
Read More
I don't JUST design kitchens & baths, I guide you through the design/selection process, I become your trusted...
Read More
Good design is for everyone, and Ute believes that it is the result of a research-based solution reflecting your...
Read More
Interior Intuitions Inc. translates clients' needs, special requests and vision of the kitchen or bath they think...
Read More
Best of Houzz 6 years in row! Custom and Semi-Custom Kitchen and Bath Designers in Denver and Castle Rock...
Read More
Since 1981, we have been Colorado's source for Kitchen & Bath fixtures, remodel and design. Our staff of product...
Read More
Best of Houzz 2013 - 2018 Certified Master Kitchen & Bath Designer Certified Aging in Place Specialist ...
Read More
Gretchen brings 14 years of experience in the kitchen and bath industry. She holds a degree in Interior Design...
Read More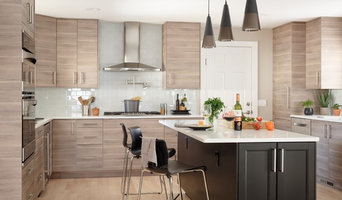 2017 & 2018 Houzz Pro Award Kitchen & Bath Designer NKBA
Read More
Winner of Best of Service 2016, 2017 and 2018! Winner of Best of Houzz 2012 award for Design. Three Week Kitchens...
Read More
Kitchen and Bath Design
Read More
What does Design a la Carte mean? What can we do for you? It means you get exactly what you want and need, no...
Read More
Featured Reviews for Kitchen and Bathroom Designers in Welby, CO

KE Interior Solutions
Kitchen and Bathroom Designers in Welby, CO
"We hired Donna McMahon to do our kitchen remodel and will hire her again. The design that she came up with was fantastic, it used all the space efficiently and moved the appliances to the positions that provided the best layout for our cooking needs. It allowed for us to be in the kitchen cooking together without getting in each others way in a small space. They also provided some added items that we wouldn't have thought about to make it more convenient to have a phone and TV in the kitchen without using up any counter space. When the cabinets arrived prior to the start of the project Donna came by to check to make sure they were what we ordered and werent damaged. We actually had one cabinet that was damaged so her diligence allowed for us to order a new cabinet without delay to the project. They completed the project in the time they specified and were very clean which allowed us to be in the house during the project. I would and have recommended Donna to all of my friends and co-workers."
- eschw15

Red Pepper Design & Cabinetry
Kitchen and Bathroom Designers in Welby, CO
"As another professional in the trade in Boulder County, I have seen many of Margie's kitchens and have been impressed by the creativity and functionality of the layouts. I am anxious to see some of her new cabinet line and glad we can look to her for designing a green kitchen. Margie is very approachable and down to earth and I look forward to working with her sooner than later."
- Sugarbeet Architects

Denver Design Group
Kitchen and Bathroom Designers in Welby, CO
"Alexis provided excellent interior design service; this was all inclusive from design, furniture, room layout, color selection, and emotional support thru stressful construction, from idea to implementation! She turned our house into a home and we can't thank her enough! Her work and ideas are creative as well as beautiful. She strives to satisfy and does so, it's clear that she is passionate about design. I would not hesitate to recommend Alexis for all interior design needs!"
- Stacy Niedermeier

Jan Neiges, CKD
Kitchen and Bathroom Designers in Welby, CO
"I have worked with Jan on three separate ktichen/bath design projects. I appreciated Jan's knowledge of how space is used and can be used; I appreciated her knowledge of what's available in cabinets and surfaces. Most of all I enjoyed working with her on three very different projects -- her eagerness to provide great service, design and product for any budget made my job easier and very enjoyable. I would highly recommend Jan. Tedd Mathis, AspenWorks Custom Furniture"
- teddmathis

Ute Vandenberghe Interior Design
Kitchen and Bathroom Designers in Welby, CO
"We had purchased kitchen cabinets that I was not in love with. I spent some time with Ute and she pulled out counter tops, paint, backsplash and hardware selections that I fell in love with. She certainly has an eye for creating designs that appeal. My new kitchen is warm and inviting and not to mention timeless in the design. We couldn't have done this ourselves. I ended up ordering all the hardware and backsplash through Ute. I have no doubt that if you work with Ute, you will have a finished project that you will love. Thank you Ute!"
- lkdorsey

Interior Intuitions, Inc.
Kitchen and Bathroom Designers in Welby, CO
"Interior Intuitions, Inc. provides clients with the most incredible kitchen and bath options. The attention to detail and adhering to what the client desires in the finished product are obviously what Interior Intuitions focuses on."
- Teri Fotheringham Photography

JM Kitchen & Bath
Kitchen and Bathroom Designers in Welby, CO
"I worked with Mike Thulson in the Castle Rock office. I was very impressed with his professional approach, his recommendations and his concerns for overall costs. I highly recommend using a professional when doing any size project as the planning, the execution, the work and the cost all seamlessly come together."
- gheagle

Christopher's Kitchen & Bath
Kitchen and Bathroom Designers in Welby, CO
"I received an estimate for a very large bathroom. I worked with Heather on the design and material selection. Because the bid was $15K over my budget (and that's with a major downgrade of materials) I didn't hire them. I have not hired another contractor. Heather was fantastic to work with and they have great references."
- jllo303

Studio Design LLC
Kitchen and Bathroom Designers in Welby, CO
"Debbie was awesome to work with. She truly listened to ours thoughts and ideas and came up with excellent ideas and suggestions. She was very patient, professional and easy to work with. Debbie helped us remodel out kitchen and an old disfunctional closet. She help us better utilize our kitchen space with new more functional cabinets. She also designed a wine bar area from the old closet which has become the center peice when entertaining. Debbie was easy to contact and managed the entire project through completion."
- Dwight Kinnes

Gretchen Lyons
Kitchen and Bathroom Designers in Welby, CO
"Completely Stunning my kitchen!!! Seriously should be in a magazine! I get so many compliments on my kitchen!!! Thank you!"
- Andrea Grilli