About Us
Northern Virginia & Maryland Landscape Architect
Botanical Decorators is an award-winning landscape architectural design-build firm. For more than 30 years, Botanical Decorators has provided design-build-maintenance services for residential projects throughout the metro Washington DC, Maryland, and Virginia region, enabling homeowners and their families enjoy them to the fullest. Each year Botanical Decorators has achieved awards and recognition for the design of arbors, decks, fencing, fireplaces, outdoor kitchens, pathways, patios, pergolas, pools, ponds, porches, pool houses, railings, rooftop gardens, walkways, walls, and other components that can reinforce an incredibly beautiful outdoor landscape. The company also provides excellent horticultural services to discerning clientele, and was selected by DIY Network's Indoors Out show to appear with Dean and Derek, during a special segment about a unique stonework backyard project .
Services Provided
Custom Fire Pits, Custom Water Features, Drafting, Garden Design, Hardscaping, Landscape Design, Patio Design, Site Planning, Swimming Pool Design, Construction Drawings, Deck Building, Masonry, Landscape Architecture, Low Voltage Lighting, Water Features, Arbors, Outdoor Fireplaces, Pool Houses, Irrigation
Areas Served
Ashton, Ashton-Sandy Spring, Aspen Hill, Bethesda, Brookeville, Chevy Chase, Chevy Chase View, Derwood, Ellicott City, Fulton, Gaithersburg, Germantown, Glenmont, Highland, Hillandale, Kensington, Laytonsville, Montgomery Village, North Bethesda, North Potomac, Olney, Potomac, Rossmoor, Silver Spring, Suburb Maryland Fac, West Friendship, Clarksville, Glenelg, Alexandria VA, Arlington VA, Washington Dc, Great Falls VA, McLean VA, Fort Hunt VA
Awards
PLANET 2013 Merit, Grand & Judges Awards LCA Residential 2012 - 15 Design Build Awards PLANET Environmental Improvement Award 2012 - 2015 Grand Awards 2012-2015
Back to Navigation
Our Stories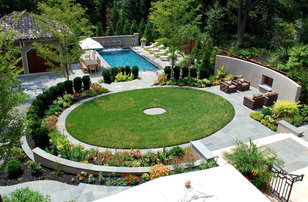 Sponsored story
Extend your living area outside using these tips from a D.C.-area landscape design-build expert
Item 1 of 1
Back to Navigation
Back to Navigation
Credentials
3 Houzz Awards
5 Houzz Badges
Back to Navigation
Write a Review
8 Reviews for CAHILL LAND DESIGN
Wow, Amazing, Absolutely Gorgeous!. Those where the words used last night by our neighbors when they came over to our house last night for a backyard BBQ. Our relationship with BD started in April '19 after my husband and I parted ways with a different design firm. From our initial meeting, we felt that our vision for our backyard was understood. Richard Sweeney created a beautiful plan for our backyard that transformed our "young kids/swing-set" theme to a grown-up outdoor living space. All the elements that we wanted were included: a fire pit/sitting area, a fountain and a dining area large enough for a table for 8 people. The plant choices chosen by Richard incorporated moving some existing plants while also adding an exciting new selection of flowers and trees. The work began at the beginning of June under the supervision of John Wood. John was a great person to communicate with throughout the duration of the project. The masonry work done in our backyard is truly a showstopper. As some people invest in art for their walls, this is artwork for the yard. The artistic beauty of the flagstone is noticed by everyone. Botanical Decorators comes with the highest recommendation from us. If you are looking for the WOW! factor, give them a call. We are so glad we did.
I highly recommend this company. I worked with Richard one of their landscape architects and John Wood, their project manager. They are nice people to work with. The masons and landscapers are hard workers.They completed the project as promised. I have to say that beyond the nice patios and beautiful landscaping that we see and enjoy are employees who work hard and together to come up with high quality work. The completed project is absolutely beautiful.
I would highly recommend Botanical Decorators. We used them for a new backyard project. They worked well with our landscape designer and made sure we were on the same page each stage of the project. The installation itself was pain free and they actually finished earlier than predicted. Both Richard and John were easy to get in touch with (via email or telephone) and were quick to respond to our questions. The best thing about using BD was their attention to detail -- they ensured that each item of our project was taken care of at the end of the project so we had the backyard we really wanted.

Began a front and backyard renovation project with a budget of ~$300-400k. Engaged BD in the design phase advising them that HOA would be a problem for the front yard. All the designs were unnecessarily extravagant, some did not fit the architecture and size of the house, and would never pass HOA approval. Began to limit design iterations to front yard only, and last iterations met our fundamental requirements but were unrealistic in how it reshaped the entire profile/parking of the property and would therefore not pass HOA approval. In the end, I went with another designer/builder that could execute a similar front yard design at 1/2 the cost with more suitable choices for parking and access. Total executed project for frontyard was $115K with lighting installed. BD just never got it and was off doing their own thing in an ivory tower.

Comment from CAHILL LAND DESIGN:
We had presented the initial design to this client and received no response after multiple attempts. Three years later he wrote this review . Our clients higher us because they want the best solution possible. We understand that we are not for everyone nor can everyone afford to go with the best. We are glad that he found a company that met his needs. We have so many clients who love what we bring to them and look forward to serving those clients with the utmost in customer service.

Shawn Ewbank Design Collaborative
Morgan Washburn at Botanical Decorators provided the landscape/ hardscape design for the new Fisher Studio project. Morgan's design is beautiful and has helped transform this large residential lot with two buildings into a botanical garden, park-like setting. His knowledge is extensive and his work is elegant, sensitive and enormously pleasing to the senses I highly recommend Botanical Decorators to any architect, builder or home-owner who is looking for first-class landscape and hardscape design services.




Botanical Decorators (Morgan Washburn) designed and coordinated our rooftop deck project. They turned a boring city rooftop into an award-winning, sustainable urban oasis. Installation was tricky (up 4 flights of outdoor spiral staircase), but the workers were careful & respectful. The craftsmanship was top notch. They re-defined "container garden", placing beautiful river birch trees as anchor plantings, and grasses to catch the perpetual breeze. Wow!
We have been working with Botanical and Steve for two years now. Our property has some complicated dimensions to work with so we wanted a company that was creative and professional to turn our limitations into benefits. Botanical Decorators have come up with a design that is beautiful and even better in execution. They have surpassed our expectations and we have pretty high ones. They are prompt, professional, courteous, and artistic. Thank you for all your hard work!
I still work with Botanical Decorators on a professional level. They have been a pleasure to work with! Their work is fantastic -- each project is unique and you can see their attention to detail. Overall, I highly recommend this company!
Back to Navigation
Back to Navigation
Contact CAHILL LAND DESIGN
| | |
| --- | --- |
| | CAHILL LAND DESIGN |
5011 Olney-Laytonsville Rd., Suite B
Olney, MD 20832
Typical Job Cost $50,000 - $1,500,000

License Number MD 05-129799