About Us
Silver Spring's Thoughtfully Designed Outdoor Living Spaces
What would it be like if you could feel joy and happiness every time you walk out your front door? I'm a landscape designer and I do just that. I work with people to create a landscape that makes you smile. A landscape that is a heart and soul expression of you. I help people find clarity, inspiration, and confidence while providing guidance and direction to bring their creation into reality. If you walk out your front door and smile, I've done my job well. What I have found is that my most exhilarating projects are those that are a true expression of my heart and soul. When I'm helping you create the landscape of your dreams, what I really want to know is what makes your heart sing and how can I incorporate that in your landscape so you experience it on a daily basis. Are you waiting to hear that I have degrees in ornamental horticulture, landscape architecture, concentrated in ecological design, have worked for the National Park Service, design-build firms and started my own design business? Well yes, there's that too. About 15 years ago, I started my own landscape design business and for the last three years I have also been the outdoor classroom coordinator for Sligo Creek Elementary School.
Services Provided
Design Consultation, Edible Gardens, Garden Design, Hardscaping, Landscape Design, Landscape Plans, Organic Gardens, Project Management, Site Planning
Areas Served
Bethesda, Chevy Chase, DC (Washington), North Bethesda, North Kensington, Rockville, Silver Spring, Takoma Park, White Oak, Potomac, Wheaton
Back to Navigation
Our Stories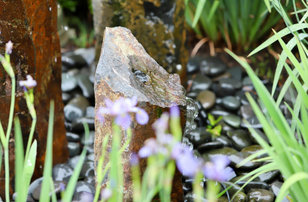 Sponsored story
A landscape designer explains how thoughtful design can transform a landscape and the people who enjoy them
Item 1 of 1
Back to Navigation
Back to Navigation
Credentials
4 Houzz Awards
4 Houzz Badges
Back to Navigation
Write a Review
18 Reviews for Earth Essence Designs
Average rating: 4.9 out of 5 stars
4.9
|
18 reviews
Highly recommend. Laura Volk provided a beautiful landscape design for a troublesome area around our back deck. She has a huge knowledge of which plants will do well in different conditions. In our case we have a hill, tree roots, hungry deer and rabbits, as well as bright shade under tall trees, but no direct sunlight at all. She found the perfect plants and placed them strategically in groupings -- so we will regain the privacy we lost large when large evergreens came down -- yet we still have an open view to woodlands behind us. The design is so creative! Skip laurel, red twig dogwood, serviceberry autumn brilliance, and grasses for wet slopes. Laura is very quick to respond to my questions and make small adjustments. Great value for great work. I can update this review in the spring when everything leafs out. Highly recommend Earth Essence Designs and Laura Volk!
Laura developed beautiful, creative designs for our mid-century modern home. The fact that she is a horticulturalisr gave us confidence in her recommendations.
We contacted Laura for a consultation to help us make some decisions to update our yard, including installing a patio and a design update for plants/shrubs along the perimeter. She was fantastic! We loved her ideas and suggestions, not just about where to put the patio but also she worked with us to identify plants/trees that would fit our yard (and be minimal upkeep). She made a great sketch of the plan with everything we discussed and we'll be implementing it in stages. We look forward to working with Laura more on this project as it progresses.

Laura has been the most instrumental part of our huge backyard remodel. We took on the massive project of converting our large backyard that was overgrown tree size weeds, into an outdoor oasis complete with waterfall and river, beautiful landscaping and privacy, outdoor pergola and seating area, and sandy beach into the lake. We really had no idea what we were doing, but with a few skilled helpers and Laura's designs and step-by-step instructions the whole way we have nearly completed a project that seemed impossible. Laura went above and beyond educating us every step of the way. She researched what was needed for our area and taught us what to do each step along the way

Laura was quick to respond to my request for help, and gave me some very good ideas on how to better design and add more appropriate perennials to my garden. I would highly recommend her to anyone feeling at wits end in trying to get a handle on their green space!

Laura Volk has one quality that puts her light years ahead of every other landscape designer - she actually listens to what her client wants, and how her client feels about their living environment. She has no agenda to push onto others regarding what their property should look like, what plants they're "supposed" to plant, what things are trendy, what things would "look better." She wants to know first and foremost, what YOU want your yard to look like, and how you want to experience it. All of her designs begin from there. She takes your thoughts and ideas and priorities, and then she creates a plan that reflects your personality, only better than if you tried to do it yourself. Her extensive knowledge of plant life, particularly natives and edibles, opens up possibilities you probably hadn't considered but which are delightful and that give your outdoor space the potential to thrive. Her creativity and imagination will help make your yard unique and very personally enjoyable. You will come away with the satisfaction of having built it yourself too!





I wanted to transform my front lawn into a butterfly garden and Laura delivered in spades! It now teems with pollinators and fragrant flowers. I asked for a tough combination of easy-care, deer-resistant, and pollinator-friendly. She figured out how to do so and with a harmonious whole. I was also impressed that she followed through at the end of the year with replacing plantings that had not worked out. Throughout she was cheerful, knowledgeable, and professional. I've had many neighbors stop by to express how much they liked it.

After several years of attempting (and failing) to design my own backyard garden we hired Laura to completely overhaul the layout of our DC rowhouse yard. She listened to our requirements (mainly that we wanted a rain garden) and brought some great ideas to the table: the design of a "kids corner" for our sons to play in, the introduction of river rocks and boulders to create a stream effect in our rain garden, and the terracing of our raised bed to save space. The plants that Laura suggested are doing great and she was even able to reuse some of the existing perennials.
I am so pleased with the garden Laura designed for me in a shady corner of my backyard. She listened to my needs and we had a discussion of her ideas: the resulting garden is a delight to work in and to watch from my kitchen windows, whatever the season. It has attracted species of birds that I have nor previously seen in my garden. I am looking forward to working with Laura on other parts of my front and backyard in the coming years.
Laura is fantastic! I was looking for someone to develop a landscape plan for my recent Cape Cod Cottage purchase and Laura delivered exactly what I wanted even though I had difficulty describing it myself. She was so much fun to work with, incorporated plants from my Houzz boards, and gave me a full color design and detailed instructions for implementation. I can't wait to share pictures of the finished project!
Laura is very knowledgeable and passionate about gardening. In addition, she is very thoughtful when it comes to landscape design and respecting the earth!. We have a complicated hill in the back of our home that requires a lot of maintenance. Laura provided us with some thoughtful ideas for managing the hill with plantings, stone work and drainage. We look forward to our continued work with Laura on the ever evolving garden! .
Laura has done multiple design projects for us beginning in 2006, with the last project being a new design for our front yard in 2016 after an old oak tree had to be removed. We bought an older house in Silver Spring in 2003 and wanted to update the yard, front back and side, but in stages. We have been extremely pleased with all of her designs and would definitely use her again. Best thing about Laura is that she listens! She hears what you envision, what type of plants you like and how much work you want to put into maintaining your landscape. She is very knowledgeable in landscape design, drainage and maintenance and recommends great people for installation.
Back to Navigation
Back to Navigation
Contact Earth Essence Designs
| | |
| --- | --- |
| | Earth Essence Designs |