About Us
Introducing the World's First Truly Bladeless Ceiling Fan
Enhanced Ventilation & Purification Circulates 100% of the Air in a Room Every 25 Seconds Introducing the world's first bladeless ceiling fan - quiet, energy-efficient and easy to install! Through years of research and development, the entire team at Exhale Fans worked to develop a fan that keeps you comfortable year-round while providing superior air-flow. Today thousands of homes and businesses worldwide are experiencing the bladeless revolution with the Exhale Fan. Go Bladeless Enjoy extraordinary levels of comfort and unmatched energy savings with our patented 360° Laminar Airflow Vortex technology. The world's first and only eco-friendly bladeless fan with dimmable LED lights will balance your room's temperature wall-to-wall and floor-to-ceiling to provide never-before-seen luxury and energy savings in the ceiling fan industry!
Services Provided
Ceiling Fan Sales
Areas Served
Borden, Bradford, Corydon, Crandall, Floyds Knobs, Galena, Georgetown, Greenville, Lanesville, Louisville, Mount Saint Francis, New Albany, New Middletown, New Salisbury, Palmyra, Saint Dennis, Sellersburg, Shively, United States of America
Back to Navigation
Our Stories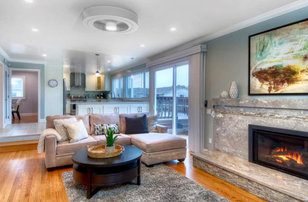 Sponsored story
Learn what to look for when selecting a ceiling fan with this advice from an Indiana expert
Item 1 of 1
Back to Navigation
Back to Navigation
Credentials
1 Houzz Award
3 Houzz Badges
Back to Navigation
Write a Review
24 Reviews for Exhale Bladeless Ceiling Fans
brilliant concept completely quiet & looks great very balanced cooling, I dont even realize its on thought it woudl look huge, but it doesnt once its hung up on the ceiling needs more color options & ability to hang with other light fixtures
My guest love the unique look. It's definitely a game changer. It cools my living room quickly, to a point where I don't run my air conditioner much.
Looks great... very quiet... and moves the air without blowing it in your face. Thumbs up! We'll be adding another to our home.
A Fantastic Product!!! We bought one and loved it, quiet, very efficient and effective. Most people who have visited us (not many because of COVID) did not even notice the fan. We liked the first one so much we bought 2 more

I purchased my exhale fans about 3 years ago and I love them they are so quite. They are not even noticeable. Since I purchased my original two. I have just purchased two more. Everyone who see them and listen and here's how quite they are can't believe it. The only problem that I have is putting those little clips inside the blade system not very easy. They should give you some kind of tool to accomplish this. Otherwise they work great and my older ones still work great.
Great Fan! Well constructed high-quality silent! More of a work of art then a fan. If your on the fence whether you want to buy it.....do it! You won't regret it. Sure it's expensive, but well worth it.
Arrived in perfect shape, was very easy to install. Performs flawlessly. It has a very classy appearance, and now many friends and family have voiced interest in obtaining their own.

I purchased the Exhale Bladeless Fan for a room with low ceilings. The 6 1/2" depth takes the worry out of raising your arms and having it wacked by a spinning blade. Besides the safety factor this fan is stylish and moves the air around not like a wind storm but a gentle breeze that keeps you cool without messing your hair. The fan is quiet, energy efficient, easy to install and the LED dimmable light cast ample illumination for the room and disappears when not in use. The fan is a conversational piece because of it unique design and looks really good in the room. I am planning a renovation and I have already included another Exhale bladeless fan in the renovation budget. I am really happy with my purchase. John C. Saint Petersburg, Florida



I love my Exhale Fans... I have two of them, one I got in their original kickstarter years ago, and another one just recently for my bedroom. All the features they talk about on their website are absolutely true. The one in the living room has been running 24/7 for several years. I never even notice it, it's utterly silent and unobtrusive. However, it makes a terrific visual impact in my Mid-Century home. I get lots of comments on its sleek style. So much better than bladed fans! I've attached a pic of the newest one. It has the LED light on it, which I like.


OMG. This is the greatest invention ever made. My ceilings are too low to have the regular bladed fans and I'm tired of having fans sitting around in my rooms taking up space. I ordered this fan because of the previous reviews and I can praise these fans enough. I now have two! As we have just begun allergy season here my head has been a mess. I turn on the fan in the morning and I can actually feel and breath the difference with the air re circulating. It's astonishing. Another wonderful aspect of the design, an added touch if you will, is the remote and the holder they designed to cover up the old light switch! They thought of everything! This fan would have 10 stars given the opportunity. Thank you Exhale Fans for coming up with such a practical and beneficial fan.



Excellent customer service! Fan was delivered on time, however piece of the plastic for the light housing was damaged in shipping. Contacted Exhale staff via phone. They immediately shipping out a replacement motor and apologized for Fedex damaging the part. My fan is now fully installed and works fantastic! Room stays much cooler and the LED dimmer is perfect. Couldn't be happier with my purchase and their service.
Save $25 with Code SAVE25
https://www.exhalefans.com/
| | |
| --- | --- |
| | Exhale Bladeless Ceiling Fans |