Manchester, NH

Swimming Pool Builders

If you've been dreaming of relaxing summer days spent poolside, it may be time to consider hiring a Manchester pool builder. A professional can not only help with design and pool installation, but also aid in appropriate maintenance once it's complete. Whether you're at the beginning stages of planning or want to revamp your existing pool, a pool company in Manchester, NH will be able to get you on the right track.

More
Soake is a builder of luxury pre-cast plunge pools, made for year-round enjoyment. Based in NH, we deliver pools...
Read More
Snyder Swimming Pools and Spas is located in Westminster, Massachusetts. We're a family-owned and operated...
Read More
KALMIA DESIGN is in the business of transforming ordinary landscapes into beautiful, livable outdoor spaces that...
Read More
Environmental Pools, a Massachusetts based gunite pool builder has been installing premium inground swimming...
Read More
Design build of natural swimming pools and other type of water features such as water gardens and fountains. ...
Read More
Welcome to SSG Pools, we're excited that you found us! Check out our previous projects and shoot us a message if...
Read More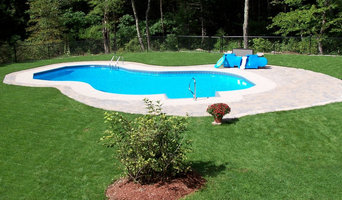 Your Pool Pal LLC is a fully insured family owned and operated NH swimming pool builder covering everything from...
Read More
From Maine to Rhode Island, and from the islands to all of New England, we are a company comprised of dedicated...
Read More
We are a specialty retailer of Swimming Pools (In Ground and Above Ground), Spas, Patio Furniture, and Grills....
Read More
Welcome to Yankee Pools, a in ground pool builder that meets the standards upon which the foundations of New...
Read More
Welcome to Central Pools & Spas construction services site. If you are planning for a new inground vinyl pool or...
Read More
Precision Pool Construction is a custom in-ground swimming pool design and construction company focusing on...
Read More
3D Pool Tile manufactures life-like swimming pool mosaics with a surprising 3D appearance. All of our pool...
Read More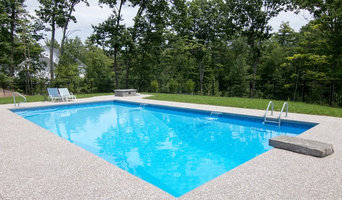 Paquette Pools & Spas is a fourth generation, family owned and operated swimming pool construction and retail...
Read More
At Gibraltar Pools we pride ourselves on being your trustworthy partner when shopping for a pool, hot tub or...
Read More
Featured Reviews for Swimming Pool Builders in Manchester, NH

Soake Pools
Swimming Pool Builders in Manchester, NH
"After years of deliberating on building a pool vs.hot tub, we had given up on finding the product we desired. Then we discovered SOAKE POOLS.. Once we saw the prototype, we were hooked because the pool beautifully matches our interest: large enough to move, even swim a bit; small enough to keep heated; lovely to look at! Now that we have it, we love it! Further, Karen and Brian Larson could not be more helpful and supportive. They are quickly responsive to questions and always work hard to assure that the pool is working and that we are happy."
- Lynn and Paul Kilchenstein

Snyder Swimming Pools & Spas
Swimming Pool Builders in Manchester, NH
"Great Install, great pool, and great service. Ten years I've been working with the Synder team, and have nothing but praise for everyone there."
- John Bosse

Kalmia Design
Swimming Pool Builders in Manchester, NH
"Kalmia Design completed a major landscaping project for me and I was extremely pleased with every aspect of it. The first phase of the project entailed the design and installation of a flagstone walkway, lighting, and plantings for the front of the house. Plantings included various trees, shrubs, groundcovers and flowers which were arranged beautifully to accent our home and yard, and to work with the existing rock outcroppings. It totally transformed a once drab entranceway into one that is colorful and bright. The second phase was even more challenging but the results were just as impressive. An overgrown, sunken section of our side yard, covered with scrub and littered with glass from buried bottles and other refuge, was replaced by a two tiered garden with a fish pond and a patio on each tier. In addition, the existing boulders were utilized to make the steps leading down to the garden and to frame the entire area. A mixture of evergreens, flowering plants like beach roses, hydrangeas, and lilacs, and groundcovers were incorporated into the design to make it a wonderful place to relax and enjoy the outdoors. James Hickey, the owner of Kalmia Design, was a total professional and I enjoyed working with him. He was very knowledgeable and willing to take suggestions on my preferences, a combination not often found with other landscape architects. Finally, the project was delivered on time and on budget. I recommend Kalmia Design to friends and acquaintances all the time."
- abd76meader

Environmental Pools, Inc.
Swimming Pool Builders in Manchester, NH
"Environmental Pools installed a fantastic in-ground gunite pool in our back yard. Their in-house crews were friendly and professional, as were their subcontractors. Andy Everleigh walked us through each part of the process and was very knowledgable, patient, and interested in achieving the best final product. We highly recommend this company as we had a great experience!"
- Yvonne Johnson

Robins Nest Aquatics
Swimming Pool Builders in Manchester, NH
"The delightful folks at Robin's Nest built us the most GLORIOUS swim pond. Ours is the "blue hill" pond on this site. We spend our whole summer in this pond. Neighbors and friends flock to it. The water is (except when there's the odd algae bloom) crystal clear, cool and refreshing. The plantings are lovely, the setting delightful. It's a bucolic paradise. Chris and his team are responsive, friendly, and professional. They treat every pool like it's their own, with that level of attention and care. We could not be happier."
- Ayelet Waldman

South Shore Gunite Pools & Spas, Inc.
Swimming Pool Builders in Manchester, NH
"SSG was wonderful to work with throughout the pool building process. I anticipated being overwhelmed given that I had never had a pool before, but they helped put my mind at ease with their professionalism and responsiveness to all my needs. Rick (sales) Mark (builder) and Karen (Admin) were outstanding!"
- Michael Eaton

Stone Edge Design, Inc.
Swimming Pool Builders in Manchester, NH
"Job was a replacement of existing, tile, coping stone and 1500 Sq. feet of pool deck with tile and expose aggregate cantilever deck. Job meet all our expectations. It was done on schedule. It was done at the agreed upon price. They encountered several problems like plumbing leaking and these were repaired with no change in price, which I fully expected there to be. Crew was always respectful of family and property. These are not meant to be negatives, just things I wish I had done differently. Spend more time talking about impact to yard including setting up a specific clean up area. Spend more time talking about schedule. The work was done as promised. I did not understand that anchors for winter cover could not be installed for 28 days after concreate poured. This pushed pool closing into November. Overall very pleased."
- Jay Gehrig

Advanced Spa And Pool
Swimming Pool Builders in Manchester, NH
"We have been working with ASAP for years. We refer them to our customers and we get excellent feedback. They are prompt, professional and high quality. Our customers love them. Our reputation is of upmost importance and we will only recommend top notch companies like ASAP."
- Lenzi Construction & Remodeling LLC

Yankee Aquatech Pools
Swimming Pool Builders in Manchester, NH
"Yankee Aquatech Pools did a fantastic job getting this project completed. Where others said it could not be done, Yankee said it was possible. Never once did they let us down. I enjoyed working with such a professional outdoor living design company."
- Aquatech Pools

Central Pools & Supplies
Swimming Pool Builders in Manchester, NH
"Great job at building ideas and making it come to life. Exceptional attention to detail through the entire process and on-time completion."
- Jason Quercio