Roofers & Gutter Installers in Blue Sea, QC
Don't know how to begin? See our

Hiring Guide

for more information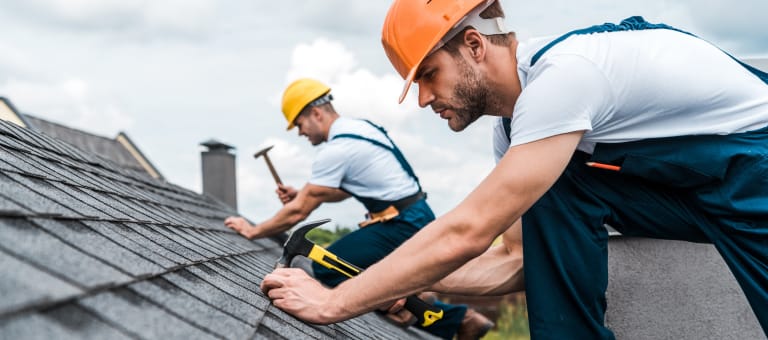 Roofing & Gutters
Who they are
Contractors who know the ups and downs of roofing installation and repair.
Why you should hire
Roofing is a skill best left to the professionals! Find an expert to fix that leak, install new gutters or replace missing shingles.
Toiture Mathieu Mongeon renovates, replaces and builds all types of roofs for residential and commercial fields in...

Read more

773 Maloney est, Gatineau, Quebec J8P 1G5, Canada

Need help?

Get instant recommendations

Select your project type, answer a few questions, and let Houzz connect you to pros right away

Spécialisées dans la construction, l'installation, l'entretien et la réparation de toitures, Les Entreprises Couvt...

Read more

28 Chemin Hermas-Gratton, L'Ange-Gardien, Quebec J8L 0X9, Canada

Une entreprise familiale de troisième génération établie en 2005, Toiture Mathieu Mongeon est votre entrepreneur e...

Read more

166 rue varennes, unit 200, Gatineau, Quebec J8T8G4, Canada

View Phone Number

Gatineau

,

Quebec

,

Canada

View Phone Number

Gatineau

,

Quebec

,

Canada
Roofs and gutters are two home elements that, when they do their job, go unnoticed. But when they malfunction, they make their presence known in a hurry — that's where knowing a good Blue Sea roofer comes in handy. Hire the right roofing company in Blue Sea, QC to install, repair and maintain your roof and gutters, and you'll ensure that these essentials perform at their peak.
What do local roofing contractors in Blue Sea, QC do?
Your Blue Sea, QC roofing contractor can install a new roof or repair an old one, as well as repair and replace gutters. Good professional roofers in Blue Sea, QC should be able to promptly inspect roofs and gutters to assess damage after a natural disaster or other event, and give you an estimate for the necessary roof repair immediately. Some local Blue Sea roofing companies specialize in specific types of roofs, such as tile or metal, so make sure the one you are interested in works with the materials you have or desire.
You'll also find local rain gutter companies who work with roofers to provide, you guessed it, gutters! Guttering specialists know how to work with your specific roofline to correctly angle your gutters so that the properly drain. Oftentimes they come with a special truck that houses a machine to bend the material into the profile you chose on site, which also allows them to cut it to size and minimize waste. Roof gutter installers can typically complete a job in a single day.
Questions to ask prospective roofing contractors and guttering services in Blue Sea, QC:
How long have you been in the roofing business?

How many projects like mine have you completed?

Who will be working on the project?

Are the workers employees or subcontractors?

Can you provide me with references?

Are you and your employees licensed and insured?

What license(s) do you have?

How do you charge, and what does that include?

Can you give me a written estimate?

What do your services include?

How will I be charged for parts and materials?

Who will make repairs to any structural damage that results from the job?

When can this job get done?

What happens when the cost exceeds the budget? What about changes to materials or labor pricing?

What will I need to provide?

Are there any important considerations or concerns you foresee with this project?

Find Blue Sea local roofers on Houzz.
Narrow your search in the Professionals section of the website to roofing services in Blue Sea, QC. If you're planning a large-scale project, find other professionals on Houzz who can help get the job done. Here are some related professionals and vendors to complement the work of roofing & gutters:
General Contractors
,
Specialty Contractors
,
Siding & Exteriors
,
Door Sales & Installation
,
Garage Door Sales & Installation
.
Find roofers & gutter installers near me on Houzz
Before you hire a roofer or gutter installer in Blue Sea, Quebec, shop through our network of over 5 local roofers & gutter installers. Read through customer reviews, check out their past projects and then request a quote from the best roofers & gutter installers near you. Finding roofers & gutter installers in my area is easy on Houzz.