Roofers & Gutter Installation Companies in Juneau
Don't know how to begin? See our

Hiring Guide

for more information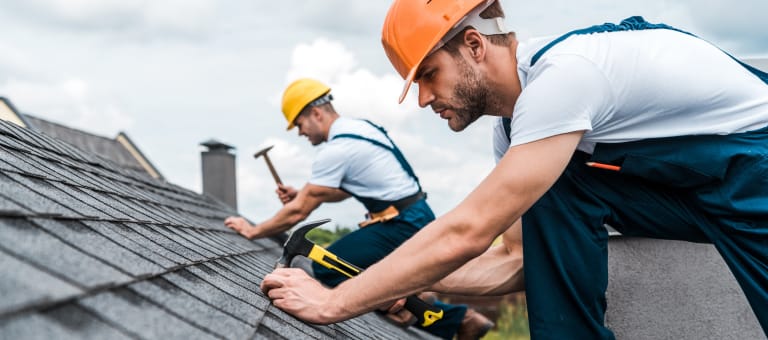 Roofing & Gutters
Who they are
Contractors who know the ups and downs of roofing installation and repair.
Why you should hire
Roofing is a skill best left to the professionals! Find an expert to fix that leak, install new gutters or replace missing shingles.
Need help?

Get instant recommendations

Select your project type, answer a few questions, and let Houzz connect you to pros right away
Roofs and gutters are two home elements that, when they do their job, go unnoticed. But when they malfunction, they make their presence known in a hurry — that's where knowing a good Juneau roofer comes in handy. Hire the right roofing company in Juneau, AK to install, repair and maintain your roof and gutters, and you'll ensure that these essentials perform at their peak.
What do local roofing contractors in Juneau, AK do?
Your Juneau, AK roofing contractor can install a new roof or repair an old one, as well as repair and replace gutters. Good professional roofers in Juneau, AK should be able to promptly inspect roofs and gutters to assess damage after a natural disaster or other event, and give you an estimate for the necessary roof repair immediately. Some local Juneau roofing companies specialize in specific types of roofs, such as tile or metal, so make sure the one you are interested in works with the materials you have or desire.
Questions to ask prospective roofing contractors and guttering services in Juneau, AK:
How long have you been in the roofing business?

How many projects like mine have you completed?

Who will be working on the project?

Are the workers employees or subcontractors?

Can you provide me with references?

Are you and your employees licensed and insured?

What license(s) do you have?

How do you charge, and what does that include?

Can you give me a written estimate?

What do your services include?

How will I be charged for parts and materials?

Who will make repairs to any structural damage that results from the job?

When can this job get done?

What happens when the cost exceeds the budget? What about changes to materials or labor pricing?

What will I need to provide?

Are there any important considerations or concerns you foresee with this project?

Find Juneau local roofers on Houzz.
Narrow your search in the Professionals section of the website to roofing services in Juneau, AK. If you're planning a large-scale project, find other professionals on Houzz who can help get the job done.
Software for Roofers
Are you a professional Roofer? Houzz Pro makes software designed to make running your business easier. Try for free today.


Find roofers & gutter installers near me on Houzz
Before you hire a roofer or gutter installer in Juneau, Alaska, shop through our network of over 1 local roofers & gutter installers. Read through customer reviews, check out their past projects and then request a quote from the best roofers & gutter installers near you. Finding roofers & gutter installers in my area is easy on Houzz.
Nearby Locations