About Us
As an industry leader in customer service, product and process innovation for the building products industry, Quality Edge offers a full line of premium, high-quality aluminum & steel perimeter and accent products for the home. Our products are fade resistant, recyclable, durable, energy efficient, sustainable and offer lifetime warranty. We provide a variety of colors all at the same price point. If you are interested in purchasing our building products please contact one of our territory reps at https://www.qualityedge.com/contact/ Our products include: Patented TruVent® Hidden Vent Soffit, TruCedar® Steel Siding, TruLine Fascia, TruBead and TruLine Soffit, Patented PreNotched Drip Edge and other innovative products that transform today's house into a home.
Services Provided
Aluminum Siding, Manufacturer, Steel Siding, Gutter Protection, Soffit, Fascia, Drip Edge, InsideOut Underdeck, Trim Coil, Exterior Cladding, Flashings, Roofing Accessories
Areas Served
United States
Back to Navigation
Our Stories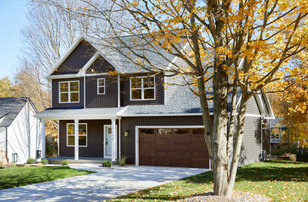 Sponsored story
Give your home a fresh new look with updated siding, color, trim and more
Item 1 of 1
Back to Navigation
Back to Navigation
Back to Navigation
Featured Review
I had TruCedar Steel Siding put on my home in early Spring. My little craftsman bungalow went from a tan color (very old aluminum) to Cottage Red. A huge change. I also had corbels and soffit installed along the eaves to accent the long overhangs tha
Read Full Review
Write a Review
6 Reviews for Quality Edge
From Traditional to Modern the choices are endless with this company! Superior quality! The HD woodgrain colors are like no other, why spend the money on wood when you can use Quality Edge Tru Cedar that last forever with zero maintenance!
I had TruCedar Steel Siding put on my home in early Spring. My little craftsman bungalow went from a tan color (very old aluminum) to Cottage Red. A huge change. I also had corbels and soffit installed along the eaves to accent the long overhangs that I have. During the process of residing I had a lot of skeptical (nosey) neighbors wondering about the color I had chosen. But when it was it finished it it became like a little gem set between two bigger more plain houses. My home looks proud in the neighborhood and the strength of the steel cladding makes me feel more comfortable that I wont have to make a change in my lifetime. I have received so many compliments (from the same nosey neighbors) as people have walked by while I work in my garden. Thanks for making my little bungalow shine!



We installed TruCedar Steel Siding as well as Matterhorn Metal Roofing. We absolutely love the product. The steel siding and roofing is incredibly strong and feels like the last exterior product we will ever need. The customer service team at Quality Edge were very kind and helped me understand the job throughout the process. I worked with a lady named Cari, she was very nice. We also installed full vented TruLine soffit from Quality Edge. Living in the woods with little sun we needed a soffit product that would increase airflow through the attic and eliminate moisture on muggy days. The product works great and our attic no longer has ventilation issues. Thanks for making great products and backing it up with awesome customer service.




Relationship
I purchased this companies products for my new home.
I chose to install Tru Cedar steel siding on my new home and I have had so many challenges that I feel I need to warn prospective buyers to really consider the value proposition of Tru Cedar vs. other siding options. One thing that you need to know is that when you need to re-order those components that you run short on, you will pay as much in shipping as you do for the product. I just ordered a box of J-Channel and the shipping was $177 to ship $206 of materials. It will also take 2 weeks to get here. I had the same problem with a previous order of under sill and coil. If you are sure that you want to use steel siding, verify that the product you choose is produced, or stocked locally. Secondly, be prepared to pay at least three times what it would cost for an "cement board" style siding. Finally, verify that you have access to at least two installers who will do steel siding. When my original sider walked out on the job with $3000 (Chri Koon) it left me scrambling to find a replacement. It is now 6 months and two installers later and I am still trying to find someone reliable to finish the job. You should also know that steel siding is "loud." When the sun hits the wall it begins to heat up and the expansion sounds like rain is hitting the wall. Knowing what I know now I definitely would have gone with a "cement board" type of siding instead of Tru Cedar steel siding.
I needed a new roof after a storm this summer. My roofer introduced me to this metal roof line. After hearing about all of the perks of using metal on my roof (Recyclable, Energy Efficient, Lifetime Warranty, Durability in storms) I couldn't resist this product. I chose a spanish tile and it looks amazing! It looks just like real tile, only I now get all the perks of using metal. I get lots of comments on my roof and no one believes that it is metal. I love my new roof! Thanks for a great product, Quality Edge!

Melissa Dykgraaf Walbridge
Quality Edge installed their Matterhorn metal roofing system on my house. I chose a dark gray slate metal roof. It turned out beautiful. It looks like a real slate roof! The install team was extremely efficient. They were respectful of my property and did a wonderful job cleaning up daily.
Back to Navigation
Back to Navigation
| | |
| --- | --- |
| | Quality Edge |
2712 Walkent Dr. NW
Walker, MI 49544