Danville, IL Solar Energy Contractors
Not sure where to start? Let Houzz match you with local professionals for these projects: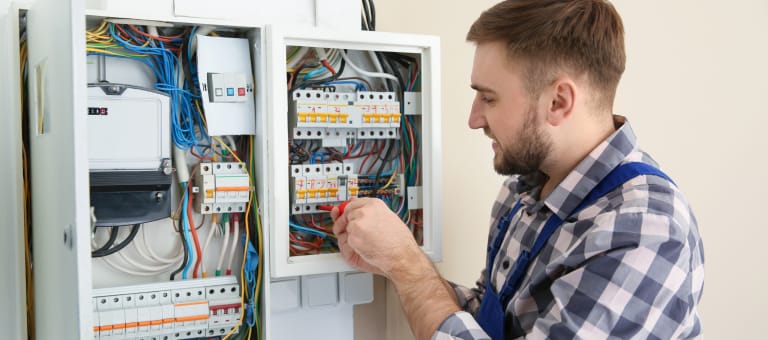 Appliances & Systems
Anyone who's ever tried to fix a broken pipe or install a new gas oven can tell you that sometimes hiring appliance and systems professionals is worth every penny. Their expertise can prevent costly damages and provide peace of mind. Appliance and systems professionals handle gas, electricity, HVAC, plumbing, solar energy and more.
Click to call

Danville

,

IL

,

61832

Click to call

Paxton

,

IL

,

60957

Click to call

Linden

,

IN

,

47955

Click to call

Terre Haute

,

IN

,

47807

Click to call

Terre Haute

,

IN

,

47807
Are you interested in powering your Danville home with solar energy? Whether you want to lower your electricity bill or help the environment (or both!), hiring an Illinois certified solar energy contractor is a smart first step to getting off the grid and getting into energy conservation. Solar energy professionals in Danville, IL can evaluate your needs and design, install and maintain the best renewable energy system for your home.
What types of residential solar power systems do solar energy contractors design and install?
Solar power systems are part of the growing energy efficiency trend. You may be wondering, what is solar energy, exactly? Solar energy is energy that comes from the sun, and is then converted into electricity and/or utilized for heating air or water.
The most common types of alternative energy systems for the home are solar electric, solar water heating and wind power systems. Solar professionals can help with everything from installing solar skylights to implementing complete solar energy systems.
Let's say you want a solar electric system for your home. An off-grid system basically consists of solar panels and battery banks. These battery banks store the sun's energy so you can use electricity at night or on a cloudy day. This system is designed to keep household electricity running for about two or three cloudy days; longer cloudy periods require a backup generator. To install an off-grid system, you'll want to hire a certified Illinois solar energy contractor.
Along with off-grid solar, wind and hybrid energy systems that include batteries and backup generators, there are also grid-tied solar and wind operations. Grid-tied systems are attached to your Danville, IL utility company so if you produce more energy than you use, your meter goes down and you build up energy credits.
Installing solar skylights can save electricity. Sun tunnel skylights are tubular daylight devices that capture sunlight through domes on your roof. Attached to these domes are highly reflective tunnels that draw natural light down into closets, hallways and stairways.
Questions to ask potential solar energy contractors:
How long have you been in the business?

Can you provide me with references?

How do you charge, and what does that include?

What do your services include?

When can this job get done?

What happens when the cost exceeds the budget? What about changes to materials or labor pricing?

What will I need to provide?

Are there any important considerations or concerns you foresee with this project?

Do you have state certification?

Will you come to my home for a free onsite consultation?

Are you able to repair an older system?

Can you provide me with a layout to see where the panels will go and what they will look like?

Can you give me any information on Illinois solar rebate programs?

Find solar energy contractors in Danville, IL on Houzz.
Search the Professionals section for Danville, IL solar energy contractors or browse Danville, IL photos of completed installations and look for the solar energy contractor's contact information.
Find solar energy contractors near me on Houzz
Before you hire a solar energy contractor in Danville, Illinois, shop through our network of over 5 local solar energy contractors. Read through customer reviews, check out their past projects and then request a quote from the best solar energy contractors near you.